WELL, OTHERS WARNED THE U.S. NOT TO CUT THAT DEAL WITH PERSIA, aka, IRAN, BUT THE PREZ HERE WAS DETERMINED AND CONGRESS HAS APPARENTLY DONE WHAT CONGRESS ALWAYS DONE...NOTHING, AND THEN COVER UP THE NOTHING.

A NEW BOOK IS OUT, AUTHORED BY THE BIG NAME IN IRAN, THE OLD AYATOLLAH, DESCRIBING HOW TO OUTWIT, MANIPULATE AND DEFEAT AMERICA AND HOW TO WIPE ISRAEL OFF THE FACE OF THE EARTH.

NO BETTER PLACE TO "READ ALL ABOUT IT" THAN <HERE>.

416 PAGES AND A BLURB ON THE BACK COVER CALLING THE 'TOLLAH

"The flagbearer of Jihad to liberate Jerusalem."




"Khamenei claims that his strategy for the destruction of Israel is not based on anti-Semitism, which he describes as a European phenomenon.

His position is instead based on "well-established Islamic principles."


"ISLAMIC PRINCIPLES???HELLO, BEARDED ONE, HERE'S A NEWSFLASH!
THE 'PROPHET' NEVER ONCE MENTIONED JERUSALEM IN THE ENTIRE QUR'AN! YOU CAN'T ARGUE WITH THAT LITTLE FACT.

EVEN WHEN THE GREAT OTTOMAN EMPIRE OWNED THE PLACE, IT NEVER ONCE ESTABLISHED A MUSLIM STATE THERE.

NOR DID JORDAN WHEN IT HAD CONTROL.

THE 'PROPHET' NEVER SAW EVEN THE LAND JERUSALEM SITS IN!

NOT ONE MUSLIM PRAYS TOWARD JERUSALEM.

BUT, SAY, HOW MUCH DO YOU NEED TO GO ATTACK ISRAEL?
MAYBE I CAN FINANCE THAT ATTEMPT WITH SOME SORT OF FUNDRAISER?
MAYBE CALL IT "SEE IRAN FALL"? STEP UP TO THE PLATE, 'TOLLAH. SHOW US WHAT YOU'VE GOT?

THERE WAS A LIVE, HEATED DEBATE ON AL JAZEERA BACK IN 2008 WHICH FEW WHO SAW IT WILL EVER FORGET.
WHAT A SHOW!
The encounter occurred in early June, 2008, when Jews around the world celebrated Jerusalem Unification Day.
Dr. Kedar had frequently appeared on the widely viewed Qatar-based network but this time encountered a sharp attack from the show's host, Jimal Rian.
"Building in Jerusalem is another nail in the coffin in negotiations with the Palestinian Authority," narrator Jimal Rian asserted.
Dr. Kedar answered in fluent Arabic, "This was our capital 3,000 years ago, and we were here when your forefathers were drinking wine, burying girls alive and worshipping pre-Muslim idols. This is our city and it will be our city forever."
His reference to Muslims drinking wine, which is forbidden in Islam, infuriated the host. Rian wagged his finger in the air and said excitedly, "If you want to talk about history, you cannot erase Jerusalem from the Koran, and don't attack the Muslim religion if we want to continue talking."
Dr. Kedar replied, "Jerusalem is not mentioned even once in the Koran. Jerusalem is a Jewish city."
The Al Jazeera host responded by quoting a verse from the Koran in which he thought Jerusalem was mentioned by name, but stopped in the middle upon realizing that it only refers to "the farthest place."
That would be Qur'an 17:1. "The farthest place" (al-aqsa) is identified in Islamic tradition with Jerusalem, but there is no mention of Jerusalem by name in that verse or in any other Qur'anic verse.
Dr. Kedar: "Jerusalem is not mentioned in the Koran even once.

Y

ou can't rewrite the Koran on air on Al Jazeera."

Rian changed the subject to "settlements" and asked Dr. Kedar why Israel is building 1,000 new apartments and deciding to build thousands more while there are rumors that "Jerusalem will include all of the West Bank [Judea and Samaria].
Kedar replied. "My friend,

Israel is not counting the number of apartments that Qatar is building on the Qatar Peninsula so why are you doing so in Jerusalem?

Jerusalem is our city forever and is not an issue for you, for Al Jazeera or for anyone else.

Period. Replying to Rian's question if Dr. Behar's assessment is the basis for talks with the Palestinian Authority (PA), he declared,
"My friend, I invite you to Jerusalem so you can see with your own eyes that it has become a flourishing city

after it was in ruins under Arab rule until 1967.




We rebuilt the city and opened it to Christians, Moslems and Jews equally, unlike under Muslim rule" that prohibited other religions…"


YEAH, PEOPLE DO TEND TO FORGET HOW LONG AGO ISRAEL CONQUERED EVERY NATION IN THE AREA AND SET UP SHOP THERE.

THERE WAS NO SUCH THING AS ISLAM BEFORE ISRAEL MADE JERUSALEM ITS CAPITAL, BEFORE JERUSALEM WAS MENTIONED AS SUCH BY ALL THE ANCIENT NATIONS AROUND IT.

"During its long history, Jerusalem has been destroyed at least twice, besieged 23 times, attacked 52 times, and captured and recaptured 44 times. [ANCIENT HISTORY ENCYCLOPEDIA]


The

oldest part of the city

was settled in the

4th millennium BCE, about 3500 BCE.


Jerusalem is called

Urušalim

in the

Amarna letters

of

Abdi-Heba

(1330s BCE).


It was also known as Hatzor.
WHEN ISRAEL FIRST CONQUERED THAT SPECIFIC AREA IN ABOUT 1000 BCE, THEY TOOK IT FROM A PEOPLE CALLED THE JEBUSITES (also called Canaanites), NOT PALESTINIANS, BECAUSE THERE NEVER WAS A RACE OR CULTURE OR TRIBE KNOWN AS "PALESTINIANS" IN THAT AREA.
"PALESTINIANS" DID NOT EXIST IN ANCIENT HISTORY.


The earliest extra-biblical

Hebrew writing

of the word Jerusalem

is dated to the sixth or seventh century BCE.

[

Writing, Literacy, and Textual Transmission: The Production of Literary

by Jessica N. Whisenant p. 323]



NOT LONG AFTER THE INITIAL CONQUEST OF JERUSALEM, THE JEWS BUILT THE FIRST TEMPLE THERE, AROUND 960 BCE.

NOT UNTIL ABOUT 600 AD, AFTER CHRISTIANITY HAD ALREADY BEEN ESTABLISHED FOR OVER 550 YEARS, DID ISLAM COME TO BE... 1600 YEARS AFTER JERUSALEM BECAME THE CAPITAL OF ISRAEL/JUDEA.
HERE'S THE THING ABOUT CONQUEST...
AMERICA ONLY CONQUERED THIS LAND A BIT OVER 500 YEARS AGO...AND STILL WON'T GIVE A MILE OF IT BACK TO THE "FORMER INHABITANTS", WHOM THE EARLY SETTLERS ROUNDED UP AND STUCK ON "RESERVATIONS"...WELL, THE SURVIVORS WENT TO THE "REZ".

DITTO FOR ALL OTHER "CONQUERORS" OF NATIONS.
THEY CAME, CONQUERED, MOVED ORIGINAL INHABITANTS OUT OF THE WAY AND HAVE NEVER GIVEN BACK WHAT THEY CONQUERED.

HOW MANY TIMES DOES ISRAEL HAVE TO DEFEAT EVERY LITTLE NEW COUNTRY OVER THERE?
1967 WAS THE LAST BIG WIN FOR ISRAEL.
DID SHE TAKE CONTROL OF THE NATIONS SHE DEFEATED?
NOPE.
BY RIGHT OF CONQUEST, COULD SHE HAVE?
YES.



THAT MARKED OVER 3000 YEARS OF ISRAELI CONQUESTS IN THE 'MIDDLE EAST'.


WHEN ABRAHAM, WHOM THE MUSLIMS CLAIM AS PATRIARCH, SETTLED NEAR HEBRON AROUND 1750 BCE, THIS MARKED THE FIRST 'JEWISH' PRESENCE THERE.
HOWEVER, THOSE CANAANITES (JEBUSITES) WERE BLOOD RELATED TO ABRAHAM, ACCORDING TO ALL 3 MAJOR RELIGIONS.

A MAP OF THE REGION, CIRCA 830 BCE, SOURCE: ANCIENT HISTORY ENCYCLOPEDIA
THE NAME OF THE LAND CANAAN DERIVED FROM THE NAME OF A GRANDSON OF NOAH.
THAT ONE'S "TRIBE" WERE CALLED CANAANITES.
THE GREEKS CALLED THEM PHOENICIANS.



NEW NATIONS VERSUS ANCIENT NATION

...

SAUDI ARABIA, JORDAN, MOST OF THOSE SWORN ENEMIES OF ISRAELS DIDN'T EVEN EXIST UNTIL THE PERIOD BETWEEN OR AFTER THE TWO WORLD WARS!

WELL, IT DOESN'T MATTER, DOES IT?
OLD PERSIA, NOW CALLED IRAN, MAYBE JUST HAS ITS PANTIES IN A WAD BECAUSE IT'S BECOME SO SOLITARY?

STRANGE THAT IRAN HAS SO MANY MUSLIM NEIGHBORS OUT TO ERADICATE IT, ISN'T IT?

A FEW ROUSING SPEECHES AND NEWS ARTICLES HAVE ALSO SURFACED SINCE THE "BIG IRAN DEAL" THAT SHOW THE OLD AYATOLLAH PREACHING HELLFIRE AND DAMNATION AND BRIMSTONE RAINS ON "THE GREAT SATAN", EVEN THE U.K., AND ESPECIALLY ISRAEL.

PREVIOUSLY, FROM AN IRANIAN GENERAL:


"America, with its strategic ignorance, does not have a full understanding of the power of the Islamic Republic," Brig. Gen. Hossein Salami said in a televised interview.

"We have recognized America's military strategy, and have arranged our abilities, and have identified centers in America [for attack] that will create a shock."

"We will conduct such a blow in which they [America] will be destroyed from within," Salami said."

THAT'S NICE.

"In response to a question by a parliamentarian on how long this battle will continue, Khamenei said,"Battle and jihad are endless because evil and its front continue to exist. … This battle will only end when the society can get rid of the oppressors' front with America at the head of it, which has expanded its claws on human mind, body and thought. … This requires a difficult and lengthy struggle and need for great strides."




WALL STREET JOURNAL REPORTED, JULY 17, 2015:





"Three days before Iran and world powers announced a nuclear deal, Iran's Supreme Leader Ayatollah Ali Khame

nei met with university students at his official residence.

A video of the event on Mr. Khamenei's website shows male students sitting cross-legged at the center of the floor and female students, covered from head to toe in black cloth, on the side.



One student asked Mr. Khamenei what would become of Iran's stance against

estekbar

—the Persian word for arrogance—after the deal was signed?

"Do you think our battle with

estekbar

will ever rest? This is an essence of the revolution. It's one of our principal tasks," replied Mr. Khamenei, who promptly clarified that by "arrogance," he meant "America."


"Changing course," he told the students, "would be sacrilegious."



Iran can sign a deal with the world, and Foreign Minister Javad Zarif can smile and shake the hand of the U.S. Secretary of State

John Kerry

.


But at the first Friday prayer sermons across the nation after the deal was announced, the chant of "Death to America" was still loud and clear."

WELL, THERE WAS GRAND CELEBRATION...VICTORY OVER THE GREAT SATAN! TOO BAD AMERICAN TV DIDN'T AIR THE JOY.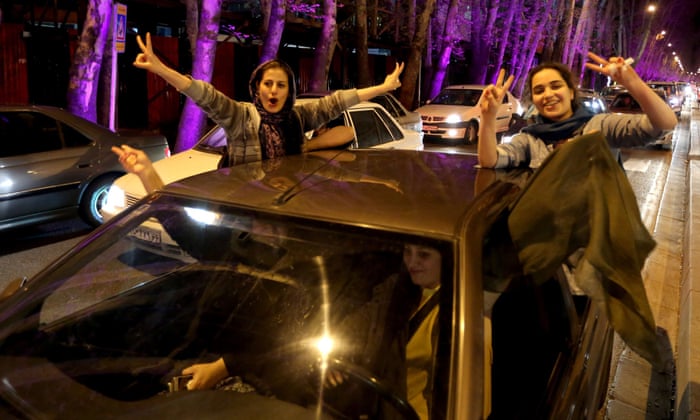 "It's 'Victory Over America Day' in Iran"

"

Women flash the "V for Victory" sign as they celebrate on Valiasr street in northern Tehran
after the announcement of an agreement on Iran nuclear talks."
-

Photograph: ATTA KENARE/AFP/Getty Images



GUARDIAN UK DID A NICE SPREAD WITH VIDEO ON THE CELEBRATIONS.

APRIL 2, 2015: "Drivers in the streets of Tehran honked their car horns as news of the deal started to break. At 1am in the morning, t the capital's longest street, Val-e-Asr Avenue, was still lined with cars, with men and women waving flags and flashing V-for-victory signs from open windows."
AND, WHADDAYA KNOW...TWO MONTHS LATER, IN JUNE, THE IRANIAN VOLLEYBALL TEAM EVEN DEFEATED TEAM USA!
ACTUALLY, IRAN DEFEATED AMERICA TWICE IN THOSE GAMES.
MORE WILD AND CRAZY CELEBRATIONS ENSUED!


ABOUT THOSE "INSPECTIONS"...
IRAN GETS TIME TO PREPARE FOR THOSE...WE HAVE TO GIVE THEM PRIOR NOTICE.

SATELLITE PHOTOS SHOWED A MAD SCRAMBLE OF HEAVY EQUIPMENT AND A FRENZY OF SCRAPING AND BUILDING AHEAD OF THAT FIRST NEW "INSPECTION" BY THE NUKE GUYS AT IRAN'S MILITARY/NUCLEAR FACILITY IN PARCHIN.
"HURRY! BURY THE EVIDENCE! SANITIZE, DAMMIT, SANITIZE!"

AS THE WASHINGTON TIMES WROTE, AUG. 6, 2015:


"New satellite images of an Iranian site thought to be used for work on a nuclear weapon show crates, trucks and construction that may indicate a renewed attempt to clean up the facility before an inspection by the U.N., a nonproliferation watchdog said Thursday.

The International Atomic Energy Agency has repeatedly raised concerns about previous possibly attempts to clean up the site, located in Parchin.


The images show what appear to be a bulldozer or a steamroller, containers that have been repositioned and two new structures of "unknown purpose" that appeared between late May and early June, AP reported.

"This renewed activity … raises obvious concerns that Iran is conducting further sanitization efforts to defeat IAEA verification," the think tank wrote, AP reported.

Iran has refused access to Parchin for years and has denied any work on nuclear arms in the area.

However the IAEA, using U.S., Israeli and other intelligence and its own research, suspects that Iran may have have experimented with high-explosive detonators for nuclear arms at that military facility south of Tehran, and other weapons-related work elsewhere."

AW, SHUCKS, THAT'S FINE, THAT'S OKAY, THOSE "INSPECTIONS" AREN'T ALLOWED TO INSPECT MUCH ANYWAY!
IRAN LAID DOWN THE LAW ON WHAT IT WILL ALLOW, AND THAT'S THAT.


A FEW WERE EVEN CONCERNED ABOUT OLD KERRY FOR A FEW DAYS...DID HE HAVE TO HAVE SURGICAL REPAIR FOR THE BRAVE "BEND OVER AND TAKE ONE FOR THE GIPPER" SESSIONS WITH IRAN'S TAG-TEAM?

HE DESERVED WHATEVER HE GOT.

"Kerry: Iran's "Death to America" Doesn't Mean They Want to Kill Us"


"In a once rational and free America, this ridiculous statement from the Secretary of State would be met with immediate calls for his resignation. Imagine covering for a regime like that of Iran, which not only has vowed to destroy America and Israel, but also slaughters gays and imprisons, beats women who aren't fully covered, and executes political dissidents.




When Kerry appeared before the House Foreign Affairs Committee on Tuesday to defend the Iran nuclear agreement, Rep. Ted Poe (R-Texas) asked him about Tehran's policy in the light of the "death to America" chants common at events presided over by supreme leader Ayatollah Ali Khamenei and President Hasan Rouhani.

"It is the policy of the ayatollah – if you can answer for him – that Iran wants to destroy the United States?" Poe asked Kerry. "Is that still their policy, as far as you know?"

[Kerry:] "I don't believe they've said that. I think they've said 'Death to America' in their chants, but I have not seen this specific."

THE HARSH PHRASE, "POOR DUMB BASTARD" COMES TO MIND JUST NOW.
PARDON MY IRE.

YES, BOAT MAN, HE DID SAY THAT!
QUITE CLEARLY!

"In response to a question by a parliamentarian on how long this battle will continue, Khamenei said,"Battle and jihad are endless because evil and its front continue to exist. … This battle will only end when the society can get rid of the oppressors' front with America at the head of it, which has expanded its claws on human mind, body and thought. … -

CNBC, JULY 18, 2015:


"Speaking on Saturday after a special prayer marking the end of the Muslim fasting month of Ramadan, Mr. Khamenei portrayed the agreement as a win for Iran.

"After 12 years of struggling with the Islamic republic, the result is that they have to bear the turning of thousands of centrifuges in the country," Mr. Khamenei said, referring to the United States and the other deal makers.

At the same time, he reiterated criticism of western powers and Israel, and said the agreement did not signal an end to the hostility between them."

THIS WAS ALSO DURING AN ANNUAL RALLY THAT CALLED FOR "DEATH TO AMERICA! DEATH TO ISRAEL!" WHICH THE GUY IN THE BLACK TURBAN HEARTILY APPLAUDED.


OH, SURE, THERE'S A LOT OF CONGRESSIONAL WHINING AND A FEW THREATS TO STOP THE DEAL FROM GOING THROUGH, BUT THERE ARE NO "BRAVEHEARTS" ON CAPITOL HILL...JUST A BUNCH OF CHEAP PROSTITUTES.

YADA, YADA, YADA...SAME SONG, NEW VERSE.

WAIT A MINUTE!
I JUST HAD A HORRIBLE THOUGHT!

DOES EVERYONE HAVE A VISUAL ON YOUR FIRSTBORN CHILDREN?

THAT COULD HAVE BEEN WHAT CLINCHED THE IRAN DEAL!


HAVE YOU SEEN YOUR FIRSTBORNS SINCE KERRY SIGNED FOR ALL OF US???

CALLING MY ELDEST RIGHT NOW!

FURTHER READING:

~

IRANIAN DISSIDENTS AGAINST THE IRAN DEAL Iranian human rights activists warn the West not to give money to the regime that terrorizes them.
~ IRAN NUCLEAR DEAL: KEY DETAILS, BBC SEVERAL THINGS AMERICANS MAY NOT KNOW.


~

"Israel was first forged into a unified nation from Jerusalem some 3,000 years ago, when

King David

seized the crown and united the

twelve tribes

from this city... For a thousand years Jerusalem was the seat of Jewish sovereignty, the household site of kings, the location of its legislative councils and courts. In exile, the Jewish nation came to be identified with the city that had been the site of its ancient capital. Jews, wherever they were, prayed for its restoration." Roger Friedland, Richard D. Hecht.

To Rule Jerusalem

, University of California Press, 2000, p. 8.

ISBN 0-520-22092-7
~

"Ever since King David made Jerusalem the capital of Israel 3,000 years ago, the city has played a central role in Jewish existence." Mitchell Geoffrey Bard,

The Complete Idiot's Guide to the Middle East Conflict

, Alpha Books, 2002, p. 330.

ISBN 0-02-864410-7
[IN SPITE OF THE TITLE, THAT'S A REALLY INFORMATIVE BOOK.]


~

"The El Amarna Letters from Canaan". Tau.ac.il.

~

Smith, George Adam (1907).

Jerusalem: The Topography, Economics and History from the Earliest Times to A.D. 70

. Hodder and Stoughton. p. 251.

ISBN

0-7905-2935-1

.