Published on Aug 30, 2015, BY JENNIE WERTZ
THE VIDEO WAS ALSO FEATURED ON NEWS.COM.AU
<HERE>,
I AM EXONERATED!
I WAS NOT "IMAGINING THINGS".
SOMEONE ELSE SAW IT AND RECORDED IT.
VIDEO PROOF OF WHAT I SAW REFLECTED IN THE OXBOW LAKE AND THEN LOOKING SKYWARD DURING THE SUPER MOON OF SATURDAY NIGHT.
VERY TALL TREES GROWING AT LAKE'S EDGE OBSCURE MY VIEW STRAIGHT UP AS THE MOON PASSES OVERHEAD, NO MATTER ITS TRAJECTORY, AS I WATCH FROM MY SCREENED BACK PORCH.
BUT I CAN WATCH IT ON THE SURFACE OF THE LAKE IF THE WATER IS CALM...IT'S LIKE A MIRROR IMAGE OF THE SKY OVERHEAD.
THAT IS WHERE I FIRST SAW THE GREEN.
LOOKING UP, LIMBS PARTIALLY OBSCURED THE FULL MOON, SO I WATCHED ITS PASSING IN THE OXBOW UNTIL IT CLEARED THE NEAREST TREES...
THEN...YES, THERE IT WAS!
I HURRIED FOR A CAMERA, EXCITED, TOO EXCITED...THERE WAS NO WAY I COULD GET A DECENT SHOT BECAUSE OF MY SHAKING HANDS. NO TRIPOD.
I KNEW A CELLPHONE SHOT WOULD BE EQUALLY IMPOSSIBLE.
ABOUT AN HOUR LATER, THE MOON FELL BELOW THE TREELINE AT THE FAR END OF THE LAKE AND I WAS LEFT DOUBTING WHAT I SAW.
THIS WAS BETWEEN 2 AND 3 AM SO I AM LEFT WONDERING WHEN THE YOUNG LADY TOOK HER VIDEO.
THERE WERE FEWER CLOUDS HERE THAN IN THE VIDEO, BUT THERE WERE A FEW LIGHT CLOUDS, SO WAS IT THE CLOUDS THAT CONTAINED THAT GREEN MOVING "WHATEVER"?
BUT NO CLOUDS STAYED BETWEEN ME AND THE PATH OF THE MOON FOR LONG.
WAS IT A "PLASMA DUMP"?
WAS IT ASTRONAUT URINE, AS WAS EXPLAINED ON SPACE.COM
WHEN A "BRIGHT SPARKLING GLOW" WAS FILMED IN THE NIGHT SKY ON 09/11/2009?
BUT WE HAVE NO MORE SPACE SHUTTLE UP THERE, AND, FROM THE ARTICLE, WE CAN READ THE RESTRICTION AGAINST DUMPING WASTE NEAR THE INTERNATIONAL SPACE STATION:
SPACE SHUTTLE URINE DUMP, 2009.

"It would have been a large quantity because we don't do water dumps while docked to the station now,"

NASA spokeswoman Kylie Clem

told

SPACE

.com

in an e-mail. "That is a fairly new restriction over the last couple of flights in order to prevent potential contamination of the Kibo module."

The Kibo module is a new Japanese-built research lab on the space station that includes an external

platform

to expose science experiments to the space environment.

Water dumps from a docked shuttle could potentially pollute the experiments.

In general, though, spotting space water dumps from Earth is common, Clem said."

NO, THIS WASN'T "SPARKLING", BUT IT WAS "DANCING", AND VERY LIQUID IN APPEARANCE.

WAS IT A ROCKET FUEL DUMP, AS IS PICTURED BELOW? THE COLOR IS RIGHT, BUT HOW DID IT STAY RIGHT AT THE EDGE OF THE MOON FOR OVER 30 MINUTES?
THAT'S NOT POSSIBLE, IS IT?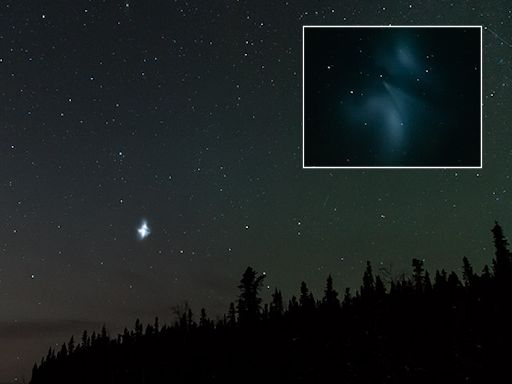 NO. LOOK AT THIS COMPARED TO THE VIDEO.
AFTER A CONSIDERABLY LENGTHY SEARCH, I FOUND A SIMILAR INCIDENT AND PHOTOGRAPHS FROM OCTOBER, 2011,
<HERE>
, CAPTURED ON FILM IN NEW MEXICO, BUT THE GREEN/BLUE LIGHT DETACHES FROM THE MOON, IF IT WAS EVER REALLY ATTACHED...
YEAH, YEAH, I KNOW, CONSIDER THE WEBSITE IT WAS POSTED TO...YADA,YADA, YADA.
THERE IS A SERIES OF THESE PHOTOS.
IN THIS ONE, THE GLOW LEAVES THE MOON'S EDGE, OR THE MOON TRANSITS THE SKY AWAY FROM IT.
STILL, THE ABOVE SHOT IS SIMILAR, SO IT MAY BE SOMETHING NOT SO RARE AFTER ALL?
I DID NOT SEE THE MOON SET, SO IT MAY HAVE ALSO MOVED. AWAY FROM WHATEVER IT WAS "UP THERE".
I CERTAINLY DO NOT EQUATE THE ANOMALY TO ANYTHING PERTAINING TO UFOs, BUT I WOULD LIKE TO KNOW WHAT THE HECK WE SAW!
THE AURORA BOREALIS HAS NOT EXTENDED THIS FAR SOUTH IN MANY,MANY YEARS, BUT THAT IS SIMILAR TO WHAT THE GREEN DANCING LIGHT LOOKED LIKE.
MAYBE SOME SORT OF SEISMIC ACTIVITY ON THE MOON THAT EMANATES SUCH A GLOW?
IF ANYONE HAS A CLUE, OR KNOWS FOR CERTAIN WHAT THIS WAS, PLEASE DO LEAVE A COMMENT.
MEANWHILE GO TO THE LINK BELOW TO SEE GREAT PHOTOS AND VIDEOS OF THAT GORGEOUS SUPER MOON. IT WAS A BEAUTY!
http://www.news.com.au/technology/science/supermoon-appears-for-the-first-time-in-2015/story-fnjwlcze-1227505075131