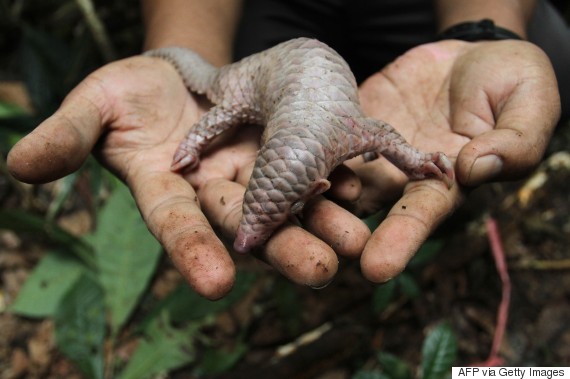 THE PANGOLIN IS A TYPE OF "ANTEATER", CONSUMING MOSTLY TERMITES AND ANTS, BUT HAS BEEN SHOWN TO BE A TRUE CARNIVORE.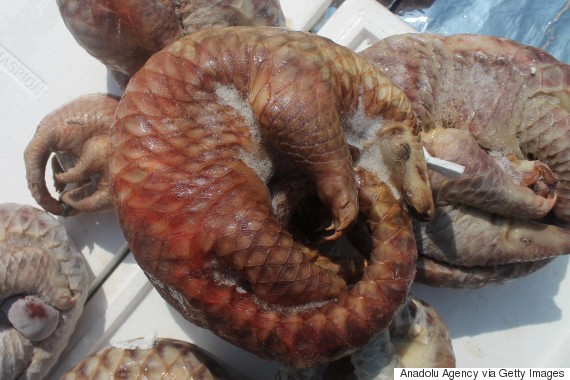 CONFISCATED FROZEN CARCASSES.
THE PANGOLIN FETUS IS A MOST DESIRABLE "DELICACY"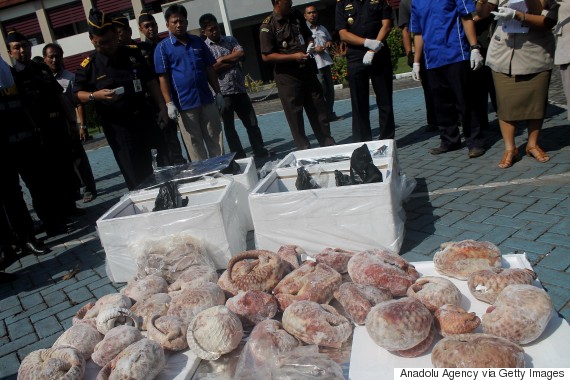 INDONESIAN OFFICIALS SEIZED 1.3 TONS OF FROZEN PANGOLINS BOUND FOR SINGAPORE IN JULY OF THIS YEAR. THERE IS CONCERN THAT AFRICAN NATIONS WILL BEGIN TRAFFICKING MORE IN PANGOLINS AS ASIAN SOURCES ARE UNCOVERED AND PROSECUTED.
"
With at least one pangolin being killed every hour of every day
throughout their Asiatic range, this elusive creature has become the most commonly smuggled mammal in Southeast Asia.
The extent of illegal pangolin trade is shocking and experts say the two most endangered species could go extinct within ten years, if current trends continue.
There is no scientific evidence to support the medicinal claims surrounding the use of pangolin scales or body parts.
In fact, the scales—which are one of the most sought after parts of the animal—are composed of keratin, the same protein that makes up our own hair and nails, horse hooves, and rhino horn.
As with most illegal wildlife trade,
organized crime syndicates have commercialized the exploitation of these animals and are the largest suppliers of this black market industry
. As pangolins are fairly slow in reproduction, they are being harvested at rates far above that at which they are capable of replenishing their populations.
Basically, we have no firm idea of how many may remain in the wild, meaning the most endangered species may be perilously close to extinction."
"The pangolin runs the risk of becoming extinct before most people have even heard of them," Britain's
Prince William said
last year
The Chinese and the
Sunda
pangolins are the most endangered of all eight species.
Pangolins were worth around US $10 per kilo in the early 1990s and had soared to US $175 per kg by 2009.
Wildlife Alliance
's Suwanna Gauntlett explained in an interview with
Mongabay
guest writer, Laurel Neme, that the going rate had reached a whopping US $200 per kilogram in 2011.

WHILE THE ASIAN PANGOLIN IS THE MOST DESIRABLE, GIANT PANGOLINS CAN WEIGH 60 POUNDS OR MORE, WHILE THE SMALLEST, THE LONG-TAILED PANGOLIN AVERAGE ABOUT 4 TO 6 POUNDS.
SHEER NUMBERS WOULD MAKE THE PANGOLIN THE MOST TRAFFICKED ANIMAL ON THIS PLANET, AND WHY?
WHY HAS IT BEEN HUNTED AND KILLED TO THE POINT OF EXTINCTION?
ITS SCALES ARE CONSIDERED AN "APHRODISIAC", WHILE ITS BLOOD IS CONSUMED FOR OTHER "MEDICINAL" REASONS, ALL BASELESS IN MEDICINE BUT SUPERSTITIOUS PRACTICES THAT HAVE GONE ON FOR CENTURIES.
"While some poachers kill the animal when they catch it, other times they may be kept alive by request from restaurants where they are destined for the dining table. A 2007 article in
The Guardian
quotes a Guangdong [CHINA] chef explaining the disturbing way in which the pangolins are prepared for the diners.
"We keep them alive in cages until the customer makes an order. Then we hammer them unconscious, cut their throats and drain the blood. It is a slow death. We then boil them to remove the scales. We cut the meat into small pieces and use it to make a number of dishes, including braised meat and soup.
Usually the customers take the blood home with them afterwards."
"We consider pangolins a priority species and fear that without concerted and strategic international cooperation and action, pangolins will disappear," the

U.S. Fish and Wildlife Service

wrote earlier this month.
OTHER POPULAR APHRODISIACS, JUST TO NAME A VERY FEW, ARE TIGER PENIS OR GROUND TIGER BONE, RHINOCEROS HORN, DEER PENIS, YAK TESTICLES, SEAHORSES, JUST THE FINS OF SHARKS, UNHATCHED BABY TURTLES, OR JUST
THE BILE FROM BEARS WHO ARE KEPT IN SMALL CAGES
AND EITHER FITTED WITH TUBES THAT DRAIN THE BILE CONSTANTLY OR HAVE NEEDLE ASPIRATION DONE SEVERAL TIMES A DAY UNTIL THEY EITHER DIE OF INFECTION OR FROM BEING CONFINED IN SUCH SMALL CAGES AND IMPROPERLY FED AND TREATED FOR HEALTH PROBLEMS.
"In China, the bears are housed in coffin-sized "crush cages" to prevent the animal moving, making it easier and safer for an operator to insert a catheter, and in some cases to simply suture the organ to an opening in the abdomen so the bile can be drained continuously into a collecting tray."

IT'S SUPERSTITION, NOT MEDICINE
"
According to ancient myths, you can gain an animal's characteristics by ingesting them.
There is no scientific proof that eating any of these animals helps cure impotence, yet men all over the world continue to believe it.
Fortunately there is a simple solution. It's smaller than a turtle egg, cheaper than a bowl of shark fin soup, better tasting than bear bile, more discrete than carrying around a rhino horn, has been proven to work by scientists, and most importantly it does not involve killing or hurting a single animal. It is Viagra, and it is available at your local pharmacy for anyone with a prescription."
CONVINCING ANYONE WHO DEEPLY BELIEVES IN SUCH "CURES" AND "ANIMAL AIDS" THAT THEY JUST DON'T WORK IS OFTEN IMPOSSIBLE.
THE PROOF THAT THESE THINGS DO NOT ELICIT THE HOPED-FOR RESULTS SHOULD BE SUFFICIENT, BUT PERHAPS THE "PLACEBO EFFECT" COMES INTO PLAY IN SOME INSTANCES SO THE "CURE" APPEARS TO BE EFFECTIVE.
Also called the
placebo
response, this is a remarkable phenomenon in which a
placebo
-- a fake treatment, an inactive substance like sugar, distilled water, or saline solution -- can sometimes improve a patient's condition simply because the person has the expectation that it will be helpful.
HOW TO SEPARATE FACT FROM FANTASY IN A PERSON'S MIND WHO DESIRES A "QUICK FIX" FOR A CHRONIC PROBLEM?
I DON'T KNOW OF A WAY TO DO SO.
THE HUMAN MIND REJECTS SO MUCH, BUT ALSO CLINGS TO SO MUCH THAT TRUTH BECOMES LIE AND A LIE BECOMES THE TRUTH IN WAYS WE WILL NEVER UNDERSTAND.
HUMAN MINDS HAVE ALWAYS REJECTED WHAT IS HURTFUL TO THE EGO, PAINFUL TO ACCEPT, DISTASTEFUL TO THE PSYCHE, DAMAGING TO PRIDE, ETC, FOR INNUMERABLE REASONS, IGNORING LOGIC AND/OR SCIENTIFIC PROOF IN FAVOR OF PERSONAL BELIEF.
SOMETIMES WE FIND THAT THERE REALLY IS NO
HONEST
BELIEF PRESENT, JUST THE STRONG DESIRE TO WANT TO BELIEVE.
SO, SINCE SUCH SUPERSTITIONS AS THE ABOVE HAVE PERSISTED FOR HUNDREDS TO THOUSANDS OF YEARS, WE MAY AS WELL EXPECT A CONTINUANCE OF THE SAME.
IN OUR QUEST FOR "ETERNAL YOUTH" OR VIRILITY OR BEAUTY (AS WE EACH SEE BEAUTY), HUMAN BEINGS HAVE DONE SOME VERY STRANGE, OFTEN TERRIBLE THINGS TO OTHER CREATURES.
WILL MEN CONTINUE TO EAT OTHER ANIMALS' TESTICLES OR PENISES TO OBTAIN A SINGLE ERECTION RATHER THAN FACE THE FACTS OF THEIR DECLINING LIBIDO AND SEXUAL PROWESS?
YES.
WILL SOME WOMEN CONTINUE TO EAT THE FETUS OR PLACENTA OF OTHER ANIMALS TO INSURE HEALTHY PREGNANCIES FOR THEMSELVES WHILE PERHAPS RISKING THE HEALTH OF THE DEVELOPING CHILD BY DOING SO IN UNSANITARY WAYS?
YES.
THIS IS WHY ANIMALS BECOME EXTINCT...WHETHER HUNTED TO SUSTAIN LIFE ITSELF OR FOR CULTURAL/RELIGIOUS/SUPERSTITIOUS REASONS, WE'VE GONE TOO FAR TO TURN BACK NOW.
I HAVE ALWAYS WONDERED, EVEN BEFORE THE MOVIE "SOYLENT GREEN", HOW LONG IT WOULD TAKE CANNIBALISM TO BECOME THE "NORM" ONCE WE'VE ELIMINATED ALL OTHER SPECIES.
LESS THAN A DAY, PROBABLY.
STILL-BEATING
HEART OF A FROG
, ANYONE?
FISH, DEEP FRIED EXCEPT FOR THE HEAD, SO IT CAN WATCH YOU EAT IT?
"
Speed is the key -- when you prepare the fish, you can't hurt its internal organs, so when you serve it, it can stay alive for at least half an hour," ['CHEF'] Wang said on a broadcast by television station ETTV."

IT WOULD BE HORRIFIC IF HUMAN BEINGS WERE EVER SERVED UP LIKE THAT, WOULDN'T IT?

WELL, THERE WAS A BILL INTRODUCED TO THE OKLAHOMA LEGISLATURE BANNING HUMAN FETAL TISSUE IN FOOD...

IN ANOTHER DECADE OR SO, STATED ONE COMMENT ON THE PANGOLIN ISSUE, ABORTED HUMAN FETUSES MAY TAKE THE TITLE AWAY FROM PANGOLINS.

ACTUALLY, THAT'S ALREADY HAPPENED...
125,000 EACH DAY, WORLDWIDE...BUT NOT ALL ARE USED IN 'RESEARCH'.

YES, HUMANS ARE ANIMALS... BUT DON'T WORRY, HUMAN FETAL TISSUE AND FETAL ORGANS AND BODY PARTS ARE LEGALLY SOLD...MOSTLY.