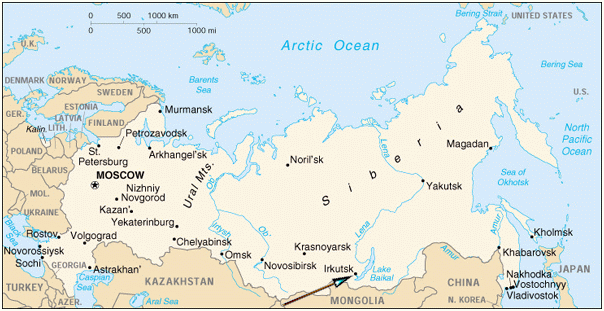 EVEN ON A MAP OF SPRAWLING SIBERIA, BAIKAL STANDS OUT.
LAKE BAIKAL IN WINTER, TURQUOISE ICE!
Once famed for the purest water on the planet, this 'is no longer true' as 'no drinking' warnings are now prominent in the southern part of the lake,
30% of its area.

The once pristine water there is now regarded as unsafe for animals to drink, never mind humans, warned a report in 2015 on UlanMedia, which stated Baikal 'does not meet sanitary and epidemiological requirements'.
THE LAKE IS 5,387 FEET DEEP
(

1,642 m)

.
IT IS 395 MILES LONG AND 49 MILES WIDE.
(
636 km x
79 km)

IT HOLDS 20% OF EARTH'S ENTIRE FRESHWATER SUPPLY.
FRESH WATER, NON-SALINE WATER IS ONLY 3% OF ALL THE WATER FOUND ON EARTH, AND THAT SMALL 3% KEEPS ALL OF US ALIVE.

MAGNIFICENT LAKE BAIKAL, SIBERIA, RUSSIA.

[ LINKS TO LARGE PHOTOS WILL BE GIVEN AT BLOG'S END]

RUSSIA WAS BLESSED WITH ONE OF THE MOST BEAUTIFUL, THE OLDEST, AND THE DEEPEST OF ALL FRESHWATER LAKES ON OUR PLANET.
IT IS EASILY RECOGNIZABLE FROM SPACE.
BUT IT APPEARS TO BE "DYING" AND WE SEE NO ONE RUSHING TO HELP RUSSIA SAVE IT, JUST AS WE SEE NO ONE DOING ANYTHING OF CONSEQUENCE AT FUKUSHIMA TO AID JAPAN.
WHY SHOULD THIS RUSSIAN LAKE MATTER TO THE REST OF US?
~ BECAUSE FRESH WATER HAS BECOME THE "BLUE GOLD" SO SOUGHT AFTER THAT WHEN THE "WORLD BANK" GIVES A NATION A LOAN, THEIR FRESH WATER SUPPLY IS COLLATERAL ON THAT LOAN.
.



WORLD BANK EVEN RECOMMENDS OTHER LENDERS SECURE WATER RIGHTS AS COLLATERAL.
WORLD BANK WANTS LAWS AND REGULATIONS IN PLACE TO MAKE PRIVATE TITLE TO WATER SOURCES EASIER.
[SEE THE WORLD BANK'S OWN DOCUMENT THAT STATES THIS <HERE>, AND SEE THIS ARTICLE ON PRIVATIZATION OF WATER <HERE>.]
"Water rights need to be assigned and enforced even under an administered system, and the conveyance infrastructure still must be built. But a water market system increases the value of water, so there is more incentive to clearly define water rights, to improve measurement and enforcement, and to establish an efficient mechanism to resolve disputes."
~ ALL NATIONS ARE SCRAMBLING TO FIND NEW SOURCES OF FRESH WATER AS WHAT WE'VE SO FAR FOUND IS DRYING UP.
IF YOU DOUBT THIS, ASK A CALIFORNIAN.
~ WARS ARE BEING FOUGHT OVER SMALLER BODIES OF WATER THAN BAIKAL. THIS SHOULD TELL US HOW IMPORTANT FRESH WATER IS.

[ SEE THE BOOKS

"
Blue Gold: World Water Wars"
AND, READ WARILY, AS SOME OF THE FOLLOWING BOOK'S OPINIONS BORDER ON A CERTAIN WORLDVIEW NOT SHARED BY MANY AND ARE A BIT "ODD"

,
"
Water Wars: Privatization, Pollution And Profit".
The water wars of the twenty-first century may match or even surpass the oil wars of the twentieth century.
These books
expose the destruction of the earth and the disenfranchisement of the world's poor just to gain control of water.
They show the tactics used by the super-rich nations and bankers who lend to poor nations to virtually enslave third world countries using water supplies. ]
THERE IS A WEBSITE DEDICATED TO LAKE BAIKAL <HERE> WITH MORE INFORMATION THAN ONE CAN IMAGINE.
IT TRULY IS A NATURAL WONDER...OR, IT WAS.
WHILE THE WEBSITE SEEMS TO BE MAINLY TO ENTICE TOURISM AND SPEAKS OF THE CONTINUED "PURITY" OF BAIKAL, MUCH CAN BE LEARNED THERE.
BEAUTIFUL PHOTOS AS WELL!
IMAGES TAKEN FROM SPACE SHOW THE MASSIVE EXPANSE OF THE LAKE, AS WELL AS THE FREQUENT WILDFIRES AROUND IT.
FROM THE WEBSITE, ABOUT THE DECLINE OF THE LAKE, A SMALL MENTION OF THE THREATS TO IT.
"In 1957, when the public first heard about plans for a cellulose plant at Baikalsk, people who had mutely obeyed the Soviet government for 40 years finally howled in protest.
Local scientists, writers, fishermen, and ordinary citizens banded together to fight the plant, igniting an environmental movement that was a direct forebear of all Soviet activism to come.

Their protests were mostly ignored.

Yet at a time in the Soviet Union when the fires of free speech were being stamped out wherever they appeared, a small flicker burned fiercely in the Siberian wilderness.
After years of protest, the lake's defender were rewarded in April, 1987, when the Soviet government issued a comprehensive decree protecting Lake Baikal.
Among other things, it abolished logging anywhere close to the lakeshore and decreed that the cellulose plant be "reprofiled" for activities harmless to the environment by 1993. Exactly what those activities might be

has not been decided.
Meanwhile the dumping of industrial waste into Baikal continues, and bilious smoke still rises from the plant 24 hours a day.
For over 30 years this very issue has been the centerpiece of discussions and arguments between scientists, environmentalists, developers, industrialists and governmental officials.
Dozens of international expeditions that worked on Baikal during recent years have come to the unanimous opinion:

Baikal remains the cleanest reserve of fresh water, but the local alterations in its ecosystem near the Baikal pulp-and-paper plant and the region where the Selenga River flows into Baikal, impose their negative effects on its inhabitants.
The intensive exploitation of the Baikal Territory adversely affects the primordial, easily injured Siberian nature.
We haven't yet learnt to live in harmony with it, and the way to this seems to be long."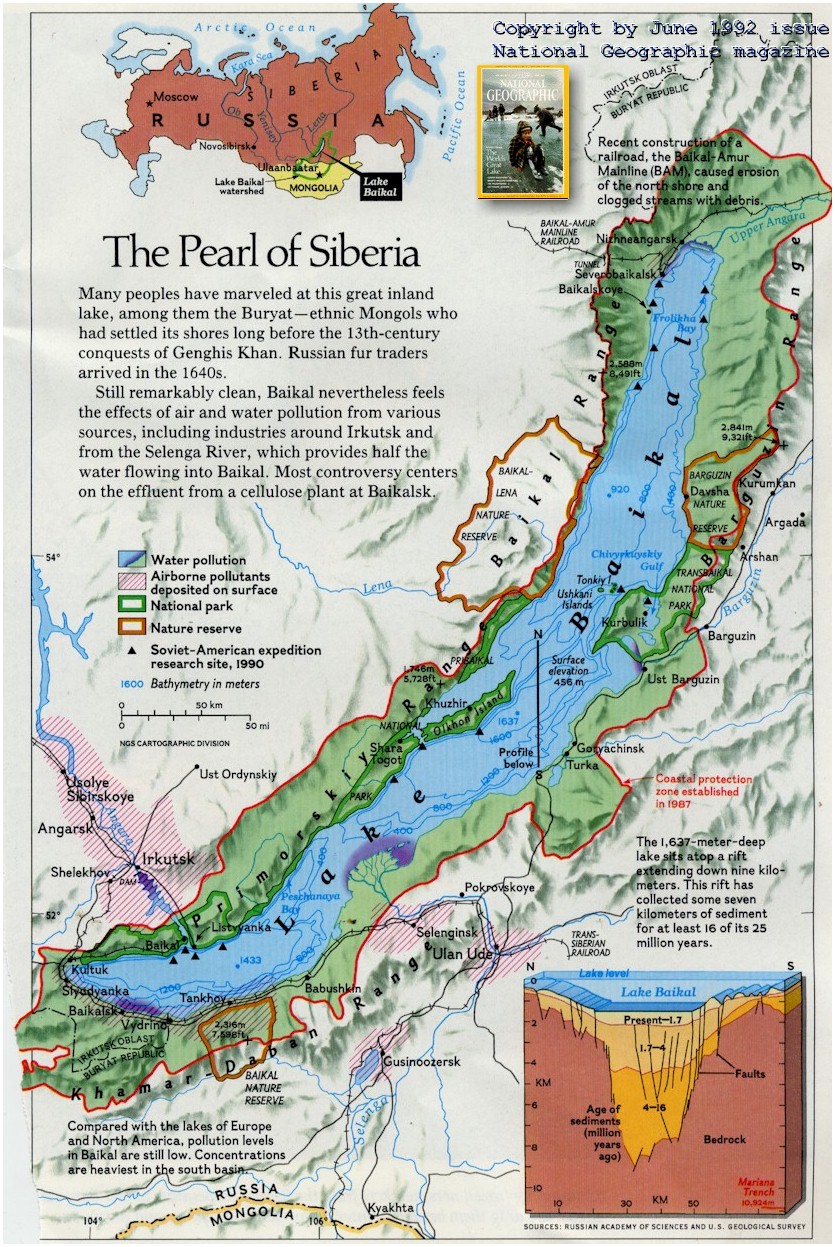 VERY LARGE IMAGE <CLICK HERE>.

IT APPEARS WHOEVER WROTE THAT PIECE HASN'T QUITE FACED THE REALITY OF WHAT'S HAPPENING TO BAIKAL.


TODAY, THE SHORES OF BAIKAL, ESPECIALLY ON THE SOUTHERN END, LOOK MORE LIKE A SWAMP, AND, BEYOND THAT, IN PLACES, THE AREA RESEMBLES A LUNAR LANDSCAPE.


THE ONCE ABUNDANT LIFE IN THE LAKE IS SLOWLY DYING OFF.


THE LEVEL OF THE LAKE HAS FALLEN TO WITHIN 13 CENTIMETERS OF THE LOWEST LEVEL IT CAN REACH AND STILL HAVE HOPES OF RESCUE.
THAT'S A VERY NARROW MARGIN FOR SURVIVAL!


ALTHOUGH THE GOVERNMENT PROMISED TO END TIMBER HARVESTING NEAR THE LAKE, THAT CONTINUED AND STILL DOES IN SOME AREAS, LEGALLY OR NOT.
LOCALS NEED WOOD FOR FIRES AS MUCH AS THE PAPER MILL NEEDS WOOD TO MAKE ITS PRODUCTS.
NEED OVERRIDES CONCERN FOR THIS LAKE.
IT IS ENORMOUS, PERHAPS GIVING THE ILLUSION ITS WATERS CANNOT BE EXHAUSTED.
BUT EVERY DAY, THEY ARE BEING EXHAUSTED, AND POLLUTED, AND THE LAKE IS BEING DESTROYED.
THE CUTTING OF SO MUCH TIMBER ALLOWED RUNOFF WHICH CLOGGED ALL THE STREAMS THAT FEED THE LAKE EXCEPT ONE WITH SEDIMENT.
ONLY ONE REMAINS FREE-FLOWING.

"A recent scientific expedition discovered that 160 tons of liquid waste are produced every season in Baikal's Chivyrkui Bay, said the head of Baikal Environmental Wave, one of Russia's first environmental NGOs, according to SIA media outlet."
DISAPPEARING LIKE THE ARAL SEA
April 25, 2015

"The roots of the problem resemble those which killed the Aral Sea: the inability or unwillingness of the authorities to restrain economic activity and population growth, divisions among governments and the failure of them to reach an agreement, and the constant invocation of the false argument that the problems are only temporary. Gennady Klimov, an activist in the Republic of Buryatia, has warned the Kremlin that three to four years from now – and "a maximum of five" – Lake Baikal is at risk of becoming a swamp in some places and a dead body of water in others because the rivers that fed it will no longer provide the water needed to maintain its current level -- exactly the same thing that led to the death of the Aral Sea (

asiarussia.ru/news/7124/

).

Klimov says that because the governments are divided and unwilling to do anything and because they continue to do the things that harm the lake, he has decided to mount a media campaign.

But it is clear that he is not optimistic given the forces arrayed against a sensible environmental policy.


The Aral Sea is already dead; Lake Baikal could very well be the next major body of water to die."




'RUSSIA TODAY NEWS' WROTE AN ARTICLE ADMITTING THAT....




HOWEVER, RT BLAMED IT ON EVERYTHING BUT THE LOGGING AND THE FILTHY PAPER PLANT.

PHOTOS OF THE RAW WASTE BEING PUMPED STRAIGHT INTO THE LAKE BY THAT FACILITY WERE NOT LABELED AS SUCH.




14 Jan, 2015 (THE LAST EDIT OF THE RT PIECE)


"A recent scientific expedition discovered that 160 tons of liquid waste are produced every season in Baikal's Chivyrkui Bay, said the head of Baikal Environmental Wave, one of Russia's first environmental NGOs, according to SIA media outlet.




Locals have complained to ecologists that the waste easily drains into the lake, SIA reported.




[THEY'VE BEEN COMPLAINING ABOUT THAT PAPER PLANT SINCE 1960, AND ABOUT LOGGING FOR AT LEAST THAT LONG, BUT THE ARTICLE MAKES IT APPEAR THAT SHIPS AND BOATS ON THE LAKE, TOURISTS, AND NEW "EXOTIC" FLORA AT THE NORTHERN END ARE THE CULPRITS.

SURELY ALL THAT IS CONTRIBUTING, BUT THE LOGGING MUST BE STOPPED AND ALL THE REMAINS OF THAT CURSED MILL HAS TO GO!]


FINALLY, IN DECEMBER OF 2013, THE PAPER MILL WAS CLOSED AFTER 47 LONG YEARS OF DUMPING ITS WASTE INTO THE LAKE, BUT IT WAS NOT PROPERLY CLEANED UP, SO IT CONTINUES TO POLLUTE BY RAINWATER RUNOFF INTO THE LAKE.



The mountains of waste at the Baikal pulp and paper mill site will be cemented and then covered with soil and landscaped.

The total cost of redeveloping Baykalsk, including closing the Mill is estimated at $1.27 billion (40 billion rubles) according to Prime Minister Dmitry Medvedev."


NO ONE HAS YET SET A DATE FOR SUCH A MASSIVE CLEANUP.
NO GOVERNMENT AGENCY HAS PLEDGED MONEY FOR IT.
IT HANGS IN THE AIR AND LIKELY WILL FOR MANY YEARS.

THE PEOPLE WHO LOST THEIR JOBS ARE BITTER.
THE PLANT PROVIDED 80% OF THE TOWN'S INCOME.
HAVING MONEY FOR FOOD, NATURALLY, MUST BE UPPERMOST IN THE MINDS OF THE UNEMPLOYED, AND THE TEMPTATION TO CUT WOOD FOR HEAT "FOR FREE" GROWS WITH EACH DAY OF UNEMPLOYMENT.
IT'S ALSO CHEAPER TO DISPOSE OF WASTE DIRECTLY INTO THE LAKE THAN TO REPAIR FAULTY SEWERS AND PLUMBING OR TREAT WASTEWATER.
BAIKAL HAS NEW POLLUTERS

.


WATER BOTTLERS

HAVE MOVED IN, PLYING THE LAKE IN BOATS THAT LEAVE BEHIND OIL AND PETROL LEAKS, THAT ADD TO THE TOXINS THAT ARE KILLING THE MIGHTY LAKE AND ITS NATURAL INHABITANTS.


. Today, as shown above, much of the lake is covered with the algae Spirogyra, an indicator of fecal contamination.' Pictures: Arigus TV, Oleg Timoshkin

[BELOW ITS SURFACE, BAIKAL ONCE WAS HOME TO OVER 1.500 SPECIES OF UNIQUE LIFE. THE PHOTOS FROM THE NATIONAL GEOGRAPHIC STUDY OF THE LAKE IN 1990 CAN BE VIEWED

<HERE>

.]

SOMEONE MUST CARE ENOUGH TO STOP THE POLLUTION AND HELP THE LAKE HEAL BEFORE IT'S TOO LATE.

The lake is in 'environmental crisis' and 'requires immediate attention', said the newsru.com analysis.
The warning follows a summer of wildfires which engulfed the forested areas around Baikal, threatening its unique wildlife and vegetation. Dr. Timoshkin, of the Limnology Institute of the Siberian Branch of the Russian Academy of Sciences in Irkutsk, has previously warned of 'intensive bacteriological decay' in the lake.

"Baikal can't swallow it all. The lake is no longer the cleanest lake on the Earth, at least, (around the) the coastal line. Water preparation and cleaning facilities of the towns close to Baikal haven't been functioning properly for the last three years, if not longer. And all this filth gets into Baikal. It is not even possible to drink water of the rivers running through the local villages," he said."


WHY THE WORLD SHOULD HELP...
FOR DECADES NOW, RUSSIA HAS BEEN AMERICA'S CHOSEN "MAJOR THREAT", REPLACED ONLY RECENTLY BY THE "AL QAEDA/ISIS/HAMAS TERRORISTS".
HOWEVER... WHILE MANY AMERICANS SEE A THREAT IN RUSSIA, OUR GOVERNMENT SEEMS TO FORGET THAT WHEN IT NEEDS A NEW PLACE TO DUMP

OUR

NUCLEAR WASTE.

IT NEEDS SIBERIA... A PLACE NEAR LAKE BAIKAL, IN PARTICULAR.


"A large nuclear reactor produces about 25 tons of spent fuel each year. The US alone has amassed about 45,000 tons of spent fuel from its nuclear reactors, about a quarter of all the waste worldwide. And most of this radioactive material remains in temporary storage facilities – until, that is, it can find a more permanent home.

Siberia – isolated, impoverished – may appear to some as the ideal place to set up a permanent storage site for the world's nuclear waste.

In May, US and Russian negotiators signed the US-Russia Agreement for Peaceful Nuclear Cooperation that would allow for the shipment of nuclear fuel to Russia. Currently, it is against US law to ship to Russia any nuclear fuel of US origin. The new agreement would change that, and give other countries an opportunity to dispose of their nuclear waste in Russia as long as their fuel originally came from the US.



Expanding spent fuel storage at Lake Baikal would give a boost to the country's own nuclear industry. Russia plans to expand the number of its own reactors from the 31 currently operating to 59.

Offering to store wastes at Baikal could also prove a boon to Russia's program of designing and building nuclear reactors for other countries, since the Russians will then be able to take spent fuel off their customers' hands."


MAYBE OUR ELECTEDS DON'T REALLY SEE RUSSIA AS A THREAT AFTER ALL?
IF THEY DID, WHY SHIP ENOUGH RADIOACTIVE WASTE OVER TO HER TO CONTAMINATE ALL OF THE U.S.? WHAT ABOUT THOSE "DIRTY BOMBS" WE'RE WARNED ABOUT INCESSANTLY?

ILLOGICAL, YES?
BUT WHY, WHY ON EARTH WOULD RUSSIA STORE RADIOACTIVE WASTE SO NEAR ITS MAIN SOURCE OF FRESH WATER?
WE'VE ALL SEEN HOW CONTAMINATION SPREADS FROM NUCLEAR WASTE STORAGE!


WHAT A SHAME THAT THE U.S. WOULD SEND WASTE THERE AND THAT RUSSIA WOULD ALLOW IT.

THREAT OR NO THREAT, WHEN SOMETHING AS IMPORTANT AS LOSING FRESH WATER, OR AN OBVIOUS DANGER TO EARTH'S ENVIRONMENT, OR A NATION IN NEED OF FOOD SHOWS UP ON THE GLOBAL "RADAR", WHY CAN'T WE PUT ASIDE ALL THE SABER-RATTLING AND SET ASIDE LABELS OF "THE ENEMY" LONG ENOUGH TO RESTORE BALANCE, FIX WHATEVER THE HELL IS BROKEN, GET THINGS BACK ON A GOOD PATH?
OLD RONALD REAGAN MADE A COMMENT TO THE U.N. ON THE ORDER OF, "IF EARTH WERE ATTACKED BY EXTRATERRESTRIALS, WE'D SURE SET ASIDE OUR DIFFERENCES TO SAVE THE EARTH."
BOTTOM LINE? YES, WE ARE MANY CULTURES, MANY IDEOLOGIES, MANY RELIGIONS, MANY LANGUAGES, MANY LOVES AND MANY HATES, BUT WE HAVE ONLY ONE TINY BLUE MARBLE ONTO WHICH WE

ALL

PRECARIOUSLY CLING...WE CALL IT EARTH.
WHEN SHE GOES THE WAY OF THE WIND, SO GO WE ALL. WHEN SHE DIES, SO DO WE.
WHEN WE SEE ANY PART OF HER DYING AND STAND IDLY BY SIMPLY BECAUSE THE PROBLEM LIES WITHIN THE BORDERS OF A NATION WE CALL "ENEMY" OR "THREAT", THEN PERHAPS WE DESERVE TO TUMBLE INTO EXTINCTION.
THE LAST TIME I LOOKED, WE ARE ALL OF ONE SPECIES...HOMO SAPIENS SAPIENS WE'RE CALLED.
MAYBE WE SHOULD REMOVE BOTH "SAPIENS"?
WE'RE ALL ABOARD THIS FRAGILE SPACESHIP, ALL HURTLING ALONG TOGETHER. IF A HOLE APPEARS IN HER HULL ANYWHERE, IT IS IMPERATIVE THAT WE MAKE REPAIRS. TO FAIL TO GO TO THE AID OF WHATEVER REGION THAT HOLE DEVELOPS IN AND ASSIST IN REPAIRS IS SUICIDE.
ONE OF THE MOST IGNORANT THINGS I HAVE EVER SEEN DONE BY OUR GOVERNMENT WAS THE BUSH ADMINISTRATION'S REFUSAL OF AID BY CUBA IN THE AFTERMATH OF HURRICANE KATRINA.
CUBA PRODUCES SOME OF THE FINEST PHYSICIANS I HAVE EVER HAD THE GOOD FORTUNE TO MEET.
OUR OWN CITIZENS WOULD HAVE BENEFITED GREATLY FROM THE MEDICAL AID THE CUBAN GOVERNMENT OFFERED AND THEY COULD HAVE BEEN ONSITE, SAVING LIVES WITHIN HOURS.
BUT OUR GOVERNMENT REFUSED! CUBA WAS THE ENEMY.
NOW WE HAVE RUSSIA, WHOM I AM CERTAIN WILL MANAGE ON HER OWN AS SHE HAS FOR CENTURIES, BUT, TO ME, WHAT SHE NEEDS ACCOMPLISHED, AN END TO HER PEOPLE'S CONCERN OVER LOSING SUCH A WEALTH OF FRESH WATER, SOMETHING WE ARE QUICKLY DEPLETING, SOMETHING EVERY HUMAN BEING MUST HAVE FOR LIFE, SHOULD IMMEDIATELY BECOME A GLOBAL CONCERN, ADDRESSED BY THE ENTIRE WORLD'S GOVERNMENTS AND PEOPLE.
SCREW THE "HEADS OF GOVERNMENT" AND THEIR "KING OF THE HILL" GAMES, LET'S FOCUS ON OTHERS LIKE US, ORDINARY FOLKS WHO JUST WANT TO LIVE.
I CAN ALMOST HEAR SOME OF YOU READING THIS MUTTER, "DAMNED COMMUNISTS! LET 'EM DIE OF THIRST!"
I HAVE ALSO HEARD IN MANY COUNTRIES A CRY, NOT A MUTTERING, OF "DAMNED AMERICANS! KILL THEM ALL!"

I HEARD THA

T SCREAMED INTO MY OWN EARS MANY TIMES.
THAT WE "LOATHE" OR FIND HEINOUS SOME IDEOLOGIES AND BELIEF SYSTEMS MUST NOT KEEP US FROM RENDERING AID WHEN THAT AID WILL HELP SUSTAIN THIS WEE PLANET AND

HELP KEEP US ALL ALIVE ANOTHER DAY.


SURE, SURE, WE CAN GO RIGHT BACK TO WARS ONCE THE EMERGENCY IS OVER, AND WOULD, BECAUSE WE NEVER SEEM TO LEARN AND SEEM INTENT ON SELF-DESTRUCTION, IF IT TAKES THAT TO "KILL THE ENEMY".
MIGHT WE CALL THAT "INSANITY"? WE MIGHT.
MEANWHILE, OUR SPACECRAFT HAS SEVERAL HOLES IN IT AND WE ARE RUNNING OUT OF TIME. IN JAPAN, EVERY SECOND THAT DISASTER GOES ON UNCHECKED, THAT HOLE REMAINS GAPING, EXPANDING.
WE ARE ALL AT RISK BECAUSE OUR PLANET IS AT RISK.
IF RUSSIA LOSES THAT LAKE, WE ALL LOSE 20% OF WHAT FRESH WATER IS AVAILABLE TO US.
CHOICES. ALL WE DO OR DON'T DO IS A PERSONAL, PRIVATE CHOICE. EVEN WITH A GUN TO OUR HEADS, WE STILL HAVE A CHOICE WHEN ALL IS SAID AND DONE.
WE CAN'T HANG THE BLAME OF THE CHOICE NOT TO HELP REPAIR WHAT'S BROKEN ON "JUST DOING WHAT THE GOVERNMENT SAYS I MUST".
WE ALONE DECIDE FOR OURSELVES WHETHER OR NOT WE STOP TO HELP SOMEONE WHO'S FALLEN, WHO NEEDS OUR HELP.
IT MAY BE RUSSIA'S LAKE, JAPAN'S NUCLEAR POWER PLANT, SOUTH AMERICA'S AMAZON, CALIFORNIA'S OR AFRICA'S DROUGHT, BUT IT'S OUR WORLD.
IT'S THE ONLY ONE WE HAVE.
IF EVEN ONE INCH OF IT HAS A PROBLEM, WE ALL NEED TO IMMEDIATELY FIND A SOLUTION. IF ANYWHERE ON OUR EARTH ANY NATION HAS A NEED TO SAVE ITS ENVIRONMENT, HAS A PROBLEM FINDING SOLUTIONS, THAT'S ALSO OUR PROBLEM!
EVERY INCH OF THIS PLANET IS VITALLY IMPORTANT TO ITS SURVIVAL, TO OUR SURVIVAL. AS THE IRKUTSK POET MARK SERGEEV WROTE:

"If you are stopped suddenly by a penetrating blue and your heart stops, as it sometimes happened only in childhood, from astonishment and delight... If all petty worries, all the vanities of the world, fall away like autumn leaves, and the soul takes wing and is filled with light and silence. If, suddenly, the ready word holds back, and you feel that nature has its own language and that it is now clearly understood. If a simple earthly wonder has entered your life and you have felt it ennobled by this encounter - it means, this is Baikal."


Indigenous Siberians have a mystical feeling for it. They believe that this is not simply 23 thousand cubic kilometres of water in some enormous stone bowl, but a wizard and healer who should be neither jested with nor enraged. This is why they never call Baikal a lake, but only - the sea, or the Old Man, but more often than not they say-He!

Only a few years after these lines were written by Sergeev - at the end of the 19th, beginning of the 20th century, the great trans-Siberian railway was laid along the banks of the lake. Immediately the railway brought Baikal closer to the whole of Russia and to the rest of the world. But with the railway industry and settlements coming to its sacred shores, Siberians became anxious for the fate of the blue eye of the earth. It was from here, from the shores of Baikal, that the first calls to the people of the world were made: there is only one Baikal and the misfortune that may befall the lake will be the misfortune not only of those living near its shores."

I

GNORING SOMETHING LIKE LAKE BAIKAL'S DEMISE MAKES AS MUCH SENSE AS IGNORING A CANCER THAT APPEARS ON A TOE...THINKING THAT SOMETHING WRONG WITH A TOE CAN'T CAUSE THE DEATH OF THE ENTIRE BODY.


20% OF THE ENTIRE PLANET'S FRESH WATER COMES FROM THIS ONE LAKE.


IF THE DAY COMES THAT YOU NEED TO RELY ON THAT

RUSSIAN

SOURCE TO STOP YOUR THIRST, WILL IT MATTER THEN WHAT'S IN THAT WATER, HOW SAFE IT IS, OR IF THERE WILL BE ENOUGH LEFT TO GIVE YOU WATER THE NEXT DAY, YEAR, DECADE?

YES, WE HAVE BORDERS, BUT WE HAVE ONE SMALL GLOBE TO COEXIST UPON, JUST ONE.

SURE, WE CAN WISH THE WORST FOR RUSSIA...UNTIL WE NEED HER FOR, OH, MAYBE FRESH WATER?




=========================
LINKS TO LARGER IMAGES
http://www.irkutsk.org/baikal/gallery3.htm

http://www.irkutsk.org/baikal/latest.htm
http://www.irkutsk.org/baikal/gallery2.htm
http://www.irkutsk.org/baikal/gallery1.htm


BAIKAL, I WILL NOT FORGET.

NOR WILL I CEASE DOING ALL I CAN TO CALL ATTENTION TO THE PLIGHT OF THIS MAGNIFICENT LIVING LAKE, SO THAT IT CAN LIVE ON.

THERE ARE THOSE WHO CAN HELP HER.

WE NEED TO REMIND THEM EACH DAY THAT BAIKAL MUST BE HELPED.

CALL, WRITE, VISIT YOUR ELECTED OFFICIALS, SHOW THEM THE BEAUTY AND THE RARITY OF THIS PLACE.

SHOW THEM THE PHOTOS FROM THE WEBSITE


http://siberiantimes.com/ecology/casestudy/news/n0494-pollution-crisis-in-lake-baikal/

SO THEY CAN SEE WHAT'S CHANGED, HOW HORRIBLY IT'S CHANGED.

BAIKAL CAN NO LONGER HELP ITSELF AND NEEDS US TO INTERVENE.