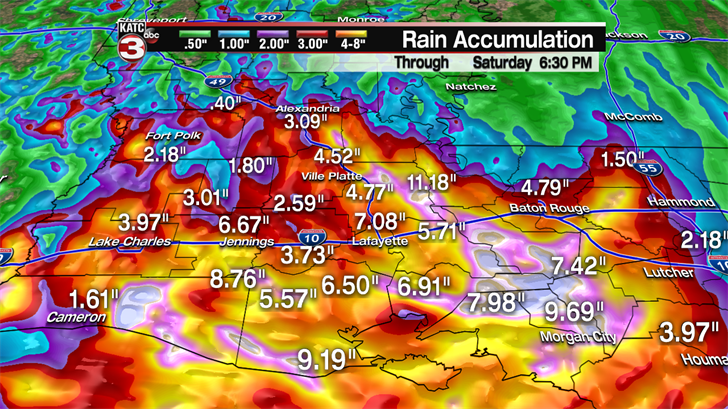 RAINFALL ACCUMULATIONS AS OF TODAY, SATURDAY, AUG. 13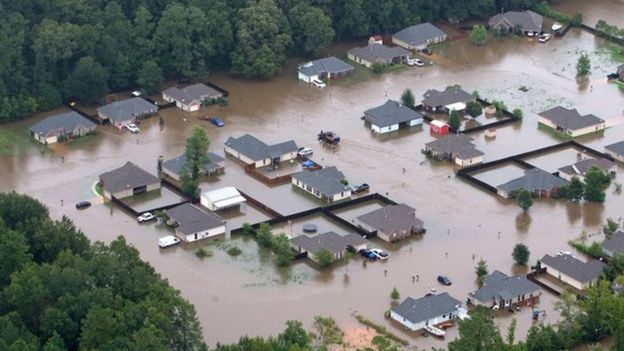 ENTIRE COMMUNITIES UNDER WATER, FLOODS RISING THROUGH MONDAY.


MANY VEHICLES SWEPT AWAY, INCLUDING SEMI-TRUCKS.

AS OF AN HOUR AGO, 3 BODIES HAVE BEEN RECOVERED OF THOSE LISTED AS MISSING.


MANY ANIMALS STILL NEED RESCUE

In Louisiana, all seven major roads into Greensburg, near Baton Rouge, were under water and the small town largely cut off, according to Michael Martin, director of operations for the St. Helena Parish Sheriff's Office.

Only large National Guard vehicles have been able to get into and out of town, Martin said. At least two dozen high-water rescues were carried out by Friday afternoon, with stranded residents pulled from cars, rooftops and, in one case, a tree.

PLEASE, IF YOU KNOW ANYONE IN THIS AREA, SINCE MANY ARE WITHOUT ELECTRICITY AND MAY BE UNAWARE OF THE COMING HIGHER FLOODS, DO TRY TO CALL THEM TO LET THEM KNOW THERE IS MORE TO COME, AND WORSE FLOODING.


OUTSIDE PETS, FARM ANIMALS, ALL NEED TO BE MOVED TO SAFETY O THAT THEY DON'T DROWN.


IF YOU ARE IN THIS AREA AND CURRENTLY SAFE, PLEASE, DO NOT VENTURE OUT UNLESS ADVISED BY EMERGENCY WORKERS.

NEVER, NEVER TRY TO DRIVE THROUGH RISING WATER.


HISTORICAL FLOODING:
FLOODING ON A SCALE THAT HAS NOT BEEN SEEN OR RECORDED IN 500 YEARS HAS HIT THE BATON ROUGE AREA AND OTHER TOWNS IN LOUISIANA IN THE PAST TWO DAYS.

Two people have died and over 1,000 were rescued after "historic" flooding swamped the US state of Louisiana.

Searches are continuing for missing people, as the rain is expected to continue throughout Saturday.

The heavy rainfall started on Friday where some areas received as much as 6-10in (15-25cm).

The neighboring states of Alabama and Mississippi are also experiencing severe weather.
FROM THE NATIONAL WEATHER SERVICE, 839 am CDT Sat Aug 13 2016

AMITE RIVER WARNING:
The Flood Warning continues for the Amite river near Magnolia .
* Until further notice.
* At 7:30 am Saturday the stage was 56.3 feet.
* Forecast... the river is above record flood stage and is continuing
to rise. The river is expected to crest by Sunday morning.

* Flood stage is 48.0 feet.

* Impact... at 48.0 feet... agricultural areas will begin to flood with
pastures, cropland, and Woodlands near la 64 inundated. Portions of
Highway 1036 and Lockhart Road will be under water.
COMITE RIVER WARNING
839 am CDT Sat Aug 13 2016

... Flood Warning extended until Monday evening (AUGUST 15, 2016)....
the Flood Warning continues for the Comite river at Comite Joor Rd.
* Until Monday evening.

* At 7:15 am Saturday the stage was 31.6 feet.

* Record flooding is occurring and record flooding is forecast.
* Flood stage is 20.0 feet.
* Forecast... the river is expected to continue rising until cresting
at around 34.5 feet by late tonight. The river is expected to fall
below flood stage Monday early afternoon.


* Impact... at 33.0 feet... 500-year flood.
* Impact... at 30.6 feet... highest stage on record, may 19, 1953.
* Impact... at 30.0 feet... there will be widespread major flooding.
* Impact... at 25.0 feet... subdivisions between the Comite river and
Beaver Bayou will have moderate flooding.

High water will prevent recreational and Industrial activity from Louisiana
Highway 64 downstream to the Amite River Junction.

Farm animals and equipment should be moved to higher ground.

Cities affected by the ABOVE warnings:
Baker

Baton Rouge

Central

Greenwell Springs

Pride

Scotlandville

Southern

Zachary



LOCAL NEWS STATION KATC WAS STILL GIVING LIVE UPDATES AN HOUR AGO.
YOU CAN ACCESS THAT WEBSITE ONLINE <HERE>.

AT 3:54 PM TODAY:

"After two feet or more of rain since early Friday in Acadiana, additional heavy rainfall through early Sunday is expected to exacerbate the ongoing historical flooding.

Additional rainfall of 4-8 inches will be likely Saturday evening/overnight especially from Lafayette Parish on westward and southward through Sunday morning.

Area rivers and bayous have surpassed or are expected to surpass their respective all-time records, with the Vermilion River in Lafayette currently at its highest level, above 17 feet in 76 years.

The Vermilion River is expected to crest near 18.5 feet or higher depending on additional rainfall...and with heavy rains likely southward into Vermilion Parish, and above normal tides on the coast, the river will continue to stay very high, or continue to rise perhaps, through early next week.

Therefore, any coulees and drainage ditches and the current flooding around those areas could increase another 1-2 feet.

Vermilion Parish OEP reported more than 1,500 homes flooded in the parish alone Saturday afternoon, with totals across the rest of Acadiana estimated in the thousands, with many more likely to flood.


Deep tropical moisture will stay in the region Sunday into Monday with the possibility of more trouble spots of flooding rains, but activity should not be as concentrated or as persistent into early next week.

The flooding conditions however, may stay for days, perhaps weeks to come."

THOUGH WARNED ON FRIDAY, MANY WERE TAKEN BY SURPRISE AT HOW RAPIDLY THE WATER ROSE AND BY THE SHEER VOLUME OF RAINFALL IN A SHORT PERIOD OF TIME.


"Baton Rouge, Louisiana's capital, is one of the worst hit areas where as much as 11.3in (28cm) of rain was reported.

New Orleans has reported 2.34in (6cm).

Thousands of acres of Louisiana was flooded in 2011 to divert water from the flooded Mississippi River and to spare cities, including Baton Rouge and New Orleans, that lie downstream.

In 2005, New Orleans suffered one of the worst natural disasters in US history, when Hurricane Katrina hit the city.

The storm killed nearly 2,000 people and displaced one million.
Thousands of homes were flooded and destroyed in Louisiana and along the Gulf coast."


Aerial footage from a news helicopter shows the widespread devastation <HERE>.

Meteorologist Danielle Banks of Weather.com gives a video update on the impacts of this historic Louisiana flooding.
BE AWARE THAT NATCHEZ, MISSISSIPPI HAS NOW ALSO COME UNDER A FLOOD WATCH, AS HAVE SEVERAL TOWNS IN SOUTH MISSISSIPPI.
FROM THE NATIONAL WEATHER SERVICE:

* Rainfall amounts of 3 to 9 inches have already fallen across the
watch area... and an additional 1 to 2 inches are possible. This
additional heavy rain falling on already soaked ground could lead
to flash flooding.
* The flooding of roads and low lying areas will be possible. Some
roads may become impassable. If encountering flooded roadways...
remember to turn around don't drown.
You should monitor later forecasts and be prepared to take action
should flash flood warnings be issued.

Cities IN MISSISSIPPI Affected BY THIS WATCH:
Church Hill

Natchez

Sibley

Washington
MAY ALL WHO READ THIS BE WELL AND SAFE.
STAY INFORMED, MY FRIENDS.