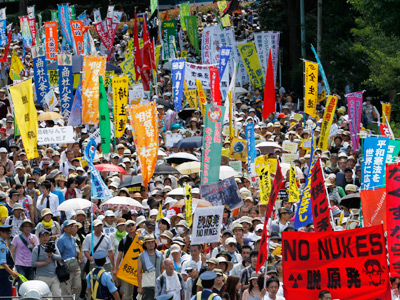 Japanese Ambassador

Mitsuhei

Murata to Susana Malcorra (United Nations Cheif

of

Cabinet), Aug 27, 2015:


"

I am sending you my fourth message to President Bach of The International Olympic Committee (IOC).
I inform him of my message addressed to Prime Minister Abe.

In my message… I ask for the first concrete international cooperation concerning the method of cooling spent fuel rods making use of zinc instead of water.
This is crucially important.

The Pacific Ocean is more and more contaminated with the daily release of more than 300 tons radioactive groundwater.

I remind Prime Minister Abe that the decision to retreat from the Tokyo Olympic Games and carry out an international verification of the suspected re-criticality is urgently needed…

My interview article was published in the magazine "Monthly Japan" (September).

The article entitled "An honorable retreat from the Tokyo Olympic Games" is given a central place. Reactions are noteworthy and encouraging. Conscientious citizens start questioning the integrity of the IOC. Please convey my warmest greetings to Secretary-General Ban-kimoon."

Ambassador Murata to Dr. Thomas Bach (President of the International Olympic Committee), Jun 15, 2015:

"Allow me to send you a letter, motivated by my sense of mission to inform you of the

worsening situation in Fukushima

, which regrettably is being downplayed by our Government and does not seem to be well known internationally…

Contrary to the assurances of the Japanese Government and [TEPCO], the situation at the site of the Fukushima Daiichi Nuclear Power Plant is not at all under control…

Not only do we have a continued contamination of the groundwater and the Pacific Ocean… but the brittle structure of the damaged plant represents itself a serious threat, in particular in our earthquake prone region."

AS YOU CAN

PERHAPS

SEE FROM THOSE TWO LETTERS, FUKUSHIMA IS NOT OVER, NOT "UNDER CONTROL", AND JAPAN IS RESTARTING OTHER POSSIBLE "FUKUSHIMAS", RESTARTING AGING, FAILING POWER PLANTS THAT CAN'T EVEN REMAIN OPEN DUE TO LEAKS, FAULTY EQUIPMENT, FAILURE TO HAVE EVACUATION PLANS AND A GENERAL DISREGARD FOR 'NUCLEAR

REGULATORY' RULES.



AFTER THE FUKUSHIMA DAI'ICHI DISASTER OF 2011, JAPAN AGREED TO SHUT DOWN ALL NUCLEAR REACTORS IN THE COUNTRY AND ASSESS THEIR SAFETY.

THERE WAS NOT ONE NUCLEAR FACILITY JUDGED TO BE IN COMPLIANCE WITH NUCLEAR REGULATORY AGENCY RULES OF OPERATION.
ALL JAPANESE NUKE FACILITIES HAVE FAILED REPEATEDLY TO COMPLY WITH

THOSE

RULES TO PROVIDE

MAXIMUM

SAFETY FOR CITIZENS THERE.

NUCLEAR FACILITIES IN JAPAN HAVE RESTARTED ONLY TO HAVE TO QUICKLY SHUT DOWN AGAIN BECAUSE OF FAILURES IN EQUIPMENT, PROBLEMS CAUSED BY EARTHQUAKES, TYPHOON RAINS AND WIND AND RADIATION LEAKS

DUE TO STRUCTURAL FAILURES OR INEPT OPERATIONAL PRACTICES AND POOR MANAGEMENT.




FIVE YEARS

AFTER THE 2011 DISASTER

, FIVE REACTORS HAVE BEEN RESTARTED AND, THIS WEEK, IT WAS ANNOUNCED THAT ANOTHER, THE IKATA-3 NUCLEAR POWER PLANT,

WAS

RESTARTED

ON AUGUST 12, 2016, DESPITE PROBLEMS WITH THE FAILURE OF A PRIMARY PUMP THAT CIRCULATES COOLING WATER TO THE REACTOR.

THIS RESTART WAS NOT WITHOUT PROTESTS, AS JAPAN TIMES REPORTED:


"
Citizens groups sought injunctions in three different prefectures to turn it back off amid various safety concerns, including the viability of evacuations.
The reactor is the fifth to be switched back on since all of the nation's atomic reactors were closed due to the March 2011 triple core meltdown at the Fukushima No. 1 power plant following a mega-quake and tsunami.
However, a March decision by the Otsu District Court to place a temporary injunction on two Kansai Electric Power Co. reactors in Takahama, Fukui Prefecture, left only two reactors at Kyushu Electric Power Co.'s Sendai plant in Kagoshima Prefecture in operation. They were restarted a year ago.
The Ikata No. 3 unit is also the only reactor burning the mixed uranium-plutonium oxide (MOX) fuel.
The Otsu District Court decision, which shut down Kepco's Takahama No. 3 and 4 reactors less than two months after they were restarted, has energized residents who opposed the Ikata restart. In light of the quakes in Kyushu earlier this year, many now fear a natural disaster could also damage the reactor, and that official evacuation plans for the slender peninsula could prove unrealistic."


ACROSS JAPAN, FAILURE AFTER FAILURE BY THOSE WHO OWN THE NUCLEAR POWER FACILITIES HAVE SPARKED OUTCRY AND ACTION, EVEN BY JAPANESE OFFICIALS IN A FEW INSTANCES.
JULY 28, 2016:
"Newly elected Kagoshima Gov. Satoshi Mitazono said Thursday he will seek a temporary halt on active nuclear reactors in the prefecture, currently the only ones working nationwide.
"There are concerns over nuclear power plants following the Kumamoto earthquakes," Mitazono said of the April disaster."

AUGUST 5, 2016:
"When two earthquakes of magnitude 6.5 and 7.3 struck Kumamoto Prefecture in April, the shock was felt not only in Kumamoto but also about 170 km away, in the small town of

Ikata, Ehime Prefecture, home to a nuclear power plant."
IKATA, WHERE THE NEWLY RESTARTED NUKE PLANT STANDS.
JULY 22, 2016:
"The Japan Atomic Energy Agency is in trouble once again for failing to check devices and a sodium warning signal at its experimental Monju fast-breeder reactor."
SIX MONTHS OF RELEASED RADIATION....
JAEA failed to act on status alert from Monju fuel pool water for six months

AUGUST 4,2016:
The Japan Atomic Energy Agency failed to take appropriate steps for some six months after an alarm signaled water quality deterioration in the spent-fuel pool at its Monju fast-breeder reactor last November, it was learned Wednesday.

ONE OF THE FINDINGS DURING THE INVESTIGATIONS INTO THE SAFETY OF JAPAN'S NUCLEAR FACILITIES WAS THAT NONE HAD A WORKABLE

EVACUATION

PROCEDURE IN PLACE FOR LOCAL RESIDENTS.
NONE!

DESPITE HAVING HAD FIVE YEARS TO FORMULATE S

UCH PLANS, THE JAPANESE BIG NUKE OWNERS HAVE FAILED REPEATEDLY TO DO SO.



THAT JAPANESE COURTS HAVE ALLOWED THE RESTART OF THESE FAILURES AND HAVE NOT DEMANDED THAT EVACUATION PLANS BE IN PLACE AND BE PROVEN TO WORK, IN CASE OF DISASTER, SHOULD SHOW THE PEOPLE OF JAPAN AND THE REST OF THE WORLD THAT NO ONE IS GOING TO SEE TO THE SAFETY OF MILLIONS OF HUMAN BEINGS IN THAT NATION.

NUCLEAR INDUSTRY PROFITS

ARE MORE IMPORTANT THAN

LIVES.

"

On August 5, the Shikoku Electric Power

Co. reported to the Nuclear Regulation Authority (NRA) that it would restart its Ikata-3 Nuclear Power Plant (PWR, 890MWe) in Ikata Town, Ehime Prefecture, on August 12 – the first time the reactor will have been operated since April 2011.

Ikata-3 will be the fifth NPP restarted under the new regulatory standards introduced in 2013, following the Sendai-1 and -2 NPPs, owned and operated by the Kyushu Electric Power Co., in Kagoshima Prefecture, and the Takahama-3 and -4 NPPs, owned and operated by the Kansai Electric Power Co., in Fukui Prefecture. The latter two NPPs are currently shut down because of temporary injunctions issued against their operation.
Shikoku Electric Power initially planned to restart the Ikata-3 reactor at the end of July, but, due to a problem with a pump circulating primary coolant, this was delayed.

If everything goes well, the utility will start up the reactor in the morning on August 12.

[AND THAT'S EXACTLY WHAT IT DID, WITHOUT A PLAN OF

EVACUATION

SHOULD THE WHOLE THING BLOW SKY-HIGH AS HAPPENED AT FUKUSHIMA.]
On the 13th, the reactor achieved criticality and it will reconnect to the grid on the 15th. The return to commercial operation is then expected in early September."

AND WHERE IS THIS FACILITY LOCATED? RIGHT ON OCEAN'S EDGE, AS SHOWN ABOVE.

DOES IT STAND ON A FAULT LINE?
YES, AS DO ALL NUCLEAR FACILITIES IN JAPAN, AND JAPAN HAS HUNDREDS OF MAGNITUDE 5 OR GREATER EARTHQUAKES EACH YEAR. THE FAULT LINES AND

>

5 QUAKES A

RE

ILLUSTRATED BY THE MAPS BELOW.


[THE MAP DIRECTLY ABOVE SHOWS THE >5R QUAKES SINCE 2010, BUT SOME RED CIRCLES COVER OTHER QUAKES. FOR A BETTER IDEA OF HOW MANY LARGER MAGNITUDE QUAKES OCCUR THERE, VISIT USGS' EARTHQUAKE PAGES <HERE> AND HAVE A LOOK AT THE

>4.5R

QUAKES IN JAPAN FOR JUST THE PAST MONTH.]

OF 54 REACTORS, ONLY 5 WERE OKAYED FOR RESTART.
WHY?
BECAUSE THEY WERE DEEMED UNSAFE, UNFIT FOR SERVICE.

Before the

2011 earthquake and tsunami, Japan had 54 operating reactors.

ONE CAN ALSO SEE HOW NEARLY IMPOSSIBLE IT WOULD BE FOR A NUCLEAR FACILITY TO BE BUILT AWAY FROM THE EXTENSIVE JAPANESE COASTLINE, AWAY FROM THE THREATS OF TYPHOON

S

AND TSUNAMIS.

SAME GOES FOR THE SENDAI NUCLEAR FACILITY, BUT IT ALSO LIES NEAR A VERY ACTIVE VOLCANO.
INTERESTINGLY,

SENDAI

WAS ALSO RESTARTED ON AUGUST 11, BUT IN 2015.


JUST A FEW DAYS AFTER SENDAI WAS RESTARTED, THE VOLCANO JUST 40 MILES AWAY ERUPTED,

THERE WAS AN EARTHQUAKE THAT SHOOK THE PLANT, AND THEN, A FEW DAYS AFTER THAT, THERE WAS A TYPHOON THERE AND

SMOKE WAS SEEN RISING FROM

THE FACILITY

BEFORE

IT LOST POWER.... ALL REMINISCENT OF WHAT HAPPENED AT THE DAI'ICHI PLANT IN FUKUSHIMA.

WHY WOULD A NATION WITH SO MANY NATURAL HAZARDS, SO MANY EARTHQUAKES, TYPHOONS, OVER 100 VOLCANOES AND A COASTLINE PRIME FOR TSUNAMIS, BUILD EVEN ONE NUCLEAR POWER PLANT?

"
Critics have long pointed out that

[SENDAI]

is also located near five giant calderas, crater-like depressions formed by past eruptions, with the closest one some 40 km away. Sakurajima, a mountain on the southern island of Kyushu, is one of Japan's most active volcanoes and erupts almost constantly.

Japan lies on the "Ring of Fire" - a horseshoe-shaped band of fault lines and volcanoes around the edges of the Pacific Ocean - and is home to more than 100 active volcanoes.

Last year, Mount Ontake in central Japan erupted unexpectedly, killing 63, the worst volcanic disaster for nearly 90 years. In May, a remote island south of Kyushu was evacuated due to another eruptio

n

."

"
Currently, the NRA has approved the restart of five reactors: Sendai Units 1 and 2, Kansai Electric Power Company's (KEPCO) Takahama Units 3 and 4, and Shikoku Electric Power Company's Ikata Unit 3.
Sendai Unit 2 will likely be the second reactor to restart."



FIVE OKAYED FOR RESTART AFTER FIVE YEARS...WHAT DOES THIS TELL US ABOUT THE SAFETY OF THESE FIVE AND THE FIFTY-ONE THAT ARE NOT RESTARTING?


IT TOOK FIVE YEARS TO BRING THAT FIVE "UP TO CODE", AND EVEN THEN THE TWO TAKAHAMA UN

ITS

WERE RESTARTED JUST TO BE SHUT DOWN AGAIN.

THANKS TO A FEW BRAVE NEWSPAPERS AND TELEVISION STATIONS, THE NEWS OF ALL THIS REACHED THE JAPANESE PEOPLE, DESPITE THE ABE REGIME'S ATTEMPT TO GAG THE MEDIA AND THE JAPANESE PARLIAMENT'S THREAT

TO

JAIL ANYONE EXPOSING THESE FAILURES, THESE FLAWS, OR WHO SUGGESTED MANY WERE DYING OR HAD DIED FROM THE FUKUSHIMA EVENT.

NOW, PEOPLE ARE ORGANIZING TO TAKE LEGAL ACTION, HOPEFUL THAT A WIN WILL OPEN THE DOORS FOR OTHER WINS AND AN END TO NUCLEAR POWER IN JAPAN.

Shikoku Electric Power Co. on Tuesday ended operation of a nearly 40-year old nuclear reactor in western Japan,

making it the sixth unit to be scrapped under stricter safety regulations introduced after the 2011 Fukushima disaster started.
"Shareholders urged nine power companies Tuesday to end nuclear power generation, reflecting safety concerns lingering since the 2011 Fukushima disaster. However, the proposals were turned down at the firms' shareholders meetings."

HOPE IN THE COURTS?
NOT REALLY.
"A temporary injunction from any one of the three courts would almost certainly mean Ikata No. 3 would have to shut down immediately. For this reason, anti-nuclear lawyers involved with the petitions remain hopeful the courts will do what politicians have not.

"The Otsu court decision to shut down the Takahama reactors sent a shock wave through the government and the utilities. Political measures including demonstrations are needed. But I've come to believe the best way to stop the restart of nuclear power plants is through legal means, such as filing lawsuits and requests for temporary injunctions," Hiroyuki Kawai, a lawyer involved with the Matsuyama, Hiroshima and Oita petitions, said at a news conference in Matsuyama late last month.

The Otsu decision angered Kepco and senior corporate leaders in the Kansai region who fear it will spark a nationwide movement against nuclear power plants."



THE PEOPLE PROTESTED, TOOK TO THE STREETS, BLOCKED THE ENTRANCES TO NUCLEAR FACILITIES, ERECTED TENTS NEAR GOVERNMENT BUILDINGS

, WENT TO COURT TO FIGHT,

BUT THERE WERE VERY FEW REPORTS OF ANY OF THIS IN AMERICAN MEDIA.
IF AMERICANS SAW SUCH MASSIVE PROTESTS, THEY,TOO, MIGHT GET THE IDEA THAT NUCLEAR POWER IS DANGEROUS, TOO DANGEROUS TO USE, SO IT'S BEEN SUPPRESSED HERE AS WELL, BUT PROTE

ST

S AGAINST ATOMIC POWER ARE

HAPPENING IN JAPAN, AND ALL ACROSS THE GLOBE.

GOVERNMENT SUPPRESSION
IN BOTH JAPAN AND CHINA, THE GOVERNMENTS ARE SUPPRESSING AND/OR BANNING REPORTS OF CITIZEN PROTESTS REGARDING THE USE OF NUCLEAR ENERGY AND THE RESTART OF OLD REACTORS OR CONSTRUCTION OF NEW NUCLEAR POWER STATIONS.


CITIZENS OF JAPAN HAVE, FOR FIVE LONG YEARS, ASKED FOR AN END TO ATOMIC POWER, A

ND CLOSING OF

THEIR DISASTER-PRONE FACILITIES

.


THE ABE REGIME IS DETERMINED TO RESTART ALL PLANTS AND ADD MORE.

THOSE PROTESTS IN THE STREETS OF JAPAN HAVE BEEN ONGOING SINCE 2011, AND YET THE

GOVERNMENT

HAS GONE SO FAR AS TO MAKE IT ILLEGAL TO SPEAK OUT ABOUT THE FAILURES OF THE ADMINISTRATION AND THE NUCLEAR POWER INDUSTRY TO PROTECT THE POPULACE, OR TO REMARK ABOUT THE COMPLICITY OF THE ABE GOVERNMENT WITH TEPCO AND OTHER NUCLEAR INDUSTRY COMPANIES.

DESPITE TH

OSE

THREATS, SOME NEWS MEDIA IN JAPAN HAVE BRAVELY REVEALED THAT THE CURRENT ADMINISTRATION HAS WORKED WITH THE NUCLEAR INDUSTRY TO HIDE DATA ON THE RADIOACTIVE CONTAMINATION OF JAPAN AND ITS PEOPLE, ESPECIALLY AT THE FUKUSHIMA DAI'ICHI FACILITY.


[SEE ALSO Secrecy act stirs fears about press freedom, right to know - Japan Today


AND
Japan whistleblowers face crackdown under proposed state secrets law]


THE JAPANESE GOVERNMENT HAS ALSO JUST WON A LAWSUIT FORCING ANTINUCLEAR PROTESTERS TO REMOVE TENTS NEAR GOVERNMENT BUILDINGS,

TO REMOVE THE

OCCUPANTS WHO BOLDLY REVEALED "INCONVENIENT TRUTHS" ABOUT THE RADIATION HAZARDS FACING THE PEOPLE OF JAPAN.

ABE HAD TO REMOVE THOSE SIGNS OF PROTEST BEFORE THE 2020 OLYMPICS SCHEDULED FOR TOKYO, WHERE RADIATION LEVELS ARE STILL HIGH.

BUT THOSE REPORTS, EVEN THE ONES DONE BY JAPANESE UNIVERSITIES, JAPANESE SCIENTISTS AND ENVIRONMENTAL GROUPS ARE STILL UNPUBLISHED FOR THE WORLD TO SEE.



MAKING A PUBLIC RELEASE OF THAT DATA SHOULD BE MANDATORY SO THAT PEOPLE MAY

BE AWARE OF THE HAZARDS IN JAPAN SO ALL CAN CHOOSE WHETHER OR NOT THEY THINK IT'S SAFE TO GO TO TOKYO FOR GAMES IN 2020.

THE COVER-UP AND SUPPRESSION CONTINUE SO THE OLYMPICS CAN GO ON AND SO THE NUCLEAR INDUSTRY CAN CRANK UP THOSE AGED, LEAKING POWER PLANTS ONCE MORE TO "BOOST THE FLAGGING JAPANESE ECONOMY".


IT WAS RECENTLY DISCOVERED THAT RADIATION LEVELS WERE OFF THE CHARTS IN AREAS WHERE ABE HAS REMOVED HIGH RADIATION WARNINGS AND RESTRICTIONS AND SENT THE PEOPLE BACK TO CONTAMINATED AREAS.
THE RIVERS OF JAPAN WITHIN A RADIUS OF HUNDREDS OF MILES FROM FUKUSHIMA ARE EXTREMELY POLLUTED BY RADIATION, AND THE JAPANESE PEOPLE WERE NOT TOLD OF THIS UNTIL 'OUTSIDERS' CONDUCTED STUDIES THAT SHOWED THE DANGEROUS LEVELS IN THE RECENTLY "CLEARED" PREFECTURES AND TOWNS.

RADIATION LEVELS AT A PLAYGROUND IN TOKYO IN 2015 WERE SO HIGH THAT ANY CHILD PLAYING THERE FOR TWO HOURS WOULD HAVE RECEIVED

MORE RADIATION THAN IS CURRENTLY DEEMED "SAFE" FOR A HUMAN DURING AN ENTIRE YEAR!
[SEE Reuters, Apr 24, 2015; Japan Times, Apr 24, 2015; BBC, Apr 24, 2015]

SHOULDN'T ALL THE WORLD BE INFORMED OF THE CONTINUED FALLOUT ALL OVER JAPAN, BE INFORMED BEFORE THEY DECIDE TO ATTEND THE 2020 OLYMPICS?


AS

THE

FORMER JAPANESE AMBASSADOR HAS STRONGLY SUGGESTED, SHOULDN'T JAPAN EXCUSE ITSELF FROM HOSTING THE OLYMPICS AND CONCENTRATE INSTEAD ON STOPPING THE LEAKS, THE FALLOUT, THE ESCALATING DANGER?



LET US RECALL WHAT

AMBASSADOR MITSUHEI MURATA POINTED OUT:



"
I

n December 2014, both radioactive iodine-131 and tellurium-132 were reported as having been detected in Takasaki city, Gunma Prefecture,

more than

130 miles SW of Fukushima Daiichi.

Given the short half-lives of these radioactive particles, their presence could not be the result of the original meltdowns at Fukushima."


AS ALWAYS, PROFIT AND PUTTING ON A GOOD SHOW FOR THE REST OF THE WORLD TOPS THE ABE REGIME'S CONCERN FOR HUMAN HEALTH, IT APPEARS.

ECONOMIC GROWTH TAKES PRECEDENT OVER THE HEALTH OF

ABE'S OWN

CITIZENS AND HIS COUNTRY'S ENVIRONMENT.



THE CHIN

ESE GOVERNMENT

IS NO BETTER...
CHINA USES FORCE AGAINST ANTI-NUKE PROTESTERS, AGAIN....

IN CHINA, UNREPORTED BY MAJOR MEDIA IN MOST NATIONS, TENS OF THOUSANDS TOOK TO THE STREETS ONCE THEY WERE AWARE OF CHINA'S PLANS TO BUILD NEW NUCLEAR FACILITIES THERE.



A REPORT ON SOCIAL MEDIA CLAIMED ONE OF THE PROTESTERS AND A YOUNG CHILD WERE BEATEN TO DEATH BY POLICE.


— Hong Kong Free Press (@HongKongFP) August 8, 2016

[SOURCE: https://youtu.be/qljd8GGOgCs via article <found here>.]
"The protest was staged over an agreement between French nuclear fuel group Areva and China National Nuclear Corp (CNNC), which took place in 2012. The companies agreed to build a reprocessing facility in China, but didn't elaborate on the location.
But Lianyungang residents fear the plant will be constructed in their city, as China National Nuclear Corp (CNNC) is currently building a nuclear object nearby, AFP reported."

THE MASS PROTESTS IN CHINA HAVE BEEN ONGOING SINCE AT LEAST FEBRUARY OF THIS YEAR, YET OUR MAJOR MEDIA HAVE IGNORED IT.


DID WE READ ABOUT THIS IN ANY OF OUR BIG NAME NEWS MEDIA ?
NO!

Taiwan Rocked by Anti-Nuclear Protests | The Diplomat

[Nuclear protesters sprayed with water cannons, Taipei.]

The Diplomat

Apr 28, 2014 - "

Anti-nuclear protesters have taken to the streets of Taipei to demand the end of atomic energy. Defying rows of police who told them to leave, the protesters lay down ...
At the center of the storm is the Fourth Nuclear Power Plant currently under construction in Gongliao, New Taipei City. Though ostensibly a much safer design than earlier generations of reactors, fears remain that the Advanced Boiling Water Reactor (ABWR) at the Fourth power plant is an unstable assemblage of various systems — a nuclear Frankenstein monster, if you will. Moreover, opponents of the project argue that Taiwan, a highly active seismic area, is too vulnerable to natural catastrophes, including tsunamis and powerful typhoons.

Also, they argue that the small size of the island and proximity of nuclear power plants to high-density urban centers raise questions about the ability of the government to evacuate the population in case of a nuclear emergency.
According to the Central Weather Bureau, which also monitors seismic activity, Taiwan experiences an average of 2,200 earthquakes annually, of which more than 200 are actually felt.

Based on statistics,

the island was hit by 96 "catastrophic" earthquakes since 1900.



On September 21, 1999, central Taiwan was ravaged by a magnitude 7.3 earthquake that killed 2,415 people and injured more than 11,000, while causing more than $10 billion in damage and disrupting the global supply of key computer components

Large protests were held in 2012 and 2013, attracting tens of thousands of people.

On April 22, former DPP chairman Lin Yi-hsiung began an indefinite hunger strike to force the government to cease construction at the plant.

IT IS VERY DOUBTFUL THAT THE CHINESE PEOPLE WILL WIN THEIR BATTLE TO STOP NUCLEAR POWER PLANTS, BUT AT LEAST THEY ARE TRYING!

ALL OVER TH

E WORLD, OTHERS ARE ALSO TRYING TO END NUCLEAR POWER.



HOW MANY OF US READ ANYWHERE IN MAJOR MEDIA ABOUT THE FINNISH ANTI-NUCLEAR PROTESTS?

APRIL 26, 2016
:
"Anti-nuclear protesters broke into a construction site for a nuclear reactor on 26 April, choosing the 30th anniversary of the Chernobyl disaster for their demonstration. Around 40 were detained by authorities.
One group broke into the site, while others lay down on the road leading to the site's entrance, police said."
Police in northern Germany have used water cannons against demonstrators waiting for the arrival of a shipment of nuclear waste from France.
Feb 27, 2016 -

Thousands of protesters including Jeremy Corbyn and other party leaders gather in London for CND march and rally.


EIGHT DISA
STERS WAITING TO HAPPEN, TH

IS

ARTICLE STATES, AND SHOWS US WHY.

AND THERE WERE AND STILL ARE PROTESTS AT EACH OF THOSE EIGHT FACILITIES MENTIONED IN THAT ARTICLE, BUT THOSE PROTES

TS

DON'T GET MUCH 'PRESS' HERE IN AMERICA, WHERE OUR CRUMBLING, AGED NUKE PLANTS ARE ALL LEAKING LIKE

SIEVES

.

IT WOULD COST TOO MUCH TO SHUT THEM ALL DOWN, THE NUCLEAR INDUSTRY SAYS, AND OUR "PROTECTION AGENCIES" AGREE.

BETTER THAT THEY KEEP EXTENDING THE LICENSES THAN TRY TO FIND PLACES TO BURY ALL THAT WASTE, ESPECIALLY

SINCE

WASTE DISPOSAL SITES ARE AL

S

O HIGHLY PROTESTED BY THOSE WHO LIVE NEAR THEM AND BECAUSE THE FACT IS THAT SUCH SITES WOULD HAVE TO BE

MONITORED

AND MAINTAINED FOR TENS OF THOUSANDS TO MILLIONS OF YEARS.
TOO COSTLY.

NUCLEAR ENERGY HAS ALWAYS BEEN TOO COSTLY BECAUSE OF THE ENORMOUS AMOUNTS OF NUCLEAR WASTE THAT HAVE TO BE REMOVED AND STORED FOR CENTURIES, FOR

MILLENNIA

, EVEN FOR MILLIONS OF YEARS.



LET THEM RUN UNTIL THEY, TOO, MELT DOWN, THEN CALL IT AN "ACCIDENT".


IT WORKED FOR THE ABE GOVERNMENT AND IT WOULD WORK IN AMERICA AS WELL.


IT'S SIMPLY THE EASY WAY OUT.

PLEASE, BEFORE YOPU MAKE PLANS TO GO TO TOKYO FOR THOSE GAMES IN 2020, READ, LEARN, UNDERSTAND THE HAZARDS.


FROM THE UK, JULY 2015:
Why 38 million Tokyo residents are at risk.


WHY ANYONE VISITING THERE WILL BE AT RISK:
"

Fukushima will likely go down in history as the biggest cover-up of the 21st Century.

Governments and corporations are not leveling with citizens about the risks and dangers; similarly, truth itself, as an ethical standard, is at risk of going to shambles as the glue that holds together the trust and belief in society's institutions. Ultimately, this is an example of how societies fail.
[RADIATION] is insidious because it cannot be detected by human senses. People are not biologically equipped to feel its power, or see, or hear, touch or smell it (Caldicott). Not only that, it slowly accumulates over time in a dastardly fashion that serves to hide its effects until it is too late.



Chernobyl's Destruction Mirrors Fukushima's Future

As an example of how media fails to deal with disaster blowback, here are some Chernobyl facts that have not received enough widespread news coverage:

~ Over one million (1,000,000) people have already died from Chernobyl's fallout.
~ Additionally, the Rechitsa Orphanage in Belarus has been caring for a very large population of deathly sick and deformed children. Children are 10 to 20 times more sensitive to radiation than adults.
Zhuravichi Children's Home is another institution, among many, for the Chernobyl-stricken: "The home is hidden deep in the countryside and, even today, the majority of people in Belarus are not aware of the existence of such institutions" (Source: Chernobyl Children's Project-UK).
~ One million (1,000,000) is a lot of dead people. But, how many more will die? Approximately seven million (7,000,000) people in the Chernobyl vicinity were hit with one of the most potent exposures to radiation in the history of the Atomic Age.
~ The exclusion zone around Chernobyl is known as "Death Valley." It has been increased from 30 to 70 square kilometres. No humans will ever be able to live in the zone again. It is a permanent "dead zone."
~Additionally, over 25,000 died and 70,000 were disabled because of exposure to extremely dangerous levels of radiation in order to help contain Chernobyl.

Twenty percent of those deaths were suicides, as the slow agonizing "death march of radiation exposure" was too much to endure.
Fukushima is literally a time bomb in quiescence. Another powerful quake and all hell could break loose.
Also, it is not even close to being under control. Rather, it is totally out of control.


"It's still possible that Tokyo may have to be evacuated, depending upon how things go."


35 MILLION PEOPLE!
Imagine that!

WHY ARE SO MANY IN SUCH DANGER?

BECAUSE FUKUSHIMA CANNOT BE STOPPED....THE LEAKS ARE IRREPARABLE AND THE JAPANESE GOVERNMENT HAS KNOWN THAT FOR 5 YEARS.
TEPCO AND ABE OFFICIALS HAVE TOLD US THE TECHNOLOGY WON'T BE INVENTED THAT CAN STOP THE LEAKS FOR 40 TO 100 YEARS, BUT THEY ARE

DECEIVING

US.

THE WILLFUL USE OF PLASTIC BAGS TO STUFF RADIOACTIVE WASTE PRODUCTS INTO, THOSE BAGS STACKED RECKLESSLY IN SCHOOL YARDS, BEHIND HOMES, NEAR RIVERS, IN PARKS, EVERYWHERE IN JAPAN, IN EVER-GROWING NUMBERS AND THE WILLFUL BURNING OF OTHER RADIOACTIVE RUBBISH AT DUMPING SITES ALL ACROSS JAPAN SHOULD SHOW ANYONE THE CARELESS DISREGARD THE ABE REGIME HAS FOR HUMAN HEALTH.
"Seiichi Mizuno, a former member of Japan's House of Councillors (Upper House of Parliament, 1995-2001) in March 2015 said:

"The biggest problem is the melt-through of reactor cores… We have groundwater contamination… The idea that the contaminated water is somehow blocked in the harbor is especially absurd. It is leaking directly into the ocean. There's evidence of more than 40 known hotspot areas where extremely contaminated water is flowing directly into the ocean… We face huge problems with no prospect of solution." (Source:: Fukushima 4th Anniversary – Voices from Japan, March 10, 2015, http://www.nuclearhotseat.com/2468/)

As the disaster happened, enormous levels of radiation hit Tokyo. The highest radiation detected in the Tokyo

m

etro area was in Saitama with cesium radiation levels detected at 919,000 becquerel (Bq) per square meter, a level almost twice as high as Chernobyl's "permanent dead zone evacuation limit of 500,000 Bq"
(

S

ource: Radiation Defense Project).



THOSE WHO ARE AWARE OF THE FACTS KNOW TO AVOID ANY AND ALL RADIATION.
"In Europe Angela Merkel, PhD physics, University of Leipzig and current chancellor of Germany, is shutting down all nuclear reactors because of Fukushima.
Maybe an advanced degree in physics makes the difference in how a leader approaches the nuclear power issue. http://www.ukprogressive.co.uk/is-fukushima-godzilla-why-38-million-tokyo-residents-are-at-risk/article40210.html


IN AN OVERPOPULATED WORLD, THOSE WHO BELIEVE WE NEED TO REDUCE THAT POPULATION BY A BILLION OR MORE COULD NOT CREATE A BETTER METHOD BY WHICH TO ACCOMPLISH POPULATION REDUCTION....


RADIATION...SILENT, DEADLY, UNDETECTABLE BY THE AVERAGE CITIZEN.
IT SEEPS INTO OUR FOOD, OUR WATER, OUR AIR AND OUR BODIES.


IT'S A "SLOW BURN" THAT DESTROYS HUMAN DNA, ATTACKS US AT A CELLULAR LEVEL AND QUIETLY BUT METHODICALLY

ELIMINATES

US....
MISSION ACCOMPLISHED...


NO BOMBS HAVE TO BE DROPPED, NO WARS FOUGHT....JUST LET THE NUKE PLANTS LEAK.

OVER A PERIOD OF DECADES, PEOPLE WILL SIMPLY SUCCUMB TO THE RADIATION...DIE FROM CANCERS CAUSED BY IT, HEART DISEASE CAUSED BY IT.
BABIES WILL BE AFFECTED IN UTERO, INFANT MORTALITY RATES WILL RISE, BIRTH DEFECTS WILL BECOME COMMON.

OUR MALES WILL BE STERILIZED BY IT, JUST AS IS HAPPENING IN JAPAN TODAY, JUST AS HAPPENED TO "DOWNWINDERS" HERE IN THE U.S.
CIVILIZATION WILL LOSE MILLIONS OF LIVES TO "MYSTERY ILLNESSES"....TO RADIATION.

SOME SAY ABE, WHO COMES FROM A LONG LINE OF WARRIORS AND WHO HAS FOUGHT HARD TO GET JAPAN APPROVED TO JOIN THE SUPER-POWERS IN

BUILD

ING

"THE BOMB"

, IS USING FUKUSHIMA TO "PAY AMERICA BACK FOR HIROSHIMA AND NAGASAKI".


IF SO, IT'S WORKING.

ABE DOESN'T HAVE TO FIGHT TO GET NUCLEAR WEAPONS FOR JAPAN... HE HAS ALL THOSE NUCLEAR REACTORS AND HE HAS THE WEAPON TO END ALL WEAPONS... HE HAS FUKUSHIMA DAI'ICHI, KILLER OF THE PACIFIC OCEAN AND THE WORLD.