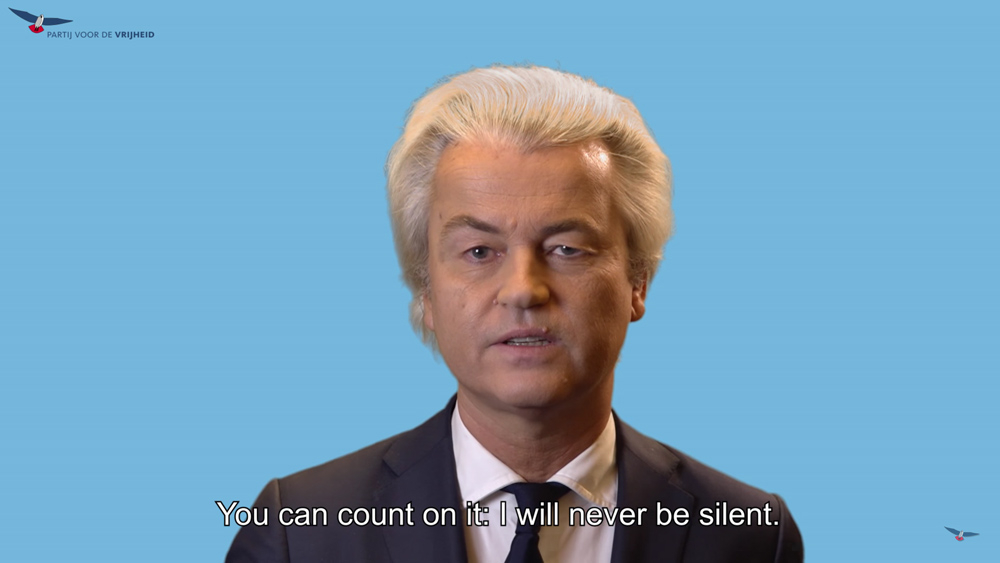 THE TEA ROOM HAS PREVIOUSLY WRITTEN ABOUT THIS WITCH HUNT, A MAN ACCUSED OF RACISM WHEN MOROCCANS ARE NOT A RACE, A MAN ACCUSED OF HATE SPEECH WHEN HE DID NOT ONCE SPEAK WITH HATRED.

THE GATESTONE INSTITUTE HAS THE FULL CONTEXT OF WILDERS' RESPONSE TO HIS CONVICTION <HERE>.

FROM THE GUARDIAN, U.K.:

"The Dutch far-right leader Geert Wilders has been found guilty of inciting discrimination against Dutch Moroccans in a verdict that is expected to intensify the debate about migration in the Netherlands.

A panel of three judges ruled that the Freedom party (PVV) leader's comments in a post-election speech in 2014 were "demeaning and thereby insulting towards the Moroccan population". Hendrik Steenhuis, chairman of the judges, said the remarks were clearly aimed at an ethnic population group and delivered in a televised speech for maximum effect.

CLEARED OF "INCITING HATRED", NO FINE, NO SENTENCE.

However, the court cleared Wilders of the charge of inciting hatred and imposed no fine or sentence, ruling that a criminal conviction was sufficient punishment for a politician in Wilders' position.

Neither Wilders nor his lawyer, Geert-Jan Knoops, were in court to hear Friday's verdict. Immediately afterwards Wilders issued a press release saying he would appeal and describing the court's decision as "a great loss for democracy and freedom of expression".

The verdict comes three months before Dutch voters go to the polls in a general election in which Wilders has vowed to put migration and "Islamisation" at the heart of the campaign.

In a video message posted on his Twitter feed on Friday, he attacked the "shameful sentence" and vowed he would "never be silent".

"The Netherlands have become a sick country," he said. "I am not a racist and neither are my voters. This sentence proves that you judges are completely out of touch. Support for the Party for Freedom is stronger than ever and keeps growing every day. The Dutch want their country back.

"Today I was convicted in a political trial which, shortly before the elections, attempts to neutralise the leader of the largest and most popular opposition party. But they will not succeed, not even with this verdict, because I speak on behalf of millions of Dutch."


THE NOOSE IS TIGHTENING GLOBALLY ON FREE SPEECH, MY FRIENDS.

IF WE DON'T ACT AND ACT QUICKLY WE WILL LOSE THAT RIGHT.

WHEN THE POWERFUL CAN COMMAND THE COURTS, WE HAVE LITTLE RECOURSE BUT TO RID OURSELVES OF THOSE WHO BETRAY US, VOTE THEM OUT, VANQUISH THEM, REPLACE THEM AND BECOME WATCHMEN ON THE WALLS OF ALL THEY DO AND SAY TO TRY TO DENY US WHAT IS RIGHTFULLY OURS...FREEDOM OF DISSENT, FREEDOM OF SPEECH, FREEDOM TO HOLD SACRED OUR OWN BELIEFS.

ALL OVER THE EARTH THE POWERFUL ARE RUNNING SCARED BECAUSE THEY CAN SEE AND FEEL CITIZENS RISING UP TO STOP THE TREASON WITHIN THEIR NATIONS, TO DEMAND THEIR SOVEREIGN RIGHTS, TO TAKE BACK THE CONTROL THAT THE PEOPLE MUST HAVE OVER THEIR ELECTED ONES.

NOW IS NOT THE TIME FOR US TO SIT IDLY BY AND SILENTLY WATCH MISCARRIAGES OF JUSTICE.

WE SIMPLY CAN'T AFFORD TO IGNORE FOR ANOTHER MINUTE THE TRUTH BEFORE OUR EYES...OUR GOVERNMENTS HAVE WRESTLED CONTROL FROM US AND HAVE USED THEIR POWERS AS WEAPONS AGAINST US, MADE US THE ENEMIES WITHIN, "POTENTIAL TERRORISTS", LABELED US DANGEROUS.

TO ALL TYRANTS, LIBERTY IS A DANGER, FREE SPEECH IS A DIRE THREAT.

MAY WE ALL BECOME LIKE WILDERS IN THAT WE REFUSE TO BE SILENCED.

MAY WE ALSO REFUSE THE LABELS AND TAGS ASSIGNED TO US OF BEING RACISTS, BIGOTS, PREJUDICED AND JUST REMIND OUR "LEADERS" THAT WE ARE PEOPLE OF INDEPENDENT MINDS, OF INDEPENDENT BELIEFS AND THAT WE WILL FIGHT THEM TO KEEP WHAT WE HAVE LEFT.

WE WILL DISAGREE, DISSENT, SPEAK OUT AND OUR NUMBERS WILL GROW.
THOSE WHO VALUE FREEDOMS OUTNUMBER THOSE WHO WANT US TO HAVE NONE.

ALL OF OUR NATIONS WERE BORN OF SOME TYPE OF 'REBELLION' AND WE HAVE THE WILL AND THE STRENGTH TO REBEL AGAIN.

WE'VE BEEN FORCED TO ACCEPT OUR FATES LONG ENOUGH.
NOW, LET THE 'POWERS THAT BE' REALIZE THAT THEY MUST ACCEPT THE RULE OF THE PEOPLE, FOR THE PEOPLE, BY THE PEOPLE, THAT WE ARE THE VOICE OF LAW, OF HONOR, OF TRUTH AND WE WILL NOT BE SILENCED ANY LONGER.

OUR ELECTEDS ARE OUR HIRELINGS, NOT THE OTHER WAY AROUND.
WE CAN HIRE OTHERS, OR WE CAN DO THEIR JOBS OURSELVES.

THE WORLD OF THE POWERFUL ELITE IS CRUMBLING AND NOW IS NOT THE TIME FOR US TO RETREAT BUT TO GO FORWARD AND RECLAIM WHAT WE GAVE UP.

IF WE WANT OUR FREEDOMS, THEY ARE TO BE HAD ONLY BY STANDING UP FOR THEM AND DEMANDING THAT WE HAVE THEM.

LET NOTHING DISSUADE US FROM RECLAIMING OUR FREEDOMS.

OUR HEROES SHOULD NEVER BE SPORTS FIGURES OR CELEBRITIES OR POLITICIANS BUT MEN OF HONOR, MEN WILLING TO RISK ALL TO STAND UP WITH US AGAINST THOSE WHO STAND AGAINST US.

NOW THAT WE HAVE RISEN UP, LET US NEVER SIT DOWN NOR BOW DOWN AGAIN.

WHATEVER IT TAKES, LET US DEMAND TO BE FREE, TO HAVE OUR RIGHT TO DISSENT WHEN THOSE WHOM WE HAVE APPOINTED AS OUR LEADERS BEGIN TO LEAD US TO SLAUGHTER.

THE GUARDIAN'S HEADLINE READ, IN PART, "Court declines to sentence Dutch far-right leader over comments that were 'demeaning towards Moroccan population'"

THEY DECLINED BECAUSE THE COLLECTIVE VOICE OF THE PEOPLE, THE MAJORITY, SHOOK THEM TO THEIR BONES.
BEFORE, THOSE WHO RULE OVER US HEARD OUR SILENCE.


NOW, LET THEM HEAR OUR ROAR.