UPDATE, APRIL 28, 2015:
THE TEA ROOM APOLOGIZES TO READERS FOR NOT KNOWING THAT NASA TOOK THAT WEBSITE AND PHOTOS DOWN IN NOVEMBER 2013.
BELOW FIND A VIDEO THAT DOES SHOW MANY OF THOSE ORIGINAL PHOTOS AND THE TEA ROOM IS WORKING ON A BETTER UPDATE.
THE BELOW MISSING PHOTOS WILL BE RESTORED BY DAY'S END (APRIL 28, 2015)
[NOTE: THAT HAS NOW BEEN DONE, ALTHOUGH 2 SETS OF NASA PHOTOS CANNOT BE FOUND ANYWHERE, TOTALLY ERASED!
THERE IS A 2014 UPDATE VIDEO THAT IS QUITE A GOOD PIECE!
I'VE HEARD OF THIS SINCE I WAS A CHILD, FOR AT LEAST 60 YEARS NOW.
FOR AWHILE, IT WAS IMPOSSIBLE TO FIND PHOTOS OF THIS MYSTERY ABOVE OUR EARTH.
WE KNEW PHOTOS EXISTED BUT THERE WAS NO INTERNET, AND EVEN AFTER THAT, MOST PHOTOS THAT HAD BEEN UPLOADED BY NASA JUST "WENT AWAY".
WELL, THEY'RE BACK!
THESE ARE FOUND ON THE NASA WEBPAGE, EASILY VIEWED.
THERE ARE MANY OTHER SHOTS OF THIS ONE OBJECT, AND MANY OF OTHER
'NONEARTHOBS'.
http://search.nasa.gov/search/search.jsp?nasaInclude=STS088-724
YOU WILL HAVE TO LOOK CLOSELY AT THE BOTTOM OF THE ABOVE PHOTO TO SEE THE OUTLINE OF THE OBJECT JUST TO THE LEFT OF CENTER ,BENEATH THE BLUE LINE, OR USE SOMETHING LIKE PICASA TO LIGHTEN IT.


VERY CLEAR AT THE BOTTOM OF THE ABOVE SHOT.
SAME OBJECT, DARK AGAINST THE 'BEIGE' EARTH, ZOOM-IN.


AGAIN, THE 'BLACK KNIGHT' SHOT OVER LAND.
LOOK CLOSELY. IT'S A SMALL, DARK BUT SHINY OBJECT JUST A BIT BELOW CENTER, AND TO THE LEFT AT ABOUT "9 O'CLOCK" POSITION.
THIS IS A PHOTO TAKEN BY THE SHUTTLE ON APPROACH TO THE INTERNATIONAL SPACE STATION, BUT WHAT IS THAT TO THE RIGHT OF THE ISS, AT ABOUT THE "2 O'CLOCK" POSITION, ALMOST OUTSIDE THE FRAME.
THAT PHOTO IS NOWHERE TO BE FOUND NOW IN INTERNET ARCHIVES.
NOR IS THAT WEBPAGE IN ANY INTERNET ARCHIVES.
I WILL UPLOAD IT IF I EVER FIND IT.

IF YOU GO TO THE NASA SITE, YOU'LL NOTICE THAT ALL THESE PHOTOS ARE LABELED "NONEARTHOBS".
[WELL, NO ONE CAN GO TO THAT NASA SITE ANYMORE...IT WAS REMOVED IN NOVEMBER, 2013. ]

<<Features: NON-EARTHOBS>> Non-earth objects.
NOW, PLEASE BE AWARE THAT THE "OFFICIAL STORY" IS THAT THIS IS AN AMERICAN SATELLITE, LAUNCHED OVER 65 YEARS AGO,
AFTER
SPUTNIK.
ONE PROBLEM WITH THAT IS, NASA DESCRIBED THAT OBJECT AS "LONG, CYLINDRICAL".
Discoverer 2
http://web.archive.org/web/20120201211809/http://nssdc.gsfc.nasa.gov/nmc/spacecraftDisplay.do?id=1959-003A
NSSDC ID: 1959-003A
Description: Discoverer 2 was a
cylindrical
satellite designed to gather spacecraft engineering data and to attempt ejection of an instrument package from orbit for recovery on Earth. The spacecraft was launched into a 239 km x 346 km
polar orbit
by a Thor-Agena A booster. The spacecraft was three-axis stabilized and was commanded from Earth. After 17 orbits, on 14 April 1959, a reentry vehicle was ejected. The reentry vehicle separated into two sections, one consisting of the protection equipment, retrorocket and main structure and the other the reentry capsule. It was planned that the capsule would reenter over the vicinity of Hawaii for recovery, but a timer malfunction caused premature capsule ejection and reentry
over the north polar region.
The capsule was never recovered. The main instrumentation payload remained in orbit and carried out vehicular performance and communications tests.
The spacecraft was 1.5 m in diameter, 5.85 m long and had a mass after second stage separation, including propellants, of roughly 3800 kg. The mass
excluding propellants
was 743 kg, which included 111 kg for the instrumentation payload and 88 kg for the reentry vehicle. The capsule section of the reentry vehicle was 84 cm in diameter and 69 cm long and held a parachute, test life-support systems, cosmic-ray film packs to determine the intensity and composition of cosmic radiation (presumably as a test for storage of future photographic film), and a tracking beacon. The capsule was designed to be recovered by a specially equipped aircraft during parachute descent, but was also designed to float to permit recovery from the ocean. The main spacecraft contained a telemetry transmitter and a tracking beacon. The telemetry could transmit over 100 measurements of the spacecraft performance, including 28 environmental, 34 guidance and control, 18 second stage performance, 15 communications, and 9 reentry capsule parameters. Electrical power for all instruments was provided by NiCd batteries. Orientation was provided by a cold mitrogen gas jet-stream system, a scanner for pitch attitude, and an inertial reference package for yaw and roll data.
The Discoverer 2 mission successfully gathered data on propulsion, communications, orbital performance, and stabilization. All equipment functioned as programmed except the timing device. Telemetry functioned until April 14, 1959, and the main tracking beacon functioned until April 21, 1959. Discoverer 2 was the first satellite to be stabilized in orbit in all three axes, to be maneuvered on command from the earth, to separate a reentry vehicle on command, and to send its reentry vehicle back to earth.
The Discoverer program was managed by the Advanced Research Projects Agency of the Department of Defense and the U.S. Air Force. The primary goal of the program was to develop a film-return photographic surveillance satellite to assess how rapidly the Soviet Union was producing long-range bombers and ballistic missiles and where they were being deployed, and to take photos over the Sino-Soviet bloc to replace the the U2 spyplanes.
It was part of the

secret Corona program

which was also used to produce maps and charts for the Department of Defense and other US government mapping programs.
The goal of the program was not revealed to the public at the time, it was
presented
as a program to orbit large satellites to test satellite subsystems and investigate the communication and environmental aspects of placing humans in space, including carrying biological packages for return to Earth from orbit.
In all, 38 Discoverer satellites were launched by February 1962, although the satellite reconnaissance program continued until 1972 as the Corona project.
The program documents were declassified in 1995.
Alternate Names:00014
Launch Date: 1959-04-13
Launch Vehicle:
Thor
Launch Site: Vandenberg AFB, United States
Mass: 743.0 kg
THERE ARE A FEW MORE PROBLEMS WITH THIS STORY.
WHEN RUSSIA BEAT AMERICA INTO SPACE WITH SPUTNIK1 OCTOBER 4, 1957, WE WERE TOLD THERE WERE NO OTHER OBJECTS UP THERE...SPUTNIK 1 WAS THE WORLD'S FIRST.
BUT RUSSIA ACCUSED AMERICA OF HAVING A SATELLITE FOLLOWING SPUTNIK,
AND THERE WAS ALMOST AN "INTERNATIONAL INCIDENT" AS BOTH SIDES ACCUSED THE OTHER OF SPYING, AND RUSSIA WAS AFRAID THE "OTHER SATELLITE" WAS GOING TO SHOOT DOWN OR CRASH INTO SPUTNIK.
THE SECOND OBJECT WAS ALSO TRACKED BY ASTRONOMERS, SCIENTISTS ACROSS THE GLOBE, AND AMATEUR SKY-WATCHERS. HAM RADIO OPERATORS OF THE TIME ALSO REPORTED "HEARING" THE OBJECT OVERHEAD ON RADIO SETS.
TIME MAGAZINE DID AN ARTICLE ON THE "MIX-UP".
[ SEE
http://www.time.com/time/magazine/article/0,9171,894745,00.html
, Science: Space Watch's First Catch, Monday, Mar. 07, 1960]
<<Three weeks ago, headlines announced that the U.S. had detected a mysterious "dark" satellite wheeling overhead on a regular orbit. There was nervous speculation that it might be a surveillance satellite launched by the Russians, and it brought the uneasy sensation that the U.S. did not know what was going on over its own head. >>
WHAT THE TIME ARTICLE DOESN'T SAY IS THAT THIS "DARK OBJECT" WAS FIRST DETECTED IN 1927 or so, again in 1953, NOT 1957, AND NOT 1960.
THE SCIENTIFIC GENIUS OF ALL TIME, NIKOLA TESLA, WROTE THAT HE HAD DETECTED THIS OBJECT IN...1899!
<<In 1953, four years before the U.S.S.R. launched Sputnik I, an object of unknown origin was sighted by Dr. Lincoln La Paz of the University of New Mexico orbiting the earth. As more reports of sightings trickled in from around the world, the U.S. Department of Defense appointed distinguished astronomer Clyde W. Tombaugh (best known for his discovery of the dwarf 'planet' of Pluto in 1930) to run a search for the mystery object. The blip became known as "Black Knight".
The Pentagon never formally released the results of Dr. Tombaugh's study.
No more was heard about the object until December, 1957, when Dr. Luis Corrales of the Communications Ministry in Venezuela photographed it. The first modern satellites, Sputnik I & 2, had been launched just a few months earlier. Dr. Corrales was taking pictures of the second of these modern marvels as it passed over Caracas, and his photos caught the unknown object shadowing the Russian craft.>>
IN JULY, 1960, NEWSWEEK WROTE THAT THE NUMBER OF KNOWN MAN-MADE OBJECTS ORBITING EARTH DID NOT ADD UP TO THE NUMBER NASA CLAIMED TO HAVE LAUNCHED. THE ARTICLE ALSO SAID THAT SCIENTISTS THOUGHT THE 'DARK OBJECT', THE 'EXTRA OBJECT' (PHOTOGRAPHED WITH SPUTNIK IN 1957) WAS OF AN EXTRATERRESTRIAL ORIGIN.
In August 1954, a story broke in the press that Clyde Tombaugh and LaPaz, working on behalf of the Army, had found two "natural" satellites only 400 and 600 miles out that had recently come into orbit. LaPaz at first vehemently denied that he was involved in any way, and later denied that anything had been found, as did Tombaugh. However, the fact that Tombaugh was indeed engaged in such a search was already public knowledge from previous press releases, as was LaPaz's knowledge of the search from discussions with Tombaugh, even if he wasn't directly involved.
Donald Keyhoe, later director of the National Investigations Committee on Aerial Phenomena (NICAP), STATED that the real reason for the sudden search was because two near-Earth orbiting objects had been picked up on new long-range radar in the summer of 1953, according to his Pentagon source.
By May 1954, Keyhoe was making public statements that his sources told him the search had indeed been successful, and either one or two objects had been found. [
San Francisco Examiner. 1954-05-14. p. 14.]
However, the story did not break until August 23, 1954, when
the
magazine "Aviation Week" stated that two satellites had been found only 400 and 600 miles out. They were termed "natural satellites" and implied that they had been recently captured, despite this being a virtual impossibility...BECAUSE OF THE RETROGRADE ORBITS.
The next day, the story was in many major newspapers.
"Black Knight" was observed once again in 1960, this time by one of the stations that formed the Northern American Air Defense System. The object was in a polar orbit, something that neither the Americans or Soviets were capable of at the time.
Several times larger and heavier than anything that could be launched with 1960 rockets, it shouldn't have been there, but it was.
LaPaz's last known comments on UFOs and the green fireballs, observed worldwide and by at least one astronaut, occurred in 1965 during a visit by astronomer J. Allen Hynek, a consultant to the Air Force's Project Blue Book UFO investigation.
Hynek was also investigating the Socorro incident of a UFO landing.
According to Hynek, LaPaz felt the fireballs were the most important part of the UFO phenomenon.
He remained convinced that the fireballs' anomalous characteristics had never been adequately explained by the official investigation.
LaPaz continued to think the green fireballs were artificial, but now believed the fireballs, and also the Socorro craft, to be highly secret projects of the U.S. government.
He also accused Hynek, Project Blue Book, and others of being part of "a grand cover-up for something the government does not want discussed".
Government documents and public statements make it clear LaPaz thought they were all probably Russian spy devices prior to this meeting with Hynek.
[At the same time, Russia was saying they were of America origin.]
The observance of the 'Black Knight' sent panic through the U.S. military.
Not only did the intelligence agencies have no idea that the USSR had launched a new satellite, nothing in their reports on Soviet space activity suggested they had the capacity to place an object into a polar orbit, or to launch something that was estimated to be
in excess of 15 tons
.
The military scientists were horrified, since they were at least four years away from achieving polar orbits and getting payloads that large into space.
Similar waves of shock and anxiety were spreading through the Soviet ranks.
They had not launched the satellite and knew they were years away from being able to accomplish such a feat, they also knew that the Americans could not do it either. No one knew where it came from, but it was definitely there.
Three years later Mercury astronaut
Gordon Cooper
was launched into space on his 22 orbit mission in the Faith 7 capsule. On his final orbit, he reported seeing a glowing green shape ahead of his capsule, and heading in his direction.
The Muchea tracking station, in Australia, which Cooper reported this to was also able to pick it up on radar traveling in an east-to-west orbit. This event was reported by NBC, but reporters were forbidden to ask Cooper about the event on his landing.
The official explanation is that an electrical malfunction in the capsule had caused high levels of carbon dioxide, which induced hallucinations by Cooper.
WERE THE GUYS AT THE AUSTRALIAN TRACKING STATION ALSO "HALLUCINATING"?
Perhaps the strangest phenomenon associated with the Black Knight was the Long Delay Echo (LDE).
The effect observed was that radio or television signals sent into space bounce back seconds (or even days) later, as if recorded and retransmitted by a satellite.
First indentified over
30 years earlier (1927) by Norwegian geophysicist Carl Stormer and a Dutch collaborator Balthasar van der Pol,
the duo discovered that short wave radio messages were followed by mysterious echoes that were picked up at indiscriminate intervals after the original transmissions.
Indeed, the delays were so long that they could not be readily attributed to atmospheric quirks, magnetic storms or other natural phenomena. To this day, scientists have been unable to solve the mystery of the echoes.
A LIFE MAGAZINE ARTICLE APRIL 7, 1952, CARRIED A LENGTHY, ILLUSTRATED STORY
"THERE IS A CASE FOR INTERPLANETARY SAUCERS"
http://www.nicap.org/life52.htm
<<For four years the U.S. public has wondered, worried or smirked over the strange and insistent tales of eerie objects streaking across American skies. Generally the tales have provoked only chills or titters, only rarely, reflection or analysis.
Last week the U.S. Air Force made known to LIFE the following facts:
As a result of continuing flying saucer reports the Air Force maintains constant intelligence investigation and study of unidentified aerial objects.
A policy of positive action has been adopted to find out, as soon as possible, what is responsible for observations that have been made. As a part of this study, military aircraft are alerted to attempt interception, and radar and photographic equipment will be used in an attempt to obtain factual data. If opportunity offers, attempts will be made to recover such unidentified objects.

[NICAP Comment: These new efforts at instrumented investigation of UFO's, note even the phrase "unidentified objects," stem from the initiative of the deputy to Maj. Gen. John A. Samford, the Director of AF Intelligence, beginning in January 1952. The deputy, Brig. Gen. William M. Garland, was Samford's Assistant for Intelligence Production. Both had received a series of briefings on UFO's from AF staff.]
Already all operational units of the Air Force have been alerted to report in detail any sightings of unidentified aerial objects. Other groups -- scientists, private and commercial pilots, weather observers -- all trained observers whose work in any way concerns the sky, and what happens in it, are urged to make immediate reports to Air Technical Intelligence Center at Wright-Patterson AFB, Dayton, Ohio of any unidentified aerial objects they sight.
Further, for the first time since Project "Saucer" was changed from a special-type project to a standard intelligence function, in December 1949, the Air Force invites all citizens to report their sightings to the nearest Air Force installation. All reports will be given expert consideration and those of special interest will be thoroughly investigated. The identity of those making such reports will be kept in confidence; no one will be ridiculed for making one.

[NICAP Comment: This was the critical phrase in the entire article, the AF for the first time "invites all citizens to report their sightings to the nearest Air Force installation." This was part of the plan approved by Gen. Garland to give civilian and anecdotal cases one more chance to prove they had any intelligence value at all, at a time when AF Intelligence under Garland's leadership was in the process of downgrading or rejecting all anecdotal reports on any intelligence subject, Soviet aircraft, missiles, radars, UFO's, etc. Air Technical Intelligence Center (ATIC) UFO Project Grudge chief Lt. Edward J. Ruppelt had told Garland that if they could only get enough civilian reports from a given area they could get triangulations of UFO size, altitude and speed, and if they announced interest in public reports this "publicity plan" might yield scientific data. But when the UFO wave of July 1952 struck, this "invitation" by the AF was blamed for the avalanche of UFO reports. Then ATIC at Wright-Patterson AFB tried to deny they had ever sponsored or approved any such "publicity plan."]
There is no reason as yet to believe that any of the aerial phenomena commonly described as flying saucers are caused by a foreign power or constitute a clear and present danger to the U.S. or its citizens.

[NICAP Comment: This seems to suggest the AF was discounting at present the ET possibility but then a few paragraphs later the ET explanation is all but asserted, perhaps as LIFE's own interpretation.]
These disclosures, sharply amending past Air Force policy, climaxed a review by LIFE, with Air Force officials, of all facts known in the case. This review has resulted from more than a year of sifting and weighing all reports of unexplained aerial phenomena -- from the so-called flying saucers to the mysterious green fireballs so often sighted in the Southwest. This inquiry has included scrutiny of hundreds of reported sightings, interviews with eyewitnesses across the country and careful reviews of the facts with some of the world's ablest physicists, astronomers, and experts on guided missiles. For the first time the Air Force (while in no way identifying itself with any particular conclusions) has opened its files for study. Out of this exhaustive inquiry these propositions seem firmly shaped by the evidence:
1. Disks, cylinders and similar objects of geometrical form, luminous quality and solid nature for several years have been, and may be now, actually present in the atmosphere of the earth.
2. Globes of green fire also, of a brightness more intense than the full moon's, have frequently passed through the skies.
3. These objects cannot be explained by present science as natural phenomena -- but solely as artificial devices, created and operated by a high intelligence.
4. Finally, no power plant known or projected on earth could account for the performance of these devices. >>
PROJECT TWINKLE 1947
<<In accordance with instructions contained in a classified letter from Chief of Staff, USAF to CG, AMC, subject "Light Phenomena", on 14 September 1949, Lt. Col. Frederic C.E. Oder of CRD attended a conference at Los Alamos, 14 October 19449 on the subject of "Green Fireballs" observed in the Northern New Mexico area.
Since the phenomena had been observed only in this area and only since 1947, it had caused considerable concern among security agencies in the area.
It was the conclusion of the scientists present at this meeting that the information available was not sufficiently quantitative Instrumental observations - photographic, triangulation, and spectroscopic were considered essential.>>
http://www.project1947.com/gfb/twinklereport.htm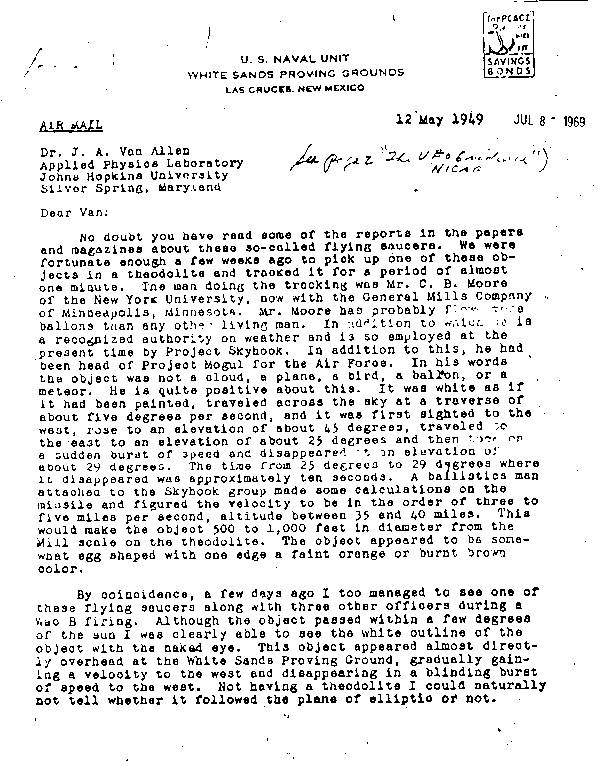 ROSWELL HAPPENED AS FIRST REPORTED. DR. VON ALLEN HIMSELF REPORTED TRACKING OBJECTS.
http://www.roswellproof.com/McLaughlin_Van_Allen_letter.html
BUT DENIAL WAS AND IS THE ORDER OF THE DAY.
http://www.roswellproof.com/Satellites_NYTIMES_1954.html
IN ONE OF THE ARTICLES SHOWN ON THE PAGE ABOVE, WE READ,
"'SATELLITES ORBITING THE EARTH HAVE INTRIGUED ASTRONOMERS FOR CENTURIES.'"
MAYBE THAT'S BECAUSE IT HAS BEEN SAID OF THE "BLACK KNIGHT" THAT IT'S BEEN "UP THERE" FOR 13 CENTURIES?
BELOW: Photographs of lights taken by Carl Hart Jr.
http://www.xtimeline.com/evt/view.aspx?id=26333
[QUITE INTERESTINGLY, THIS PARTICULARWEBLINK LEADS NOWHERE NOW, AND EVEN THE 'WAYBACK MACHINE' TELL ME THIS :
"Hrm.
Wayback Machine doesn't have that page archived.
Want to search for all archived pages under http://www.xtimeline.com/evt/ ?"
WELL, YES, BUT, NO...GONE!
REPLACED BY A BIOGRAPHY OF COLIN POWELL!
I DID, HOWEVER, RETRIEVE THOSE PHOTOS AND OFFER THEM AGAIN BELOW, REPLACING THE EMPTY FRAMES...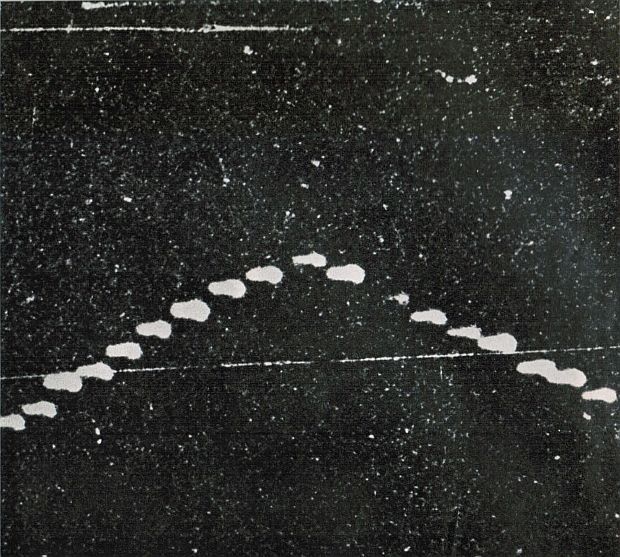 AN ENTIRE WEBPAGE IS DEDICATED TO HART AND THE 'LUBBOCK LIGHTS'.
PLEASE, DON'T LET THE "UFO" NAME THROW YOU OFF!
NOTHING HAS INVALIDATED THESE REMARKABLE PHOTOS!
NO ONE WAS EVER ABLE TO DISPROVE HART'S PHOTOS.
THEY STAND AS "UFO", UNIDENTIFIED...
OTHER NASA PHOTOS OF THE "BLACK KNIGHT"
ARE WE ALONE?
MORE INTERESTING NASA VIDEOS AND PHOTOS:
~
http://vdo2.com/videos/watch/OEozJsiqyf0