WHEN I LOOK INTO WHAT'S LEFT OF THOSE EYES, SEE THE LESIONS, THE HAIR LOSS, THEN SEE THE ORGAN DAMAGE AND TUMORS REVEALED BY NECROPSY, SEE OTHER PHOTOS OF SEALS WITH THEIR SKIN SLOUGHING OFF, SEE THEIR YOUNG WALKING WEST COAST BEACHES LIKE ANIMATED SKELETONS, NEWLY DEAD PUPS WASHING ASHORE EACH DAY, AND KNOW THAT THEY HAVE NO PLACE LEFT TO GO, IT MAKES ME WEEP.
I ADMIT THAT THIS BLOG IS MOSTLY TO 'GET IT OFF MY CHEST', AND TO EXPRESS MY ANGER AT JAPAN AND ALL NATIONS WHO HAVE DONE NOTHING, ABSOLUTELY NOTHING, TO STOP THE FLOW OF RADIOACTIVE CONTAMINANTS, POISONS, LIFE-ROBBING DEADLY PARTICLES INTO THE ONLY ENVIRONMENT THESE ANIMALS HAVE.
THERE IS NO PLACE LEFT FOR THEM TO RUN, NO PLACE THEY CAN HIDE FROM FUKUSHIMA!
THOUGH WALRUSES AND POLAR BEARS, WHALES OF SEVERAL SPECIES, DOLPHINS, LARGE FOOD FISH, ALL THE WAY DOWN THE 'TREE OF LIFE' TO ITS ROOTS, THE PLANKTON AND MICROBES SEEN ONLY BY MICROSCOPE IN SOME INSTANCES, THE SEALS SEEM SOMEHOW MORE VULNERABLE, MORE PITIFUL.
MAYBE IT'S THEIR EYES.
I CAN SEE THE SUFFERING IN THOSE EYES.
THE PDF FOUND <HERE> LISTS MANY TERRIBLE ISSUES NOAA IS FINDING IN SEALS: SKIN LESIONS, TUMORS, HAIR LOSS AND HAIR THAT IS NOT COMING BACK...AND "NO KNOWN DISEASE FOUND".
" Despite extensive laboratory analysis, no specific infectious disease agent or process has been identified. This may suggest that the underlying cause of this disease is most likely complex, involving a variety of factors."
WHY WOULD WE EXPECT ALL THESE NECROPSIES AND TESTS TO DARE REVEAL NUCLEAR RADIATION AS THE CAUSE WHEN THE U.S. AND OTHER WORLD GOVERNMENTS INTEND TO DO NOTHING TO STOP THE MASSIVE LEAKS AT JAPAN'S FUKUSHIMA DAIICHI NUCLEAR PLANT?
THEIR UNWILLINGNESS TO ATTRIBUTE THE SAME ISSUES FOUND IN OVER 140 SPECIES OF MARINE LIFE TO RADIATION HAS MADE SOME OF THEIR OWN ASHAMED OF THEM.
IN THAT PDF, NOAA STATES:
"Despite extensive laboratory analysis, no specific infectious disease agent or process has been identified. This may suggest that the underlying cause of this disease is most likely complex, involving a variety of factors."
ANYONE WHO HAS SEEN PHOTOS OF VICTIMS OF HIROSHIMA AND NAGASAKI WHO SURVIVED THOSE BLASTS CAN RECOGNIZE THE SIGNS OF RADIATION DAMAGE TO AN ANIMAL!
SUCH DAMAGE REVEALS ITSELF IN VERY UNIQUE WAYS!
THE GLOWING REPORT OF SEAL (AND WALRUS) HEALTH IN 2010, A YEAR BEFORE FUKUSHIMA, WHEN COMPARED TO THE ONE IN 2014 (WHICH FAILS TO LIST EVERY "ANOMALY", EVERY INJURY, EVERY INTERNAL HORROR THEY FOUND) IS LIKE READING A REPORT OF THE SUDDEN, TERMINAL, IRREVERSIBLE DECLINE OF A LOVED ONE.
JUST THE DIFFERENCES LISTED IN 2014 SCREAM TO BE RECOGNIZED!
"LOOK! RADIATION! HELP ME! DO SOMETHING!"
I LOATHE THE DENIAL.
I LOATHE THE CONTINUED APATHY OF WORLD GOVERNMENTS IN THE FACE OF THIS DISASTER!
I LOATHE THE LIES ALL INVOLVED IN THIS COVERUP CONTINUE TO TELL US.
MOSTLY, I LOATHE THE SUFFERING APPARENT IN ALL THESE ANIMALS, NOT JUST THE SEALS, MILLIONS AND MILLIONS OF DEAD AND DYING MARINE CREATURES.
IT SHOULD HAVE NEVER HAPPENED!
IT COULD HAVE BEEN PREVENTED IN A MULTITUDE OF WAYS!
I CAN'T IMAGINE THE PAIN OF SUCH EXTENSIVE LESIONS!
THERE IS NO PEACE IN THE FACE OF THE DEAD AFTER SUCH SUFFERING.
IMAGINE THAT HAIRLESS INFLAMED SKIN IN EITHER SALT WATER OR ON SEA ICE! IT'S JUST RAW, UNPROTECTED, BURNING FLESH!
THIS SEAL WAS FOUND BY ALASKAN TRIBESMEN.
IT WAS NOT THE ONLY ONE!
Scientists present links between unusual Alaska seal deaths and Fukushima fallout!
Alaska Marine Science Symposium
(pdf), Jan. 20-24, 2014 (
emphasis added
):
2011 Fukushima Fall Out: Aerial Deposition On To Sea Ice Scenario And Wildlife Health Implications To Ice-Associated Seals
(Dr. Doug Dasher, John Kelley, Gay Sheffield, Raphaela Stimmelmayr)
— On March 11, 2011 off Japan's west coast, an earthquake-generated tsunami struck the Fukushima Daiichi nuclear power plant resulting in a major nuclear accident that included a large release of airborne radionuclides into the environment.
Within five days of the accident atmospheric air masses carrying Fukushima radiation were transiting into the northern Bering and Chukchi seas.
During summer 2011 it became evident
to coastal communities and wildlife management agencies that
there was a novel disease outbreak occurring in several species of Arctic ice-associated seals
.
Gross symptoms associated with the disease included
lethargy, no new hair growth, and skin lesions
, with the majority of the outbreak reports occurring between the Nome and Barrow region.
NOAA and USFWS declared an Alaska Northern Pinnipeds Usual Mortality Event (UME) in late winter of 2011. The ongoing Alaska 2011 Northern Pinnipeds UME investigation continues to explore a mix of potential etiologies (infectious, endocrine, toxins, nutritious etc.),
including radioactivity
. Currently, the underlying etiology remains undetermined.
We present
results on gamma analysis (cesium 134 and 137) of muscle tissue
from control and diseased seals, and
discuss wildlife health implications from different possible routes of exposure to Fukushima fallout to ice seals
.
Since the Fukushima fallout period occurred during the annual sea ice cover period from Nome to Barrow, a sea
ice based fallout
scenario in addition to a
marine food web
based one is
of particular relevance for the Fukushima accident
.
Under a proposed sea ice fallout deposition scenario, radionuclides would have been settled onto sea ice.
Sea ice and snow would have acted as a temporary refuge for deposited radionuclides; thus radionuclides would have only become available for migration during the melting season and would not have entered the regional food web in any appreciable manner until breakup (
pulsed release
).
The cumulative on-ice
exposure for ice seals would have occurred through external
,
inhalation
, and non-equilibrium
dietary pathways
during the ice-based seasonal spring haul-out period for molting/pupping/breeding activities.
Additionally, ice seals would have been under dietary/metabolic constraints and experiencing hormonal changes associated with reproduction and molting.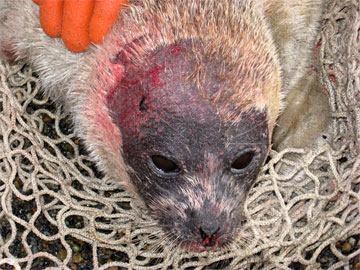 LESIONS FOUND ON EYES, ALL OVER ITS BODY.
"

The rigorous, collaborative investigation into these deaths has and will continue to involve the North Slope Borough, numerous organizations, local communities, Tribal entities, and members of the Alaska Marine Mammal Stranding Network, including the Alaska SeaLife Center, Alaska Sea Grant Marine Advisory Program, and Alaska Department of Fish and Game. These investigations may require months or even years of data collection and analysis."
SOME OF THE OLDER TRIBESMEN AND PACIFIC ISLANDERS REMEMBER ONLY ONCE BEFORE THAT THE OCEAN WAS 'SICK' AND MADE THE ANIMALS SICK, AND MADE THE PEOPLE SICK...
AFTER HIROSHIMA, NAGASAKI, FOLLOWED BY THE HUGE PACIFIC TEST EXPLOSIONS OF THE 1940s.
BUT THIS IS WORSE, MUCH WORSE.
THEY REPORT WHAT THEY'RE STILL SEEING, BUT NO ONE LISTENS.
Local Environmental Observers (LEO) Network
, Updated Oct. 8, 2013:
Sick spotted seal
— Eek, Alaska, April 12, 2013 (marine mammal) [...] hunter reported that he had caught a spotted seal that he thought was sick. He then proceeded to gut the marine animal and found there was white puss or goo like substance along the muscle tissue everywhere. [...] a very small bit of the fat was chewed on and nothing else. We have crows, they are known to eat just about anything, even silicone off the roof… this animal is not being touched.
ON BOTH SIDES OF THE PACIFIC, HUNDREDS OF THOUSANDS OF BABY SEALS ARE STARVING, DYING, SICK, AND, ABANDONED BY HUNDREDS OF THOUSANDS OF MOTHERS, WHO ARE LIKELY OUT THERE SOMEWHERE, ALSO DEAD OR DYING, THE PUPS LEAVE THE OCEAN, THE ISLANDS THEY WERE BORN ON, TRY TO ESCAPE, MAKE FOR LAND, FACING VICIOUS DOGS, FACING HUMANS, FACING ANYTHING TO ESCAPE.
EMACIATED, ALL THEY CAN DO IS STRUGGLE TO GET OUT OF THAT WATER, WHERE, NORMALLY, LIFE-GIVING FOOD COULD BE FOUND.
LIKE THEIR MOTHERS, THEIR 'EMERGENCY FOOD' SUPPLIES ARE GONE, AND ARE NOT COMING BACK.
NO FOOD, NO HOPE.
THE SEARCH FOR FOOD IS OVER FOR THIS BABY
HUNGER APPEARS SIMILAR ON ALL FACES, MUCH AS DEEP SUFFERING AND PAIN DOES.
CONCERN FOR OUR HUMAN FOOD, AS IT SHOULD BE, LEAVES OUT THE OTHERS WHO DEPEND ON THAT FOOD FOR LIFE, WHO HAVE NO OTHER FOOD SUPPLIES.
Radiation from Fukushima
, APRN (Alaska Public Radio Network), Jan. 24, 2014: They're having trouble sealing up the leaking nuclear power plants in Japan and they're also having trouble disclosing what is going on there. Is this a reason to distrust Alaska seafood?
GUESTS: Professor Doug Dasher, Environmental Oceanographer, University of Alaska Fairbanks School of Fisheries and Ocean Science — Dr. John Kelley, Professor Emeritus, University of Alaska Fairbanks, former Director, Naval Arctic Research Laboratory.
I THINK THAT ALL WHO ARE INVOLVED IN NUCLEAR ENERGY, ALL GOVERNMENT OFFICIALS SEEING THIS AND DOING NOTHING, SHOULD BE FED A DIET OF NOTHING BUT PACIFIC FISH, SHELLFISH, AND MAYBE THE DEAD AND DYING SEALS.
MAYBE THEN SOMEONE WOULD FIND A WAY TO DO SOMETHING TO FORCE AN END TO THE NON-STOP POISONING OF THESE ANIMALS...AND US.
WHEN OUR SCIENTISTS KEEP MENTIONING HOW UNCOMMON IT IS FOR THE GREAT WHALES TO HUG THE SHORELINE, FOR THE HUNDREDS OF PODS OF OTHER WHALES/DOLPHINS TO BEACH THEMSELVES, FOR SEA TURTLES TO WASH UP ON BEACHES ALL ALONG THE PACIFIC RIM NATIONS, I JUST WANT TO SCREAM AT THEM...
"THEY'RE WISHING THEY COULD LEAVE THAT TOXIC OCEAN, YOU MORONS, YOU LIARS!
THEY'RE LONGING FOR A WAY OF ESCAPE!
THEY'VE HAD ENOUGH!
NO CREATURE WANTS TO DIE IN THAT!"
MAYBE, WHEN WE ALL BEGIN TO SEE, AND THEN REALIZE IT'S JUST TOO LATE, MAYBE WE WILL REMEMBER THE SEALS.
AS THEY GO, SO GO WE ALL...
WHAT'S MORE IMPORTANT...THE ECONOMY OF JAPAN OR HUMAN AND ALL OTHER LIFE?
THE OUTRIGHT BLATANT MURDER, THE CRIME AGAINST HUMANITY, THE WANTON DESTRUCTION OF EARTH'S ENTIRE BIOSPHERE, IT ALL HAS TO BE STOPPED.
WE'RE NEXT.
WE ARE NEXT!
FURTHER READING AND OTHER SOURCES:
http://www.north-slope.org/departments/wildlife-management/studies-and-research-projects/health-assessment-of-subsistence-resources/seal-and-walrus-health-studies
http://www.north-slope.org/assets/images/uploads/AMSS2014_incidental_findings_final.pdf
http://www.dw.de/fukushima-radiation-in-canadian-waters/a-18367257
http://enenews.com/video-significant-amounts-fukushima-radiation-detected-along-west-coast-america-nuclear-expertits-beginning-onslaught-levels-30-times-worse-predicted-scientists-clue-about-whats-coming-real-goal-down
http://www.alaskapublic.org/2012/04/06/polar-bears-show-signs-of-mysterious-illness/
http://www.nytimes.com/2011/03/22/science/earth/22food.html?_r=0