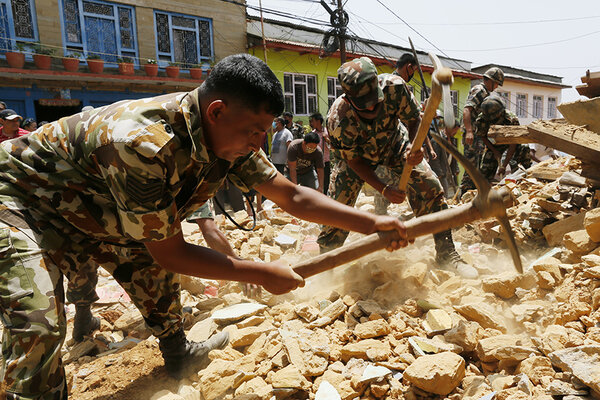 The head of the European Union delegation in Nepal said up to 1,000 Europeans were among other thousands unaccounted for, mostly around popular trekking routes.
Officials said it was hard to trace the missing because many backpackers do not register with their embassies.
"It does not mean that they are buried. They could have left the country without telling anyone before the earthquake struck," Ambassador Rensje Teerink told reporters.
Photo Source: Reuters MAY 1, 2015
The number of people unaccounted for from France, Italy, Spain and the Netherlands is 371, according to checks Reuters made with these governments, while all Irish citizens, Croatians and Romanians have been traced.
Other European nations have yet to provide an updated figure for how many of their citizens are unaccounted for.
IT'S GOOD THAT FOREIGN NATIONS SEEM TO HAVE AN IDEA OF HOW MANY OF THEIR CITIZENS ARE MISSING, BUT AFTER A WEEK, IT JUST SEEMS TO ME THAT MORE EFFORT SHOULD BE MADE TO GET TO THE REMOTE VILLAGES.
I REMEMBER TOO MANY TIMES AFTER MEGA-QUAKES IN SEVERAL NATIONS THAT, WHEN AID FINALLY ARRIVED TO CHECK ON REMOTE VILLAGERS, MANY WERE SIMPLY GONE, BURIED BY RESULTING LANDSLIDES, AND THOSE WHO MIGHT HAVE BEEN SAVED THOSE FIRST 2 OR 3 DAYS PERISHED BECAUSE NO ONE CAME.
WHILE I UNDERSTAND THAT THE CAPITAL IS MOST HEAVILY POPULATED AND LIKELY MORE PEOPLE ARE STILL BURIED IN THE RUBBLE THERE, I SIMPLY WISH SOME NATION WOULD TAKE IT UPON ITSELF TO GO SEARCH THE SMALLER, MORE RURAL VILLAGES.
THOSE PEOPLE ARE IMPORTANT, TOO.
IF THEIR WATER SUPPLIES ARE CUT OFF, OR TAINTED, TIME IS VERY CRUCIAL AS PEOPLE CANNOT LIVE WITHOUT WATER AS LONG AS THEY CAN WITHOUT FOOD.
IN THE CAPITAL
KATHMANDU, NEPAL — Thousands of people were still missing in Nepal
on Friday as food and help began to trickle through to those stranded in remote areas after last week's earthquake which killed a known 6,250.
The death toll could rise further. Bodies are still being pulled from the debris of ruined buildings, while rescue workers have not been able to reach some remote areas.
The government put the number of injured at more than 14,350.
HASTY CREMATIONS
In the capital Kathmandu, many unclaimed bodies were being quickly cremated because of the need to avert disease and reduce the stench of corpses in areas where buildings had collapsed.
"Morgues are full beyond capacity and we have been given instructions to incinerate bodies immediately after they are pulled out," said Raman Lal, an Indian paramilitary force official working in coordination with Nepali forces.
Many of the dead could be migrant workers from neighboring India, local officials said.
HOW WOULD A FAMILY OF A MIGRANT WORKER OR OTHERS MISSING EVER LEARN IF THEIR LOVED ONES WERE AMONG THE CREMATED?
I'VE SEARCHED FOR AN ANSWER TO THAT AND CAN'T FIND ONE IN ANY NEWS REPORT.
MUCH NEWS AND IDENTIFICATION OF THOSE ON MOUNT EVEREST IN THE NEWS, BUT HASTY CREMATION FOR THE "UNKNOWNS", "UNCLAIMED" MEANS WHAT?
WE'LL NEVER KNOW WHO THEY WERE?
I CAN'T HELP BUT IMAGINE HOW A PARENT OF A YOUNG MAN OR WOMAN MIGHT FEEL NOT HAVING A WAY TO FIND OUT IF MY MISSING CHILD (THOUGH AN ADULT CHILD) WAS AMONG THE DEAD.
OFFICIALS KEEP TALKING ABOUT A LACK OF TRUCKS AND DRIVERS TO GO INTO THE REMOTE AREAS, BUT HELICOPTERS HAVE BEEN MADE AVAILABLE TO NEPAL, AND VOLUNTEERS ARE SWARMING IN.
ONE REPORT SAID SOME FOOD HAD BEEN DROPPED FROM COPTERS, SO DID THEY MANAGE TO GET TO ALL?
COULDN'T THEY LAND, MAKE CONTACT, LET US KNOW?
MY THOUGHTS AND HEART ARE WITH THESE VICTIMS AND THEIR FAMILIES.
WOULD THAT WE COULD IMMEDIATELY REACH ALL WHO WERE AFFECTED BY THIS TERRIBLE QUAKE.
MAY ALL WHO ARE SEARCHING FIND HOPE.