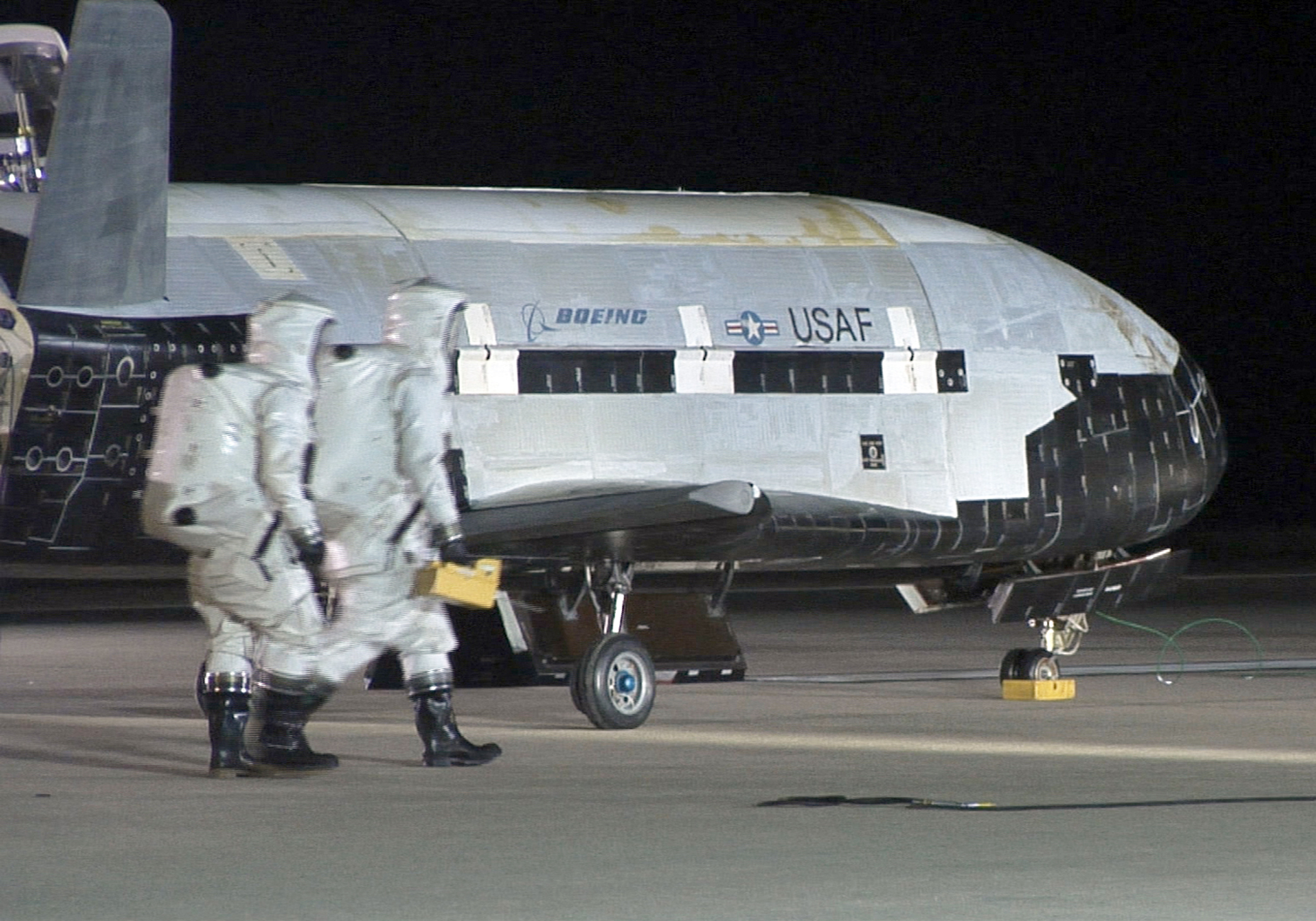 THE MOST SECRETIVE PROJECT, PERHAPS, THAT THE U.S. MILITARY HAS.
The X-37B Orbital Test Vehicle mission 3 (OTV-3)
BACK INTO SPACE
May 18, 2015
CAPE CANAVERAL — An experiment-carrying, reusable mini space shuttle operated by the U.S. Air Force will be boosted into Earth orbit Wednesday atop a United Launch Alliance Atlas 5 rocket.
It will be the fourth flight of the military's X-37B program, also known as Orbital Test Vehicle mission No. 4. The project is run inside the Pentagon at the Rapid Capabilities Office.
Liftoff is scheduled for some time during a four-hour, unclassified period that extends from 10:45 a.m. to 2:45 p.m. EDT (1445-1845 GMT) from Complex 41 at Cape Canaveral Air Force Station in Florida. The actual target time will be announced on launch day.
The mission will check out the performance of an experimental electric propulsion system jointly developed by the Air Force Research Laboratory and Space and Missile Systems Center. It is an in-space proof-testing of design modifications for Hall Current Thrusters currently used on the military's Advanced Extremely High Frequency ultra-secure communications satellites.
[Advanced EXTREMELY HIGH FREQUENCY... EHF, AS OPPOSED TO ELF (EXTRA LOW FREQUENCY).
WHERE HAVE WE HEARD "EHF" BEFORE?
HOW ARE THEY "ULTRA-SECURE"? ]
There's also a NASA advanced materials investigation aboard the X-37B.
Known as the Materials Exposure and Technology Innovation in Space, or METIS, the experiment will expose nearly 100 different materials samples to the space environment.
METIS will fly a variety of quarter-sized samples of polymers, composites and coatings.
"By exposing materials to space and returning the samples to Earth, we gain valuable data about how the materials hold up in the environment in which they will have to operate," said Miria Finckenor, the principal investigator for METIS at NASA's Marshall Space Flight Center in Huntsville, Alabama.
"Spacecraft designers can use this information to choose the best material for specific applications, such as thermal protection or antennas or any other space hardware."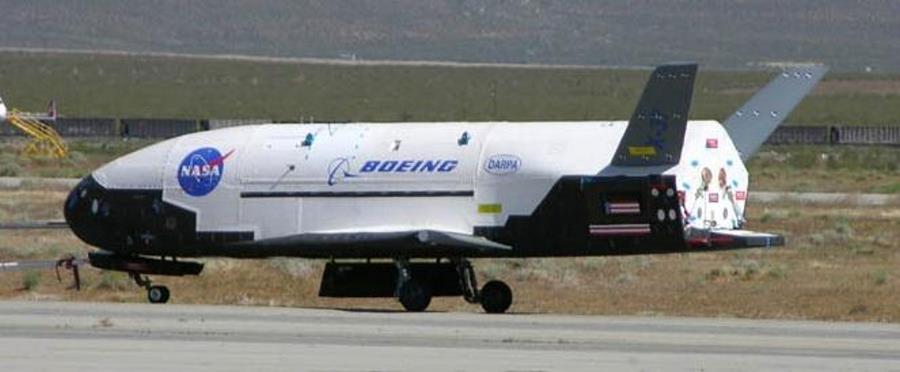 OCTOBER 18, 2014
The Air Force's two vehicles resemble small space shuttles, and have now logged a combined 1,367 days in space, the military said.
The military has spoken only in generalities about the spacecraft and its mission.
"Technologies being tested in the program include advanced guidance, navigation and control, thermal protection systems, avionics, high temperature structures and seals, conformal reusable insulation, lightweight electromechanical flight systems, and autonomous orbital flight, re-entry and landing," an Air Force statement said.
Theorists speculate the spacecraft is a space bomber, a spy plane against such targets as the Chinese space station, or merely an experiment as the government states, according to a Popular Mechanics story in 2012.
The previous mission of the X-37B, which landed at Vandenberg on June 16, 2012, lasted 469 days, according to the Air Force. That mission was flown by the second of the orbiters. The latest mission is the second for the first of the orbiters, which was refurbished after it spent 224 days in orbit following an April 2010 launch.
The X-37B spacecraft is 29 feet, 3 inches long and 9 feet, 6 inches high with a wingspan of 14 feet and 11 inches. It weighs about 5.5 tons. It is lifted into space by United Launch Alliance's Atlas V rockets.
Soon after launch, amateur astronomers spotted the plane in an orbit used by observation satellites.
[THE 1ST TEST OF THE X-37A WAS ONE IN WHICH IT WAS DROPPED FROM THE BELLY OF THE 'LIFT PLANE', CALLED THE 'WHITE KNIGHT' , AS OPPOSED TO THE MYSTERIOUS 'BLACK KNIGHT'?
SEE "
THE BLACK KNIGHT 'NON-EARTH OBJECT'...NASA PHOTOS"]
EXPLOSION IN SPACE...ANY LINK TO THE X-37?
A VERY ODD THING HAPPENED ONE NIGHT IN DECEMBER, 2012...
AN AMATEUR ASTRONOMER WAS WATCHING THE SKY OVERHEAD, NOTICING AN ORBITING OBJECT, AND BEGAN FILMING.
HERE IS ONE FRAME OF THAT FILM.
WHAT HE DID FILM MAY HAVE BEEN THE X-37B (OR TWO OF THEM?) TAKING OUT AN UNKNOWN TARGET...
IF THIS IS NOT THE X-37B, WHAT WAS IT?
THE THIRD MISSION WAS JUST GETTING UNDERWAY WHEN THE ABOVE-MENTIONED VIDEO WAS FILMED, SO, YES, WE KNOW AT LEAST ONE OF THE X-37s WAS IN ORBIT AT THE TIME.
WHAT ELSE DOES ANY NATION HAVE THAT COULD ACHIEVE THIS?
Elijah Prychodzko video of strange explosion in the sky
Published on Dec 31, 2012
SACRAMENTO (CBS13) --
"A Sacramento man scanning the night sky caught a sudden burst of light through his telescope. He recorded that strange sight with his smart phone.
CBS13 shared the video with experts to see if they could solve the mystery.
This mysterious little tale begins earlier this week when Good Day Sacramento's Cody Stark got this message on Facebook: "I have something on video no one has ever seen. I had my telescope out, caught an explosion in space. Wanna see the video?"
Cody's response? Absolutely!
The video was shot with an iPhone through the eyepiece of a telescope, so CBS13 had to enlarge it to get a better look. It was shot on Dec. 20 around 5 p.m. in Sacramento by viewer Elijah Prychodzko.
"I saw something that I'd never seen before. I saw another object orbiting this — whatever it was up there, and I've never seen anything like that before," said Prychodzko.
He thought it was a little strange so he put his phone down, called his nephew, and then returned to shoot a second video clip.
"Oh my God, it just blew up. Something blew up," he's heard saying on the video.
"As soon as I put the camera to the telescope it just blew up and I didn't know what to say," he told CBS13.
So Cody sent the video off to Dr. Stephen P Maran, who wrote the book Astronomy for Dummies.
Dr. Maran responded by saying he didn't recognize the "explosion" as a known astronomical phenomenon. "My personal opinion is that it is not an astronomical event," he wrote.
Whatever it was, it was almost never seen by Dr. Maran or anyone else — because Prychodzko nearly sold it on Craigslist.
"Almost got rid of it a week before. I was trying to sell it on Craigslist and I was getting offers and, man, you know what, at this time I'm glad I didn't sell it," he said."
I FOUND THIS STATEMENT BY SPACEFLIGHT 101 A BIT ODD:
"Since the ground track of OTV-3 did not repeat at the frequent intervals seen for OTV-1 and 2, it is probable that

whatever resided inside the vehicle's payload bay was looking at space instead of Earth."
T
HAT ORBIT DID INDEED GO A LITTLE WACKY...DISAPPEARED FROM VIEW OF AMATEUR ASTRONOMERS FOR 5 DAYS, REDISCOVERED IN A NEW ORBIT.
THE FIRST X-27B MISSION ALSO CHANGED ORBITS, BUT DID NOT DISAPPEAR.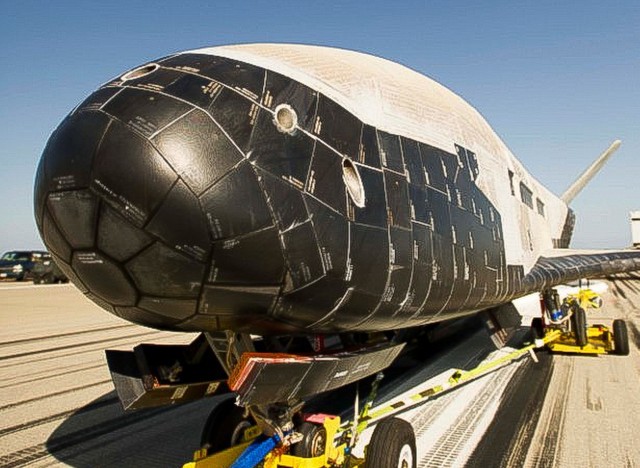 A FAIR CLOSEUP OF THE CRAFT
LOOKING BURNED AND BATTERED
PHOTO OF A LAUNCH OF THE X-37B FROM FLORIDA, TAKEN FROM A CRUISE SHIP
SAME LAUNCH ON VIDEO.
The X-37 began as a NASA project in 1999, before being transferred to the U.S. Department of Defense in 2004. It conducted its first flight as a drop test on 7 April 2006, at Edwards Air Force Base, California.
The spaceplane's first orbital mission, USA-212, was launched on 22 April 2010 using an Atlas V rocket.
Its successful return to Earth on 3 December 2010 was the first test of the vehicle's heat shield and hypersonic aerodynamic handling.
A second X-37 was launched on 5 March 2011, with the mission designation USA-226; it returned to Earth on 16 June 2012.
A third X-37 mission, USA-240, launched successfully on 11 December 2012, and landed at Vandenberg AFB on 17 October 2014
The
OTV-1
X-37B in April 2010, inside its payload fairing prior to launch.
REMEMBER, THE ABOVE IS "OTV-1".
HERE'S THE TRACKING FOR "OTV-2" , BELOW:
http://wingsoflyra.blogspot.com/2011/05/track-it-real-time-satellite-tracking.html
SO..."OTV-3" ???
APPARENTLY SO...

"Following its successful launch,

OTV-3

was quickly spotted in orbit by satellite trackers around the world who kept track of this and the previous X-37B flights. OTV-3 was delivered to an initial orbit of 345 by 363 Kilometers inclined 43.5 degrees which is an

orbit lower than that of OTV-1, but higher than that of OTV-2.

Unlike the previous two X-37B missions, OTV-3 did not perform frequent orbital maneuvers and remained at an altitude between 350 and 410 Kilometers for most of its mission, maintaining the orbit by using its propulsion system."
ARE THERE 3 OF THEM?
A DOZEN, MAYBE?
ONE SITE SAID THERE WERE 6, BUT ALSO SAID THAT WAS "CLASSIFIED" INFORMATION.
I'D REALLY LIKE TO KNOW HOW MANY WE HAVE.
AND I'D LIKE TO KNOW WHAT THEY'RE DOING "UP THERE".
AND WHY THIS WAS TAKEN AWAY FROM NASA BY THE DEPARTMENT OF DEFENSE...
AND WHY ANYONE WOULD TRUST THE PENTAGON WITH ANYTHING THAT CAN STAY ALOFT FOR TWO YEARS...AND CARRY WHO-KNOWS-WHAT ABOARD IT.
CALL ME WHATEVER YOU PLEASE, I HAVE A NEED TO KNOW.
DON'T YOU?