A NEW DAY OF RAGE WAS CALLED FOR IN ISRAEL BY HAMAS AND THE PALESTINIAN AUTHORITY TODAY.
THIS FOLLOWS A WEEK OF "DAYS OF RAGE" AFTER POLICE HAD TO CLOSE THE TEMPLE MOUNT BECAUSE AMERICAN, FRENCH, CHRISTIAN AND JEWISH VISITORS, THE ISRAELI POLICE AND IDF SOLDIERS WERE BEING ATTACKED DAILY BY MOBS OF ANGRY MUSLIMS.
THERE HAVE BEEN AT LEAST EIGHT JEWISH VICTIMS OF MURDER, ONE AMERICAN AND HIS WIFE.
AND ALL THAT CAME ON THE HEELS OF NEW ROCKET ATTACKS ACROSS ISRAEL BY HAMAS.

THINK ABOUT THIS BEFORE YOU READ, YOU AMERICANS WHO SEE ISRAEL AS AN "INVADER WHO STOLE LAND FROM THE MUSLIMS".....
AMERICA WAS BUILT ON STOLEN LAND, BUILT BY THE GENOCIDE OF MILLIONS OF INDIGENOUS PEOPLE WHO WERE HERE THOUSANDS OF YEARS BEFORE THE BOATS CAME.
OVER 500 BROKEN TREATIES, LIES AND 200+ YEARS OF NONSTOP WARFARE AGAINST INDIGENOUS PEOPLE MADE AMERICA WHAT IT IS TODAY.
IS AMERICA GOING TO GIVE ALL THE LAND BACK TO THE TRIBES?
NO...IN FACT, HELL NO!

AND HOW MANY AMERICANS HAVE SAID, "GET OVER THE INDIAN WARS! WHITE SETTLERS WON....THE END!"

TELL THAT TO THE PRETEND-PALESTINIANS, THOSE WHO RUSHED ACROSS ISRAELI BORDERS FROM SYRIA, EGYPT, WHEN ISRAEL RETURNED HOME?
OH, NO, NEVER....THEY, UNLIKE 'AMERICAN INDIANS', HAVE A 'RIGHT' TO THE LAND, EVEN THOUGH IN ALL OF HISTORY THERE NEVER WAS A CULTURE NOR A RACE KNOWN AS "PALESTINIANS" UNTIL THEY WANTED TO KEEP JEWS FROM RECLAIMING THEIR THOUSANDS YEARS OLD HOMELAND.
THERE NEVER WAS AN ARAB STATE THERE, AND CERTAINLY NEVER WAS A MUSLIM CAPITAL THERE.
EVEN WHEN TURKEY INVADED AND WON, TURKEY WANTED NO ARAB/MUSLIM STATE.
WHEN JORDAN WAS IN CONTROL OF JERUSALEM, JORDAN NEVER ESTABLISHED A MUSLIM CAPITAL NOR ARAB STATE THERE.

BY THE WAY, THE 'PALESTINIANS' HAVE ALSO NEVER WON A SINGLE BATTLE NOR WAR SINCE THEY CAME INTO EXISTENCE IN THE PAST CENTURY.
NEVER.

ISRAEL WON, HOWEVER, EVERY TIME SHE FOUGHT FOR HER LAND...FROM THE FIRST TIME THOUSANDS OF YEARS AGO TO THE LAST TIME, 1967, ISRAEL WON BY CONQUEST, JUST LIKE AMERICA, JUST LIKE EVERY OTHER NATION.
WHAT IF THIS WAS HAPPENING HERE IN AMERICA, AND THOSE ATTACKING AMERICANS WERE ANGRY 'INDIANS' WHO JUST WANTED THEIR OWN 'STATE', JUST WANTED THEIR 'RIGHTS TO A HOMELAND'?
THINK ABOUT SEEING THIS ALL OVER AMERICA, EVERYWHERE INDIGENOUS LANDS WERE SEIZED IN THE PAST.
Yesterday, just like in 2000 when the above photo was taken, Muslims set fire to Joseph's Tomb.
Imagine if these were 'American Indians' setting fire to, say, the Tomb of the Unknown Soldier, or even Grant's Tomb!
Try to imagine that!
The fire at Joseph's Tomb yesterday.
In the past month, eight Israelis were killed in Palestinian attacks, most of them stabbings.
Israeli officials have released security camera videos of the attacks, sometimes within minutes.
THOSE VIDEOS NEVER APPEAR IN AMERICAN MEDIA.
On Malkhei Yisrael Street in Geula, a terrorist drove a car into a bus stop, hitting three pedestrians - one of whom, 60-year-old Rabbi Yeshayahu Krishevsky, was killed.
The terrorist then left the vehicle and started repeatedly stabbing his victims.
HAMAS PRAISED ALL ATTACKS AND CALLED FOR A CONTINUED MASSACRE OF ALL JEWS.
AMERICAN CITIZEN KILLED
WHEN AN AMERICAN CITIZEN WAS RECENTLY STOPPED ON AN ISRAELI HIGHWAY AND SHOT DEAD IN COLD BLOOD ALONG WITH HIS WIFE, IN FRONT OF THEIR FOUR CHILDREN WHO WERE ALSO MARKED FOR DEATH, ONLY ONE OR TWO OF ALL AMERICAN MAJOR MEDIA CARRIED THE STORY.
NBC WAS ONE OF THOSE FEW, BUT WENT ON TO "REPORT" IN THEIR USUAL ANTI-ISRAELI WAY.

HAD ONE OF THE MUSLIM GUNMEN NOT SHOT ONE OF HIS ACCOMPLICES BY ACCIDENT, THE CHILDREN, INCLUDING A FOUR-MONTH OLD BABY, WOULD ALSO HAVE BEEN SHOT.
AS EVIDENCED BY THE BLOOD AT A BACK WINDOW OF THE TARGETED VEHICLE, THE CHILDREN WERE NEXT....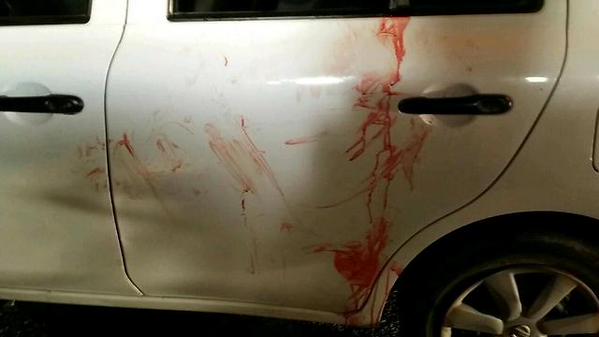 Vehicle of murdered couple.
Ambulances at the Western Wall evacuate injured Israelis following a terror attack in which a female Arab terrorist stabbed a Jewish civilian near the Lions' Gate of Jerusalem's Old City on Oct. 7, 2015.
IMAGINE "SAVAGE INDIANS" ATTACKING YOUR CHURCHES, AMERICA.
AFTER ALL, IF HAMAS AND OTHER MUSLIMS ARE JUSTIFIED FOR THIS IN ISRAEL, SO WOULD AMERICAN INDIANS BE JUSTIFIED HERE, RIGHT?
WHAT IF YOU WERE ATTACKED IN THE STREETS OF AMERICA BY ANGRY TRIBES?

Four people were wounded in a stabbing attack at a bus stop outside the Beit Loewenstein Rehabilitation Center on Jerusalem Street in Ra'anana.
"We saw the terrorist stabbing a helpless older man who was standing at the bus stop.

We immediately knew it was a terror attack," recounted two people working in one of the businesses in the commercial center, where the attack occurred.

HAMAS TERRORISTS WERE NEVER KNOWN FOR BRAVERY, USING BABIES, CHILDREN, WOMEN AND SCHOOLS AND HOSPITALS AS SHIELDS.
SEVERAL HUMAN RIGHTS GROUPS HAVE SHOWN THAT HAMAS HAS KILLED FAR MORE GAZAN PEOPLE, THEIR OWN PEOPLE, THAN ISRAEL
EVER HAS IN ALL ITS HISTORY AS A NATION!
YOU DON'T READ THAT IN THE MAINSTREAM MEDIA.
"Hamas wanted us butchered so it could win the media war against Israel showing our dead children on TV and then get money from Qatar." — T.,
former Hamas Ministry officer.
"

Hamas imposed a curfew: anyone walking out in the street was shot. That way people
had
to stay in their homes, even if they were about to get bombed. Hamas held the whole Gazan population as a human shield."

— K., graduate student.

WHY DON'T AMERICAN MEDIA GIANTS REPORT THAT?
WHY DON'T WE SEE VIDEOS OF HAMAS KILLING THEIR OWN PEOPLE EVERY DAY?
WHY DIDN'T THE ABOVE STATEMENTS FROM EX-HAMAS MEMBERS AND GAZAN CITIZENS MAKE FRONT PAGE NEWS?

BUT, AS I SAID, TRY TO IMAGINE THIS WAS HAPPENING HERE IN AMERICA, WITH THE 'RIGHTFUL OWNERS' OF ALL YOU SEE RECLAIMING THEIR 'HOMELAND'.
IMAGINE...IF YOU DARE!

THE DIFFERENCE WOULD BE THAT THERE WERE INDIGENOUS CULTURES HERE MANY THOUSANDS OF YEARS, ALL WHO LEFT REMNANTS OF THOSE CULTURES...ART, POTTERY, BUILDINGS, TOWNS, AND EACH TRIBE HAD A DISTINCTIVE LANGUAGE, A DISTINCTIVE GOVERNMENTAL BODY.

TRY TO FIND ANY OF THAT IN ALL OF ISRAEL AS PERTAINED TO A "HISTORICAL RACE" THAT WAS EVER KNOWN AS SUCH, THAT LEFT EVEN ONE SHARD OF EVEN A CLAY POT.
THERE WERE NO "ANCIENT PALESTINIANS".
AND THE MODERN "PALESTINIANS" STILL DON'T HAVE A DISTINCT LANGUAGE.

THEIR OWN "BROTHERS" IN SYRIA, JORDAN, EGYPT, ETC, CALL THEM "FILASTIN", BUT DNA PROVES THEY AREN'T "PHILISTINE" EITHER.

BOTTOM LINE?
THOSE WHO WANT TO GIVE ISRAEL'S TINY REMNANT OF A SPIT OF LAND AWAY TO THE FRAUDULENT "PALESTINIANS", DO YOU HAVE LAND IN AMERICA YOU'D LIKE TO GIVE BACK TO HER "CONQUERED TRIBES"?

I DIDN'T THINK SO....