An image of the distribution of
Gamma-ray bursts (GRBs)
on the sky at a distance of 7 billion light years, centered on the newly discovered ring. The positions of the GRBs are marked by blue dots and the Milky Way is indicated for reference, running from left to right across the image. Credit: L. Balazs
IT SHOULD NOT EXIST, ACCORDING TO THE "BIG BANG THEORY", BUT THERE IT IS, AN IMMENSE RING OF GALAXIES OVER 5 BILLION LIGHT YEARS ACROSS.
[ IN COMPARISON, IT TAKES "ONLY" 100,000 YEARS TO CROSS OUR OWN MILKY WAY GALAXY.]
This implies that the ring is more than 5 billion light years across, and according to Prof Balazs there is only a 1 in 20,000 probability of the GRBs being in this distribution by chance.
Most current models indicate that the structure of the cosmos is uniform on the largest scales. This 'Cosmological Principle' is backed up by observations of the early universe and its microwave background signature, seen by the WMAP and Planck satellites.
Other recent results and this new discovery challenge the principle, which sets a theoretical limit of 1.2 billion light years for the largest structures.
The newly discovered ring is almost five times as large.
"If the ring represents a real spatial structure, then it has to be seen nearly face-on because of the small variations of GRB distances around the object's centre. The ring could though instead be a projection of a sphere, where the GRBs all occurred within a 250 million year period, a short timescale compared with the age of the universe."
A spheroidal ring projection would mirror the strings of clusters of galaxies seen to surround voids in the universe; voids and string-like formations are seen and predicted by many models of the cosmos. The newly discovered ring is however at least ten times larger than known voids.
Prof Balazs comments: "If we are right, this structure contradicts the current models of the universe. It was a huge surprise to find something this big – and we still don't quite understand how it came to exist at all."
The team now want to find out more about the ring, and establish whether the known processes for galaxy formation and large scale structure could have led to its creation, or if astronomers need to radically revise their theories of the evolution of the cosmos.
[ MORE TECHNICAL INFO <HERE> AND THE LINK TO THE PAPER PRESENTED IN THE ROYAL ASTRONOMICAL SOCIETY JOURNAL <HERE>.]

FROM "DISCOVERY":


"According to most cosmological models, the universe should have a roughly uniform distribution of matter over the largest scales.
This is known as the "Cosmological Principal" and observations by NASA's Wilkinson Microwave Anisotropy Probe (WMAP) and Europe's Planck space telescope, which both studied the distribution of the universe's ancient cosmic microwave background (CMB) radiation, seem to agree.
However, other results have recently challenged this idea hinting that structures as large as 1.2 billion light-years may exist. But a growing list of discoveries in the cosmic abyss seem to contradict even the 1.2 billion light-year "limit."
So what could be causing this particular ring of GRBs? One idea focuses around the large-scale structure of the universe where clusters of galaxies amass together in a web-like structure, thought to be clumped around concentrations of dark matter. The "holes" in this web are referred to as voids — regions of the cosmos that are conspicuously near-empty of any matter. The largest voids are called, unsurprisingly, "super-voids."
But this new structure dwarfs all known super-voids.
"If we are right, this structure contradicts the current models of the universe. It was a huge surprise to find something this big — and we still don't quite understand how it came to exist at all," added Balazs.
So is the Cosmological Principle flawed?
It's certainly looking that way."

BEFORE THIS NEW DISCOVERY, OTHERS HELD THE DISTINCTION OF LARGEST KNOWN 'STRUCTURE', AND ALL FLEW IN THE FACE OF CURRENT "THEORY" ABOUT THE UNIVERSE.

BELOW, THE "GREAT COLD SPOT".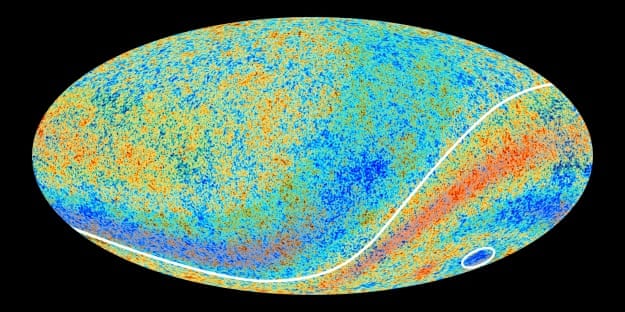 An earlier image from the Planck telescope shows the Cold Spot, circled. Photograph: ESA and the Planck Collaboration
István Szapudi, who led the work at the University of Hawaii at Manoa, described the object as possibly "the largest individual structure ever identified by humanity".
Its existence only emerged thanks to a targeted astronomical survey, which confirmed that around 10,000 galaxies were "missing" from the part of the sky it sits in.



Prof Carlos Frenk, a cosmologist at the University of Durham, said: "The Cold Spot raised a lot of eyebrows. The real question was what was causing it and whether it was a challenge to orthodoxy."



WELL, EVEN EINSTEIN WAS WRONG, SO....

EVERYONE WAS EQUALLY SHOCKED IN 2013 WHEN THIS BEAUTY WAS DISCOVERED...
The
"large quasar group" (
LQG
)
"While it is difficult to fathom the scale of this "large quasar group" (
LQG
), we can say quite definitely it is the largest structure ever seen in the entire universe," said Dr Clowes of University of Central Lancashire's Jeremiah Horrocks Institute.
"This is hugely exciting – not least because it runs counter to our current understanding of the scale of the universe. Even traveling at the speed of light, it would take 4 billion years to cross.
This is significant not just because of its size but also because it challenges the
Cosmological Principle
, which has been widely accepted since Einstein.
Our team has been looking at similar cases which add further weight to this challenge and we will be continuing to investigate these fascinating phenomena."
To give some sense of scale, our galaxy, the Milky Way, is separated from its nearest neighbor, the
Andromeda Galaxy
, by about 0.75
Megaparsecs
(Mpc) or 2.5 million light-years. Whole clusters of galaxies can be 2-3 Mpc across but LQGs can be 200 Mpc or more across. Based on the Cosmological Principle and the modern theory of cosmology, calculations suggest that astrophysicists should not be able to find a structure larger than 370 Mpc. Clowes' newly discovered LQG however has a typical dimension of 500 Mpc. But because it is elongated, its longest dimension is 1200 Mpc (or 4 billion light years) -
some 1600 times larger than the distance from the Milky Way to Andromeda."
IT'S BEEN 12 YEARS SINCE THE VAST "SLOAN GREAT WALL" WAS FOUND
, JUST ANOTHER WRENCH IN THE GEARS OF "THEORY", ANOTHER STRUCTURE THAT SHOULD NOT BE...
The 1.4 billion light-year long Great Wall structure was discovered by the Sloan Digital Sky Survey in 2003.
The largest supercluster in the Wall, SCl 126, is unusual compared to superclusters within other large-scale structures.
SCl 126 appears to be a hothouse of galactic mergers and astronomers are having a hard time modeling its formation.
SCl 126 is described as having an exceptionally rich core of galaxies with tendrils of galaxies trailing away from it like an enormous "spider."

AND IN 2010, WE SAW THE "ERIDANUS VOID"...A MERE BILLION LIGHT YEARS ACROSS.
"The apparent development of
a large void of some billion light-years in diameter in the Constellation Eridanus
appears to be improbable given current cosmological models.
A radical and controversial theory proposes that it is a "universe-in-mass black hole" rather than hypothetical dark matter responsible for the phenomenon described as the expanding-accelerating universe.
This radical theory of cosmology suggests that stars at the edge of the Hubble length universe are being consumed by a universe-in-mass black hole."
BOTTOM LINE?
THEORY IS JUST THAT...THEORY...UNPROVEN, SUBJECT TO FLAWS, CONJECTURE AT ITS BEST...OR WORST?

WE TAKE A GUESS, THEN WE HAVE TO GUESS AGAIN...AND AGAIN...

IN SPITE OF THEORIES, IT'S AN INCREDIBLE UNIVERSE, OF WHICH WE ARE ALL ALMOST INDETECTABLE DOTS ON A TINY BLUE ROCK, HURTLING ACROSS SPACE.
I HAVE OFTEN WONDERED WHAT IF...WHAT IF WE JUST STOPPED CREATING THEORIES AND JUST ENJOYED ALL THIS?

WHAT IF WE SIMPLY LOOKED UP AT THE NIGHT SKY AND WERE AMAZED AND WERE CONTENT TO LET IT GO AT THAT?

WHAT IF WE JUST LOOKED AT OUR LITTLE HOME PLANET AND ALL THAT'S ON IT AND WERE JUST, WELL, GRATEFUL AND DID ALL WE COULD TO TAKE CARE OF IT?

MIGHT BE NICE.

LIFE...WE EACH GET ONLY ONE....