I KID YOU NOT!

[WELL, THIS IS REAL, BUT I ADMIT MY COMMENTS LEAN TOWARD
AN "ONION" PERSPECTIVE
, ALTHOUGH THIS IS A STUPID, BASICALLY POINTLESS WAY TO SPEND RESEARCH MONEY, AND THE TEA ROOM ABSOLUTELY LOATHES ANIMAL TESTING WHEN WE HAVE HUMANS AVAILABLE FOR ALL THIS ROT.]


I THOUGHT THE
STUDY ON HOW FAR "MORMON CRICKETS" CAN WALK IN A DAY
WAS THE DUMBEST THING WE MIGHT EVER SEE, BUT THIS TOPS THAT.
"RESEARCHERS" CREATED 3-D GOGGLES FOR A PRAYING MANTIS, CAPTURED SOME OF THE POOR THINGS, AFFIXED THE GLASSES, AND THEN MADE THEM WATCH A COMPUTER GENERATED "MOVIE"!

WHY?

IF ONE FOLLOWS THE LINKS IN THE CBS REPORT, ONE LEARNS THAT 3-D MOVIES CAUSE HEADACHES AND OTHER WOES IN HUMANS, SO WHY DO THIS TO A DEFENSELESS MANTIS?

I MEAN, JUST LOOK AT THOSE HUMAN EYES STARING AT THE INSECT...ARE THOSE THE EYES OF A DEMENTED MAD SCIENTIST OR NOT?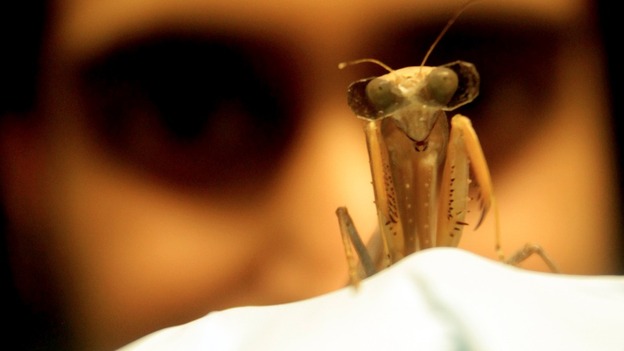 WHAT HAPPENED TO THE MANTIS SUBJECTS?
WE ARE NOT TOLD... A BAD SIGN...
(Image from
http://www.itv.com/news/tyne-tees/story/2014-04-28/newcastle-scientists-put-3d-glasses-on-praying-mantis/
)
THERE'S EVEN A VIDEO OF THIS ON THE ABOVE LINKED WEBSITE.

TO MY MANY READERS IN THE U.K., YOU GUYS PROBABLY PAID FOR THIS "STUDY"!
WE IN AMERICA CAN SYMPATHIZE WITH YOU.
SOME OF OUR CONGRESSMEN GOT FUNDS TO HELP SUBSIDIZE PUERTO RICAN RUM.

OH, AND $20,000,000 for the Pentagon do develop algae biofuel costing $400 per gallon.
BLAME NEWCASTLE U.
"
A research team at Newcastle University
have made the world's smallest 3D glasses to try to better understand how the insects see.

The glasses are made from the same plastic used for the 3D specs we wear at the cinema, but measure just 15mm across and are stuck onto the insects with beeswax.
The creatures are the only insects known to process images in three dimensions, like humans do. The praying mantis rely heavily on their sight, and can see up to 20 metres.
But as they have such simple nervous systems, scientists think they must have evolved 3D vision in a different way to humans.
The glasses could help scientists to work out how they can see in 3D.
The insects are put in front of computer generated images.
With the glasses it will seem like virtual flies are jumping out of the screen.
If the praying mantis pounces, it shows it's reacting to the images in the same way we do when watching a film in 3D."
"
While the mantises didn't try to catch the bugs when they were in 2D
, they struck out when they were shown in 3D, seemingly floating in front of the screen."
SO, DID THEY STARVE THEM, TOO?

HOW MANY MANTISES DIED FROM THE IMPACT OF THEIR FRAGILE TINY HEADS AGAINST THAT MONITOR TRYING TO CATCH IMAGES?
"OH, THE HORROR!"
FROM CBS:
Scientists

made
praying mantises
wear tiny 3D glasses to test if the insects have strereopsis, or 3D vision.

While these insects won't be watching the new "Star Wars" film in IMAX 3D anytime soon, proving that they do have 3D vision is significant because up until now, 3D vision had only been confirmed in vertebrates.
The research team from Newcastle University in the United Kingdom published their findings in the journal Scientific Results.
THEY'VE BEEN HARASSING THESE INSECTS FOR OVER 30 YEARS!
Back in 1980s, scientists previously used less sophisticated means to test for stereopsis in a praying mantis. They placed prisms of differing powers before the eyes of the insect, which caused the mantis to just miss out on striking an object set in front of it. This suggested that these creatures see the world similar to the way humans do, but was not necessarily a direct test for 3D vision.
This time around, the research team succeeded by giving the mantises "anaglyph" glasses -- similar to those old-fashioned red and blue lenses for
3D films
or that sometimes come with boxes of cereal. Well, apparently the praying mantis can't see red light clearly, which made the researchers switch to blue and green lenses, instead. This gave the mantises the "illusion of 3D depth," according to the paper.
The was tested by providing the insects images on a bright background that resembled the shape of the animal's prey. Three-dimensional versions of the images caused the mantises to strike out at them, because it seemed like the shapes were moving toward them. Two-dimensional images did not produce this response.
"We have used our insect
3D cinema
to provide clear and dramatic proof of stereopsis in insects. This technique opens up broad new avenues of research," the scientists wrote.

[WHO TOLD YOU THE PUBLIC OR ANYBODY ELSE WANTED TO KNOW THIS?
ARE YOU COMPLETELY DAFT?]
The end goal is to better understand human depth perception and the ways eyes process three-dimensional images. It also provided these insects with some pretty retro shades."


[THEN WHY, IN THE NAME OF SANITY, DIDN'T YOU JUST TEST IT ON HUMANS?
YOU CAN GET PAID TEST SUBJECTS FOR ANYWHERE BETWEEN $5 AND $50, A LOT LESS THAN THIS STUDY COST YOU!
SOME WILL VOLUNTEER FOR FREE, OR MAYBE FOR A HOT PIZZA.
THINK!
TRY LOGIC!]
I AM OVERWROUGHT, I ADMIT IT.

I JUST NEED, OH, I DON'T KNOW, SOME SCIENTISTS TO GLUE SOMETHING TO AND MAKE THEM WATCH OLD LAWRENCE WELK SHOWS?

I THINK THAT WOULD HELP ME.
MAYBE I CAN GET FUNDING FOR A "STUDY" TO SEE WHAT IMPROVES MY MOOD?


AND, LASTLY, FOR ANYONE NOT FAMILIAR WITH "THE ONION", YOU REALLY MUST VISIT THEIR "NEWSROOM"...
http://www.theonion.com/


HEADLINES TODAY INCLUDE:

"PEYTON MANNING'S 14-FOOT-TALL WIFE CRUSHES HEAD OF SPORTS JOURNALIST"

AND

"Chicago Police Department will begin monitoring all interactions with the public by using new bullet cams."






_______________

FACTS:

Why Animal Testing is Unnecessary

| Shellethics
Animal testing is unnecessary |

Examiner.com