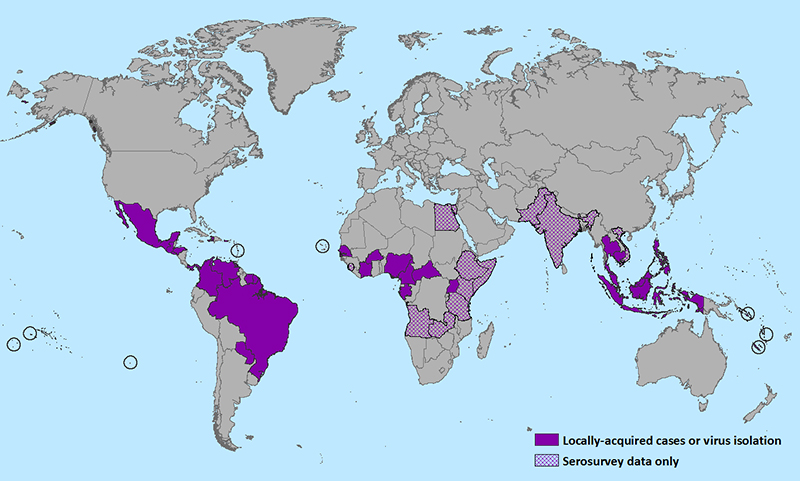 LARGER IMAGE <HERE>

ANYONE CAN SEARCH DATA FOR MICROCEPHALY AND SEE THAT CASES OF THAT BIRTH DEFECT ARE FOUND FROM GREENLAND TO THE TIP OF CHILE, IN EVERY NATION ON EARTH.

PERHAPS WHEN THE CDC AND WHO (WORLD HEALTH ORGANIZATION) SAW THAT IT WAS IMPOSSIBLE TO LINK THE TROPICAL ZIKA VIRUS TO AMERICA'S AND OTHER NORTHERN HEMISPHERE NATIONS' SPIKES IN MICROCEPHALY THEY GAVE UP TRYING?


[ A

1,400% SPIKE WORLDWIDE IN MICROCEPHALY CASES.]




A NEW REPORT SHOWS THAT THE ZIKA VIRUS WAS

NOT

FOUND IN THE MAJORITY OF CASES OF MICROCEPHALY IN BRAZIL...PERIOD...THE END.

"Health experts have been looking at 4,180 suspected cases of microcephaly reported since October in Brazil, where authorities said the birth defect COULD be linked to the virus and announced that 220,000 military personnel were being deployed to help eradicate the Aedes aegypti mosquito that transmits Zika.
But on Wednesday, Health Ministry officials said they had done a more intense analysis of more than 700 of those cases, confirming 270 cases and ruling out 462 others.

TRANSLATION...YOU CAN'T BLAME THE MOSQUITOES!

He also said that health officials will have to watch for other problems, including far less obvious issues that can be caused by congenital infections — for example, deafness.

DEAFNESS?
DEAFNESS!
FROM ZIKA?
NEVER, EVER SUGGESTED!
MEASLES VIRUS IS A WELL-KNOWN CAUSE OF DEAFNESS IN NEWBORNS, NOT ZIKA!


"I don't think we should lower our alarm over the Zika outbreak," said Paul Roepe, co-director of Georgetown University's Center for Infectious Disease.

RIIIIGHT, SWEETIE, BECAUSE YOU ALREADY STARTED SCREAMING,

"PANDEMIC, PANDEMIC! STOP GETTING PREGNANT UNTIL WE FIND A NEW 'VACCINE'! HAVE YOUR BABIES CHECKED! DON'T LEAVE THE UNITED STATES! IT'S HORRRRRIBLE!"

YOU AND THE CDC AND W.H.O. PREMATURELY JUMPED UP AND RAN WITH THIS CONVENIENT LITTLE BLAME GAME, WITHOUT A SHRED OF ABSOLUTE PROOF THAT THE ZIKA VIRUS HAS EVER CAUSED MICROCEPHALY, WHEN ALL YOU HAD WAS COINCIDENCE (THE VIRUS WAS IN THE AREA WHERE BABIES WERE BORN WITH MICROCEPHALY).

USING THAT "LOGIC", SOMEONE ELSE MIGHT CLAIM THE MOTHER'S UTERUS WAS THE CULPRIT!
THE BABY WAS 'IN UTERO' SO MOM'S UTERUS PROBABLY CAUSED MICROCEPHALY.

THAT WOULD ACTUALLY MAKE MORE SENSE THAN BLAMING A VIRUS THAT OFTEN CAUSES NO SYMPTOMS, NO LASTING OR SERIOUS HARM AT ALL!

HOW ABOUT THIS NEWSFLASH, W.H.O., CDC?

THE MAINSTREAM MEDIA EVEN REPORTED TODAY THAT, ONCE A PERSON IS BITTEN BY ONE OF THOSE MOSQUITOES THAT TRANSFER THIS TROPICAL VIRUS, THEY ARE IMMUNE FOR LIFE TO OTHER BITES THAT MAY COME FROM INFECTED MOSQUITOES.

THE ATLANTIC WROTE THAT THERE IS NO POSITIVE PROOF THE PRESENCE OF THE ZIKA VIRUS IN INFANTS CAUSES MICROCEPHALY.

THINK!
HOW MANY MILLIONS OF PREGNANT WOMEN HAVE BEEN INFECTED BY THE MOSQUITO-BORNE VIRUS BUT HAVE NOT DELIVERED BABIES WITH MICROCEPHALY?
HOW MANY NEWBORNS MIGHT WE FIND WITH A POSITIVE TEST FOR ZIKA WHO ARE COMPLETELY NORMAL BABIES?

LOGIC!
COMMON SENSE!
TRUTH, PLEASE!

AND YET SENSATIONALISM AND SCARE TACTICS ARE STILL BEING USED BY WEBSITES LIKE BLOOMBERG... WHICH INSISTS THAT BIG, BAD, SCARY ZIKA IS COMING TO THE U.S. AND WILL WREAK HAVOC.

"The Zika Virus Is Coming to the U.S. Here's What You Need to Know", SAYETH BLOOMBERG....

SHOCK AND AWE, RIGHT?
BE AFRAID, BE VERRRRRY AFRAID!

THAT'S JUST WRONG!
LIKE THE TEA ROOM SAID BEFORE, NOW CHECK THOSE MOMS FOR RADIATION EXPOSURE, A SIMPLE TEST, REALLY CHEAP IF YOU DO A HAIR ANALYSIS.
CHECK THE BABIES.

MANY AREAS OF BRAZIL ARE KNOWN TO HAVE HIGH LEVELS OF"NATURAL" RADIATION...AND THEN WE SAW A FEW WEEKS BACK THAT THE FUKUSHIMA PLUME HAS HIT THE SOUTHERN HEMISPHERE SOONER THAN ANYONE EXPECTED.

DARE WE IMAGINE, LOGICALLY, THAT THERE JUST MIGHT BE A CORRELATION TO THAT?
RADIATION IS PROVEN TO CAUSE MICROCEPHALY, ANENCEPHALY, HYDROCEPHALY, NEURAL TUBE DISORDERS.
AGAIN, AS FOR THE HAWAIIAN PAIR...DEPLETED URANIUM HAS BEEN DETECTED AT MANY (ACTUALLY, ALL) MILITARY TEST RANGES ON THAT ISLAND CHAIN.

LOOK FOR RADIATION IN THE MOTHERS AND INFANTS, IF YOU DARE, CDC, WHO, EVERYONE.

IT IS A CRIME AGAINST HUMANITY TO NOT MAKE PUBLIC THE STUDIES DONE BY OTHER NATIONS, AND OUR OWN ATOMIC ENERGY COMMISSION ABOUT THE RISE IN SUCH CASES WHEREVER RADIATION LEVELS ARE ELEVATED.

JUST COME CLEAN!

STOP TRYING TO FIND SCAPEGOATS LIKE VIRUSES AND METHANE GAS.

A COLLEGE FRESHMAN WITH ALMOST ANY TYPE BIOLOGY/MICROBIOLOGY CLASS UNDER THEIR BELTS WOULD LAUGH AT THE WAY THE CDC AND WHO JUMPED AT BLAMING ANYTHING FOR THESE DEFECTS WITHOUT PROOF, PROOF THAT CAN BE REPRODUCED IN ANY LAB ANYWHERE.


"In 2014, only about 150 cases were reported in Brazil in a year — a surprisingly small amount for a large country with nearly 3 million births a year.

Brazilian health officials have dismissed the idea there might have been a large number of unreported cases previously.

The United States, with about 4 million births a year, has an estimated 2,500 cases of microcephaly a year, said Margaret Honein, a CDC epidemiologist.

YOU SEE, THE U.S. CASES ON AVERAGE EACH YEAR, UNTIL LAST YEAR, FAR OUTNUMBER THOSE IN BRAZIL, BUT MAINSTREAM MEDIA IS NOT ASKING WHY THE U.S. SEES SO MANY BORN HERE WITH THIS DEFECT?
WHY NOT?
NO VIRUS TO BLAME?

The birth defect can be caused by factors such as genetics [AND HOW TERRIBLY DOES RADIATION AFFECT HUMAN GENES? THE MANHATTAN PROJECT BOYS TOLD US THAT DECADES AGO] , malnutrition or drugs. Infections are also a cause [AND RADIATION, AS IN THE STARTLING SPIKE IN CASES NEAR THE HANFORD NUCLEAR SITE, IN AND AROUND CHERNOBYL AND EVERY PLACE THAT RADIOACTIVE FALLOUT WAFTED] — in the United States, one of the leading causes is cytomegalovirus — although Zika-like viruses [WHICH ARE FLAVIVIRUSES] have not previously been linked to microcephaly.

HOLD ON!
LET'S LOOK AT DATA ON THAT!

DATA AND FACTS FOR MICROCEPHALY

First, we have only extrapolated data from 2002-2003, estimations, not an actual case count.
For almost every country on earth, that data can be found <HERE>.
Notice how few cases were seen in most nations, even African nations where the zika virus was common.

Microcephaly was found in even fewer births in the Middle East.

While few cases were noted in EASTERN Asia, there were almost 2,000 cases in CHINA.

In ALL of EUROPE, Russia, the UK, Germany and Italy saw the most cases in the 2002-2003 time frame.
Those 4 nations ALL had higher rates of microcephaly than ALL African nations, except Ethiopia, the Congo, and Egypt.

The USA had an estimated 440 cases of microcephaly, MORE THAN ANY AFRICAN NATION, MORE THAN ANY NATION, PERIOD, EXCEPT CHINA WITH ALMOST 2000 CASES AND INDIA , WHICH HAD A VERY HIGH ALMOST 1,600 CASES.

PLEASE BE AWARE, ZIKA VIRUS WAS UNKNOWN IN THE U.S. IN 2003.
Zika was discovered in Uganda, east Africa, in 1947.
It spread across Africa and Asia – India, Malaysia, the Philippines, Thailand, Vietnam and Indonesia – but the first case outside the two continents was only recorded in 2007.
Previous zika epidemics have NOT been linked to an increase in microcephaly ANYWHERE ON EARTH.

A FEW FACTS TO KEEP IN MIND:

1.02 per 10,000 births in the UK 2002 for microcephaly (University of Ulster, 2003)

AND YET, IN 2015, THEY WERE HIGHER STILL AND FOLIC ACID WAS BLAMED?"Rates of neural tube defects - birth defects of the brain, spine or spinal cord - are still too high and countries should consider adding folic acid to bread and flour, researchers said."
SOUTH KOREA HAD 70 CASES OF MICROCEPHALY IN 2002/2003, WHILE JAPAN HAD 190.
THAT WAS DURING A TIME WHEN JAPAN HAD HOW MANY REACTORS RUNNING AS COMPARED TO SOUTH KOREA?

Health officials in Brazil saw 20 times more cases of microcephaly in 2015 compared to 2014.
AND NOW WE KNOW, IT WASN'T DUE TO A CLIMB IN ZIKA VIRUS.

THIS NEW PANDEMIC SCARE IS ONLY SCARY WHEN WE SEE HOW HARD IT'S BEING PUSHED WHEN FACTS DON'T SUPPORT IT.

WHY?

WHY BE SO BLATANTLY UNTRUTHFUL?
WHY KEEP GRABBING AT STRAWS?

THE WORLD, THE ENTIRE PLANET IS SEEING A RISE IN BIRTH DEFECTS.
IT BLOODY WELL IS NOT BECAUSE OF A TROPICAL VIRUS.

LOOK AT THE MAP UP TOP AGAIN...
THEN GO LOOK AT HEADLINES ABOUT THE RISE IN BIRTH DEFECTS...

IT SIMPLY DOES NOT MATCH.

WE NEED THE TRUTH, NOT LIES AND SCARE TACTICS.
From the National Institutes of Health, 2013...

Major birth defects include congenital heart defects, neural tube defects (NTDs) and Down syndrome, hemoglobinophathies and glucose-6-phosphate dehydrogenase deficiency, cause 20% of infant mortality.

Five common birth defects of genetic or partially genetic origin combined accounted for about 26 percent of all such birth defects in 2001: congenital heart defects (1,040,865 births); neural tube defects (323,904 births); the hemoglobin disorders thalassemia and sickle cell disease (307,897 births); Down syndrome (217,293 births); and G6PD deficiency (177,032 births).
The database includes only birth defects due to genetic or partly genetic causes.

ACCORDING TO DATA BY THE MARCH OF DIMES...

Every year an estimated 8 million children--6 percent of total births worldwide--are born with a serious birth defect of genetic or partially genetic origin.
Additionally, hundreds of thousands more are born with serious birth defects of post-conception origin due to maternal exposure to environmental agents.
At least 3.3 million children less than 5 years of age die annually because of serious birth defects and the majority of those who survive may be mentally and physically disabled for life.
Download an electronic copy of The March of Dimes Global Report on Birth Defects: The Hidden Toll of Dying and Disabled Children: