HOW DID WE MISS THIS UNVEILING BACK IN OCTOBER?

A ROUND OF APPLAUSE FOR OUR NEWEST BED-BUDDY, IRAN, WHO WANTS TO BRING JIHAD TO ALL OUR DOORSTEPS.

AND OUR CURRENT ADMINISTRATION WANTS TO HELP ALL IT CAN, RIGHT?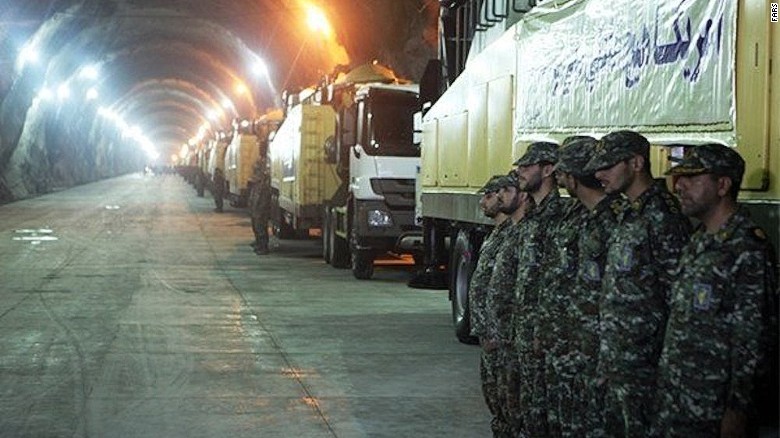 The release of this footage comes just a few days after state media reported that Iran had test-fired new generation long-range ballistic missiles.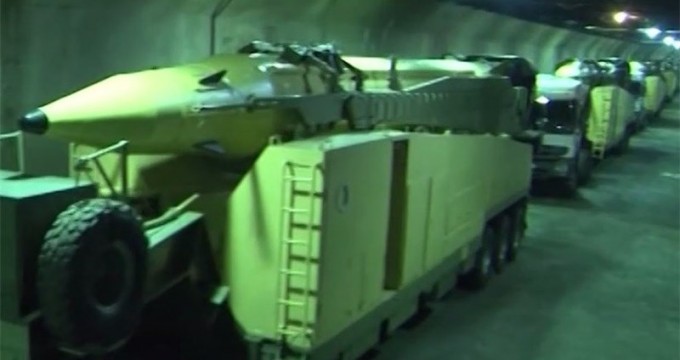 NOT ONE, BUT TWO NICE UNDERGROUND MISSILE CITIES FOR IRAN, AND THE OBAMA ADMINISTRATION WANTS TO DISARM AMERICANS?
FROM CNN...HAVE A LOOK AT THE PRIDE OF IRAN...
"This is in fact a real-life missile facility in Iran, according to the country's
semi-official FARS news agency
.
In a rare moment of openness, Iran on Wednesday broadcast pictures from The Islamic Revolution Guards Corps (IRGC) Aerospace Force of a tunnel reportedly dug some 1,640 feet (500 meters) under a mountain.
Based on information the administration has so far, the test appears to be in violation of U.N. Security Council Resolution 1929, which stipulates that Iran cannot engage in any activities related to ballistic missiles.
The U.S. official emphasized, however, that the test is not in violation of the nuclear agreement reached in July between Iran, the United States and five other world powers because that accord is focused on restricting Iran's path to a nuclear weapon.
A newer U.N. Security Council resolution, number 2231, implementing the deal and banning Iran from engaging in activities related to ballistic missiles designed to carry nuclear warheads is not yet in effect."
WELL THEN, THAT MAKES IT JUST FINE, RIGHT?
NOTHING WRONG HERE, JUST OUR NEW PALS GOOFING AROUND A LITTLE, DOING A LITTLE STRUTTING OF THEIR STUFF, YES?
THAT'S NICE....
CELEBRATION AND SALUTES IN AN UNDERGROUND INSTALLATION...
NICE PIC OF THEIR "PRINCE OF PEDOPHILES", THE OLD AYATOLLAH.
"U.S. BASES WITHIN RANGE"
"As of next year, a new and advanced generation of long-range liquid and solid fuel missiles will replace the current products," said Brigadier General Amir Ali Hajizadeh.
"The missiles in various ranges are mounted on the launchers in all bases and (are) ready to be launched."
The underground facility shown on television was only one of "numerous missile bases" scattered across the country, according to Hajizadeh.
Earlier this month in a speech at a university in Tehran, Hajizadeh said that all U.S. military bases in the Middle East were within range of Iranian missiles.
IRANIAN PROPAGANDA VIDEO, CAPTURED BY MEMRI TV.
The revealing of the underground bases comes in the wake of a
major deal reached by Iran and the so-called P5+1 group of nations
-- the U.S., U.K., Russia, China, France and Germany -- over its nuclear program."
WHEREIN KERRY AND THE "BIG O" SAID, "SURE, GO AHEAD, SWEETHEART!"
"LOVE IS IN THE AIR", RIGHT?
HEY, LOOK, THEY SINK AN AMERICAN SHIP MOCK-UP!
During a February 25, 2015 naval drill by the Iranian Revolutionary Guards Corps, some 20 missiles and 400 shells were launched from land, air, and sea at a life-size model of an aircraft carrier of a "hypothetical enemy." According to the Iranian Tasnim News Agency, the model was of a U.S. Nimitz-class aircraft carrier.
TOOK THAT MANY, DID IT?
WELL, PRACTICE MAKES PERFECT, BOYS.
BACK TO THE DRAWING BOARD.

NEED CRAYONS?
CALL OBAMA.

BUT DON'T CALL HIM WHAT YOUR CHIEF PERVERT CALLED HIM...UNLESS YOU WANT TO, WHICH WON'T OFFEND CURRENT POTUS.
In an address in Tehran on March 21, 2015, Iran's Supreme Leader Ali Khamenei responded to the crowds' chants of "Death to America" by saying: "Death to America, of course, because America is the principal element behind this pressure [i.e., the economic sanctions]." Khamenei said that Obama had said "some dishonest things" in his Nowruz address and that the American goal was "to turn the [Iranian] people against the system."
The address was broadcast on the Iranian news channel IRINN.

I'M SURPRISED HE COULD TEAR HIMSELF AWAY FROM HIS CHILD BRIDES THIS LONG, BUT HE WAS LICKING HIS LIPS AN AWFUL LOT, DID YOU NOTICE?


IS ISRAEL IN RANGE?
DOES AMERICA GIVE A RIP IF IT IS OR NOT?

SAUDI ARABIA, THE UNITED ARAB EMIRATE AND SOME OF THEIR PALS ARE CONCERNED, SINCE IRAN IS RIGHT NEXT DOOR.

THERE WAS A BIG VERBAL BATTLE THE PAST COUPLE OF DAYS BETWEEN IRAN AND THE HOUSE OF SAUD, NOT SO MUCH ABOUT THE MISSILE CITIES, THOUGH.
"KUWAIT has recalled its ambassador to Iran over attacks on Saudi Arabian diplomatic missions. It is the latest Arab ally to line up behind the kingdom amid rising regional tensions following its execution of a leading Shia cleric and opposition figure.
The execution of Sheikh Nimr al-Nimr last weekend heightened the Saudi-Iran rivalry, threatening to derail already shaky peace efforts over the wars in Syria and Yemen.
Kuwait followed the lead of Sunni Muslim-ruled Saudi Arabia, Sudan and Bahrain in saying it would sever diplomatic ties with Iran.
Bahrain, meanwhile, announced it was taking the additional step of stopping all flights to and from Iran.
The concerted campaign against Iran highlights the aggressive stance King Salman and his son Deputy Crown Prince Mohammed bin Salman have adopted against Saudi Arabia's long-time regional rival.
Kuwait announced it was recalling its ambassador, without elaborating, in a statement from the state-run news agency. KUWAIT is home to both Shias and Sunnis.
The diplomatic stand-off began on Saturday, when Saudi Arabia executed Al-Nimr and 46 others convicted of terror charges. It was the largest mass execution carried out by the kingdom since 1980.
The sheikh, a central figure in the Arab Spring-inspired protests by Saudi Arabia's Shia minority, had long denied advocating violence. News of his execution has sparked Shia protests from Bahrain to Pakistan.
Iran expressed "regret" over the attacks on the Saudi embassy in Tehran and its consulate in Mashhad in a letter to the United Nations and vowed to arrest those responsible. Iran's UN envoy, Gholamali
Khoshroo, said more than 40 protesters have been arrested and the authorities are searching for other suspects. The UN Security Council has strongly condemned the attacks in response.
Saudi Arabia and Iran have long vied for influence in the Middle East.
Their rivalry deepened following the toppling of Saddam Hussein in Iraq and the chaos of the Arab Spring, which gave rise to proxy wars in Syria and Yemen.
Iranian president Hassan Rouhani warned yesterday that Saudi Arabia cannot hide "its crime" of executing Al-Nimr by cutting ties with Tehran, adding that discord could affect the fight against terrorism.
In Yemen, Saudi-led air strikes targeting Iranian-allied Houthi forces intensified after weeks of a relative lull, hitting the capital Sanaa, the port city of Hodaida and the disputed south-western city of Taiz."
YEAH, ONCE AGAIN, SAUDI ARABIA PRETENDED TO AGREE TO A TRUCE IN YEMEN BUT JUST COULD NOT QUITE STOP BOMBING THE SUPREME HELL OUT OF THAT WEE NATION.

OLD HABITS ARE HARD TO BREAK.

ALL IN ALL, TRUTH BE TOLD, THIS IS JUST A CONTINUTAION OF WHAT FOLKS IN THE SOUTH CALL A "PISSING CONTEST"... BOTH SIDES DRIVEN TO WIN.

SUNNIS KILL SHIITES, SHIITES KILL SUNNIS, ISIS KILLS EVERYBODY, SUPER POWERS FUND ALL SIDES, "JUST IN CASE", AND THE MIDDLE EAST IS THE SAME TODAY AS IT WAS 1,000 YEARS AGO...AT WAR, KILLING ONE ANOTHER EVERY BLOODY DAY.

AFTER ALL THE BLOOD HAS SOAKED INTO THE SAND, THEN THE "BIG BOYS" CAN START DRILLING AGAIN AND PUMPING AND BRINGING HOME THE OIL.

LIKE THE TEA ROOM HAS SAID DOZENS OF TIMES...IT'S A "FAMILY FEUD", RIVALRY BETWEEN THE LEGITIMATE AND ILLEGITIMATE HEIRS/OFFSPRING OF ABRAHAM... BEST "SON" WIN.

WE CAN SAVE TRILLIONS OF U.S. DOLLARS BY JUST BACKING OFF AND LEAVING THEM TO IT.

I WONDER WHY WE DON'T DO THAT, SERIOUSLY?
OTHER PLAYERS IN THE GAME...THE COLD WAR, PART 2?
RUSSIA IS THERE SO THE U.S. SIMPLY MUST PARTICIPATE?

OR ARE WE WORRIED THAT RUSSIA WILL WIND UP WITH ALL THAT
Reuters : 03 FEB. 2015
Russian President Vladimir Putin, left, and Crown Prince Salman bin Abdulaziz Al Saud of Saudi Arabia during a plenary session at the G20 leaders summit in 2014.
[PUTIN LOOKS A BIT STRESSED...UNCOMMON FOR "COOL HAND" PUTIN. MAYBE THAT LOOK IS DISGUST...DOES THE PRINCE NEED A BEATH MINT?]
It looks as if Saudi Arabia might be using oil policy to pressure Russia into backing away from its support for the Syrian regime of Bashar Assad.
The New York Times reports :
"Saudi Arabia and Russia have had numerous discussions over the past several months that have yet to produce a significant breakthrough, according to American and Saudi officials.
It is unclear how explicitly Saudi officials have linked oil to the issue of Syria during the talks, but Saudi officials say — and they have told the United States — that they think they have some leverage over Mr. Putin because of their ability to reduce the supply of oil and possibly drive up prices."
HOW MANY READING HERE ARE SICK OF IT ALL?

IT'S DUMB REDEFINED.
"THEY HATE US AND WANT US ALL DEAD, SO, HEY, LET'S HELP THEM WITH THAT!"
SAY THE "POWERS THAT BE".... STUPIDLY.