UNFORTUNATELY,
ONE MAN HAS DIED IN THE OREGON STANDOFF.
Arizona resident
Robert "LaVoy" Finicum
, author of the novel Only by Blood and Suffering, was shot and killed during the encounter.

The FBI and Oregon State Police moved in to arrest members of the armed group about 4:25 p.m. PT Tuesday along Highway 395.
Shots were fired and one individual "who was a subject of a federal probable cause arrest is deceased," said a joint FBI-OSP release.
No other information about the deceased was immediately released.

[SPECIAL NOTE: Things are coming to light to show us why the FBI/Police have been so quiet about this.
ONE OF FINICUM'S DAUGHTERS HAS POSTED THAT HER FATHER WAS MURDERED AND 2 EYEWITNESSES SAY HE DIED WITH HIS HANDS IN THE AIR.
A THIRD EYEWITNESS SAYS HE 'CHARGED' AT POLICE, BUT WITHOUT A WEAPON, TELLING THEM TO "GO AHEAD AND SHOOT".
THEY DID.
WE DON'T KNOW YET HOW MANY TIMES.

EYEWITNESSES ALSO SAY NO ONE IN THE TWO VEHICLES THAT WERE STOPPED WAS ARMED.
TIME WILL REVEAL MORE, WE HOPE.


WE CAN ALSO HOPE WITNESSES WILL NOT CHANGE THEIR STORIES UNDER THREAT OF PROSECUTION OR STIFFER PRISON TIME...OR ANY OTHER THREATS.


THE TEA ROOM WILL UPDATE IN THE COMMENTS SECTION WHEN OTHER NEWS BREAKS.

]
Finicum's ex-wife, Kelly Whatcott, said she learned from their children that he was shot and killed Tuesday.
"He did not mean any harm to anyone," Whatcott said in a phone interview.
"He believed fiercely in freedom. I know he carried around a holster and a gun, but he's a cowboy."
WELL, SHE SEEMS TO BE CORRECT.
FROM HIS WRITING, WE CAN BUT SAY THE MAN WAS A PATRIOT OF THE OLD SCHOOL TYPE, THE TYPE THAT DUMPED TEA INTO BOSTON HARBOR.
WHAT WAS MOST OBVIOUS TO ME READING HIS WORDS, IS THAT HE DID DEFEND A CONSTITUTION THAT WAS A LIVING BEING TO HIM, THAT NEEDED NO "INTERPRETATION", A CONSTITUTION THAT DAILY NEEDS DEFENDING AGAINST WHAT WE HAVE AS A SAD EXCUSE OF A GOVERNMENT, A GOVERNMENT WHICH HAS STEADILY TURNED AGAINST "WE, THE PEOPLE".
HE KNEW, AS MORE AND MORE SEEM WILLING TO KNOW, THAT THE OATHS OF OFFICE OUR ELECTEDS TOOK MEANT NOTHING TO THEM, JUST WORDS THEY MUTTERED AFTER VICTORY AT THE POLLS.
MANY WILL LOOK AT THE MAN AS A "NUTCASE".
THAT'S HOW MOST SAW THE REBELLIOUS COLONISTS BACK IN THE 1700s...NUTCASES, RADICALS, REBELS, ZEALOTS...OUR FIRST MILITIA.
FINICUM SEEMS VERY DIFFERENT FROM BUNDY TO ME.
HE DIDN'T SEEM TO BE THERE "FOR THE PRESS", BUT FOR THE CONSTITUTION.
SEVERAL HAVE NOTED THAT HE WAS "THE COOLEST HEAD THERE", THAT HE NEVER BEHAVED ERRATICALLY, THAT HE DIDN'T 'GRANDSTAND' LIKE AMMON BUNDY AND OTHERS.
Another person received non-life threatening injuries and was taken to a local hospital. He was subsequently arrested and taken into custody.
Those arrested in the initial event were:
• Ammon Edward Bundy, 40, of Emmett, Idaho
• Ryan C. Bundy, 43, of Bunkerville, Nev.
• Brian Cavalier, 44, of Bunkerville, Nev.
• Shawna Cox, 59, Kanab, Utah
• Ryan Waylen Payne, 32, of Anaconda, Mont.
Also arrested, in Burns, at about 5:50 p.m., was:
• Joseph Donald O'Shaughnessy, age 45, Cottonwood, Ariz.
Officials said all six of those arrested face a federal felony charge of conspiracy to impede officers of the United States from discharging their official duties through the use of force, intimidation, or threats, in violation of Title 18, United States Code, Section 372.
REMEMBER 'OCCUPY WALL STREET'?
REMEMBER BIG, BURLY POLICE KICKING, HITTING WOMEN WITH NIGHTSTICKS, JERKING TEENAGERS OFF SIDEWALKS WHO WEREN'T EVEN PART OF THE PROTEST AND THROWING THEM TO THE GROUND WITH KNEES TO THEIR THROATS?

REMEMBER THE ELDERLY,
THE MILITARY VETERANS
AND EVEN A FEW PRIESTS BEING SHOT AT DIRECTLY WITH TEAR GAS CANISTERS, PEPPER-SPRAYED
AND BEATEN
?
One officer shoved a legal observer, also a retired judge, against a wall
after she demanded that the officer stop beating a protester.

A journalist reported that officers
threw down and beat a photographer with batons
, even after he had shown his press pass.



As police swooped on the park in the early hours of Tuesday, the city closed airspace in lower Manhattan

to prevent news helicopters taking aerial shots of the scene

.

I REMEMBER.

REMEMBER THOSE SITTING ON THE GROUND IN FRONT OF THE COLLEGE, BEING
DRAGGED BY THE HAIR AND PEPPER-SPRAYED
?
REMEMBER THE ONE YOUNG PREGNANT WOMAN WHO WAS KICKED IN THE BELLY WHILE SCREAMING SHE WAS PREGNANT, ASKING COPS NOT TO HIT HER, LOSING HER BABY?
YOU DON'T REALLY HAVE TO DO ANYTHING ANYMORE IN AMERICA TO GET KILLED BY POLICE, DO YOU?

WALK DOWN A STREET WITH A CELLPHONE OR A TOY THAT "LOOKS LIKE A GUN".
RUN A RED LIGHT, EXCEED THE SPEED LIMIT, DON'T GET OUT OF THE CAR AND ON THE GROUND FAST ENOUGH, ALL THAT CAN GET YOU KILLED AS IT HAS OTHERS.
WOMEN, WHETHER
WALKING DOWN A HIGHWAY
, OR DURING TRAFFIC STOPS, HAVE BEEN BEATEN TO UNCONSCIOUSNESS
IT'S A DAILY THING IN AMERICA.

A WEB SEARCH PULLS UP THOUSANDS OF SUCH CASES.

"On average 500-600 people a year are killed by law enforcement.

In the TWELVE years since 9/11 there have been roughly 6,000-7,000 citizens killed by cops.
From 1976 through 2011, police killed at least 14,012 people.

The government's publicly available research on the number of people killed by police is affected by under-reporting, so the 14,012 figure should only be seen as a floor for the number of people who were killed. The actual number, which we can't estimate with any certainty, is much higher."

IS THAT ACCEPTABLE LOSS?

IS THAT JUST "TOO BAD"?
THEY COUNTED
137 BULLET HOLES IN ONE COUPLE'S CAR
FROM AT LEAST 13 POLICEMEN'S WEAPONS AFTER THEY WERE CHASED DOWN BECAUSE ONE OFFICER

THOUGHT

HE SAW A GUN.

NO GUN, NO CASINGS IN THE VEHICLE....JUST 2 DEAD PEOPLE.

HOW MANY STORIES HAVE WE READ IN THE PAST FEW YEARS OF POLICE RAIDING THE WRONG HOUSE,
KILLING SLEEPING KIDS
, ( A 7 YEAR-OLD GIRL SHOT IN THE HEAD BY COPS AT A WRONG ADDRESS, FOR ONE),
KILLING THE HOMEOWNERS
AWAKENED BY THEIR BREAKING IN, INNOCENT PEOPLE WHO JUST WENT TO SEE WHO WAS INVADING THEIR HOMES,
KILLING HOMEOWNERS PETS FOR NO REASON?
THEY SHOT ANOTHER YOUNG IRAQ WAR VET 60 TIMES
IN A 'WRONG HOUSE' RAID.
LIKE ANY MARINE MIGHT, HE WAS DEFENDING HIS HOME FROM WHAT HE THOUGHT WERE INTRUDERS.
THEY WERE INTRUDERS, BUT THEIR BADGES MADE IT OKAY?
TOO MANY STORIES OF POLICE ERROR

A 61-year-old man was shot to death by police while his wife was handcuffed in another room
during a drug raid on the wrong house
.
HOW MANY STORIES WHERE
THEY SHOT THE VICTIM
S, NOT THE ONE HOLDING THE VICTIMS HOSTAGE?
TWO
HOSTAGES WERE SHOT IN JUST ONE INCIDENT
AS THEY FLED FROM THEIR CAPTOR.
I CERTAINLY DON'T MEAN THAT THE MILITIA THERE IN OREGON WERE INNOCENT BABES, AND WILL NEVER BELIEVE ALL COPS ARE BAD COPS, BUT IT DOESN'T MATTER HOW OR WHERE OR WHY WE MAY PROTEST, AS AMERICAN CITIZENS WHO HAVE THAT RIGHT, WE ARE GOING TO FACE THE WRATH OF THE POLICE WHEREVER AND WHENEVER WE STAND UP FOR WHAT WE BELIEVE, WHENEVER WE BUCK THE SYSTEM, WHENEVER WE VOICE DISSENT.
IT'S JUST GETTING WORSE.

NO, NOT ALL COPS ARE BAD COPS, BUT EVEN GOOD COPS DEFEND OR COVER-UP FOR BAD COPS FAR TOO OFTEN ANYMORE.

I'VE LISTENED TO STORIES OF CLOSE FAMILY MEMBERS WHO WERE OR ARE COPS TO DOUBT WHAT WE READ...IT'S A VERY TAXING JOB, NERVES GET FRAYED, BITTERNESS IS ALWAYS JUST BENEATH THE SURFACE FOR MANY.

COPS HAVE HIGHER RATES OF SUICIDE, DOMESTIC VIOLENCE, ALCOHOLISM, DRUG ABUSE, DIVORCE THAN OTHER AMERICANS AND THEY LIVE AN AVERAGE OF 10 YEARS LESS THAN THE REST OF US.

I WOULDN'T WORK A BEAT, DRIVE A SQUAD CAR, ETC, FOR $10 MILLION A DAY, BUT COPS ARE SEVERELY UNDERPAID.

IT'S ROUGH OUT THERE.
LIFE ON THE LINE, RIDING THE EDGE OF THE EDGE, NEVER KNOWING WHERE SHOTS WILL COME FROM, WHO WILL FIRE ON YOU.

BUT IT'S ROUGH EVERYWHERE, SO BEING EXPOSED TO ROUGH IS PART OF WHAT THEY SIGN UP FOR, SAYS ONE UNCLE WHO WAS A HOUSTON COP FOR 32 YEARS.
HE ALSO SAYS THERE SHOULD BE BETTER PSYCHOLOGICAL SCREENING FOR COPS, SOME WAY TO WEED-OUT THOSE WHO SIGN UP JUST TO PLAY BULLY, WEED OUT THE EMOTIONALLY UNSTABLE.
I ADD THAT COPS NEED BETTER ACCESS TO COUNSELLING, TO RESOURCES TO HELP THEM DEAL WITH THE LIFESTYLE THEY HAVE, THE HAZARDS, THE THREATS TO THEIR LIVES.

IT'S BEEN GETTING WORSE SINCE THE DAYS OF THE VIETNAM PROTESTS, THE CIVIL RIGHTS MOVEMENT, THE WOUNDED KNEE INCIDENT, RUBY RIDGE, WACO, WHEN MANY OTHERS, INCLUDING KIDS, WERE "KBC" (KILLED BY COPS).

DECORATED MILITARY VETERANS
RETURNING FROM WAR IN THE MIDDLE EAST, THROWN ON THE FLOORS AT AIRPORTS
, BEATEN ALMOST TO DEATH... NO JUST CAUSE...THAT CAN'T BE EXCUSED.
THE VIDEO OF THAT
IS VERY HARD TO WATCH.

AS I OBSERVE TODAY'S WORLD, TODAY'S NEWS, I SEE NO CHANGE, JUST NONE FROM THE DAYS WHEN, IF YOU WERE ANY "COLOR" BUT WHITE AND WERE OUT ON THE STREET AT ANY TIME OF THE DAY OR NIGHT, YOU MIGHT EITHER GET ARRESTED FOR NO REASON, OR BE KILLED FOR NO REASON, EXCEPT THE COLOR OF YOUR SKIN.

I SEE THE POOR TREATED JUST AS BADLY TODAY AS THEY WERE JUST AFTER WORLD WAR TWO WHEN A BOOMING ECONOMY SEEMED TO OFFER THE "AMERICAN DREAM" TO ALL.
FOR SOME, DREAMS SIMPLY NEVER COME TRUE, NO MATTER WHAT THEY DO.

IN THE DEEP REALITY OF LIFE, THERE WILL ALWAYS BE WINNERS AND LOSERS.
IT'S NOBODY'S "FAULT", IT'S JUST THE WAY IT IS.I SEE THE SAME OLD CASTE SYSTEM HERE THAT HAS ALWAYS EXISTED, A CLASS WAR, A RACE WAR, A GENDER WAR, AN ECONOMY THAT DRIVES AND IS DRIVEN BY CONSTANT WAR, UNDECLARED WARS TODAY, SAME AS IN THE 1950s AND 1960s.

IMMIGRANTS ARE AN UNWANTED LOT, ALSO FACING AMERICAN DISDAIN, LOATHED BY THOSE WHO CAME FROM A FAIRLY SHORT LINE OF IMMIGRANTS THEMSELVES.
IT'S ONLY BEEN A BIT OVER 400 YEARS SINCE 'COLONISTS' ESTABLISHED THEMSELVES ON THE EAST COAST AND LESS THAN 500 YEARS SINCE SPANIARDS ESTABLISHED COLONIES ALONG THE GULF COAST.

THOSE COLONISTS DIDN'T LIKE THE INDIGENOUS "REDSKINS" THEY FOUND HERE, OBLITERATED MANY TRIBES, AND STILL "LOOK DOWN ON 'INDIANS', FOR THE MOST PART.

MANIFEST DESTINY MADE THEM "LORDS" OVER ALL OTHERS, AND SOMEHOW, THAT WAS INSTILLED IN GENERATION AFTER GENERATION.
COPS COME FROM THOSE OLD IMMIGRANTS' LINE, AND THEY ARE SIMPLY A PART OF THE MAJORITY, A MAJORITY WHO ARE FEARFUL OF, SUSPICOUS OF AND THEREFORE LOATHING OF ALL WHO ARE NOT LIKE THEMSELVES.

WHO KNOWS WHY IT'S LIKE THIS?

WE MAY NEVER KNOW.

WE MAY NEVER SEE REAL CHANGE.

WE MAY GET SO USED TO THE KILLING OF INNOCENT PEOPLE, SO USED TO POLICE BRUTALITY AND OUR MILITARY BEING FORCED TO POLICE FOREIGN NATIONS THAT WE BECOME LIKE OLD ROME, MAYBE BUILD A FEW COLISEUMS TO WATCH SLAVES FIGHT TO THE DEATH, MAYBE CRUCIFY A FEW CHRISTIANS, FEED A FEW FOLKS TO LIONS.

IT GRIEVES ME THAT THERE HAS BEEN NO REAL CHANGE IN ALMOST 70 YEARS OF LIFE.
I HONESTLY BELIEVED THERE WOULD BE!



I'LL END THIS WITH TWO QUOTES FROM ONE OF THOSE EARLY IMMIGRANTS, A FOUNDING FATHER, ONE OF THE "HOLY OF HOLIES" TO MOST AMERICANS:
THE TREE OF LIBERTY
In 1787, Thomas Jefferson -- who was then living in France --
wrote a letter to his friend William Smith
.
In the letter Jefferson wrote the following words, which have, from time-to-time, been quoted to affirm
the right of the people to rebel against one's government:
Nov. 13, 1787
"God forbid we should ever be 20 years without such a rebellion.
The people cannot be all, & always, well informed.
The part which is wrong will be discontented in proportion to the importance of the facts they misconceive.
If they remain quiet under such misconceptions it is a lethargy, the forerunner of death to the public liberty.
We have had 13. states independent 11. years.
There has been one rebellion.
That comes to one rebellion in a century & a half for each state.
What country before ever existed a century & half without a rebellion?
& what country can preserve it's liberties if their rulers are not warned from time to time that their people preserve the spirit of resistance?
Let them take arms.
The remedy is to set them right as to facts, pardon & pacify them.



The tree of liberty must be refreshed from time to time with the blood of patriots & tyrants. It is it's natural manure. "
JEFFERSON, IN A LETTER TO JAMES MADISON, January, 1787
.
"I hold it that a little rebellion now and then is a good thing, and as necessary in the political world as storms in the physical. .... It is a medicine necessary for the sound health of government."
Jefferson goes on to outline three basic forms of civil management:
1) no government at all,
2) a government in which the voice of the people is well represented, and
3) a government of force,
"… as is the case in all other monarchies, and in most of the other republics," he wrote.


WE HAVE NOW A GOVERNMENT OF FORCE.
IF YOU DOUBT IT, GO JOIN A PROTEST GROUP.
GO STAND ON A STREET AND VERBALLY DAMN CORRUPT GOVERNMENT.
SEE WHAT THAT GETS YOU.


WE REALLY SHOULD HEED THOSE WORDS...
the right of the people to rebel against one's government.

IT IS A NECESSITY, FROM TIME TO TIME.


"LET THEM TAKE ARMS"...IF NEED BE.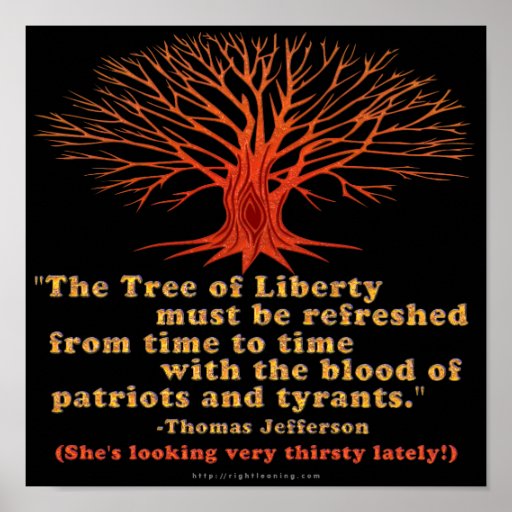 THE TEA ROOM EXTENDS CONDOLENCES TO ROBERT FINICUM'S 11 CHILDREN, WIFE, AND FAMILY.