IT JUST DOESN'T "FEEL QUITE RIGHT", THIS BUSINESS OF THESE SUPER-LASERS, BUT CAN'T PUT MY FINGER ON WHY...

WE'RE TOLD THIS WEEK THAT ASTRONOMERS HAVE JUST TURNED ON 4 VERY POWERFUL LASERS CALLED "LASER GUIDE STARS", ARTIFICIAL STAR IMAGES THAT SUPPOSEDLY HELP CORRECT...."ATMOSPHERIC DISTORTION OF LIGHT".

HOW THE HECK DO LASERS DO THAT?
"It's the kind of laser show you'd expect from the Death Star, only there are four of them.

[ DEATH STAR? THEY'RE COMPARING THEM TO THE DEATH STAR? WHY?]

"The new Four Laser Guide Star Facility was fired up on Tuesday after years of development. ESO says the lasers are the most powerful laser guide stars to be used for astronomy.
With this technology, scientists hope to capture a clearer display of our universe.
Right now, what serves as a barrier between ground telescope and the stars is Earth's atmosphere, creating atmospheric turbulence.
"[It] causes a romantic but undesired effect in astronomy: Twinkling stars result in blurred images," ESO said on its website.
A way to solve this problem is by using an adaptive optics system, which needs a light source from a bright star as a reference."
HANG ON!
IT GETS VERY STRANGE!
ALIENS?
REALLY?
"A laser guide star is an artificial star image used for astronomical imaging. These lasers, along with some mirrors used for adaptive optics, will help ESO's Very Large Telescope pierce through the blurriness created by the Earth's atmosphere so it can take crisper images of the night sky.

When turned on, the lasers excite sodium atoms floating in Earth's upper atmosphere, giving the molecules a fluorescent glow.
This process is important because the glowing atoms are used by the telescope to correct wavelength distortion created by the atmosphere."

IS THAT LOGICAL?
THE LASERS CREATE A "GLOW", BUT THIS IS A GOOD THING?

SURELY SOME OF YOU READING THIS ARE KNOWLEDGEABLE OF SUCH THINGS... SO IS THIS "BS", OR IS IT ACTUALLY GOING TO DO WHAT THEY SAY IT WILL DO?

ANYONE?

HERE COMES THE PART ABOUT THE ALIENS!
"Although these lasers will be used to take better images of our skies, some astronomers have proposed using powerful lasers to help hide Earth from potentially dangerous aliens.

Those scientists include Stephen Hawking, who warned against humans broadcasting our presence to avoid attracting extraterrestrial foes."

STEPHEN HAWKING SUGGESTED THIS?
AS IN, STEPHEN HAWKING?

ISN'T THAT LIKE SAYING EINSTEIN SUGGESTED IT?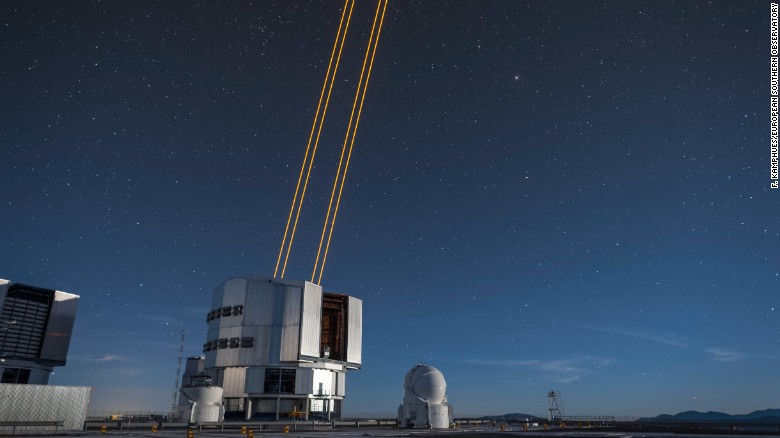 LOOKS MORE LIKE A BEACON.
THAT BOTTOM PHOTO DOES LOOK A BIT LIKE SOMETHING FROM "STAR WARS", SORT OF.


SEEMS THERE ARE TWO TYPES OF SUCH LASERS....BUT THEY ARE CALLED BEACONS IN THE ARTICLE BELOW!
TOLD YOU!
THEY'RE SIGNALING THE ALIENS TO COME ON IN!


[JUST KIDDING, BUT THEN AGAIN....]



"Sodium beacons are created by using a laser tuned to 589.2 nanometers to energize atoms in the sodium layer of the mesosphere at an altitude of around 90 kilometers.

The sodium atoms then re-emit the laser light, producing a glowing artificial star.

The same atomic transition of sodium is used to create bright yellow street lights in many cities.
Rayleigh beacons rely on the scattering of light by the molecules in the lower atmosphere.
In contrast to sodium beacons, Rayleigh beacons are a much simpler and less costly technology, but do not provide as good a wavefront reference, since the artificial beacon is generated much lower in the atmosphere.
As of 2006, only two laser guide star AO systems were regularly used for science observations and have contributed to published results in peer-reviewed scientific literature: those at the Lick and Palomar Observatories in California, and the Keck Observatory in Hawaii.
The laser guide star system at the Very Large Telescope started regular science operations in June 2007."
[SOURCE: Markus Kasper; Stefan Stroebele; Richard Davies; Domenico Bonaccini Calia (13 June 2007). "Free from the Atmosphere – Laser Guide Star System on ESO's VLT Starts Regular Science Operations". ESO for the public. ESO

.

]

BUT CNN's REPORT SAID THEY WERE JUST TURNED ON TUESDAY.
WHICH IS IT?
HAVE THEY BEEN IN USE FOR 10 YEARS OR NOT?
AS I FOUND OUT, YES, THEY'VE BEEN IN USE IN CHILE AND ELSEWHERE FOR 10 YEARS OR SO (just not all 4 at once from the one observatory), THE ABOVE PHOTO BEING OF THE LASERS USED IN GERMANY.
[Allgäu Public Observatory in Ottobeuren,Germany. ]
It is a smaller version of the laser guide star that has been installed on the Very Large Telescope in Paranal, Chile.
BELOW, "LASER MEETS LIGHTNING" AT THE OBSERVATORY IN GERMANY, AUGUST 2006.
I ALSO FOUND AN "AWARD-WINNING PHOTO" TAKEN IN 2010 AT THE VERY LARGE TELESCOPE IN CHILE AND THEY WERE USING THE LASERS THEN.

AND, I FOUND THAT THE AIR FORCE IS RESTRICTING AND OVERSEEING THEIR USE BECAUSE THEY POSE A HAZARD TO SATELLITES AND SPACECRAFT.
"Air Force Space Command regulates their use to protect passing satellites. All uses of the lasers must be approved days ahead of time by the Laser Clearing House at Vandenberg Air Force base to prevent the beam from crossing paths with an approaching spacecraft.
The lasers cannot damage a craft's hull, but they could potentially burn out sensitive optical equipment.
The Federal Aviation Administration also regulates the laser's usage. It requires that spotters outside the observatory keep watch and shut off the laser if any aircraft nears the beam.
These shutter times vary nightly depending on the flight paths of passing satellites. Usually lasers need to be shuttered for five to fifteen seconds at a stretch.

When observatories are studying areas of the sky near the slower-moving geosynchronous satellite band, blackout periods could last up to several minutes.
"The percentage of lost time to Space Command is around two percent," said Randy Campbell, an astronomer at the Keck Telescope, adding that poor weather is a more serious concern, as it can cut observations by a third.
He said also that overall the restrictions have had only a small impact on operations at Keck."
DOESN'T THAT MEAN THAT THESE "BEACONS", THESE LASERS ARE AT WORK 24 HOURS A DAY, EVERY DAY?
THAT SEEMS EXTREME.
I HAVE NOT HEARD OF THIS PRIOR TO TODAY, AND NOW IT LOOKS AS THOUGH THIS TECHNOLOGY HAS EVOLVED OVER A DECADE, AT THE LEAST.

"
New third generation laser systems based on tunable diode lasers with subsequent narrow-band Raman fiber amplification and resonant frequency conversion have been under development since 2005.
Since 2014 fully engineered systems are commercially available."
THIRD GENERATION CAME IN 2005?

THEN IT'S OLDER THAN A DECADE, BUT HOW MUCH OLDER?
BELOW IS AN IMAGE TAKEN IN 2006 WHEN THE GEMINI GROUP FIRST BEGAN USING THEIR LASERS.
Gemini's Laser Vision Reveals Striking New Details in Orion Nebula

March 22, 2007
"An image released today by the Gemini Observatory brings into focus a new and remarkably detailed view of supersonic "bullets" of gas and the wakes created as they pierce through clouds of molecular hydrogen in the Orion Nebula."

AND THE GEMINI TELESCOPES ARE ALSO IN HAWAII AND CHILE. ..TWO FAIRLY ACTIVE AREAS, SEISMICALLY SPEAKING, AND WOULDN'T EVEN MINOR TREMORS SPOIL THEIR STARGAZING? ODD, AGAIN.
"First Light of New Laser at Paranal"
.
8 MAY 2015.
"The technology will also serve as a testbed ahead of the construction of the future European Extremely Large Telescope, which will also have multiple laser guide star units."
THIS NEW 'ELT' WILL ALSO BE IN CHILE.
EXTREMELY LARGE?
MULTIPLE LASER GUIDE STARS?
HOW MANY ARE ALREADY OUT THERE?
I COULDN'T FIND A LIST, BUT WILL CONTINUE THE SEARCH.

DID DISCOVER TWO OTHER SITES USING THEM:
"Other observatories developing laser AO systems as of 2006 include the Large Binocular Telescope in Arizona, USA,and Gran Telescopio Canarias on the Spanish Canary Island of La Palma."
THAT MAKES 5 KNOWN SITES, CHILE AND HAWAII SUPPORTING MULTIPLE OBSERVATORIES, WITH THESE LASERS, AND THEY'RE ALL FIRING CONTINUOUSLY, WE MAY ASSUME.
WHAT DOES THAT LOOK LIKE FROM THE INTERNATIONAL SPACE STATION (ISS) AND WHY CAN'T WE FIND PHOTOS FROM THE ISS OF THE LASER LIGHT SHOW FROM CHILE EVEN?

BACK TO THOSE ALIENS...
April 1, 2016
Professor David Kipping and graduate student Alex Teachey published a paper in the journal Monthly Notices of the Royal Astronomical Society on Thursday on how our Earth can cloak itself from other intelligent life that may want to exploit our planet for its natural resources.
Realistically, if our scientists are searching for alien civilizations by looking for light dips, there's a chance aliens are using similar methods to find us, Kipping said.
Also, recent news of the dimming light of Tabby's Star, which had some thinking the space anomaly was an alien megastructure, inspired Kipping to propose a way to hide Earth from advanced alien civilizations.
"We realized that because lasers are narrow directed beams, it was quite feasible to produce artificial transits," Kipping said. "We then took this a step further and had the idea that one could use such a laser system to completely cloak the Earth's transit," he explained.
Seth Shostak, director of the Center for SETI Research, a group that is searching for intelligent extraterrestrial life, is a bit skeptical about the effectiveness of a laser-cloaking device.
"To do this over all the wavelengths of visible light would require a lot of energy," he said. "And you know what? If they've already found Earth, and then suddenly see it 'disappear,' that's a signal that we're here."


This idea of unfriendly aliens is not new.
Scientists such as Stephen Hawking have warned against humans broadcasting our existence out into space.
"We've been broadcasting our presence into space since World War II with TV, FM radio and radar. These signals could be picked up by advanced aliens. Even hostile ones. But there's no point in worrying about it. We've already told the cosmos we're here," Shostak said."

SOMETHING ELSE I THOUGHT WAS A BIT ODD WHEN THEY FIRST CAME OUT...NASA TRAVEL POSTERS:
FREE TO DOWNLOAD NASA SPACE TRAVEL POSTERS.
-- a set of 14 COLORED posters released by NASA's Jet Propulsion Laboratory.
WHAT IS NASA's MESSAGE?
GET READY TO HAUL OFF FROM EARTH?
YOU REALLY NEED TO THINK ABOUT MOVING ELSEWHERE?
MAYBE CERTAIN THINGS DON'T SET OFF "ALARM BELLS" FOR YOU, BUT THEY DO FOR ME AND THIS LASER THING IS ONE OF THOSE THAT HAVE THE BELLS RINGING.
SO DO A FEW THINGS IN THE FOLLOWING LIST.
Strange, strange science:
WHAT ARE THE NEXT GENERATION PHYSICS EXPERIMENTS?