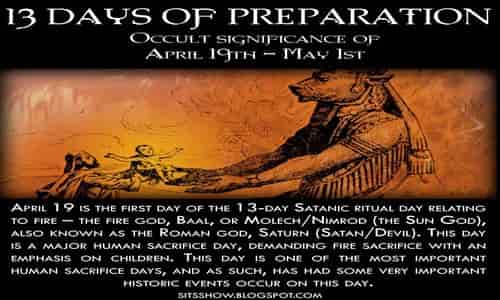 APRIL 19, 2016, TEMPLE OF BAAL WILL RISE IN AMERICA.
THANKS TO READERS INQUIRING ABOUT A PETITION TO STOP THE ERECTION OF A REPLICA OF THE SYRIAN TEMPLE OF BAAL IN TIMES SQUARE, THE TEA ROOM DID FIND ONE SUCH PETITION FOR ANY, ALL WHO TAKE EXCEPTION TO THIS "CULTURAL EVENT".
IT REQUIRES 100,000 SIGNATURES AND HAS ABOUT 2,000 AS OF TODAY.
"We, the undersigned, appeal to the honorable Bill de Blasio, Mayor of New York City to immediately disallow the erection of the tower of Baal replica to be erected in Times Sqaure during the month of April, 2016 as part of "World Heritage Week".
We recognize that this monument represents past a past culture of child sacrifice and sexual perversion and that creating a replica in our nation's greatest city is in direct conflict with the values and morals of our great nation.
The erection of this monument is in direct contrast to the heritage of the sanctity of life upon which this nation was founded, and recognizing it as part of "World Heritage Week" is a travesty and distortion of the values that make up the fabric of our society.
In the name of the rights of all humans and as a testament to the values that make America great, we call for the immediate revoking of permits that would grant license to the erection of this monument."
SIGN THE PETITION, IF YOU CHOOSE TO DO SO, AT
http://www.ipetitions.com/petition/remove-baal-from-nyc/
The following is an excerpt from an article
by Matt Barber
:
Ritualistic Baal worship, in sum, looked a little like this: Adults would gather around the altar of Baal. Infants would then be burned alive as a sacrificial offering to the deity. Amid horrific screams and the stench of charred human flesh, congregants—men and women alike—would engage in bisexual orgies.

The ritual of convenience was intended to produce economic prosperity by prompting Baal to bring rain for the fertility of "mother earth."

The natural consequences of such behavior—pregnancy and childbirth—and the associated financial burdens of "unplanned parenthood" were easily offset.

One could either choose to engage in homosexual conduct or—with child sacrifice available on demand—could simply take part in another fertility ceremony to "terminate" the unwanted child.

Modern liberalism deviates little from its ancient predecessor. While its macabre rituals have been sanitized with flowery and euphemistic terms of art, its core tenets and practices remain eerily similar.
So considering the child sacrifice and sexual immorality that we are engaged in today, perhaps it is only natural for us to have a Temple of Baal in Times Square.
In the ancient world, the names Baal and Bel were often interchangeable, and they both trace back to the ancient Babylonian god Marduk. The following comes
from Wikipedia
:
Bel became especially used of the Babylonian god Marduk and when found in Assyrian and neo-Babylonian personal names or mentioned in inscriptions in a Mesopotamian context it can usually be taken as referring to Marduk and no other god. Similarly Belit without some disambiguation mostly refers to Bel Marduk's spouse Sarpanit. However, Marduk's mother, the Sumerian goddess called Ninhursag, Damkina, Ninmah and other names in Sumerian, was often known as Belit-ili 'Lady of the Gods' in Akkadian.
According to research published
by Bruce W. Warren and John A. Tvedtnes
, Marduk was "a huntergod" that was believed to have been the founder of ancient Babylon according to ancient Babylonian tradition.
The Akkadian name Marduk derives front the Sumerian MAR.UTU, a huntergod. He is said to have led a revolt of the gods against his parents, after which he was enthroned as king of the gods. In Babylonian tradition, it was he who founded Babylon (Babilu, "gate of the gods"). His temple at Babylon bore the name E.SAGILA, "house that lifts up the head," and the tower associated with it was called, in Sumerian Etemenanki," house of the foundation of heaven and earth." The similarity to the tower of Babel is evident.
If you are familiar with the book of Genesis, this should remind you of Genesis 10:9 where we are told that Nimrod was "a mighty hunter before the Lord." And ancient Jewish tradition specifically identifies Nimrod as the one that constructed the Tower of Babel. In addition to Marduk, other names from the ancient world that are linked with Nimrod include Ninurta, Gilgamesh, Osiris, Dionysus, Apollo, Narmer and Enmerkar. I know that this can get very confusing. In the following excerpt, Peter Goodgame
helps us to connect some of the dots
.
In Part Eight of this study we examined evidence that Nimrod was known in Egypt as King Narmer, who was later deified as the god Osiris, the Lord of the Underworld. In Part Five we looked at evidence that Nimrod was known to the ancient Sumerians as the great King Enmerkar who attempted to build a huge tower to the gods in the ancient city of Eridu—a city referred to as the original "Babylon" by the historian Berossos. Traditionally the Tower of Babel event has been associated with Nimrod, and Jewish commentaries as well as the Jewish historian Josephus both seem very emphatic on this point. Regarding the Sumerian name Enmer-kar, the suffix "kar" means "hunter," and so "Enmer-kar" is in fact "Enmer the Hunter," just as Nimrod is referred to as the "Mighty Hunter" in Genesis 10. Furthermore, Enmerkar is named on the Sumerian King List as "the one who built Uruk," just as Nimrod is described in Genesis 10:10 as having a kingdom that began in "Babel (Eridu) and Erech (Uruk)... in the land of Shinar." After Enmerkar's death he became honored in Sumerian myth as the semi-divine hero Ninurta, and eventually this cult evolved into the great cult of Marduk, which became the state religion of Babylon after the conquests and religious innovations of Hammurabi.
If you are not religious, I know that all of this must sound very strange. But there are occultists that take this stuff deadly seriously, and nothing this large gets space in either Times Square or Trafalgar Square by accident.
There are very powerful people out there that made this happen, and perhaps someone should ask them what their intentions are."
WHAT COULD POSSIBLY BE THE INTENTION OF ERECTING OVER 1,000 OF THESE IN THE NATIONS OF EARTH?
Many secret societies and occult groups believe that someday this ancient deity will be "resurrected" and will once again take his place as the ruler of the world.
Many people regard America as modern day Babylon, and now we are going to have a monument that directly links us to ancient Babylon right in the heart of our most important city.
REMEMBER THESE!
April 19, 1993 Waco Massacre: An FBI assault lead to the burning down of the compound of a sect named Branch Davidians, killing 76 men, women and children.
April 19, 1995 Oklahoma City bombing 168 people killed.
April 20, 1999 Columbine High School Massacre 13 people murdered, 21 injured.
April 16, 2007 Virginia Tech Massacre 32 killed; 17 injured.
April 16, 2013 Boston Marathon Explosions 3 killed; 107 injured.
In addition, let s not forget that Tamerlan Tsarnaev was shot to death on April 19th.
BLOOD SACRIFICES?
Also note that since 2016 is a leap year, April 20th will be the 111th day of the year, and triple numbers are considered to be "power dates" in the occult world.



UPDATE, 04/25/2016.... IT'S ONLY 5 DAYS UNTIL "MAY DAY" AND WE'RE STILL WAITING TO SEE WHETHER THE "ARCH OF TRIUMPH" OR BAAL'S ARCH WILL STAND IN NYC.
IT LOOKS LIKE THE BAAL THING WENT OVER LIKE A LEAD BALLOON, BUT WE'LL WAIT UNTIL AFTER MAY 1st TO CALL THIS ONE.


May 8, 2016, still NO Temple of Baal in NYC....dare we claim 'victory'?
I dunno....