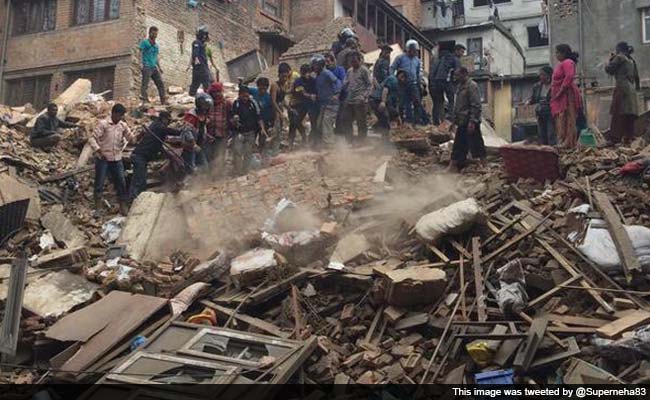 MORE THAN 4,000 KNOWN DEAD AS OF 5:00 PM, APRIL 27, 2015 (TIME AT SITE OF QUAKE).
THE NUMBER OF DEAD CLIMBED TODAY FROM THAT GIVEN 2 DAYS AGO IN THE INITIAL NEWS REPORT CITED BELOW.
RESCUE AND RELIEF EFFORTS HAMPERED BY CONTINUING AFTERSHOCKS.
More than 1,800 people were killed in Nepal, at least 51 in India, 17 in Tibet and two in Bangladesh. Two Chinese citizens died at the Nepal-China border.
MORE THAN 3,200 KNOWN DEAD IN KATHMANDU AS OF 5:00 PM, APRIL 26, 2015.
More than 1,800 people were killed in Nepal, at least 51 in India, 17 in Tibet and two in Bangladesh. Two Chinese citizens died at the Nepal-China border.
Strong aftershocks continued Sunday.
(Reuters) - "Hundreds of Nepalis were fleeing the capital Kathmandu
for the plains on Monday, terror-stricken by two days of powerful aftershocks following a massive earthquake that killed more than 3,200 people and faced with shortages of food and water.
Roads leading out of the mountain valley city of one million were jammed with people, many with babies in their arms, trying to climb onto buses or hitch a ride aboard cars and trucks.
Many said they had slept in the open since Saturday's quake, either because their homes were flattened or they were terrified that the aftershocks would bring them crashing down."
India quickly sent four IAF transport aircraft carrying about 10 National Disaster Relief Force (NDRF) teams, totalling 450 personnel, reaching Nepal on Saturday evening.
35 photos of rescue efforts can be seen at the link below, offered just in case anyone reading here might spot a loved one in these photos, and know they are alive.
http://edition.cnn.com/2015/04/25/opinions/miles-nepal-earthquake-reaction/
That website also has links to a "Save the Children Fund" donation site, and we can hope they use every dime to help not only the children who survived this disaster, but their families and communities as well.
AVALANCHE AT MOUNT EVEREST BASE CAMP
KATHMANDU, Nepal (AP) — "A senior trekking guide says at least 17 people have been killed after an avalanche triggered by Nepal's massive earthquake slammed into a section of the Mount Everest mountaineering base camp. Another 61 people have been injured.
Ang Tshering of the Nepal Mountaineering Association said early Sunday that 22 of the seriously injured have been taken by helicopter to Pheriche village, the nearest medical facility. Bad weather and communications are hampering more helicopter sorties.
Tshering says the avalanche began Saturday on Mount Kumori, a few miles (kilometers) from Everest, gathering strength as it headed toward the base camp where climbing expeditions have been preparing to make their summit attempts."
INITIAL REPORT SOON AFTER THE QUAKE
A massive 7.9 magnitude earthquake
centered less than 50 miles from Kathmandu rocked Nepal with devastating force early Saturday, killing more than 150 people in Nepal's capital city, authorities said.
The injured were being treated outside hospitals in chaotic scenes. Residents, terrorized by a series of strong aftershocks, huddled outdoors. Historic buildings in Kathmandu lay in rubble on the ground.
The death toll was reported by Nepal's Ministry of Home Affairs. Given that the rescue effort is still in its early stages and that people in outlying areas may well have been affected, as well, it seems possible the number could rise.


AS OF A FEW MOMENTS AGO, 11:11pm, EDST, 04/25/2015, THERE HAVE BEEN 32 AFTERSHOCKS OF HIGH TO MODERATE MAGNITUDE, INCLUDING A MAGNITUDE 6.6.
Nearby Cities
29km (18mi) ESE of Lamjung, Nepal
53km (33mi) NNE of Bharatpur, Nepal
68km (42mi) ESE of Pokhara, Nepal
79km (49mi) NW of Kirtipur, Nepal
81km (50mi) NW of Kathmandu, Nepal
MAP
http://earthquake.usgs.gov/earthquakes/eventpage/us20002926#general_map
USGS WEBSITE SHOWING ALL QUAKES TO DATE
<CLICK HERE>
Over 6.6 mil people are in the area affected by

#

Nepalquake

. Widespread damage & destruction of infrastructure feared
The quake, which struck at 11:41 local time (05:51 GMT). occurred at a depth of 9.3 miles, which is considered shallow and potentially more damaging than a quake centered deeper under the earth's crust. It was reported by people in the area has having lasted a very long time. One person said he felt as if he were in a ship on rough seas.


The U.S. Geological Survey had at first rated the temblor at 7.5 magnitude but later upgraded the strength. It reported aftershocks at strengths of 6.6 and 5.1, among others.
In all, the USGS said, at least 16 aftershocks of magnitude 4.5 or greater had been felt in Nepal so far. A witness told CNN by phone that people were gathered outdoors in fear.
Kanak Masni, a journalist in Kathmandu, told CNN by phone that a historic building in Kathmandu called Dharahara -- also known as Bhimsen Tower -- had tumbled down. The building, built in 1832, was nearly 63 meters tall, and provided visitors with a panoramic view of of the Kathmandu valley.
Masni told CNN by telephone that this appeared to be "the most massive earthquake to hit central Nepal since 1934." In that quake, which was 8.0 magnitude and centered near Mount Everest, more than 10,000 people were reported killed. "
RESCUE EFFORTS FRANTICALLY CONTINUE TO FIND ANY BURIED BENEATH COLLAPSED BUILDINGS,
Rescuers clear the debris at Durbar Square after an earthquake in Kathmandu, Nepal, Saturday
BUILDING DAMAGE WAS EXTENSIVE. WEAKENED BUILDINGS CONTINUE TO COLLAPSE WITH AFTERSHOCKS.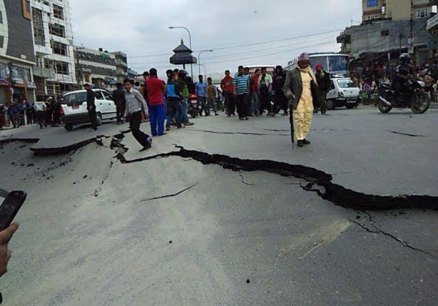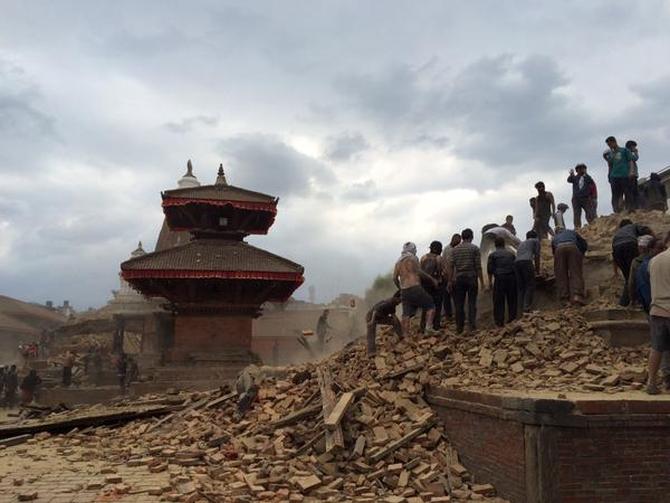 OUR THOUGHTS AND PRAYERS ARE WITH THE PEOPLE OF NEPAL.