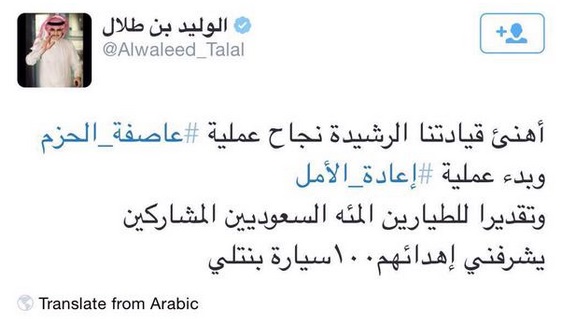 AS THE TWEET INITIALLY APPEARED ON TWITTER
http://twitter.com/Othmanbay/status/590844910661697536/photo/1
THIS WILL BE BRIEF...
SOCIAL MEDIA HAS BEEN BUSY BASHING SAUDI PRINCE AL-WALEED bin TALAL FOR PROMISING 100 LUXURY AUTOMOBILES, BENTLEYS, TO ALL 100 SAUDI PILOTS WHO ARE STILL BOMBING YEMEN.
The Prince, who has three million followers on Twitter, tweeted: "In appreciation of their role in this operation, I'm honoured to offer 100 Bentley cars to the 100 Saudi [fighter] pilots".
One man in Yemen posted pictures of his destroyed house, with the caption: "Glad I'm alive. But whose paying for all this mess? I get blown up, pilots get the Bentley's. Unfair world."
Another responded:
#
Yemen
which does not have food, water, medicines, fuel or electricity was not offered even one ambulance by Prince Talal bin Al Waleed.
Still another replied:
@
Alwaleed_Talal
Muslim children died at the hands of your pilots and you reward them with Bentleys. You should be ashamed of yourself.
WHILE HARDLY ANY MAINSTREAM AMERICAN MEDIA REPORTED THIS, THE HEADLINES FROM OTHER NATIONS CAUSED A STORM OF PROTESTS ON TWITTER, FACEBOOK, AND OTHER SOCIAL MEDIA SITES.
FINALLY, THE WASHINGTON POST WROTE:
"Alwaleed's message was popular: It was retweeted at least 28,000 times. But perhaps it was a little too popular. The account has now deleted the tweet, offering no explanation of whether the deal was still on, or why it was tweeted in the first place. Screenshots of the tweet are all that remain.
The decision to delete the tweet may be a reflection of some of the responses to Alwaleed's message, many of which mocked the opulence of the gesture."
WHILE THE MULTI-BILLIONAIRE PRINCE CAN CERTAINLY AFFORD SUCH A GENEROUS OFFER, WHY WOULD HE DO SO?
HE OFFERS REWARDS TO THOSE WHO ARE BOMBING SCHOOLS, HOSPITALS, KILLING CHILDREN EVERY DAY?
SURELY WE CAN SEE THAT LUXURY IS MORE IMPORTANT TO AL-WALEED THAN HUMAN LIVES.
HE WOULD RATHER BRIBE SAUDI PILOTS TO CONTINUE KILLING THAN OFFER ANY REWARD FOR A SOLUTION AND END TO THIS SENSELESS ATTACK ON YEMEN.
WAS HE CONCERNED THE PILOTS NEEDED A LITTLE BRIBE TO KEEP THEM FLYING THEIR BOMBING RUNS?
THE 'PRINCE' LATER REMOVED HIS TWEET, BUT IT WAS TOO LATE...NEWS AGENCIES AND FOLLOWERS ON TWITTER HAD ALREADY CAPTURED THE IMAGE OF THE TWEET AND SENT IT AROUND THE WORLD.
WILL HE STILL BUY THOSE 100 BENTLEYS FOR THE 100 SAUDI BOMBERS?
WHO CAN SAY?
DOES THIS MAN HAVE A SOUL OR A HUMAN HEART?
WHO CAN SAY?