The first contract was signed yesterday

for the development of the guided tail kit that will increase the accuracy of the B61 nuclear bomb.
This conceptual drawing illustrates the principle of adding a guided tail kit assembly to the gravity bomb.

AND THAT WAS IN 2012, SO EVERYTHING IS ALL READY AND SET TO GO!

ALLOW ME TO CALL YOUR ATTENTION TO THE "NAME" OF THE ABOVE LITTLE CUTIE...IT'S LABELED AS THE "B61-12".

SO WHERE MIGHT WE FIND NICE PICS OF THE B61-1, OR THE B61-2 THROUGH B61-11?
ARE THEY OUT THERE?
YES. I FOUND THOSE.

IS THERE A B61-13 OR MORE?

B61-4 MENTIONED:
"Because the B61-4 warhead also has selective lower-yield options, the tail kit will also allow war planners to select lower yields to strike targets that today require higher yields, thereby reducing radioactive fallout of an attack.
The Air Force tried in 1994 to get a precision-guided low-yield nuclear bomb (PLYWD), but Congress rejected it because of concern that it would lead to more useable nuclear weapons. Now the Air Force get's a precision-guided nuclear bomb anyway.

The U.S. Air Force plans to deploy some of the B61-12s in Europe late in the decade for delivery by F-15E, F-16, F-35 and Tornado aircraft to replace the B61-4s currently deployed in Europe. The improved accuracy will increase the capability of NATO's nuclear posture, which will be further enhanced by delivery of the B61-12 on the stealthy F-35 Joint Strike Fighter.
Increasing the capability of NATO's nuclear posture contradicts the Deterrence and Defense Posture Review (DDPR) adopted in May 2012, which
concluded
that "the Alliance's nuclear force posture currently meets the criteria for an effective deterrence and defense posture." Moreover, improving NATO's nuclear capabilities undercuts efforts to persuade Russia to decrease its non-strategic nuclear forces."
THE DAILY MAIL MENTIONED A B61
MODEL 11 , AND THERE ARE INDEED OTHER NUMBERED"MODELS"
AS WE'LL SEE A BIT LATER HERE.
HEY, LOOK, WORLD!
IT'S A NEW NUCLEAR ARMS RACE!
HOW CAN WE CELEBRATE, PEOPLE OF EARTH?
That narrative will profit the war contractors who in turn support the
Heritage Foundation.
Among them is Lockheed Martin, who illegally lobbied to extend its for-profit Sandia Laboratories management contract and is profiting on both ends with the B61 bomb.
Lockheed runs the program through Sandia to transform the B61 into the
world's first nuclear smart bomb, and is building the way-over-budget
F-35 to deliver them.
In effect, once completed, the B61 bomb will be the world's first nuclear "smart" bomb, to be delivered by the new super-stealthy (but problem-plagued) $1 trillion F-35.
If that's not a new military capability – which the U.S. government denies – then I don't know what is.
Concerning the B61 smart nuclear bomb, Lockheed Martin and the Sandia
Labs are in the business of megadeath, which the Heritage Foundation
seeks to aid and abet.
"
I'M WITH JAY...IT'S A
DEFINITE
STEP IN THE WRONG DIRECTION, AGAIN.
AND IT'S A LITTLE "PRICEY"... SOME HAVE CALLED IT THE "GOLD-PLATED BOMB".
T
axpayers were being billed $178.6 million for this back in 2012... Wonder what the final hang-tag says is the bottom-line cost?
WHAT ARE ITS "CAPABILITIES"?
[MAIN SOURCE:
"the nuclear information project: the B61-11"
. Nukestrat.com
.]
The B61 is a
variable yield
bomb designed for carriage by high-speed aircraft. It has a streamlined casing capable of withstanding supersonic flight speeds. The weapon is 11 ft 8 in (3.58 m) long, with a diameter of about 13 in (33 cm).
Basic weight is about 700 lb (320 kg), although the weights of individual weapons may vary, depending on version and

fuze

/retardation configuration.



The B61 Model 11 is a hardened penetration bomb with a reinforced casing (according to some sources,
containing depleted uranium
) and a delayed-action fuze, allowing it to penetrate several metres into the ground before detonating, damaging fortified structures further underground.
The Mod 11 weighs about 1,200 lb (540 kg). Developed from 1994, the Mod 11 went into service in 1997 replacing the older megaton-yield B53 bomb.
About 50 Mod 11 bombs have been produced, their warheads converted from Mod 7 bombs. At present, the primary carrier for the B61 Mod 11 is the B-2 Spirit.
Most versions of the B61 are equipped with a parachute retarder (currently a 24-ft (7.3 m) diameter nylon/Kevlar chute) to slow the weapon in its descent.
This offers the aircraft a chance to escape the blast, or allows the weapon to survive impact with the ground in lay-down mode. The B61 can be set for airburst, ground burst, or laydown detonation, and can be released at speeds up to Mach 2 and altitudes as low as 50 feet (15 m).
Tactical versions (Mods 3, 4, and 10) can be set to 0.3, 1.5, 5, 10, 45, 60, 80, or 170 kiloton explosive yield (depending on version).[22] The strategic version (B61 Mod 7) has four yield options, with a maximum of 340 kilotons.
Sources conflict on the yield of the earth-penetrating Mod 11; the physics package or bomb core components of the Mod 11 are apparently unchanged from the earlier strategic Mod 7; however, the declassified 2001 Nuclear Posture Review[23] states that the B-61-11 has only a single yield; some sources indicate 10 kt, others suggest the 340 kiloton maximum yield as the Mod 7.
The early Mods 0, 1, 2, and 5 have been retired (Mods 6, 8, and 9 were cancelled before production), and the Mod 10 has been moved to the inactive stockpile, leaving the Mods 3, 4, 7, and 11 as the only variants in active service."

I wanted to see maybe a test film of this latest nuclear "toy" the U.S. has, and the UK's 'Daily Mail' carried that back in July, 2015:

"
The United States Air Force (USAF) and National Nuclear Security Administration (NNSA) have completed the first development flight test of a controversial update to a nuclear bomb that has been use since the 1960s.
A 'safe' version of the the B61-12 nuclear gravity bomb with no warhead was tested at Tonopah Test Range in Nevada.
'This test marks a major milestone for the B61-12 Life Extension Program, demonstrating end-to-end system performance under representative delivery conditions,' said NNSA Deputy Administrator for Defense Programs Dr. Don Cook.
'Achieving the first complete B61-12 flight test provides clear evidence of the nation's continued commitment to maintain the B61 and provides assurance to our allies.'
The B61, known before 1968 as the TX-61, was designed in 1963 by the Los Alamos National Laboratory in New Mexico."
HEADS UP, NEVADA!

WHAT ABOUT BLAST RADIUS?

I FOUND A "FUN" GADGET THAT LETS YOU CHOOSE A BOMB, THEN HIT THE "NUKE IT!" BUTTON TO SEE ITS EFFECT ON WASHINGTON, DC (for one city).

YOU MAY GO PLAY WITH THAT <HERE> AND SEE VARIOUS BLAST RADIUS GUESSES, NOT TAKING INTO ACCOUNT TERRAIN AND OTHER FACTORS.

A DIRECT HIT ON D.C. BY A B61 WOULD NOT TAKE OUT BETHESDA NOR ALEXANDRIA.

TRY A HIT BY TSAR BOMBA... THAT ONE DOES A LOT MORE DAMAGE TO A MUCH LARGER AREA.
WELL, THE B61-12 IS TESTED AND DEPLOYED.

HOW MANY?
Total production of all versions was approximately 3,155, of which approximately 1,925 remain in service as of 2002, and some 1,265 are considered to be operational
The warhead has changed little over the years, although early versions have been upgraded to improve the safety features.
It is believed there are 200 B61 bombs actively in use by the United States.
Of these 200 bombs, 180 are deployed with NATO allies in Europe according to the 26 October 2013 issue of 'The Bulletin of the Atomic Scientists.'
THAT IT'S DEPLOYED IN EUROPE...IS IT JUST ME, OR ISN'T THAT LIKE WAVING A BIG RED FLAG AT A MEAN BULL, AS REGARDS RUSSIA?

OR MAYBE CHINA?

WHAT HAPPENED TO "NON-PROLIFERATION"?

MAYBE WHEN ONE JUST RETROFITS AN OLDER NUKE, MAKES IT BETTER OR WHATEVER, IT DOESN'T COUNT AS A NEW NUKE?

ANY EXCUSE WILL DO.
AMERICA'S MEWEST, FOLKS... BROUGHT TO YOU, PERHAPS, ON THE WINGS OF AN AMERICAN "ANGEL" LIKE THIS ONE...OUR SWEET B2 STEALTH... AND SHE HAS AN ARRAY OF MANY OTHERS....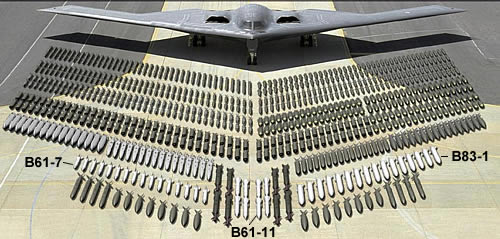 EVERYONE WHO WILL SLEEP BETTER TONIGHT SEEING THAT, RAISE A QUIVERING HOOF...PAW...HAND?