THE ABOVE WARNING IS MANDATORY FOR ANY AREA THAT CONTAINS THE TYPE FLUORIDE THAT IS ADDED TO 95% OF AMERICA'S DRINKING WATER.
"FATAL IF INGESTED"
THE SAME TYPE WARNING IS ON TOOTHPASTE ABOUT ANOTHER FORM OF FLUORIDE, SODIUM FLUORIDE.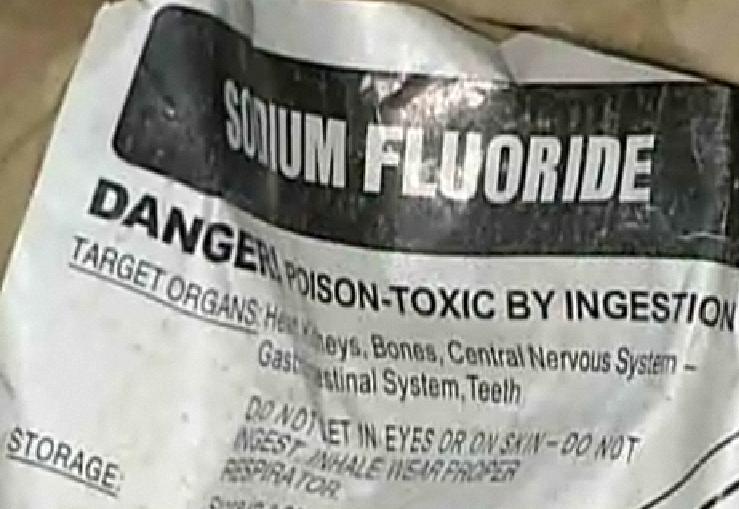 ANOTHER MANDATORY WARNING LABEL FOR GOOD OLD SODIUM FLUORIDE.
THINK OF THIS WHEN KIDS ARE TOLD TO BRUSH THEIR TEETH...
IF YOU OR I PUT A NEUROTOXIN OR AN ENDOCRINE DISRUPTOR INTO ANYONE'S DRINK OR FOOD OR EVEN SWIMMING POOL WITHOUT THEIR KNOWLEDGE AND AGREEMENT, WE COULD FACE A LONG PRISON TERM, COULD BE ACCUSED OF AND POSSIBLY CONVICTED OF ATTEMPTED MURDER.
ASK YOUR LOCAL LAW ENFORCEMENT HEADS, OR AN ATTORNEY.
NEUROTOXINS AND ENDOCRINE DISRUPTORS WERE ONCE WEAPONS OF BIOLOGICAL WARFARE.
WHAT ARE TWO OF THEIR NAMES?
FLUORIDE
AND
CHLORINE.


~ Fluorosilicic acid

(H2SiF6) is commonly used for water fluoridation.





This form of fluoride is a toxic liquid by-product

, acquired by scrubbing the chimney stacks of phosphate fertilizer manufacture.



Other names for it are hexafluorosilicic, hexafluosilicic, hydrofluosilicic, and silicofluoric acid.





The CDC approximates that 95% of our water is fluoridated with fluorosilicic acid.
(
http://www.cdc.gov/fluoridation/fact_sheets/engineering/wfadditives.htm#1
)
95 PERCENT OF OUR DRINKING WATER CONTAINS A NEUROTOXIC WASTE PRODUCT.
Scientific investigations have revealed that fluoride is an endocrine disrupting chemical, and a developmental neurotoxin that impacts short-term and working memory,
and lowers IQ in children.
It has been implicated as a contributing factor in the rising rates of both attention-deficit hyperactive disorder (ADHD) and thyroid disease.
Indeed, fluoride was used in Europe to reduce thyroid activity in hyperthyroid patients as late as the 1970s, and reduced thyroid function is associated with fluoride intakes as low as 0.05 to 0.1 mg fluoride per kilogram body weight per day (mg/kg/day).5
For over 50 Years, Fluoride Levels Were Too High, Government Admits
NEWSWEEK REPORTED THIS IN APRIL, 2015,
AS DID THE GUARDIAN, UK.
Children, ESPECIALLY INFANTS, are particularly at risk for adverse effects of overexposure, and in April 2015, the US government admitted that the "optimal" level of fluoride recommended since 1962 had in fact been too high.
A VERY SHORT, VERY EDUCATIONAL FILM ABOUT THE DANGERS POSED BY SUCH OVERDOSING AND INDISCRIMINATE USE OF FLUORIDE WILL BE WELL WORTH YOUR TIME TO BOTH VIEW AND SHARE, PLEASE.

Infants Are Severely and Routinely Overdosed on Fluoride
According to the recent Iowa Study, funded by the National Institutes of Health (NIH) and the CDC, infants and young children are being massively overdosed on fluoride. This study, which is the largest US study conducted measuring the amount of fluoride children ingest, concluded that:
100 percent of infants receiving infant formula mixed with fluoridated tap water get more than the allegedly safe dose of fluoride.
Some formula-fed infants receive 100 times the safe level on a daily basis.
30 percent of 1-year-olds exceed the recommended safe dose.
47 percent of 2- to 3-olds exceed the safe dose.
Most Water Authorities Use Toxic Waste Product, Not Pharmaceutical Grade Fluoride
As stated, fluoride is a drug, and research into the health effects of fluoride is based on
pharmaceutical grade fluoride.
However, a majority of water authorities do not even use pharmaceutical grade fluoride; they use hydrofluosilicic acid, or hexafluorosilicic acid — toxic waste products of the phosphate fertilizer industry, which are frequently contaminated with heavy metals such as arsenic, mercury, cadmium, lead, and other toxins.
This is a key point that many fluoride proponents fail to address when arguing for its use.
Indeed, holding elected officials accountable for procuring proof that the specific fluoridation chemical used actually fulfills fluoride's health and safety claims and complies with all regulations, laws, and risk assessments required for safe drinking water, has been a successful strategy for halting water fluoridation in a number of areas around the US.
While the idea of hiding toxic industrial waste in drinking water would sound like a questionable idea at best to most people, it was welcomed by the US Environmental Protection Agency (EPA).
In a 1983 letter, Rebecca Hanmer, Deputy Assistant Administrator for Water, wrote:
"... In regard to the use of
fluosilicic acid
as a source of fluoride for fluoridation, this Agency regards such use as an ideal environmental solution to a long-standing problem.
By recovering by-product fluosilicic acid from fertilizer manufacturing, water and air pollution are minimized, and water utilities have a low-cost source of fluoride available to them.
.."

I COULD NOT BELIEVE THE CALLOUSNESS OF THAT STATEMENT WHEN I READ IT.
GIVE OUR CHILDREN, OUR INFANTS FERTILIZER BY-PRODUCT TO SAVE BIG AGRICULTURE MONEY?
THAT IS SIMPLY CRIMINAL!
Data and Science Do Not Support Water Fluoridation
Ninety-seven percent of Western European countries do not fluoridate their water,
and data collected by the World Health Organization (WHO) shows that non-fluoridating countries have seen the exact same reduction in dental cavities as the US,16 where a majority of water is still fluoridated. If fluoride were in fact the cause of this decline, non-fluoridating countries should not show the same trend.
Clearly, declining rates of dental decay are not in and of themselves proof that water fluoridation actually works.
It's also worth noting that well over 99 percent of the fluoride added to drinking water never even touches a tooth; it simply runs down the drain, contaminating and polluting the environment.
BUT TOXIC FLUORIDES DO TOUCH US EVERY DAY.
~ Sulfuryl Fluoride
is applied as
a gas fumigant
to kill insects and rodents.
Using sulfuryl fluoride around food products was not allowed due to its toxicity.
In 2004 , however, the EPA reversed this policy (following long lobbying efforts by the manufacturer) and allowed its use on food.
This opened the doors for food processing companies nationwide to fumigate their facilities with sulfuryl fluoride, leaving high levels of fluoride in and on foods and even food packaging.
There have been no labeling requirements for foods treated with sulfuryl fluoride, meaning that consumers have had no way of knowing which foods contain this toxin.
THAT'S LIKE NOT LABELLING RAT POISON IN OUR FOODS!
THAT IS, AFTER ALL, WHAT IT IS...SULFURYL FLUORIDE IS A RAT POISON.
NOW THAT WE KNOW THESE THINGS, NOW THAT WE HAVE THIS KNOWLEDGE, WHO AMONG US WOULD KNOWINGLY SUBJECT INNOCENT YOUNG CHILDREN TO SUCH THINGS?
OUR "PROTECTION AGENCIES" DO, OUR CONGRESS DOES, OUR 'LEADERS', ALL WHO BOW AND SCRAPE TO MEGA-CORPORATIONS DO.
BUT
WE
DON'T HAVE TO DO SO...NOT NOW THAT WE KNOW!
SOMEONE, MANY 'SOMEONES', SHOULD BE PROSECUTED FOR DOING THIS TO AMERICANS, TO ANYONE!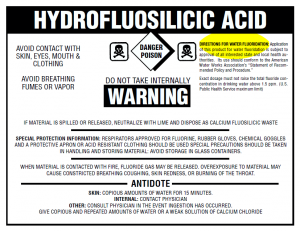 The above is the warning that comes with the fluoride product USED IN 95% OF OUR DRINKING WATER.
This is also the same product that the Arkansas Department of Health (ADH), AMONG ALL OTHER STATES, says is "safe".
Are we going to believe the ADH and other state health departments who use the cheap way to fluoridate , or are we going to believe the warning that comes on the fluoride product packaging?


CONGRESS WAS WELL AND FULLY WARNED ABOUT THIS IN 1982!
AND NOW WE KNOW.

IT MUST BE STOPPED!
__________________
FURTHER READING AND SOURCES NOT CITED ABOVE:
~
Nuremberg Trials: Big Pharma's Crimes Against Humanity ...
~
Fluoridating Water Supplies Keeps Us Dumb, Docile, and Sick
~
WARNING! POISON!
~
A Users Guide To Understanding Fallacy, Fraud, & Failure