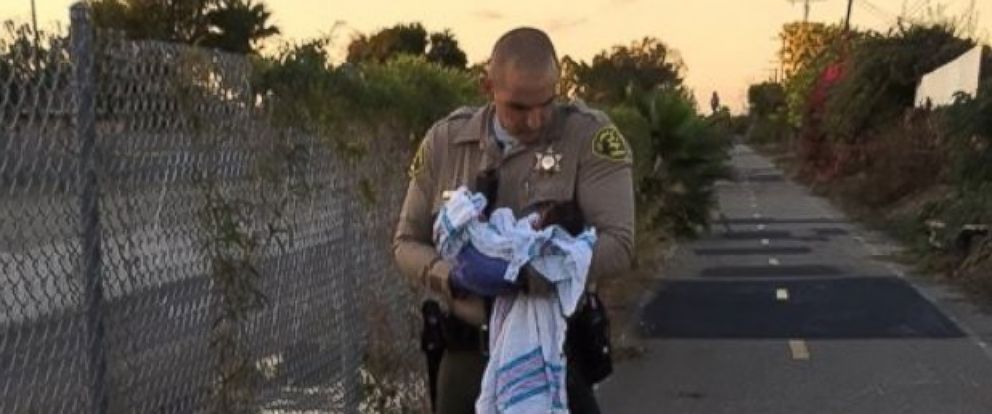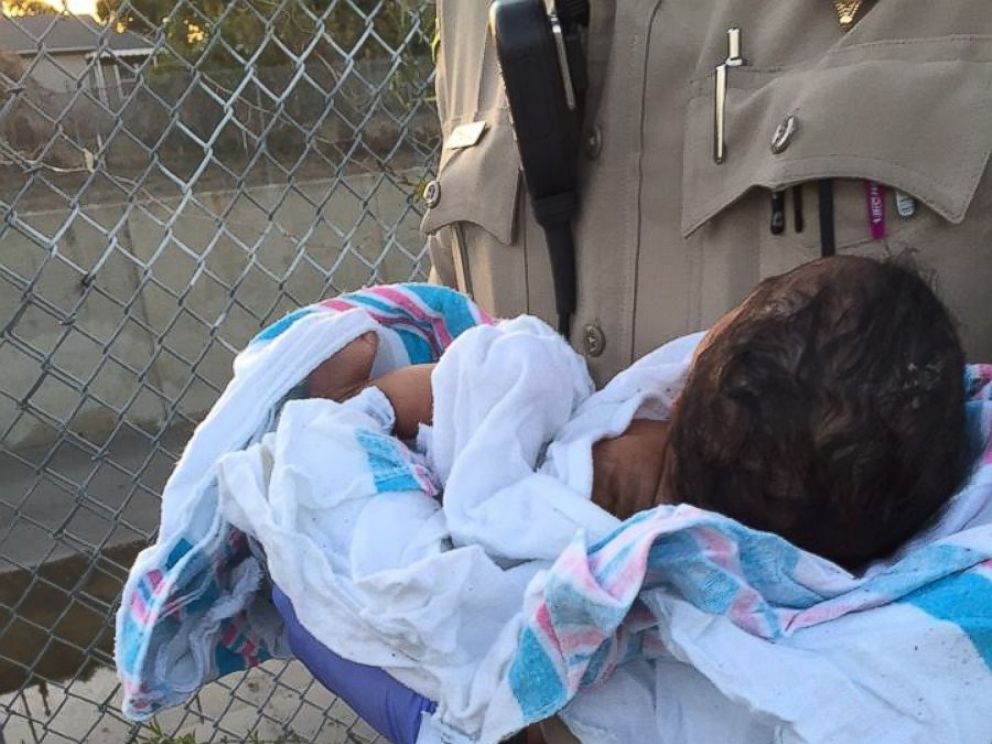 FOR ME, THE MOST SADDENING THINGS I CAN READ OR SEE ON THE "NEWS" ARE STORIES ABOUT ABUSED, NEGLECTED OR MURDERED CHILDREN, NO MATTER THEIR AGE.

IN ALL MY YEARS OF READING SUCH ARTICLES, I HAVE NEVER READ ABOUT A NEWBORN INFANT BEING BURIED ALIVE...UNTIL EARLY TODAY.
Authorities received a report Friday afternoon of a baby crying in a riverbed in Compton, a city in southern L.A. County, the Los Angeles Sheriff's Department said.
Responding deputies heard a baby's muffled cry, said the sheriff's department, and as they searched inside a crevice along a bike path, they found the baby girl buried under pieces of asphalt and rubble.
She was believed to have been born within the last 36 to 48 hours, the sheriff's department said today.
The baby "was wrapped in a blanket and cold to the touch," the sheriff's department said.
The baby was hospitalized in stable condition, officials said, and will remain at the hospital for observation.
The Los Angeles Sheriff's Department Special Victims Bureau asks anyone with information regarding the baby's abandonment and endangerment to call 877-710-LASD."
WHY?
HOW COULD ANYONE DO SUCH A THING?

IT IS QUITE WELL KNOWN THAT ANYONE WHO DELIVERS AN UNWANTED INFANT CAN, WITHIN 72 HOURS IN MOST STATES, TAKE THAT UNWANTED CHILD TO A HOSPITAL, FIRE STATION, OR EVEN TO A CHURCH AND HAND IT OVER, WITHOUT QUESTIONS AND WITHOUT PROSECUTION.

WHY BURY ONE ALIVE?

WE'VE ALL SEEN REPORTS OF ANIMALS, PETS BURIED ALIVE, BUT A CHILD?

THIS INFANT WAS RESCUED, AS WAS A MALE NEWBORN WHO WAS ABANDONED THIS PAST MONDAY AT A NEW YORK CHURCH IN ITS MANGER SCENE.
"

For a short time Monday afternoon, the Christmas manger at a New York City church might've been able to pass for the real thing: A newborn baby, with the umbilical cord still attached, was abandoned there. Now, New York City police are searching for whoever left the child.
It was around 11:30 a.m. Monday when a custodian at the Holy Child of Jesus Church in the Richmond Hill section of Queens left the empty chapel to get lunch. When he returned shortly after 1 p.m., he heard a baby crying, but saw no one else around.
That's when, New York City police said, the custodian turned to a nativity scene in the front of the church and saw a newborn baby wrapped in towels laying in the manger. Church pastor Christopher Heanue wrote on the church's Facebook page that the baby was a boy and weighed a little more than 5 pounds.
ELSEWHERE, THE 2-YEAR-OLD KNOWN AS "BABY DOE" WHOSE TINY BODY WAS FOUND THIS PAST JUNE WRAPPED IN A PLASTIC BAG ON A BOSTON HARBOR BEACH WAS LAID TO REST IN A DONATED DRESS TODAY.

"Her mother's boyfriend, Michael McCarthy, has been charged with murder. Her mother, Rachelle Bond, is charged with being an accessory. "

DEEP SADNESS AT THE HORRIBLE DEATH LITTLE J'ZTRA THOMPSON OF HOUSTON, TX, SUFFERED WHEN HER TWO 3-YEAR-OLD SIBLINGS PUT HER IN AN OVEN WHILE THEIR MOTHER WAS OUT GETTING PIZZA AND PICKING UP A PRESCRIPTION.

NOV. 23, 2015

One of the three-year-olds told Child Protective Services (CPS) they put J'Zyra in the oven, while the other one made it "hot".
Court records state that the baby was kicking the oven door while inside, ABC News reported.
The little girl's mother, Racquel Thompson, left her four children - all under the age of five - home alone while she and a boyfriend went to Domino's Pizza to get food and a Walgreens to pick up a prescription, police said.
No charges have been filed, although the CPS said in a court filing that criminal charges were expected.
The agency said the couple left the children alone without telling a grandmother, who lives in the same apartment complex, ABC News reported.

I HAVE ALSO MOURNED, SINCE READING OF HIS DEATH ALMOST A MONTH AGO,THE LOSS OF 9-YEAR-OLD TYSHAWN LEE, LURED INTO A CHICAGO ALLEY AND KILLED BY GANG MEMBERS IN A "RETALIATORY KILLING".

NOV. 27, 2015

A 27-year-old gang member faces a murder charge for the brutal execution of a 9-year-old boy who was lured into an alley and shot earlier this month in a retaliation killing, police said Friday.

Chicago Police Superintendent Gary McCarthy identified the suspect as Corey Morgan, of Lansing, Ill., who was charged with first-degree murder. McCarthy said that Morgan had at least two other accomplices. Police declined to detail the exact role they believe Morgan and his accomplices played in the killing.
Police are hunting for a second man, whom McCarthy identified as Kevin Edwards. Investigators believe one other person played a role in the shooting. That person is in police custody on an unrelated charge. Police have yet to identify that suspect.
McCarthy said they believe the suspects targeted Tyshawn because of his father's gang ties.
"It was act of barbarism, the assassination of a 9-year-old child as a gang retaliation to get back at his father," McCarthy said.
The father, Pierre Stokes, previously told reporters he is not in a gang and does not believe his son's killing was retaliation. Stokes is on probation for a 2011 armed robbery conviction. He was arrested and charged in June 2014 with unlawful use of a weapon, but has pleaded not guilty to that charge.
"All three (suspects) are in the same gang," McCarthy told reporters. "I can tell you this: They are going to be obliterated. That gang just signed its own death warrant."
McCarthy added that he is going to assign police resources to insure that "neither one of those gangs can raise their heads again."
WHY POST SUCH THINGS?
WHY WRITE OF THESE?

BECAUSE ALL OF US NEED TO DO ALL WE CAN TO PROTECT ALL CHILDREN.
IF WE SEE ANYTHING THAT MAKES US SUSPECT A CHILD IS IN PERIL, WE MUST TAKE ACTION.

SOME CHILDREN HAVE NO HOPE FOR HELP UNLESS IT COMES FROM THOSE, LIKE US, WHO MAY HEAR OR SEE OR SUSPECT THEIR SUFFERING.

I DON'T CARE IF A FAMILY MEMBER IS GUILTY, A CLOSE FRIEND, A MEMBER OF THE CLERGY, A LAW ENFORCEMENT OFFICER, A SENATOR OR A PRESIDENT., ALL WHO ABUSE CHILDREN MUST FACE PROSECUTION, ALL MUST BE STOPPED.

EACH OF US JUST MAY A CHILD'S ONLY HOPE.