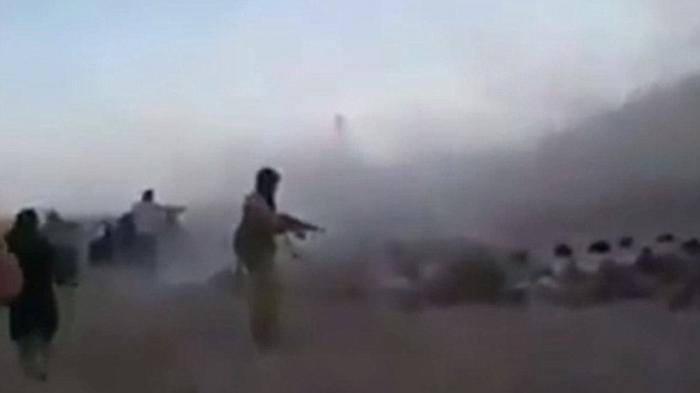 "The children were forced to lie stretched out in the dirt side-by-side in a single long line.
At least 12 gunmen, armed with assault rifles and handguns, are seen standing behind the children.
The first militant opens fire at "point blank range" shooting each child, making his way down the row. The other militants then begin shooting
causing the area to fill with dust, clouding the camera's vision. A clear sustained sound of gunfire can be heard throughout the entire original recording."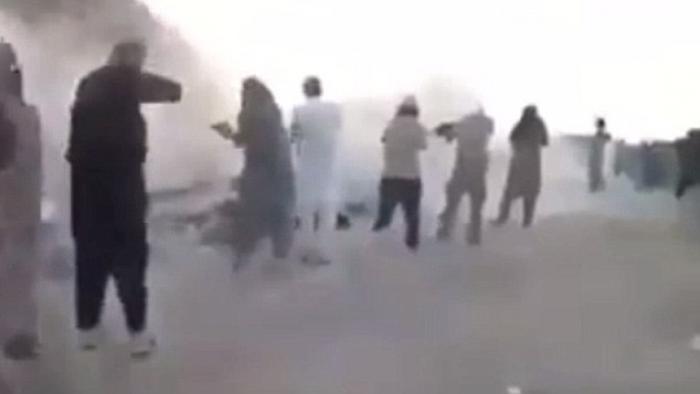 ALL VIDEOS, EXCEPT ONE WHICH I VIEWED, AND WILL NOT LINK TO,
SHOW THE LESS THAN 30 SECONDS FILM WITH THE CHILDREN'S BODIES BLURRED-OUT.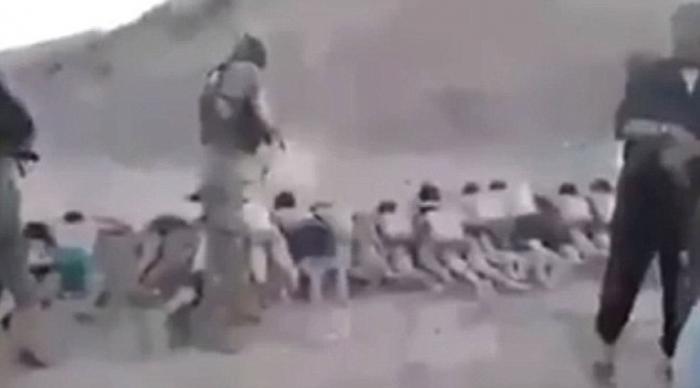 JUST THIRTY SECONDS AND 200 SYRIAN CHILDREN WERE DEAD...LINED UP, FACE-DOWN IN THE DIRT, SHOT IN THE BACK BY A DOZEN ISIS GUNMEN.
WHEN FIRST NEWS OF THIS CAME OUT, I WAS SKEPTICAL, BUT HAVING EXAMINED THE FOOTAGE, HAVING SEEN IT "IN THE RAW" AND IN ONLINE MEDIA LIKE THE NEW YORK DAILY NEWS, NEW YORK POST, MIRROR UK, DAILY STAR UK (NOT THE MOST TRUSTED NEWS MEDIA, ADMITTEDLY), I FOUND IT ON CATHOLIC.ORG, A SOURCE THAT HAS BEEN FAIRLY REPUTABLE ON REORTING SUCH THINGS OUT OF SYRIA.

THEY WERE AMONG THE FIRST TO REPORT, WITH PROOF, ON THE BEHEADINGS OF CHILDREN IN SYRIA BY ISIS.

WHILE AN "ISLAMIC STUDIES AUTHORITY" IN THE NYP ARTICLE STATED THE FOOTAGE SHOWS ADULTS, ALL ONE NEEDS IS MAGNIFICATION TO SEE THAT'S NOT THE CASE.
INDEED, SOME MAY HAVE BEEN TEENAGED CHILDREN, AS THE SIZE OF THEM COMPARED TO THE NEAREST GUNMAN MAY SHOW IN THE RAW VIDEO, BUT MOST WERE NOT ADULTS, OBVIOUSLY.

MAYBE THAT "AUTHORITY" HASN'T STUDIED THE MASSACRES THAT HAVE BEEN WELL DOCUMENTED IN SYRIA BY ISIS?
MAYBE HE HASN'T BEEN ABLE TO ACCEPT THAT ISIS AND OTHERS RELISH SUCH EXECUTIONS, CRUCIFIXIONS, BEHEADINGS?

IS HE, LIKE SO MANY, UNAWARE THAT SUCH HAS BEEN ONGOING SINCE AT LEAST 2011?

A SIMPLE ONLINE SEARCH USING THE PHRASE "MASSACRES BY ISIS SINCE 2011" LED ME TO DOZENS THAT I WAS UNAWARE OF UNTIL TODAY, AND MANY MORE THAN THAT WHICH I HAD READ ABOUT.

THE BEACH MASSACRE BY ISIS IN TUNISIA...THAT WASN'T A POPULAR NEWS ITEM HERE, WAS IT?

"
At least 39 people — mostly British, German and Belgian vacationers — were killed as they sat on sun loungers in Sousse, a popular resort about 90 miles south of the capital, Tunis.
ISIS claimed responsibility and identified the attacker as Saif Rezgui, a 24-year-old student who was not on any terrorism watch list."
HOW ABOUT THE MASSACRE OF THE KURDS BY ISIS, PERHAPS AIDED BY TURKEY?
"Turkey denies responsibility for ISIS massacre on Kurds in Kobani"
DOZENS OF KURDS KILLED.
"The pro-Kurdish People's Democratic Party (HDP) accused the government of president Recep Tayyip Erdogan of playing a part in the ISIS victory. It is not known where the ISIS militants came from before entering Kobani, and some HDP officials are suggesting that they crossed over from Turkey with the help of the Turkish government."
WHETHER ADULTS OR CHILDREN, THOSE DEPICTED IN THE RAW VIDEO I WATCHED THAT IS THE TOPIC OF THIS ENTRY WERE EXECUTED...BY "ISLAMIC EXTREMISTS", BY ISIS, A GROUP OF COWARDLY ARMED MEN WHO LOVE TO SHOOT UNARMED PEOPLE IN THE BACK, WHO TEACH THEIR OWN CHILDREN TO BEHEAD THE "INFIDELS", WHO KILL AND KILL OTHER MUSLIMS, WHO NEVER TIRE OF KILLING.
While it is believed the video of the execution of the Syrian children was filmed in 2014, it doesn't matter WHEN it was filmed.What matters is that ISIS continues such killings, and that, even with the world's "Super-Powers" arrayed against it, ISIS is still strong and is still capable of repeating this as many times as it pleases.

THAT MUST BE STOPPED!
OUR GOVERNMENTS ARE ALL DOING A REALLY SORRY JOB OF STOPPING ISIS.
HOW CAN THAT BE?
HOW CAN "SUPER-POWERS" ALL FAIL, EVEN WHEN THEY CLAIM TO ATTACK ISIS "IN UNISON" WITH SUPERIOR WEAPONRY?

I CAN'T BUY THAT.
SOME WEBSITES OFFER THE FOLLOWING AS A PHOTO OF THE CHILDREN, BUT THAT PHOTO WAS A SCREEN CAPTURE OF FILMED EXECUTIONS OF 770 ADULTS IN IRAQ... THE 'MASSACRE AT TIKRIT'.
IT DOES SHOW A SIMILARITY IN HOW ISIS LIKES TO CARRY OUT SUCH EXECUTIONS.
Hundreds of Iraqi soldiers were rounded up by ISIS

militants in Saddam Hussein's hometown of Tikrit in June 2014 (pictured), before they were shot dead in bloody mass executions


MIRACULOUSLY, ONE MAN,
Ali Hussein Kadhim, SURVIVED THAT LINEUP.
"The day after conquering the city in central Iraq, ISIS claimed it executed 1,700 Shi'ite 'members of the army' who were trying to escape the coming onslaught.

The terror group began to release gruesome videos and images which showed the men shackled together and shot in the head - before their bloodied corpses were thrown into shallow trenches."

WE KNOW THAT ISIS HAS BOASTED IT IS MAKING BILLIONS ON THE SALE OF OIL FROM CONQUERED AREAS IN THE MIDDLE EAST.

WHO IS BUYING OIL FROM ISIS?

THAT NATION, ALL NATIONS, ANY NATION BUYING ANYTHING, FUNDING IN ANY WAY THE ISIS MILITARY MACHINE SHOULD BE THE TARGET OF THE NEXT AIRSTRIKES, YES?

WHAT NATION(S) MIGHT BE ARMING ISIS?

EVEN IF IT'S THE USA, THAT NATION SHOULD BE TARGETED AS WELL.

DIDN'T WE LEARN ANYTHING FROM VIETNAM?

OUR TROOPS IN NAM REALIZED THAT THE ONLY WAY TO COMBAT THE ENEMY THERE WAS TO USE SIMILAR TACTICS, AND THEN IMPROVE ON THOSE.


'BACK HOME', AMERICANS JUST DIDN'T COMPREHEND SUCH A THING BECAUSE THEY WEREN'T THE ONES BEING BLOWN TO BITS BY CHILDREN AND WOMEN WEARING BOMBS BENEATH THEIR CLOTHING.
THOSE WHO NEVER GO TO WAR REALIZE DAMNED LITTLE ABOUT WAR.
AND THOSE WHO BELIEVE, AS OUR 'POTUS' AND POPE FRANCIS SEEM TO, THAT "ISLAM IS A RELIGION OF PEACE", HAVE NEVER ENCOUNTERED THE LIKES OF ISIS, OR HAMAS, OR ANY DEDICATED, DEVOUT GROUP OF JIHADISTS.
MAYBE IT WILL TAKE SEEING AMERICAN CHILDREN SLAUGHTERED, OR AMERICAN CIVILIANS EXECUTED EN MASSE BEFORE AMERICANS UNDERSTAND THIS NEW FORM OF WAR, THIS "RIGHTEOUS JIHAD"?

I HOPE NOT!