THEY'RE TINY, BUT THEY'RE PERHAPS
THE MOST RESILIENT LIFE FORM ON EARTH.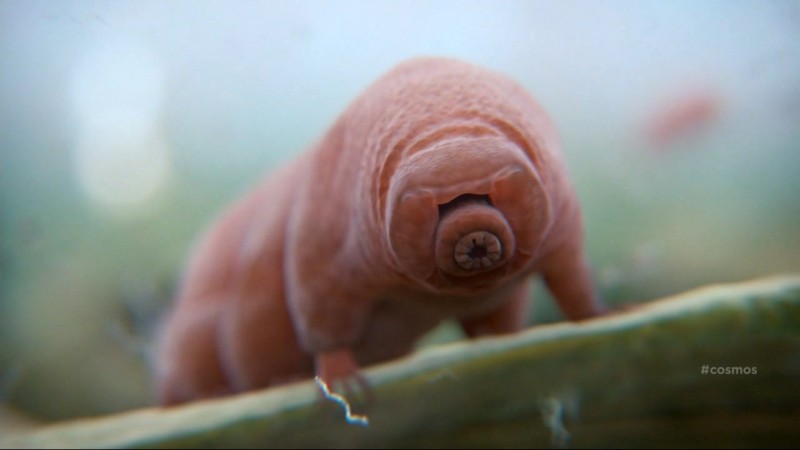 MEET THE TARDIGRADE, OR THE "WATER BEAR" OR "MOSS PIGLET".
More than 1000 species live around the world.
They've been here for about 500 million years
, a feat that makes them attractive to
researchers studying evolution
.
The little critters seem adept
at living in some of the harshest regions of Earth.
They have been discovered
5546m (18,196ft) up a mountain in the Himalayas
,
in Japanese hot springs
,
at the bottom of the ocean
and
in Antarctica
.
They can withstand huge amounts of radiation, being heated to 150 °C, and being frozen almost to absolute zero.
How do these seemingly insignificant creatures survive in such extreme conditions, and why have they evolved these superpowers?
THEY HAVE EVEN SURVIVED THE VACUUM OF SPACE,RIDING ON THE

OUTSIDE

OF THE LAUNCHED VEHICLE.
"The only animal known to survive the extreme environment of outer space without the help of special equipment turns out to have the most foreign DNA of any species.
Water bears, also known as
tardigrades
, have genomes that are nearly one-sixth foreign, meaning that the DNA comes from creatures other than the animal itself, new research finds.
The discovery, published in the Proceeding of the National Academy of Sciences, adds to the evidence that tiny water bears are incredibly unique and seemingly indestructible animals. In 2007, some were even
rocketed into space
on the outside of a satellite
.
When the satellite returned, many of the water bears were still alive. What's more, some of the females had laid eggs in space, with the young hatching healthily, as though nothing had happened.
"We had no idea that an animal genome could be composed of so much foreign DNA,"
co-author Bob Goldstein of the University of North Carolina at Chapel Hill said in a press release. "We knew many animals acquire foreign genes, but we had no idea that it happens to this degree."
Tardigrades, at first glance, are intimidating.
They have podgy faces with folds of flesh, a bit like a
Doctor Who
monster.
They have eight legs, with ferocious claws resembling those of great bears.
Their mouth is also a serious weapon, with dagger-like teeth that can spear prey.
They are never more than 1.5 mm long, and can only be seen with a microscope.
Shedding almost all the water in its body, the tardigrade curls up into a dry husk, as seen below.
.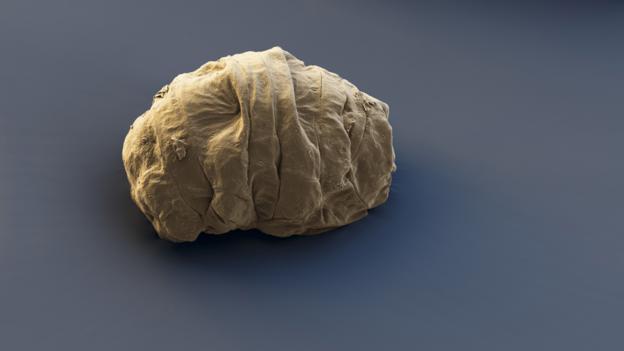 This was initially called a "Tönnchenform", but it is now commonly known as a "tun"
.

Its metabolism slows to 0.01% of the normal rate.
It can stay in this state for decades, only reanimating when it comes into contact with water.
"This suggests that tardigrades might have unique tricks for surviving desiccation," says Thomas Boothby of the University of North Carolina in Chapel Hill
. "We know that, as they start to dry out, tardigrades make protectants that allow them to survive becoming completely dry. But what exactly these protectants are is still a mystery."
If a tardigrade stays in its dry tun state for a long time, its DNA gets damaged.
But after it reawakens it is able to quickly fix it.
The tardigrades coped with a profound chill that does not occur naturally and must be created in the lab, -272.8 °C, just above absolute zero,
at which atoms come to a virtual standstill.
But while we have some idea of how tardigrades cope with the cold, we have no idea how they cope with heat.
At scorching temperatures like 150 °C, proteins and cell membranes should unravel, and the chemical reactions that sustain life cease to happen, BUT TARDIGRADES LIVE ON.
In 1964, scientists exposed tardigrades to lethal doses of X-rays and found that they could survive.
Later experiments showed they can also cope with excessive amounts of alpha, gamma and ultraviolet radiation –
even if they're not in the tun state.
They can also cope with extreme pressure that would squash most animals flat, according to a study published in 1998 by Kunihiro Seki and Masato Toyoshima of Kanagawa University in Hiratsuka, Japan.
They found that tardigrades in the tun state could survive a pressure of 600 megapascals (MPa).
This is beyond anything they might encounter in nature.
The deepest part of the sea is
the Challenger Deep in the Mariana Trench
in the Pacific Ocean, which goes down 10,994 m. There, the water pressure is around 100 MPa.
Somehow the tardigrades survived six times that.
At these crushing pressures, proteins and DNA are ripped apart.
Cell membranes, which are composed of fat, become solid like butter in a fridge.
Most microorganisms stop metabolising at 30 MPa, and bacteria can't survive much beyond 300 MPa.
The sheer variety of stressors that tardigrades can survive is almost dizzying.
Unlike bacteria that live in boiling hot springs or other extreme sites, most tardigrades live in relatively unremarkable places.
They tend to live in or near water, and there's nothing a tardigrade likes more than a good chunk of moss and lichen.
Their lives aren't even that exciting: while most creatures their size dart about frantically, tardigrades are sluggish.
Yet despite their rather tedious lifestyle, they have evolved to cope with environments so extreme, they don't even exist on Earth.
BACK TO LIFE AFTER 30 YEARS
FROM 'DISCOVERY ONLINE':
21 JAN 2016
The animal in question was a species of tardigrade, a microscopic creature sometimes referred to as a "water bear" that is perhaps the hardiest lifeform on Earth. There are over
1,000 known species,
all of which have eight legs and measure between 0.5 and 1.2 mm in length, and they are found more or less everywhere.
As Brian Resnick
wrote recently for Vox
: "Pick up a piece of moss, and you'll find tardigrades. In the soil: tardigrades. The ocean: You get it.
They live on every continent, in every climate, and in every latitude. Their extreme resilience has allowed them to conquer the entire planet."
This resilience comes from tardigrades' ability, when conditions are especially harsh, to enter a state known cryptobiosis (or anabiosis). They achieve this by expelling 95 percent or more of their water, creating proteins and sugars to protect their cells, massively reducing or even suspending their metabolism, and tucking in their heads and legs to form a pill-shaped "tun."
In tun form, tardigrades can withstand conditions from boiling water to absolute zero
,
and pressures six times greater than those found in the deepest part of the ocean
.
In 2007, the European Space Agency even launched a payload of tardigrades in tun form into space; retrieved 10 days later after the satellite returned to Earth, some of the tardigrades came back to life upon rehydration and even went on to reproduce, the first animals to
survive the vacuum of space
.
Recovery [ from their 30-year sleep] was steady but slow, the researchers write in the journal Cryobiology: "SB-1 first showed slight movement in its 4th pair of legs on the first day after rehydration. This progressed to twisting of the body from day 5 along with movement in its 1st and 2nd pairs of legs, but the movements remained slow.
After starting to attempt to lift itself on day 6, SB-1 started to slowly crawl on the agar surface of the culture well on day 9, and started to eat the algal food provided the culture plate on day 13."
By Day 21, SB-1 even began developing eggs; it laid 19, of which 14 hatched. SB-2, alas, had by then perished. But an egg that had also been retrieved from the moss, and which the researchers called SB-3, hatched and the tardigrade that emerged laid 15 eggs of its own,
seven of which hatched
into healthy offspring.
The next goal that the researchers have set for themselves is to uncover the why and the how: What, for example, was the process that took place over the first week after thawing before the tardigrades began to move? "We want to unravel the mechanism for (tardigrades') long-term survival," the lead researcher
told the Asahi Shimbun
.
Water bears are segmented, eight-legged micro-animals that measure just a miniscule fraction of an inch long. Goldstein, lead author Thomas Boothby and their team determined that water bears acquire 6,000 foreign genes primarily from bacteria, but also from plants, fungi and various single-celled microorganisms.
This means that 17.5 percent of the water bear's genome comes from these other sources.
The DNA is acquired via a process called horizontal gene transfer. Instead of just inheriting DNA, it is swapped between species.
The researchers
suspect
that when water bears are under conditions of extreme stress, such as desiccation, their DNA will break into small pieces.
When the cell rehydrates, the cell's membrane and nucleus (where the DNA resides) become temporarily "leaky," such that DNA and other large molecules can pass through easily.
BUT THEY REALLY DO ALSO REPAIR THEIR OWN DAMAGED DNA!
During this process, the water bears not only repair their own damaged DNA, but also stitch in the foreign DNA, creating a mosaic of genes that come from different species.
The prior record holder for most foreign DNA was another microscopic animal called the
rotifer
. It is now known that rotifers just have about half as much foreign DNA as water bears, though.
"We think of the tree of life, with genetic material passing vertically from mom and dad, but with horizontal gene transfer becoming more widely accepted and more well known, at least in certain organisms, it is beginning to change the way we think about evolution and inheritance of genetic material and the stability of genomes," Boothby said.
"So instead of thinking of the tree of life, we can think about the web of life and genetic material crossing from branch to branch. So it's exciting. We are beginning to adjust our understanding of how evolution works."
A NEW GENUS FOUND IN ANTARCTICA
The newly discovered tardigrade, called Mopsechinisucus franciscae, is special.
"The genus has a lot of more primitive characteristics that suggest it is closer to the group's more distant ancestors," said Sandra J. McInnes, a tardigrade researcher with the British Antarctic Survey, in
a news release
.
McInnes was part of the group that discovered the new Antarctic tardigrade. Like many water bears, this species can be found living in moss.
The researchers found members of
M. franciscae
in Crater Cirque, a lake in a glacier-carved depression in Victoria Land, Antarctica.
A description
of the new tardigrade, including a DNA analysis and pictures, debuted in the journal
Polar Biology
.

Water bears can survive extreme conditions like frigid Antarctic winters by desiccating, or drying out, almost completely. Some actually replace the water in their body with a sugar called trehalose. "That probably helps prevent a lot of the damage that normally occurs when you dry something down or when you rehydrate," explained biologist Bob Goldstein in
a Wired article
.
ONE OF THE MOST AMAZING CREATURES IN OUR WORLD.

THE TEA ROOM WILL KEEP AN EYE ON THE LATEST GENUS FOUND IN ANTARCTICA,

AND I WOULD SURELY VERY, VERY MUCH LIKE TO BE INVOLVED IN THE RESEARCH INTO THIS LITTLE MYSTERY.

BOGGLES THE MIND WHAT MAY BE FOUND!