PLEASE, IF YOU READ NOTHING ELSE , GO READ THIS OPEN LETTER TO PHYSICISTS ON THE DANGERS OF NUCLEAR REACTORS TO HUMAN POPULATION.

http://www.ccnr.org/open_letter.html

THIS BLOG ENTRY IS ABOUT FAR MORE THAN THE INDIAN POINT NUKE FACILITY.

FACTS LONG KEPT TUCKED AWAY HERE AND THERE ("IN PLAIN SI

GHT")

HAVE COME INTO FULL LIGHT, FACTS THAT

SHOULD CONVINCE US THAT

RADI

ATION

LEAKING AT ALL OUR AGED POWER PLANTS MUST END.
THE ONLY WAY TO STOP IT IS TO CLOSE THEM ALL, BURY

THEIR REMAINS AND NEVER AGAIN ALLOW OURSELVES TO BE EXPOSED TO "NUCLEAR ENERGY".



IT'S BEEN ALMOST TWO WEEKS NOW SINCE INDIAN POINT ADMITTED THEY HAVE A "NEW" TRITIUM LEAK, WHICH IS MOST LIKELY THE "OLD" TRITIUM LEAK FROM

OVER 10 YEARS AGO

THAT WAS NEVER REALLY FOUND AND REPAIRED.

REPORTED RADIATION LEVELS ARE NOW 120,000% HIGHER THAN THEY WERE ON FEB. 5.

WHAT IS NOT IN MOST MAINSTREAM NEWS IS THAT TRITIUM IS BY NO MEANS THE ONLY THING LEAKING FROM INDIAN POINT.

ADD STRONTIUM-90, CESIUM-137, COBALT-60, AND NICKEL-63... AND THE COUNT IS STILL NOT COMPLETE.

WHATEVER IS GOING ON IN THAT ANCIENT LEAKER, IT'S TIME FOR CUOMO TO INSIST THAT

ITS

PERMANENTLY SHUT DOWN.



IT'S BEEN POISONING THE HUDSON RIVER, THE TIDAL ESTUARY 20 MILES BEYOND THE POWER PLANT,

AND IS ABSOLUTELY CONTAMINATING THE DRINKING WATER OF SEVERAL RIVER TOWNS' RESIDENTS WHOSE WATER SOURCE INCLUDES INTAKE FROM THE HUDSON.

THOSE TOWNS INCLUDE:

Poughkeepsie, Wappingers Falls, Highland, Port Ewen, East Fishkill, Hyde Park, and the Village of Rhinebeck.

It is also a backup water source for some 9 million residents of New York City and Westchester County.

NO INDEPENDENT TESTS HAVE BEEN CONDUCTED TO SEE HOW FAR AND HOW BADLY THIS LEAK HAS AFFECTED THE GROUNDWATER

,

DRINKING WATER

,

THE

LIFE

I

N THE AREA.

THE DAMAGE TO ALL LIFE FROM THAT CONTAMINATION IS NOW AND WILL CONTINUE TO BE A GIVEN, THE HARM ALREADY DONE, AND YET NO ONE IS ABLE TO FIND AND STOP THIS REPETITIVE, THIS ONGOING LEAK.
SOUNDS A LOT LIKE FUKUSHIMA.
FROM THE HUFFINGTON POST:
02/16/2016
For more than a decade, it has been impossible for operators of the Indian Point nuclear power plant to stop highly radioactive reactor and spent fuel pool coolant from leaking into the groundwater and migrating to the Hudson River.
And despite assurances from Entergy that this time will be different, there is no indication that the company has developed the ability to prevent the latest uncontrolled leaks from following the underground waterway into the Hudson.

And because the river is a tidal estuary flowing as much as 20 miles above and below the nuclear site, radioactive contaminants may be sucked into the drinking water systems of several river towns.
While Entergy focuses attention on tritium, a radioactive form of water and the predominant contaminant leaking from the plant's cooling system, the actual leak contains a basket of radioactive elements, including Strontium-90, Cesium-137, Cobalt-60, and Nickel-63 according to an assessment by the New York Department of State as part of its Coastal Zone Management Assessment.

THE SITE OR SITES OF THE LEAK MAY BE CONSIDERED "INACCESSIBLE"...SO DOES THAT MEAN ENTERGY DOESN'T HAVE TO FIND THE LEAK OR STOP IT?
There are more than three miles of inaccessible piping under the 239-acre site, and the inability of Entergy to properly assess possible corrosion within the pipes has been a key part of the ongoing challenge to the plants' licenses by Attorney General Eric Schneiderman.

YOU SEE, EVERYONE KNOWS INDIAN POINT HAS LEAKED FOR OVER A DECADE, BUT NOBODY WANTS TO JUST SHUT THE DAMNED THING DOWN...FINANCIAL REASONS, LOSS OF REVENUE, LOSS OF THE FEW JOBS THERE...ALWAYS "FINANCIAL CONSIDERATIONS"... AS IN, MAYBE,

HOW BIG ARE THE BRIBES PAID TO KEEP IT OPEN?



HUFF POST (USING

DATA FROM "ENERGY MATTERS" WEBSITE)

CALLS OUT ENTERGY ON ITS STATEMENT THAT THE LEAKS POSE NO THREAT TO HEALTH...


"The tritium did not affect any source of drinking water onsite or offsite."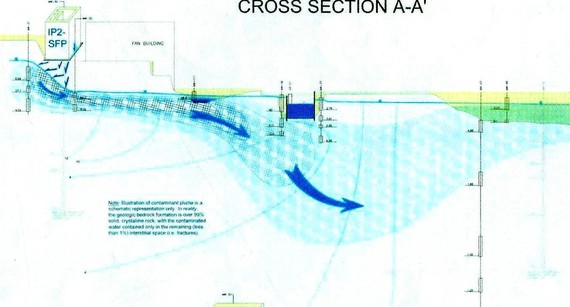 That blanket assertion of safety may not be true, as the above image shows...
[http://images.huffingtonpost.com/2016-02-13-1455341203-8436981-Scanshortmap3-thumb.jpg]

Indian Point schematics provided by the NRC ** show the site of the leak or leaks is roughly 69 feet above the Hudson River at the beginning of a groundwater flow that widens to about 80 feet as it rushes downward, pools above the bedrock and then flows inexorably into the Hudson River.
(http://bit.ly/1QaQ7WT )

Once the contaminants enter that groundwater flow there is NO system at Indian Point to remove them.
Entergy representatives declined to comment on planned and unplanned radioactive discharges into the environment.

ENTERGY CANT DISPUTE THAT. OF COURSE DRINKING WATER HAS BEEN AFFECTED! A picocurie is a molecular level measurement that is just one trillionth of a Curie.

But radiation and other contaminants in the environment are frequently measured in scales of

one part per billion

,

because at that level there can be significant damage to a person's cell structure or DNA.
The NRC and Entergy consider the periodic spills to be safe because the Hudson River is not considered drinking water and, therefore, EPA safe limits do not apply.

The fact that several river towns DO INDEED use the Hudson as a primary water source is discounted... WHY ISN'T THE DO-NOTHING NRC FORCING A SHUTDOWN AFTER ALL THESE YEARS, AFTER THE HISTORY OF THAT PLACE? WHY AREN'T LOCAL RESIDENTS UP IN ARMS AND HAMMERING AT THE DOORS OF ENTERGY DEMANDING A TOTAL SHUTDOWN AND CLEANUP?

THIS STORY HAS BEEN ALL OVER MAINSTREAM MEDIA.
DON'T PEOPLE READ? IT WAS ALSO ON TV:Watch broadcasts here: News 12 | News 10 | CBS 6 | CBS NY
FROM NEW YORK DAILY NEWS:
11 FEB. 2016
The amount of radioactive tritium leaking from the Indian Point nuclear power plant is growing, officials said… New samples from groundwater monitoring wells show higher concentrations of tritium compared with when the leak was FIRST reported .

FROM THE AP:
10 FEB. 2016
Entergy Corp., which operates the plant at the edge of the Hudson River, said [LAST] Wednesday that the latest samples from monitoring wells found tritium at a level of 14.8 million picocuries per liter [up from 12,300 pCi/L, a 120,000% increase].

The [EPA] has set a limit of no more than 20,000 picocuries per liter in drinking water…
[C]ritics of nuclear plants said the mere fact of the leak's occurrence is cause for concern, partly because investigators had yet to pinpoint how it happened.

"There a leak somewhere, and I don't think they know where it is."

"This plant isn't safe anymore," said Paul Gallay, president of Riverkeeper, an environmental watchdog group.
"Everybody knows it and only Entergy and the Nuclear Regulatory Commission refuse to admit it."

NO MORE THAN 20,000 pCi/L, AND IT'S AT 14,800,000?
DO THE MATH!
The fact [IS] that radioactive particles do

NOT

dissolve or lose their potency, even if they are harder to encounter. The State Coastal Management review, to some degree, shares that view.
"If you have a mom and pop gas station and they have an underground leak," Susan Shapiro of the Indian Point Safe Energy Coalition said, "they would be immediately shut down until the leak is plugged. In New York State, all groundwater has to be potable and contamination is not permitted.
"

But Entergy is getting away with contaminating our groundwater just because they are under the auspices of a government agency that doesn't feel as strongly about our water.

For me, that is shocking."
SHOCKING TO MANY, BUT "BUSINESS AS USUAL" AT AMERICA'S AGED NUKE SITES...THEY ALL LEAK...ALL THE TIME.

THERE HAS NEVER, EVER BEEN FOUND A WAY TO KEEP THEM FROM LEAKING.

THOSE WHO BUILT THE FIRST NUCLEAR REACTOR SAID SO...THEY CANNOT BE ENGINEERED TO NOT LEAK, AND YET THEY BUILT THEM, AND AFTER THAT, THE AEC, NRC, EPA, CONGRESS, STATE AND LOCAL GOVERNMENTS...JUST LET THEM SIT AND LEAK AND PRETEN

D

ALL IS SAFE AND WELL.

WHAT FOLLOWS IS FROM A PDF AND I HAVE USED HUGE FONT TO CALL YOUR ATTENTION TO THESE FACTS...


"Radioactive releases from a nuclear power reactor's routine operation often are not fully detected or reported.
Accidental releases may not be completely verified or documented."Federal regulations permit these radioactive releases."

"A typical 1000-megawatt pressurized-water reactor (with a cooling tower) takes in 20,000 gallons of river, lake or ocean water per minute for cooling, circulates it through a 50-mile maze of pipes, returns 5,000 gallons per minute to the same body of water, and releases the remainder to the atmosphere as vapor.

A 1000-megawatt reactor without a cooling tower takes in even more water--as much as one-half million gallons per minute.
The discharge water is contaminated with radioactive elements in amounts that are not precisely known or knowable, but are biologically active.
In the design of a reactor, leakage of neutrons from the reactor is

REDUCED

by employing a reflector.

REDUCED, BUT NEVER STOPPED FROM LEAKING.

"The late Dr. John Gofman, as both a physician and a physicist, was hired by the Atomic Energy Commission to investigate the effects of radiation on human beings.

Dr. Gofman estimated that there would be

32,000 additional cancer deaths a year from radiation released from nuclear power plants.



This estimate was based on around 20 nuclear power plants running at the time he did his research.

In the U.S., there now approximately 100 working nuclear power plants.

So multiply the 32,000 additional cancer deaths by 5 and that equates to 160,000 POTENTIAL cancer deaths EVERY year just from the

[ 'NORMAL/EXPECTED"]

radiation released from nuclear power plants.""It is true that, under

'

normal

'

operating conditions, the amount of radioactive material released from a reactor through exhaust stacks or effluent water is small in comparison with background levels.

Nevertheless, the chemical properties of these substances may result in biological magnification, producing doses very much larger than anticipated.



Moreover, these substances may tend to concentrate in one part of the body (e.g. iodine-131 in the thyroid, strontium-90 in bone, cesium-137 in muscle tissue) creating specialized hazards."



WHAT WE WERE TOLD OVER 70 YEARS AGO WAS THAT "ALL RADIATION IS LETHAL, THERE IS NO 'SAFE LEVEL', BUT...WE WILL PROVIDE AMERICA WITH CLEAN, CHEAP, SAFE ENERGY. TRUST US."

LIES.


IT IS NOT CLEAN, IT IS NOT CHEAP AND IT IS NEVER GOING TO BE SAFE.



IN 2011, JUST TRITIUM LEAKS WERE ADMITTED AT 75% OF NUCLEAR POWER PLANTS, AS REPORTED BY CBS AND OTHER MAINSTREAM MEDIA, BUT IN 2015, THE NRC WOULD ONLY LIST LEAKS AT ROUGHLY 66% OF THEIR DARLINGS.FROM CBS:
"Like rust under a car, corrosion has propagated for decades along the hard-to-reach, wet underbellies of the reactors

.


The AP reported that regulators and industry have weakened safety standards for decades to keep the nation's commercial nuclear reactors operating within the rules.
While NRC officials and plant operators argue that safety margins can be eased without peril, critics say these accommodations are inching the reactors closer to an accident. Here are some examples:
At the three-unit Browns Ferry complex in Alabama, a valve was mistakenly left open in a storage tank during modifications over the years. When the tank was filled in April 2010 about 1,000 gallons of tritium-laden water poured onto the ground at a concentration of 2 million picocuries per liter. In drinking water, that would be 100 times higher than the EPA health standard.

At the LaSalle site west of Chicago, tritium-laden water was accidentally released from a storage tank in July 2010 at a concentration of 715,000 picocuries per liter -- 36 times the EPA standard.

The year before, 123,000 picocuries per liter were detected in a well near the turbine building at Peach Bottom west of Philadelphia -- six times the drinking water standard.

And in 2008, 7.5 million picocuries per liter leaked from underground piping at Quad Cities in western Illinois -- 375 times the EPA limit."

WHEN RESPECTED SCIENTISTS AND PHYSICIANS HAVE POINTED TO THE STEADY INCREASE IN CANCERS SINCE 1945, THE NUCLEAR INDUSTRY HAS ROLLED OUT ITS PAID "EXPERTS" WHO LAUGH AND SAY, "NO WAY CAN YOU PROVE THAT IS THE FAULT OF 'ATOMIC ENERGY'."


TO WHICH PEOPLE LIKE ME MAY RESPOND:

"THERE'S NO WAY YOU CAN PROVE IT ISN'T THE FAULT OF ATOMIC ENERGY, YOU MISERABLE L

Y

ING BASTARDS."





_____________________________________




RELATED ARTICLES AND OTHER THINGS YOU SHOULD BE AWARE OF, AMERICANS.
~ YOU IN OHIO, LAKE ERIE'S LONG-TIME LEAKING MONSTER, DAVIS-BESSE, MAY BE THE SOURCE OF INCREASED CANCER CASES.


~ NORTH CAROLINA RESIDENTS, YOUR BIG LEAKER "SCRAMMED":
U.S. Nuclear Regulatory Commission, Feb 8, 2016 (emphasis added): Facility: BRUNSWICK [Nuclear Plant in N.C.]… Emergency Class: ALERT… EMERGENCY DECLARED… RPS [Reactor Protection System] ACTUATION – CRITICAL… MANUAL SCRAM AND ALERT DECLARATION DUE TO ELECTRICAL FAULT RESULTING IN FIRE/EXPLOSION…

Unit 1 declared an Alert… due to an explosion/fire in the Balance of Plant 4 kV switchgear bus area.

Prior to the Alert declaration, the operators initiated a manual SCRAM due to an unexpected power decrease from 88% to 40%. The licensee has visually verified that there is no

ongoing

fire and is investigating the initial cause of the event…

[T]he licensee reported the following… "a manual reactor scram was initiated due to loss of both recirculation system variable speed drives as a result of an electrical fault. At this time, a Startup Auxiliary Transformer (SAT) experienced a lockout fault; interrupting offsite power to emergency buses 1 and 2. Emergency Diesel Generators (EDGs) 1, 2, 3, and 4 automatically started"…
The licensee has notified… DHS, FEMA, USDA, HHS, DOE, DHS NICC, EPA… FDA… and Nuclear SSA…

~ OREGON, WITH WHAT HAS BEEN CALLED THE MOST TOXIC NUCLEAR SITE ON EARTH,
more safety issues at Hanford, http://www.tri-cityherald.com/news/local/hanford/article60583096.html


THE HANFORD SITE HAS BEEN ST

UDIED CONTINUOUSLY FOR DECADES.

IT

H

AS BEEN USED AS AN EXAMPLE OF 'BIOACCUMULATION', IN FISH-TO-HUMAN STUDIES AND THIS...
"Caddis fly larvae in the Columbia River (where the Hanford nuclear plant discharges) achieved concentrations 150,000 times tha

n

in the water. Birds also concentrate radioactivity, and being higher up in the food chain, they end up with correspondingly higher concentrations. Thus swallows may carry 75,000 times the ambient level, because they feed on insects which in turn have concentrated it from algae which in turn have concentrated it 2,000 times above the level in the water."
~AGAIN OREGON, PORTLAND AND OTHER NEARBY RESIDENTS, HEADS UP! ARSENIC LEVELS.
'What's now unfolding in Portland is remarkable' Portland's toxic air is 'public health emergency':
Arsenic levels 159 times higher than the state's safety goal
~ CALIFORNIA, POOR CALIFORNIA...
San Onofre Nuclear Plant Closed After Radiation Leak ...
BUT IT'S STILL LEAKING.


~MORE "UNEXPLAINED" DIE-OFFS
More than 10,000 dead squid wash ashore in Chile, reason unknown


~ NO FEAR, JUST NEWS


http://www.thebigwobble.org/