"[American leaders] are perhaps not so much immoral as they are amoral.
It's not that they take pleasure in causing so much death and suffering.
It's that they just don't care ... the same that could be said about a sociopath.
As long as the death and suffering advance the agenda of the empire, as long as the right people and the right corporations gain wealth and power and privilege and prestige, as long as the death and suffering aren't happening to them or people close to them ...

then they just don't care

about it happening to other people, including the American soldiers whom they throw into wars and who come home-the ones who make it back alive-with Agent Orange or Gulf War Syndrome eating away at their bodies.


American leaders would not be in the positions they hold if they were bothered by such things."


--- FORMER STATE DEPARTMENT EMPLOYEE WILLIAM BLUM, QUOTED FROM HIS BOOK 'KILLING HOPE'.

(The book documents 77 nations in which the U.S. government's military and/or CIA has had a hand in aiding or initiating coups, assassinations and illegal removal of leaders as heads of nations.)
HEADLINES MOSTLY IGNORED
10 February 2016
The United States and the 27 other NATO-member nations on Wednesday agreed to a new multinational force that will patrol the eastern European border setting up what many believe is "a dangerous dynamic…that has every possibility of spiraling out of control."
Robert Bridge, an American journalist based in Moscow, said Wednesday that the new fighting force is clearly a provocation.

"The result of this massive increase of spending will be more military hardware, more troops, more provocative exercises on Russia's western flank and much more tension between Moscow and NATO—which once upon a time promised Russia it would not expand 'one inch east' following the collapse of the Soviet Union," Bridge wrote.
"The fact is," he continued, "from Russia's point of view, foreign troops are there; they will have a constant presence regardless as to how they are defined.

And that is how NATO—not Russia—is aggravating tensions with Russia."
OTHER WARNINGS, BUT WHO READ THEM?
NATO's Largest Air Force Exercise Since World War II Threatens Russia

U.S. Now Overtly at War Against Russia
Coincidence? Baltic Invasion Story Reappears as Pentagon Seeks to Quadruple Europe Military Spending


IT'S NO SECRET THAT SEVERAL TEMPORARILY POWERFUL WASHINGTON POLITICOS HAVE BEEN BANGING THE OLD WAR DRUM FOR A GO AT RUSSIA FOR DECADES.
TEMPORARY WAS NOT TEMPORARY ENOUGH FOR THESE AGING, LIVING-IN-A-RUT AMERICAN CONGRESSMEN...AND OUR CURRENT 'VICE PRESIDENT' (AS IN 'PRESIDENT OF VICE'?).

THEY CONTINUE THE WITCH HUNT FOR "COMMIES', WILL LIE AND MANIPULATE FACTS TO KEEP AMERICA'S FEVER SPIKING TO 'RID THE WORLD OF THE COMMUNIST THREAT' WHILE SUCKING UP TO THE BIGGEST COMMUNIST NATION EVER TO EXIST-- CHINA.

THEY'RE FINE WITH TRADING WITH CHINA, WRITING 'BILLS' THAT SUBSIDIZE AMERICAN BUSINESSES HANDING AMERICAN JOBS TO THAT KING OF ALL HUMAN RIGHTS VIOLATORS, AND THEY LOOK THE OTHER WAY ANY TIME CHINA ENGAGES IN A LITTLE ETHNIC CLEANSING, INFANTICIDE, OR ISLAND-GRABBING.

CHINA'S OPEN INTOLERANCE AND SCORN OF AMERICA DOES NOT DETER OUR WOOING THEM:

"Main China Daily Xinhua Pens Epic Anti-US Tirade, Bashes America As Source Of All Global Financial Ills."

BUT RUSSIA?
IF RUSSIA SAYS THE SKY IS BLUE, MEN LIKE "I WAS NOT A TRAITOR" JOHN MCCAIN AND "CAN I GROPE YOU?" JOE BIDEN, WILL CALL UP THEIR PRIVATE MOUTHPIECES AT OUR PROPAGANDA MANUFACTURING PLANTS (aka MAINSTREAM MEDIA) AND TELL THEM THE RUSSIANS JUST KILLED AND ATE A DOZEN NEWBORN BABES AND ARE BRAGGING ABOUT IT BY SAYING THE SKY IS BLUE.
McCain took every opportunity to shame those European "allies" of ours who wanted to see a PEACEFUL solution to the American-created crap going on at Russia's doorstep.
"SHAME, SHAME!"

Sure, Washington DID cultivate the coup that started the ball rolling in the Ukranian conflict.
Sure, America was/is playing ALL European 'allies', ALL of NATO like a trombone, but shame on EUROPE for not wanting all-out war?

Does this remind anyone of the gathering of allies by arm-twisting and blackmail back before we bombed hell out of Iraq the second time?
THAT REALLY IS HOW BAD IT'S BECOME,
THIS DESPERATION TO ENGAGE RUSSIA, PERHAPS PREFERABLY, IN THE UKRAINE.
ALSO ON THE LIST OF "NUKE RUSSIA INTO DUST" PROPONENTS ARE :

~ DEFENSE SECRETARY ASH CARTER

~ BARACK OBAMA (WHO REALLY, REALLY SHOULD GIVE BACK THAT NOBEL PEACE PRIZE AND THE LOOT THAT WENT WITH IT.)
MANY SEEM TO THINK THE POTUS IS AGAINST SUPPLYING WEAPONS TO THE UKRAINE UPRISING...HOW COULD HE BE?
HE'S JUST THE POTUS, THE CHIEF PUPPET.
HE HAD TO AUTHORIZE OUR SUPPORTED COUP OVER THERE AND HE DID ADMIT THAT.
"U.S. President Barack Obama revealed on a CNN interview the United States' involvement in the Ukrainian crisis from its outset and admitted that the United States "had brokered a deal to transition power in Ukraine."
"I think he [Obama] has made it very clear that he is going to continue to take a Brzezinski hard-lined approach toward Ukraine and Russia and that there are not going to be any compromises at all, and effectively he expects President Putin to throw in a towel, capitulate, whatever, it does not appear to me there is any ground for negotiations in light of what President Obama at least said publicly."

Aside from the $300 million pledged by our Congress (underline CON)
to hand over to the neo-Nazis and other "rebels" in Kiev to crush the Russians , 'Big O" has asked for $3.4 BILLION (which the Federal Reserve is surely printing now?)
in new "defense spending" to pay for those NATO arms, equipment, and training resources,
quadrupling the current budget of $789 million.

This was "suggested" by the following "used-to-be" powerful:

-
Steven Pifer and John Herbst, former US Ambassadors to Ukraine

-
Strobe Talbott, former Deputy Secretary of State

-
Add former defense secretary and CIA head, Leon Panetta
-
Congressmen and senators (Ben Nelson, Sander Levin, Jim Gerlach, Gerland Connoly, Robert Menendez, Bob Corker, to name just a few)

Democratic Senator Ben Nelson has concluded that if Obama doesn't act, Congress will have to step up.

H.R. 5190, the proposed Ukraine Security Assistance Act of 2014, helps Ukraine "neutralize the military-support advantage that separatist rebels are using to target civilian and military aircraft in eastern Ukraine.
S.2828, the Ukraine Freedom Support Act of 2014, passed unanimously by the Senate Foreign Relations Committee, calls for military and security assistance to Ukraine, designates it as a Major Non-NATO Ally (MNNA), and imposes further sanctions on the Russian Federation. The bill was introduced by the Chairman and Ranking Member of the Senate Foreign Relations Committee, Sens. Robert Menendez (D-NJ) and Bob Corker (R-TN), respectively.

THE ABOVE LIST OF NAMES COMES FROM FORBES, ONE OF THE BIGGEST MOUTHPIECES FOR THE WAR SUPPORTERS ON THE HILL.
AFTER ALL, WAR BRINGS PROFITS FOR WALL STREET AND THE MARKET WILL BE BOOMING.
PLEASE NOTE:
Under a 1997 agreement known as the NATO-Russia Founding Act, both sides pledged NOT to station large numbers of troops along their respective borders. Administration officials said they were confident that the new deployments would not be seen as breaching that agreement.
IF RUSSIA DOES IT, IT'S A BREACH, BUT WHEN AMERICA ARMS EVERY NATION IN NATO TO SURROUND RUSSIA, IT'S NOT A BREACH?
BULL***T!
MEANWHILE, BACK IN SYRIA, ANOTHER AMERICAN SORE SPOT THAT ENHANCES THE SCREAM FOR "WAR, WAR, WAR"...
"In less than five months, loyalist forces aided by heavy Russian air cover, have shifted the balance of power in Syria"
A victory in Aleppo will change the course of the war by restoring government control over the densely-populated western corridor.

This is why the Obama administration is frantically searching for ways to either delay or derail the Russian-led juggernaut and avoid the impending collapse of US policy in Syria.
Recent peace talks in Geneva were convened with one goal in mind, to prevent Syrian President Bashar al Assad and loyalist forces from retaking Aleppo.
The negotiations failed, however, when Washington's mercurial allies, the so called "moderate" rebels, refused to participate.
According to the Wall Street Journal, the Syrian opposition withdrew "under pressure from Saudi Arabia and Turkey, two of the main backers of the rebels."

The WSJ's admission was later confirmed by Secretary of State John Kerry who according to a report in the Middle East Eye "blamed the Syrian opposition for leaving the talks and paving the way for a joint offensive by the Syrian government and Russia on Aleppo."

TODAY, WE'LL LOOK AT TRUE FACTS, FACTS YOU CAN GO FIND FOR YOURSELVES, FACTS MOSTLY MISSING FROM OUR MAJOR MEDIA REPORTS, BUT SOME ARE IN OUR GOVERNMENT'S OWN WORDS.

OUR IGNOBLE LEADERS SEEM UNCONCERNED ABOUT US FINDING THESE FACTS BECAUSE THEY KNOW THAT ONLY ABOUT 10% OF AMERICANS WILL EVER GO LOOKING FOR THE TRUTH, WILL EVER QUESTION WHAT THEY'RE FED DAILY BY THE "SHEPHERDS" TENDING THE AMERICAN FLOCK, THAT FEW WILL EVER READ IN PLACES LIKE THE CONGRESSIONAL RECORD, THE STATE DEPARTMENT'S ONLINE PAGES, THE WHITE HOUSE'S DAILY OFFERINGS OR EVEN GO READ A NEWS REPORT BY SOME FOREIGN NEWS SOURCE.

THAT LAST LINK IS TO A BBC TIMELINE OF THE UKRAINE EVENTS, MAKING RUSSIA THE BAD GUY...AFTER ALL THE U.K. IS A NATO ALLY.

[ AND NOW, LIKE MAGIC, THE ALL-CAPS WILL 'MOSTLY' GO AWAY. STRAPPING ON MY NEW 'GOGGLES'. PLEASE, HOLD THE APPLAUSE.]

February 02, 2016
Less than a week after Russia's foreign minister warned that NATO's military build-up near Russia's borders is "counterproductive and dangerous," the United States is ramping up the deployment of heavy weapons and armored vehicles to NATO member countries in Central and Eastern Europe, the New York Times reported Tuesday.
The equipment could be deployed in Pentagon officials said., , and the Baltic countries,
NATO has increased military exercises in close proximity to Russia's western border from fewer than 100 last year—already an aggressive number—to more than 150.

Reconnaissance flights and airborne exercises bumping up to Russian airspace have increased nearly tenfold.

NATO's European missile defense system, while altered during Obama's first term, proceeds apace—if you can believe it, still under the pretense that it is intended to protect the Continent from short-term missiles fired from Iran.
Who is this fig leaf intended to fool, you have to wonder.

America deployed its newest nukes to Europe quite some time ago.
Is the Russian military in an expansionary mode?
You bet: new missile defense systems, a rapid reaction force increasing to 60,000, new tank and artillery units, air force upgrades.

The country's borders start to bristle, and for the same reason they did during the Cold War decades: Russia's perception of a NATO threat on its borders is altogether realistic.
Only ideologues given to subjective reasoning and allergic to historical causality—not to mention maps—could possibly think otherwise.
[Meanwhile, Romania over the weekend announced its desire to station a permanent alliance fleet—including ships from Bulgaria, Romania, Turkey, Germany, Italy, and the U.S.—in the Black Sea to counter what they see as Russia's rising involvement in the region.



What would the U.S. do if Russia stationed ships within striking distance of our mainland?

}
JUST ONE MONTH BEFORE AMERICA ANTAGONIZED RUSSIA WITH NEW SANCTIONS AND THE ANNOUNCEMENT OF $300 MILLION TO HELP KIEV FIGHT RUSSIA, WE HAD THIS...

PRAISE FOR RUSSIA BY THE U.S

.:

"Kerry, the Europeans, Russians and Chinese signed an historically important accord governing Iran's nuclear program on July 14.
Obama thereupon praised Putin for his cooperation—and it was key in getting the deal done.
Lavrov, as Kerry recognizes, is a gifted diplomat.

Two weeks and two days later Treasury names 26 more Russian individuals and companies to its sanctions list.

So far as I can make out, this was entirely out of the blue, in response to nothing.
"Treasury Department officials made no reference to the Iran deal in their announcement, or in a conference call with reporters," the Times reported.
I am sure they did not.
They described the [sanctions] list as a "routine step," The Times added.
I am sure it was not."
AMERICA ADMITTED IT PLAYED A PART IN THE UKRANIAN COUP.


What happened in Kiev was a playbook coup d'état by the CIA.


STEP-BY-STEP, WHAT HAPPENED
2013
Ukrainian President Viktor

Yanukovych

's decision to NOT sign an association agreement with the European Union in late 2013 triggered a mass wave of protests across Ukraine, culminating in the February 2014 coup.

Following the transition of power, Kiev forces launched military operation against those who refused to recognize the legitimacy of the new government.
Victoria Nuland, the Assistant Secretary of State for European Affairs, working with the US Ambassador, were instrumental in carrying out the coup d'état, as it has been proven they were working with "the brown shirts": Svoboda, the right sector, the Bandera Nazis and 'skinheads' .

[SOME of those named have come forward, on their own, and gleefully admitted they took money from America to stage the coup. I guess our Boyz didn't count on that?]
"How can Russia tolerate this gang of Nazis in Kyiv [Kiev] setting up shop right there on the borders of Russia, and being armed, equipped and supplied by NATO?"
Mr. Yanukovych fled to Russia on February 23, 2014, with the help of troops sent by President Putin.
He credits Putin with saving his life.
Yanukovych
took responsibility for the killings in Maidan in February 2014.
"I don't deny my responsibility," he said. But the former president denied he gave the order for government troops to fire on protesters.
"I did not give any orders, that was not my authority... I said publicly I was against the use of force, let alone the use of firearms, I was against bloodshed."

While the Tea Room sees
Yanukovych as a self-serving corrupt elitist,

Yanukovych has been withdrawn from Interpol's "most wanted" list .

[ABSOLUTE POWER CORRUPTS ABSOLUTELY.]
First, Crimea broke away and declared it's no longer a part of Ukraine (it would return to Russia, of which it had been a part from 1783-1954, almost its entire modern existence); and, then, starting on May 9th of 2014, a Ukrainian civil war broke out

when the U.S.-installed Government actually invaded the regions (other than Crimea) that rejected it

; and the United States oversaw and sent even more mercenaries in.
Ukraine has a population that is roughly one-third Russian-speaking Russians.
According to the United Nations General Assembly Declaration of Principles of International Law and under the terms of the United Nations Charter, effectively, the Russia population have a right to secede from Ukraine.

Directly quoting the U.N.'s own document on that...
"if a government does not conduct themselves in compliance with the principle of equal rights and self-determination of peoples and possess a government representing the whole people, belonging to the territory without distinction as to race, creed or color", then that provides grounds for secession.

When the elected president of the Ukraine was ousted in 2014, the population who wanted to return to Russia, to rejoin the Russian Union rebelled.

Others, not wanting the American-picked leader foisted upon them, also rebelled, and still others who had their own agenda for power took up arms, so, suddenly, all hell broke loose in the Ukraine.

In a February 28, 2014 interview with the Voice of Russia, Harvard Professor Francis Boyle says that there is no real government in Ukraine right now, and called it a gang of neo-Nazis, fascists and rightist thugs. Boyle: "And this is a serious issue between the First and Second World War, when you had collapse of all these empires and the arbitrary creation of nation states, and speakers of one language put into, as a minority, in another state.
So it is a very dangerous step they have taken here. As you know they have also outlawed the Communist Party – that is serious. I don't think legally it is as serious as stripping Russian speakers of their language, in dealing with the state. But even there, Ukraine is a party to the European Convention of Human Rights.
There is a right of association, and political association, and to establish political parties.
I'm not a Communist myself, I'm a political independent, but they certainly have a right to have a Communist Party if they want to, and today we just saw that the leader of the Communist Party in Kiev – they burned his home down.
So, we have a chance that Russians and Communists and Jews should be killed over there.
So it's a very bad sign for maintaining the territorial integrity of Ukraine.

There is clear cut discrimination against Russians in Ukraine with public demands in Kiev that Russians be killed. "

The "rump" Ukranian parliament has moved to remove Russians as an "official" language there.
ALL
of the Ukraine voted in the democratic election that chose Yanukovych.
NO nationwide vote has occurred in Ukraine, throughout that country's expanse, AFTER the American-backed coup.
Neither residents of the Crimea nor in Ukraine's far east (areas near
Sevastopol) were allowed to vote for the murdered Yanukovych's replacement.

That's a LOT of blocked votes.
Boyle:

"But, the United States' government has been overthrowing democratically elected governments since the Mosaddegh Government in Iran and putting the Shah of Iran in power – that was Kermit Roosevelt – and even as he publicly bragged about it in his book Countercoup, and even have a manual in circulation there at the CIA based on this, on how you overthrow governments.
So it seems to me this was a playbook coup d'état by the CIA.
Nuland, the Assistant Secretary of State for European Affairs, working with the US Ambassador, we now have the tape on that.
So this is a classic coup d'état...
And as we know, as of today, Tuesday evening my time, they still don't have a government in Kiev, they can't agree on one.
So, it does appear the Americans favor putting Tymoshenko back in power, because you had that very famous picture of her with Ambassador Pyatt, that was clearly a symbol that she is the American favorite.
Nuland made it clear in that conversation that she does not support Klitschko, and she called him Klits, he is basically a creation of the German government, and Yatsenyuk, he is in there, and Svoboda- they don't support them, they are too far right.
But they made it clear they support Tymoshenko. She is their errand girl, and they want her in power. They figure she is the best 'face', but as Nuland said: she should be talking to Klitschko and the head of Svoboda there, was it four times a week? Or something like that.
Robles:
Yeah, four times a week she said.
Boyle:

So, that is what the Americans want. Whether they'll get it, I don't know.
But I think the neo-Nazis, and the fascists, right sector don't even want her.
So I don't know how all this is going to shake out. And in the meantime, it is extremely dangerous in Kiev and the non-Russian speaking parts for Communists, Jews,Russian speakers. We will have to see what happens, I really don't know."

WHAT WILL HAPPEN?
THIS...
"The experts concluded that should such a coup succeed, the consequences for Russia would be:
— Loss of Sevastopol as the base of the Russian Federation's Black Sea Fleet;
— Purges of Russians in eastern and southern Ukraine, producing a flood of refugees;
— Loss of manufacturing capacities in Kiev, Dnepropetrovsk, Kharkov where
contract work is done for the Russian military;
— Suppression of the Russian speaking population by forcible Ukrainianization;
— The establishment of US and NATO military bases in Ukraine, including in Crimea
and the establishment of training centers for terrorists who would be set upon the
Caucasus, the Volga Basin, and perhaps Siberia.
— Spread of the orchestrated Kiev protests into non-Russian ethnicities in cities of the
Russian Federation.
We must face it, this antagonism has been going on for a long time and Washington is the cause of the conflict, for whatever the real reason is, bruised ego, greed, or just that old need for world dominance, to be "King of the Hill".

Russia was too weak to do anything about it when the Clinton regime pushed NATO to Russia's borders and illegally attacked Yugoslavia, breaking the country into small easily controlled pieces.

Russia was also too weak to do anything about it when the George W. Bush regime withdrew from the ABM treaty and undertook to locate anti-ballistic missile bases on Russia's borders.

Washington lied to Moscow that the purpose of the ABM bases was to protect Europe from non-existent Iranian nuclear ICBMs.

However, Moscow understood that the purpose of the ABM bases was to degrade Russia's nuclear deterrent, thereby enhancing Washington's ability to coerce Russia into agreements that compromise Russian sovereignty.

By summer 2008 Russian power had returned.
On Washington's orders, the US and Israeli trained and equipped Georgian army attacked the breakaway republic of South Ossetia during the early hours of August 8, killing Russian peacekeepers and civilian population. Units of the Russian military instantly responded and within a few hours the American trained and equipped Georgian army was routed and defeated.
Georgia was in Russia's hands again, where the province had resided during the 19th and 20th centuries.
Today the Russian government no longer has any illusion that Europe is capable of an independent foreign policy.
Russian President Vladimir Putin has stated publicly that Russia has learned that diplomacy with Europe is pointless, because European politicians represent Washington's interest, not Europe's.
Foreign Minister Sergei Lavrov recently acknowledged that Europe's Captive Nation status has made it clear to Russia that Russian goodwill gestures are unable to produce diplomatic results.
Every diplomatic effort by Russia has been blocked by Washington and has come to naught. So now Russia has been forced by reality to update its military doctrine. The new doctrine approved on December 26 states that the US and NATO comprise a major military threat to the existence of Russia as a sovereign independent country.
The Russian document cites Washington's war doctrine of pre-emptive nuclear attack, deployment of anti-ballistic missiles, buildup of NATO forces, and intent to deploy weapons in space as clear indications that Washington is preparing to attack Russia.

SAGE OBSERVATION, SPOT-ON.


THE FAKE ATTEMPT AT RECONCILIATION WITH RUSSIA

Between his trips to kiss the rears of Iran's wheelers-and-dealers so they could get their billions back and keep doing what they've been doing, and running back to Saudi Arabia to stroke the monarchs there, old John Kerry had a rather short meeting in Sochi with the fearsome, terrible Russians.

MAY, 2015, FIRST MEETING IN TWO YEARS BETWEEN KERRY AND PUTIN

.Here's photo evidence of that meeting between our 'Lurch' and Vladimir Putin, bottom photo.

You may not want to believe what Kerry is handing the Russian Foreign Minister Sergei Lavrov. TWO, count 'em, TWO Idaho potatoes.
WHY did Kerry offer Idaho spuds?
Why did the chicken cross the road?
Why is there air?
We can assume there are answers to all those questions, but may not yet be 'evolved' enough to hash out every 'why'.

I FOUND THE PHOTOS OFFENSIVE, IN SEVERAL WAYS, SO I WROTE MY OWN CAPTIONS...
"WE'LL TRADE YOU TWO POTATOES FOR GETTING OUT OF SYRIA AND GIVING UP ON THE UKRAINE...GIVE IN TO 'THE FORCE'..."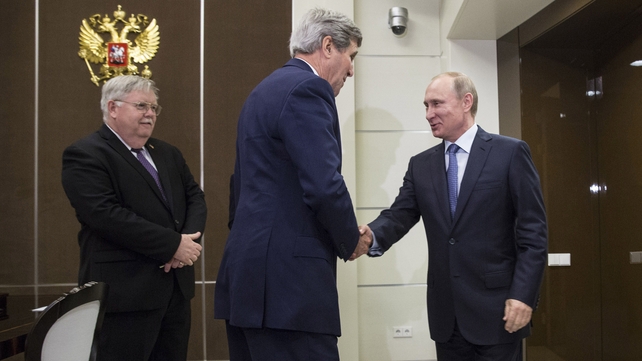 "HIYA, JOHNNY. PLEASE TURN AROUND AND BEND OVER SO I CAN GIVE YOU BACK YOUR POTATOES...RESISTANCE IS FUTILE..."
[ THE TEA ROOM MEANS NO DISRESPECT TO MR. PUTIN, AND NOTHING BUT CONTEMPT FOR "BELIEVE ME, I'M A WAR HERO" KERRY.]

Several major news media carried quite a nice write-up on this visit, but not many here in America.
The Wall Street Journal gave us their spin on it, but who cares what the WSJ writes, really?
Accompanying the photos, one article from Ireland read: "He [Kerry] was talking at a joint briefing with Russian Foreign Minister Sergei Lavrov in the Russian Black Sea resort of Sochi.
"The resort to force by any party at this time would be extremely destructive", he said.
Earlier, Mr. Kerry met President Vladimir Putin to probe Russia's willingness to curb its involvement in Ukraine and its backing of Syrian president Bashar al-Assad.
Mr. Kerry met Russian Foreign Minister Sergei Lavrov for more than four hours before he sat down with Mr Putin, in what was the highest-level US visit to Russia since the Ukrainian crisis began in the autumn of 2013.
While they were expected to discuss issues including the Iran nuclear talks, Yemen and Libya, the trip appeared designed as much to maintain contact as anything else given that US-Russian relations are at their lowest ebb since the Cold War.
"It's important for us to keep these lines of communication open. It's important to try to talk to the senior decision-maker," a senior US State Department official who briefed reporters as Kerry traveled to Russia said.
"We have a lot of business that we could do together if there is interest," said the official, who was speaking anonymously.
Mr Putin's spokesman, Dmitry Peskov, said the meeting was a positive step.
"Through dialogue, it is possible to find ways for a normalisation, closer coordination in dealing with international problems," Mr. Peskov told reporters before the talks began.
However, he added: "Russia was never the initiator of this cooling of relations."
The Foundation for Ethnic Understanding has voiced concerned about Ukrainian minorities, specifically Jews and Muslims, the latter primarily Crimean Tatars.
There are approximately 300,000 Jews and 500,000 Muslims living in the country.
Even the European Union, staunchly behind the coup and the installation of the militant Euromaidan revolutionaries in the Verkhovna Rada, is concerned about the rights of minorities in the country.
"The new Ukrainian government should signal very eloquently to the ethnic minorities in Ukraine that they are welcome in Ukraine; that they are going to be part of the new Ukraine. And also Ukraine is a member of the Council of Europe, [with] its laws on protecting minorities," said Polish Foreign Minister Radoslaw Sikorski after the language law was enacted.
NUCLEAR ARMS RACE BEGINS ANEW
Washington's reckless aggressive policy against Russia has resurrected the nuclear arms race. Russia is developing two new ICBM systems and in 2016 will deploy a weapons system designed to negate the US anti-ballistic missile system.
AMERICA UNDERESTIMATES THE ALLIANCE BETWEEN "THE BEAR AND THE DRAGON"

"As the Western economy is a house of cards, Russia and China could collapse the Western economy before the neoconservatives can drive the world to war.
As the US and EU are conducting economic warfare against Russia, Russia could claim that by wrecking the Russian economy the West had deprived Russia of the ability to repay loans to the Western banks.

If this does not bring down the thinly capitalized EU banks, Russia can announce that as NATO countries are now officially recognized by Russian war doctrine as an enemy of the Russian state, Russia can no longer support NATO's aggression against Russia by selling natural gas to NATO members.

If the shutdown of much of European industry, rapidly rising rates of unemployment, and bank failures do not result in the dissolution of NATO and thus the end of the threat, the Chinese can act.
The Chinese hold a very large amount of dollar-denominated financial assets.
Just as the Federal Reserve's agents, the bullion banks, dump massive shorts onto the bullion futures markets during periods of little activity in order to drive down the bullion price, China can dump the equivalent in US Treasuries of years of Quantitative Easing in a few minutes.
If the Federal Reserve quickly creates dollars with which to purchase the enormous quantity of Treasuries so that the financial house of cards does not implode, the Chinese can then dump the dollars that they are paid for the bonds in the currency market.
Whereas the Federal Reserve can print dollars with which to purchase the Treasuries, the Fed cannot print foreign currencies with which to buy the dollars.

The dollar would collapse, and with it the power of the Hegemon. The war would be over without a shot or missile fired.
Russia and China hold all the cards. Not Washington.

Russia and China should give no warning.

They should just act.
Indeed, instead of step by step, they should just let loose all barrels at once.

With four US banks holding derivatives totaling many times world GDP, the financial explosion would be the equivalent to a nuclear one.
The US would be finished."

When I read the above article, I was initially shocked...but then reality pointed out, if that happened, I'd be living in a ruined nation, an economic wasteland...but then, again...

NO WORLD WAR 3.

I'm just one person...there are over 7 billion others who would be sorely affected by a nuclear war.
The world-wide pollution for any who survived such a nuclear holocaust would simply keep destroying lives until none was left.
NO WORLD WAR 3.__

MAY AMERICAN WARMONGERS UNDERSTAND WHAT THEY'RE DOING WILL ALMOST ASSUREDLY DESTROY THEM AS WELL.

MAY ALL NATIONS UNDERSTAND THE INSANITY OF ANOTHER GLOBAL WAR.
THERE SIMPLY WOULD BE NO "WORLD" TO FIGHT A FOURTH WORLD WAR....





___________________________________

MORE INFO:
~ OUTRIGHT ASSASSINATIONS
US government assassination plots since World War II
Following is a list of prominent foreign individuals whose assassination (or planning for same) the United States has been involved in since the end of the Second World War.
The list does not include several assassinations in various parts of the world carried out by anti-Castro Cubans employed by the CIA and headquartered in the United States.
1949 - Kim Koo, Korean opposition leader
1950s - CIA/Neo-Nazi hit list of numerous political figures in West Germany
1950s - Chou En-lai, Prime minister of China, several attempts on his life
1950s - Sukarno, President of Indonesia
1951 - Kim Il Sung, Premier of North Korea
1950s (mid) - Claro M. Recto, Philippines opposition leader
1955 - Jawaharlal Nehru, Prime Minister of India
1957 - Gamal Abdul Nasser, President of Egypt
1959 - Norodom Sihanouk, leader of Cambodia
1960 - Brig. Gen. Abdul Karim Kassem, leader of Iraq
1950s-70s - José Figueres, President of Costa Rica, two attempts on his life
1961 - Francois "Papa Doc" Duvalier, leader of Haiti
1961 - Patrice Lumumba, Prime Minister of the Congo (Zaire)
1961 - Gen. Rafael Trujillo, leader of Dominican Republic
1963 - Ngo Dinh Diem, President of South Vietnam
1960s - Fidel Castro, President of Cuba, many attempts on his life
1960s - Raúl Castro, high official in government of Cuba
1965 - Francisco Caamaño, Dominican Republic opposition leader
1965-6 - Charles de Gaulle, President of France
1967 - Che Guevara, Cuban leader
1970 - Salvador Allende, President of Chile
1970 - Gen. Rene Schneider, Commander-in-Chief of Army, Chile
1970s, 1981 - General Omar Torrijos, leader of Panama
1972 - General Manuel Noriega, Chief of Panama Intelligence
1975 - Mobutu Sese Seko, President of Zaire
1976 - Michael Manley, Prime Minister of Jamaica
1980-1986 - Muammar Qaddafi, leader of Libya, several plots and attempts upon his life
1982 - Ayatollah Khomeini, leader of Iran
1983 - Gen. Ahmed Dlimi, Moroccan Army commander
1983 - Miguel d'Escoto, Foreign Minister of Nicaragua
1984 - The nine commandants of the Sandinista National Directorate
1985 - Sheikh Mohammed Hussein Fadlallah, Lebanese Shiite leader (80 people killed in the attempt)
1991 - Saddam Hussein, leader of Iraq

~AMERICAN COVERT INTERFERENCE IN OTHER NATIONS
Killing Hope - excerpts from introduction to Original Edition
Angola 1975-1980s

Brazil 1961-1964

Cambodia 1955-1973

Chile 1964-1973

Congo 1960-1964

Cuba 1959-1980s

Dominican Republic 1960-1966
East Timor 1975
El Salvador 1980-1994

Greece 1964-1974
Grenada 1979-1984

Guatemala 1953-1954

Guatemala 1962-1980s
Haiti 1986-1994

Indonesia 1957-1958
Indonesia 1965

Iran 1953

Laos 1957-1973

Nicaragua 1981-1990

Uruguay 1964-1970

Zaire 1975-1978
Angola 1975 to 1980s
Bulgaria 1990 / Albania 1991

Cuba 1959-1980s

Ecuador 1960-1963
Haiti 1986-1994

Indonesia 1957-1958
Iraq 1990-1991

Italy 1947-1948

Uruguay 1964-1970

~ AMERICAN EX-PATS IN RUSSIA WANT TO EDUCATE YOU ON REALITY
http://russia-insider.com/en/about
You decide how to 'take it'...or leave it.

~ http://williamblum.org/

~Blum articles at 'Foreign Policy Journal':
http://www.foreignpolicyjournal.com/author/william-blum/
Don't tell my mother I work at the State Department. She thinks I play the piano in a whore house.
~
"Neocon Ideologues are Pushing the World toward Destruction"
Washington is determined that Putin and Russia will not be permitted any appearance of success in any area, whether diplomacy, sports, or human rights.
~
Stephen F. Cohen accurately describes US media coverage of Russia as a "tsunami of shamefully and unprofessional and politically inflammatory articles."


~ HURTFUL OBSERVATIONS...BUT QUITE A BIT OF TRUTH
~Pentagon Concludes America Not Safe Unless It Conquers The World
~Rule By The Corporations: who needs governments?
~http://www.washingtonsblog.com/2015/02/new-video-evidence-americas-coup-ukraine-means.html
~
Moscow is not going to comply with any ceasefire in Syria that spares homicidal jihadists or undermines UN resolution 2254. Russian military operations are going to continue until ISIS, al Nusra and the other terrorist militias are defeated.
BELOW ARE FROM THE CONGRESSIONAL RECORD....THERE IS NOT ONE THING AN AMERICAN CITIZEN CAN'T FIND THAT PASSED THROUGH THE SENATE AND WENT INTO THE RECORD.
IT IS A WEALTH OF FACTS.

~ S. Res. 96, commend Russian opposition efforts, express
condolences for death, condemn and call for investigation of
murder of Boris Nemtsov, and add recommended names to visa ban
list for Russian human rights violators, S1307 [4MR]

~Power resources: report on energy security issues involving
Europe and Russia and propose ways to help vulnerable allies
and partners with energy security, S3659, S3661 [3JN], S3905-
S3907 [9JN]

--condemn attacks by Russian backed rebels on civilian
population in Mariupol, impose sanctions and urge Russia to
disengage, and provide lethal and non-lethal military
assistance to Ukraine (S. Res. 72), S1831 [24MR]




RE: STUPID FORMATTING ISSUES
YES, FORMATTING BY GOOGLE BLOGS IS EVIDENTLY STILL AN ISSUE, I KNOW, I KNOW!

FOR THIS ENTRY I PUT EVERYTHING INTO A WORD DOC, USED A NEW FONT, MADE IT ALL PERFECTLY WONDERFUL TO LOOK AT...THEN, COPIED AND PASTED HERE, IT STILL TOOK ON THE FORM YOU SEE ABOVE.

ODD SPACING, DIFFERENT FONTS, DIFFERENT SIZES OF TEXT...

ALL WHO READ HERE AND ARE FRUSTRATED BY THE TINY LINES FOLLOWED BY NORMAL ONES CAN'T BE AS FRUSTRATED AS I AM.

AS I HAVE SAID A BAZILLION TIMES, I AM A LOW-TECH BLOGGER.

I HAVE NEITHER THE KNOWLEDGE NOR THE WILL TO MAKE GOOGLE COMPLY WITH HOW I TYPE A BLOG.

WE EITHER PUT UP WITH IT, OBVIOUSLY, OR JUST GIVE UP.

I NEVER, EVER GIVE UP....

AGAIN, ANYONE WITH SUPERIOR KNOWLEDGE ON FORMAT ISSUES, FEEL FREE TO LEAVE A COMMENT.

THANKS, ALL, FOR TRYING TO READ HERE...SORRY IT'S A CHORE...