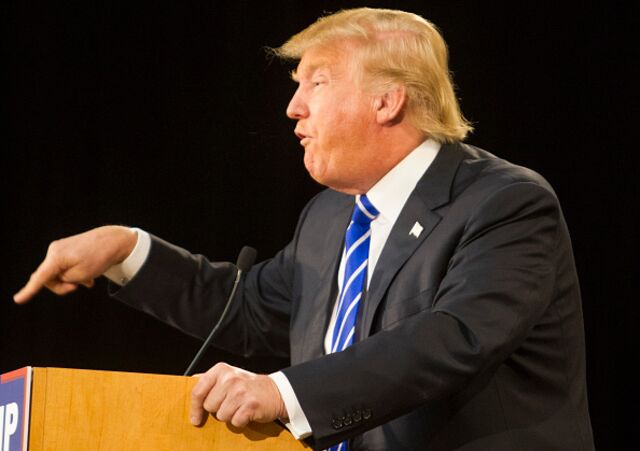 HONESTLY, AMERICA, DO WE REALLY WANT TO LOOK AT EITHER OF THESE GUYS FOR 4 YEARS?

OR CLINTON, OR BERNIE?

IS EVEN ONE OF THE FOUR QUALIFIED TO LEAD THE UNITED STATES OF AMERICA?
I DON'T SEE HOW...

A LOOK AT REPUBLICAN VOTER NUMBERS SHOW US THIS FACT...THE GREAT MAJORITY WANT NEITHER TRUMP, WHO JUST MAY BE CERTIFIABLY NUTS, OR CRUZ WHO IS A NATURALIZED-BY-BIRTH AMERICAN, NOT A NATURAL BORN ONE, AND SO NOT QUALIFIED TO BE PRESIDENT, EVEN IF THE MAJORITY OF THE GOP WANTED HIM.
AND THEY DON'T.

WATCHING THE NEWS FROM THE NATION'S PRIMARIES CAN CAUSE NAUSEA AND RIOTOUS LAUGHTER...BUT, HEY, AMERICANS LOVE TO BE ENTERTAINED, RIGHT?
POOR 'JEB' BUSH DROPPED OUT TODAY, SAYING HE HARDLY RECOGNIZES THE GOP ANYMORE, THAT THE REPUBLICAN PARTY IS BASICALLY A MESS.
HE'S RIGHT.THE TEA ROOM SURELY CALLED IT WRONG WHEN I SAID JEB-BOY WAS A SHOO-IN.
BUT THERE IS NO REAL GOP "WINNER".
WHEN I SEE THE ANNOUNCEMENTS OF THE REPUBLICAN "WINNER" I HAVE TO LAUGH, BUT WHEN I THINK OF EITHER AS PRESIDENT, I JUST GET SICK.
I LAUGH BECAUSE THEY FAIL TO POINT OUT THAT EVEN THE "WINNER" IS A LOSER.
NO REPUBLICAN CANDIDATE HAS WON EVEN 40% OF THE GOP VOTES IN ANY PRIMARY/CAUCUS.
THE BEST TRUMP HAS MUSTERED WAS A LOUSY 35.3% OF VOTES IN NEW HAMPSHIRE, MEANING ALMOST 65% VOTED AGAINST TRUMP.
IN IOWA, TRUMP WAS 2nd PLACE AT 24.3%, COMPARED TO AN EQUALLY SHODDY SHOWING BY CRUDE, I MEAN CRUZ, WHO GOT A WHOPPING...27.6%.
WOO-HOO!
IN IOWA, THAT MEANT THAT ALMOST HALF WHO VOTED WOULD NOT VOTE FOR EITHER TRUMP OR CRUZ, AND 75.7% VOTED AGAINST TRUMP.
IN SOUTH CAROLINA, YET AGAIN,
THE TWO TOP REPUBLICANS COMBINED BARELY GOT HALF THE GOP VOTES.
TRUMP GOT ANOTHER LOW NUMBER, ONLY 32.5% OF THE VOTE.
ON THE OTHER HAND (THE DEMOCRATIC "LEFT" ONE) WE SEE BOTH CLINTON AND SANDERS GETTING HALF OR MORE OF THE PRIMARY STATES' VOTES, WHICHEVER IS THE DECLARED "WINNER.
AT THE LOWEST END
OF DEMOCRATIC "WINNERS", IT WAS A CLOSE SPLIT OF 49.9% FOR CLINTON AND 49.6% FOR SANDERS IN IOWA.
THE 'DEMS' ARE FAR MORE CERTAIN THEY WANT ONE OF THOSE CANDIDATES THAN THE 'PUBLICANS ARE OF WHO THEY WANT.
BUT HAVE THE DEMS CONSIDERED WHAT MAY YET HAPPEN TO HILLARY ABOUT THAT EMAIL FIASCO?
WOULD WE CALL HER HUBBY, "SLICK WILLY", 'FIRST GENTLEMAN' IF SHE GOT ELECTED?
PERISH THE THOUGHT!

HAVE THEY REALIZED THAT SANDERS IS A TRULY DEDICATED SOCIALIST AND HE'S 74 YEARS OLD?MALE LIFE EXPECTANCY IN THE U.S. IS ONLY 76 YEARS.
WHAT WILL ALL THAT MEAN IN THE 'GENERAL ELECTION"?

WITH TWO-THIRDS OF GOP VOTERS NOT VOTING FOR TRUMP NOW, HOW MANY CAN BE COUNTED ON TO BOTHER TO GO VOTE FOR HIM IN THE GENERAL ELECTION?
A THIRD OF REGISTERED GOP VOTERS?

IF GOP VOTERS STAY HOME, CLINTON WILL CERTAINLY WIN, RIGHT?
Anyone can do the math...about two-thirds of GOP folks just don't want Trump.
Wise decision, until we look at Crude, I mean Cruz.
Is he any better?
A LOOK BACK AT HIS FOOT-IN-MOUTH MOMENTS SAYS NO.
He publicly pushed for the repeal of a federal law that doesn't exist.

Read more at: http://www.forwardprogressives.com/top-10-most-embarrassing-ted-cruz-moments/
He publicly pushed for the repeal of a federal law that doesn't exist.

Read more at: http://www.forwardprogressives.com/top-10-most-embarrassing-ted-cruz-moments/
He publicly pushed for the repeal of a federal law that doesn't exist.

And, honestly, like Trump has asked, is Cruz REALLY a "natural-born American"?
Well, if he is, then even if Obama had been born on the MOON, he'd be just as natural a citizen, so when Cruz is ruled qualified to serve,
the GOP will HAVE to eat crow about all those years of "birther comments" about Obama and Kenya.

IT WAS THE PARTY ITSELF WHO HANDED TRUMP THE BIRTHER AMMO TO FIRE AT CRUZ.
Cruz' dad was one of those "illegal aliens", on the lam out of Cuba
after fighting alongside Castro's forces
, and sought political asylum in the U.S. back during America's "We REALLY hate Castro" days.
The dad went on to Canada,
became
a citizen there, and returned alone to America but didn't become a U.S. citizen until 2005.
Cruz WAS a bonafide Canadian citizen up until 2014, remember?
Dual citizenship right up until 2 years ago.

FOR A CANADIAN IMMIGRANT, SON OF AN "ILLEGAL IMMIGRANT", OLD TEDDY'S STANCE ON IMMIGRATION REFORM WAS INITIALLY QUITE HYPOCRITICAL, YES?

THEN HE "CHANGED HIS MIND"...AS IF HE HAS ONE OF THOSE.
His REAL name isn't TED, or even Theodore...so why doesn't he use his LEGAL name, Rafael Edward?
Nothing wrong with that name.
AS THE WASHINGTON POST POINTED OUT WHEN IT DECLARED CRUZ WAS INELIGIBLE TO RUN FOR PRESIDENT:
"Cruz was NOT "NATURAL BORN" but was NATURALIZED at birth.
This provision has not always been available.
For example,
there were several decades in the 19th century when children of Americans born abroad were not given automatic naturalization.
Article I of the Constitution grants Congress the power to

naturalize

an alien
— that is, Congress may remove an alien's legal disabilities, such as not being allowed to vote.
But Article II of the Constitution expressly adopts the legal status of the natural-born citizen and requires that a president possess that status.
However we feel about allowing naturalized immigrants to reach for the stars,
the Constitution must be amended before one of them can attain the office of president. Congress simply does not have the power to convert someone born outside the United States into a natural-born citizen.
Let me be clear: I am not a so-called birther.
I am a legal historian.
President Obama is without question eligible for the office he serves.
The distinction between the president and Cruz is simple:
The president was born within the United States (in Hawaii), and the senator was born outside of it (in Canada).
That is a distinction with a difference.
[IF THIS IS TRUE, PROVEN, THEN GEORGE ROMNEY, BORN IN MEXICO, JOHN MCCAIN, BORN IN PANAMA, AND BARRY GOLDWATER, BORN IN ARIZONA BEFORE IT WAS A STATE, WERE ALSO INVALID CANDIDATES FOR PRESIDENT.]
In this election cycle, numerous pundits have declared that Cruz is eligible to be president.
They rely on a supposed consensus among legal experts.
This notion appears to emanate largely from a recent comment in the
Harvard Law Review Forum
by former solicitors general Neal Katyal and Paul Clement.

In trying to put the question of who is a natural-born citizen to rest, however, the authors misunderstand, misapply and ignore the relevant law.
First, although Katyal and Clement correctly declare that the Supreme Court has recognized that common law is
useful
to explain constitutional terms,
they ignore that law
.
Instead, they rely on three radical 18th-century
British
statutes.
While it is understandable for a
layperson
to make such a mistake,
it is unforgivable for two lawyers of such experience to equate the common law with statutory law.
The common law was unequivocal:
Natural-born subjects had to be born in English territory.
The then-new statutes were a revolutionary
departure from that law.
Second, the authors appropriately ask the question
whether the Constitution includes the common-law definition or the statutory approach.
But they fail to examine any U.S. sources for the answer.
Instead, Katyal and Clement refer to the brand-new British
statutes
as part of a "longstanding tradition" and conclude that the framers followed that law because they "would have been intimately familiar with these
statutes
."
But when one
reviews all the relevant American writings of the early period
,
including congressional debates, well-respected treatises and Supreme Court precedent, it becomes clear that the common-law definition was accepted in the United States,
not the newfangled British statutory approach.
Third, Katyal and Clement put much weight on the first U.S. naturalization statute,
enacted in 1790
.
Because it contains the phrase "natural born," they
infer
that such citizens must include children born abroad to American parents.
The first Congress, however, had no such intent
.
The debates on the matter reveal that
the congressmen were aware that such children were not citizens and had to be naturalized;
hence, Congress enacted a
statute t
o provide for them.
Moreover, that statute did
not
say the children were natural born,
only that they should "be considered as" such.
Finally, as soon as Madison, then a member of Congress, was assigned to redraft the statute in 1795, he deleted the phrase "natural born," and it has never reappeared in a naturalization statute.
When discussing the meaning of a constitutional term, it is important to go
beyond
secondary sources and
look to the law itself
.
And on this issue, the law is clear
:
The framers of the Constitution required the president of the United States to be born in the United States."
I FIND ALL OF THIS SO IRONIC.
THE GOP HAS GROUND ON THE BIRTHER ISSUE AS REGARDS OBAMA FOR OVER 8 YEARS, HAS STATED AGAIN AND AGAIN THAT IF HE WAS BORN IN A FOREIGN COUNTRY THEN HE WAS NOT A NATURAL BORN CITIZEN.

BUT NOW, NOW THAT ONE OF THEIR OWN WAS DEFINITELY BORN IN ANOTHER COUNTRY, NOW IT'S CERTAIN THAT HE'S A NATURAL BORN RATHER THAN A NATURALIZED-BY-BIRTH CITIZEN?
I'D LAUGH IF THE GOP WASN'T BEING SO BLATANTLY HYPOCRITICAL!
Politifact has also looked into the "birther issue" that Teddy has and didn't make a call on it.
"What does it mean to be a "natural born citizen"?
The Supreme Court's silence hasn't clarified the issue at all...
The reason a question still remains even after George Romney, Goldwater and McCain is because
the Supreme Court — the ultimate arbiter of constitutional questions — has never directly ruled on the citizenship provision for presidential office holders.
And that means a note of uncertainty remains.
Several citizens filed lawsuits asking the court to rule on whether McCain was a natural born citizen
early in 2008
,
but the legal challenges didn't go anywhere.
"We know from the McCain lawsuits,
courts don't want to touch this,
" said Sarah Duggin, a professor of law at Catholic University who has researched this issue extensively.
"It very well may be that the courts would refuse to go near this. There are so many issues."
Partly, Duggin said, citizens who triggered the lawsuits in the past don't have standing to sue.
But courts may be FORCED to weigh in if one of two things occur:
(1)A state, citing Cruz's Canadian birthplace, tries to exclude him from the ballot; or

(2) another presidential candidate challenges Cruz's eligibility.
While others who questioned Obama's birthplace have been silent on Cruz, Trump, a fellow Republican, has not.
"It's a hurdle.
Somebody could certainly look at it very seriously," Trump told a New York news outlet.
"He
was
born
in Canada
. If you know and when we all studied our history lessons, you are supposed to be born
in this country
, so I just don't know how the courts will rule on this."
DOES ANYONE DOUBT FOR ONE SECOND THAT TRUMP WILL FILE SUCH A LEGAL CHALLENGE?

OF COURSE HE WILL, IF CRUZ STARTS LOOKING LIKE THE "WINNER" OF THE GOP NOMINATION.
THE GOP HAS SHOT ITSELF IN THE FOOT.
FIRST, IT ALIENATED THE BLACKS AND LATINOS WITH ITS DESPERATE ATTEMPTS TO KEEP THEM FROM VOTING AND TO KEEP LATINOS OUT OF AMERICA.

THEN, IT ALIENATED OLDER AMERICANS AND THE MILITARY WITH ALL ITS PROPOSED CUTS TO MEDICARE AND VETERANS' HEALTH SERVICES.
BOTH THOSE GROUPS WERE ALSO NEGATIVELY AFFECTED BY CUTS TO SUPPLEMENTAL FOOD SERVICES.
MANY MILITARY FAMILIES, DISABLED INDIVIDUALS AND OLDER AMERICANS COUNTED ON "FOOD STAMPS" OUT OF NECESSITY.

NEXT, IT MOVED ON TO THE CURRENT "CLASS WAR", THE ELITISTS OF THE GOP AGAINST MIDDLE-CLASS AMERICANS AND THE POOR.

ITS "LET'S SCREW-OVER AMERICAN WORKERS AND CREATE TAX AND OTHER LOOPHOLES FOR BIG BUSINESSES WHO WANT TO MOVE OUTSIDE THE U.S." JUST DOES NOT SIT WELL WITH "WORKING STIFFS" AND OVERBURDENED TAXPAYERS.
DITTO FOR ITS FIGHT AGAINST A HIGHER MINIMUM WAGE.
A FAIRLY 'SCATHING' ARTICLE IN THE ATLANTIC SHOULD HAVE ANGERED 'TOP DOG' REPUBLICANS, AND THE 'MIDDLE CLASS' THE ARTICLE DESCRIBES IN GREAT DETAIL, TO THE POINT OF BOTH SECTS FORMING A LYNCH MOB.
"Half of Trump's supporters within the GOP had stopped their education at or before high-school graduation, according to the polling firm YouGov. Only 19 percent had a college or post-college degree. Thirty-eight percent earned less than $50,000. Only 11 percent earned more than $100,000.
Sixty-three percent of Trump supporters wished to end birthright citizenship for the children of illegal immigrants born on U.S. soil—a dozen points higher than the norm for all Republicans.
Trump promised to protect these voters' pensions from their own party's austerity. "We've got Social Security that's going to be destroyed if somebody like me doesn't bring money into the country. All these other people want to cut the hell out of it. I'm not going to cut it at all; I'm going to bring money in, and we're going to save it."
He promised to protect their children from being drawn into another war in the Middle East, this time in Syria. "If we're going to have World War III," he told
The Washington Post
in October, "it's not going to be over Syria." As for the politicians threatening to shoot down the Russian jets flying missions in Syria, "I won't even call them hawks. I call them the fools."
He promised a campaign independent of the influences of money that had swayed so many Republican races of the past. "I will tell you that our system is broken. I gave to many people. Before this, before two months ago, I was a businessman. I give to everybody. When they call, I give. And you know what? When I need something from them, two years later, three years later, I call them. They are there for me. And that's a broken system."
He promised above all to protect their wages from being undercut by Republican immigration policy.
Trump has...thrown into disarray the party's post-2012 comeback strategy, and pulled into the center of national discussion issues and constituencies long relegated to the margins.
Something has changed in American politics since the Great Recession. The old slogans ring hollow. The insurgent candidates are less absurd, the orthodox candidates more vulnerable.
The GOP donor elite planned a dynastic restoration in 2016. Instead, it triggered an internal class war.
Yet even if the Republican donor elite can keep control of the party while doubling down, it's doubtful that the tactic can ultimately win presidential elections.

The "change nothing but immigration" advice was a self-flattering fantasy from the start. Immigration is not the main reason Republican presidential candidates lose so badly among Latino and Asian American voters, and never was..."

--
WELL, IT JUST DRAGS ON AND ON, THAT ARTICLE, SO GO READ IT IF YOU'D LIKE, BUT IT IS A WICKEDLY NEGATIVE LOOK AT THE GOP.

As we have to begin looking at the general election, that mythical "popular vote" that is negated by the electoral college, we can either be brutally honest or lie to ourselves some more.

Our political system is broken.
Our American common sense is non-functional, obviously.

We seem to keep voting the same way and doing the same things over and over, hoping for a different outcome.
That's one 'definition' of insanity, you know.

We keep choosing from a very small circle of "candidates", all from that "top rung of the social ladder", from those who move in a really small, tightly knit social strata called the "Top 2%".

We keep choosing presidential candidates who have already BOUGHT their way into office at some level of federal or state government.

ALL politicians are crooks and liars.
It's obvious when you look at their voting records and at who contributes most to their campaigns who also get 'political favors' in return, just as Trump admitted he got because he donated heavily to politicians.

Has ANY politician kept a campaign promise?

THEY CAN'T!

ONE senator, representative, governor or president can't change anything by himself or herself alone.

Politicians SAY they'll make changes, but HAVE THEY?

NO, America, NO, they lie, and though they get caught lying, people vote for them again and again.

CONGRESSMEN do NOT vote "the will of the people", just the will of the people who PAID FOR THEIR WIN.

SO, LET'S WATCH WHAT HAPPENS AGAIN THIS ELECTION YEAR...

NOT THAT OUT VOTES ACTUALLY COUNT SINCE THE FOUNDING FATHERS LONG AGO DECIDED MOST AMERICANS WERE TOO DUMB TO CAST AN "INFORMED BALLOT".


AND WE'VE ACCEPTED THAT FOR OVER 200 YEARS NOW!
WE PROVED THEIR POINT...WE'RE TOO DUMB TO DEMAND AN END TO THE GOOD OLD ELECTORAL COLLEGE.
LOOK AT THE MAP BELOW...THOSE NUMBERS TELL US HOW MOST STATES' ELECTORAL VOTES ARE CANCELLED BY THE STATES WITH MORE ELECTORAL VOTES.

LOOK AT THE DISTRICT OF COLUMBIA...NOT EVEN A STATE, BUT IT GETS THE SAME AMOUNT OF ELECTORAL VOTES AS 7 ACTUAL STATES GET.

AND TINY HAWAII GETS ONE MORE THAN ALL OF THOSE STATES.
IT'S A RIGGED SYSTEM...IT WORKS AGAINST THE WILL OF THE PEOPLE.
BUT, ONCE AGAIN, AMERICANS WILL BOW TO THE WILL OF THE FEW AND ELECT THE DARLING WHO HAD ENOUGH BIG DONATIONS TO LITERALLY BUY THE ELECTORAL COLLEGE AND THE WHITE HOUSE.



.WE DESERVE WHAT WE GET... WE HAVE NEVER FOUGHT FOR BETTER.
WE ARE CONTENT TO BE SERFS IN A FEUDAL, TWO-PARTY SYSTEM THAT IS CONTROLLED ENTIRELY BY THE TOP 2% WHO FINANCE "WINNERS".

AMERICAN VOTERS NEVER WIN...WE ARE THE LOSERS EVERY TIME.


WHEN THINGS JUST GET WORSE, NO MATTER WHO GETS "ELECTED", MOST AMERICANS WON'T LEARN ONE BLOODY THING, WILL JUST REBOOT AND GO THE SAME ROUTE NEXT TIME...UNTIL THE FALL OF "NEW ROME".