WHO HASN'T NOTICED BOTH THE HIGHER COST OF FOOD AND NON-FOOD ITEMS AND THE SUDDEN REDUCTION IN THE CHOICES WE HAVE TODAY IN THE MARKET?

WITH THE PRICE OF CRUDE OIL DOWN, WITH REPORTS OF "BUMPER CROPS", WITH GRAIN PRODUCTION AT A PEAK, ONE MIGHT THINK, HOPE, THAT SINCE IT COSTS LESS TO TRANSPORT FOOD TO US AND MORE IS BEING GROWN THAN FARMERS CAN SELL, WE'D CATCH A BREAK AT CHECKOUT.

THE OPPOSITE IS TRUE!
BLOOMBERG SPILLED THE BEANS ABOUT HOW MUCH FOOD IS OUT THERE,
HOW LITTLE FARMERS ARE GETTING FOR IT, BUT FAILED TO EXPLAIN THE COST OF FOOD TO CONSUMERS.
"The UN data showed high global production and cheaper crude oil led to declines across the five commodities surveyed, with sugar and dairy prices down over 30 percent year-to-year, and meat, cereals, and oils at least 15 percent cheaper.
Meanwhile, of the corresponding categories in the U.S. consumer price index, only dairy is giving shoppers some relief on a year-over-year basis, driven by a 7.4 percent drop in milk amid a global surplus.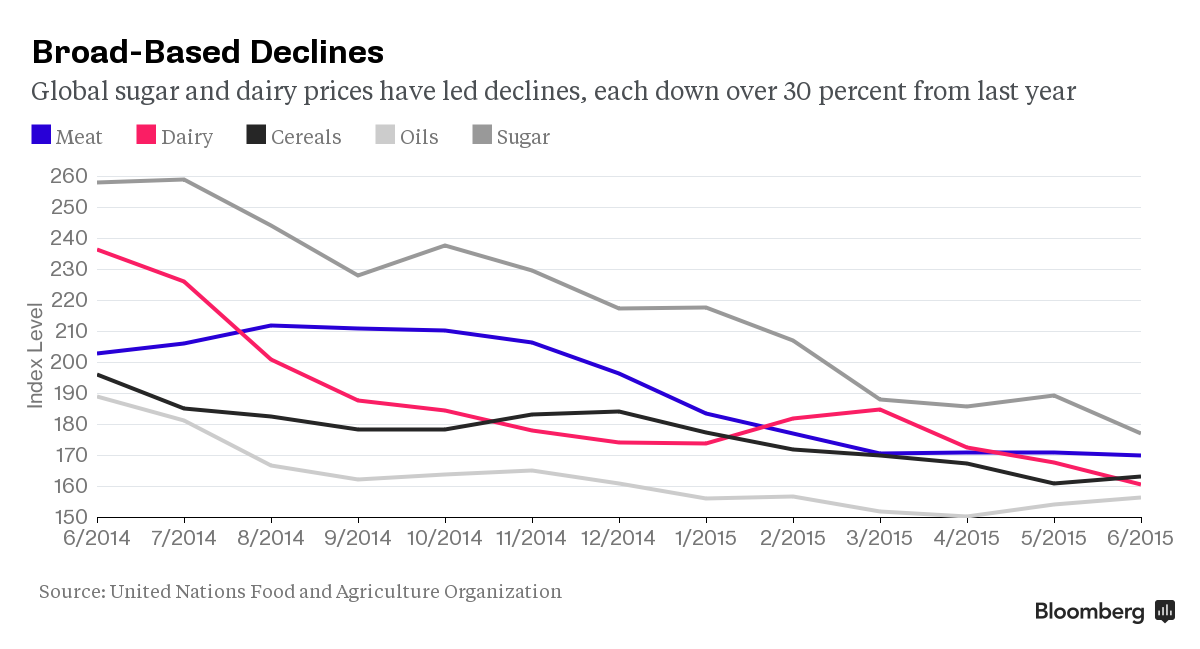 So while falling agricultural commodity prices around the world might not be cutting U.S. consumers much of a break, the decline could be good news for shoppers in less developed countries where food goes through fewer processes and is purchased in closer-to-raw forms."
WHAT???
THAT'S JUST CRAZY!
THAT'S JUST A LAME EXCUSE!
JUST SAY THE "MIDDLE MEN HAVE DECIDED TO SCREW AMERICAN CONSUMERS!"
AND BLOOMBERG IS WRONG ON WHAT A NICE BREAK POOR NATIONS ARE GETTING!
THE SAME SKYROCKETING FOOD PRICES IS A GLOBAL PHENOMENON.
EVERY NATION IS FEELING THE PINCH, IT SEEMS.
Corn and wheat, in particular, contributed to the rise as each increased 12% and 18% worldwide THIS year, respectively.
Economists say that the increases come despite bumper crops in 2013 and "continued projections of record grain harvests and stronger stocks expected for 2014," according to
Business Insider
.
This sizable shift in food prices is worrying as it recalls the food crises days of 2012, though the numbers are still a far cry from the shortages experienced in that year, or in past food crises, such as the one which occurred in 2008.
The World Bank cautions that "such a steep price increase has not occurred since the months leading to the historical peak in the summer of 2012,"
BUT HOW TO EXPLAIN THE STEADY INCREASE IN FOOD PRICES THAT BEGAN IN 2005 AND HAVE CONTINUED FOR A DECADE...NO MATTER WHAT THE ECONOMY OR OIL PRICES OR CROP PRODUCTION DID?
OIL PRICES, AND THEREFORE GAS AND DIESEL PRICES, HIT RECORD LOWS THIS YEAR!
BUT WE ALL HAVE TO EAT, AND THAT'S WHERE WE GET NAILED!



According to the Bureau of Labor Statistics, the average American spends about 10% of their annual income on food, but most other countries spend more!
A citizen in Indonesia, for instance, spends almost 50% of their income on food, an average 43% of every cent earned.

Workers in Azerbaijan also see almost half of their take-home pay go for food, according to the USDA Economic Research Service's Food Expenditures report

.




HOW CAN PEOPLE AFFORD NUTRITIOUS FOOD IF THIS KEEPS UP?





SOME HAVE OUTRIGHT LIED TO EXPLAIN RISING FOOD PRICES!





THOSE WHO HAVE BLAMED IT ON AN "INCREASINGLY EMPLOYED, GROWING MIDDLE CLASS ABLE TO AFFORD MORE FOOD" SIMPLY LIED.





UNEMPLOYMENT IS UP, GLOBALLY

, AND JOBS THAT DO EXIST DO NOT PAY ENOUGH TO EXPLAIN A SUDDEN RISE IN DEMAND.


ESPECIALLY IN THE U.S. AND OTHER INDUSTRIALIZED NATIONS, WAGES JUST HAVE NOT KEPT UP WITH EVER-INCREASING PRICES.




THAT STUPID EXPLANATION IS JUST "BS".

Unemployment rate:

8.4% (2013 est.)

7.5% (2012 est.)

Note:

30% combined unemployment and underemployment in many non-industrialized countries; developed countries typically 4%-12% unemployment.

[Source:

CIA World Factbook

- This page was last updated on June 30, 2015]

EVEN THE DETERMINED LIARS AT THE WORLD BANK OFFERED STATS THAT CONTRADICT THAT "PEOPLE CAN AFFORD MORE FOOD AND MORE ARE EMPLOYED" BALONEY!

ANYONE CAN GO SEE THE GROWING NUMBERS OF PEOPLE LIVING BELOW THE "POVERTY LINE" HERE AND IN OTHER NATIONS AROUND THE GLOBE...ALL HAVE STEADILY RISEN SINCE 2004! http://www.indexmundi.com/g/g.aspx?v=69&c=us&l=en IN AMERICA THE INCREASE IN POVERTY WAS FROM A 12% INCREASE IN 2004 TO OVER 15% IN 2010.

AND IN ANOTHER BLOG HERE, WE SAW THAT FAR TOO MANY AMERICANS JUST DON'T MAKE A "LIVING WAGE", HAVE NOTHING LEFT FOR "EXTRAS" AND HAVE TO CUT BACK ON EVERYTHING!

IN THE U.K., ANOTHER "WEALTHY" NATION, THE NUMBERS OF THOSE BELOW POVERTY LEVEL HAS INCREASED STEADILY SINCE 2006 AND STANDS AT OVER 16%.



SO IT'S NOT OIL PRICES, IT'S NOT HIGHER DEMAND BECAUSE THE WHOLE WORLD HAS MORE MONEY TO SPEND ON FOOD.



WHAT'S THE NEXT REASON GIVEN? FOR THE U.S., THE LOSS OF CHEAP LABOR, ILLEGAL IMMIGRANT WORKERS IS MENTIONED BY MANY.


IF THAT'S TRUE, THEN THAT MEANS THERE ARE MANY, MANY MORE JOBS FOR "AMERICANS", RIGHT?
WITH UNEMPLOYMENT RATES, WOULDN'T IT MAKE SENSE THAT "AMERICANS" WERE RUSHING TO GRAB THOSE JOBS, ANY JOBS?
WITH SO MANY YOUNG PEOPLE LEAVING COLLEGE, UNABLE TO FIND WORK,
WOULDN'T AT LEAST SOME OF THEM TAKE THOSE JOBS?
NO?
NO, NO THEY DON'T WANT FARM JOBS.

IF NOT, WHAT DOES THAT TELL US?


THAT IT WAS A LIE THAT THOSE ILLEGALS WERE ROBBING AMERICANS OF JOBS, RIGHT?
WELL, WERE THEY OR NOT?
IF THEY WERE, ONCE WE CLEARED HUNDREDS OF THOUSANDS OF JOBS FOR AMERICANS TO STEP INTO, THEN HUNDREDS OF THOUSANDS OF AMERICANS WENT TO WORK THE NEXT DAY, DIDN'T THEY?
ASK AMERICAN GROWERS!
THEY CAN'T FIND AMERICANS WHO WANT TO WORK FARMS!
WHY BLAME THE LACK OF ILLEGAL FARM WORKERS FOR HIGHER FOOD PRICES IF AMERICANS GOT THOSE JOBS?

DIDN'T AMERICANS WANT THOSE JOBS PLANTING AND HARVESTING OUR FOOD?

SHOULD WE BELIEVE THAT AMERICANS DON'T WANT TO GET OUT THERE AND DO WHAT ILLEGALS WERE DOING?
LOOKS THAT WAY!
A March, 2014 report
released by the Partnership for a New American Economy and the Agriculture Coalition for Immigration Reform found that "labor challenges faced by U.S. farmers and the inadequacies of the H2-A visa program are a key reason why American farmers have been unable to maintain their share of the domestic market. Labor alone can explain as much as $3.3 billion in missed GDP growth in 2012," the report reads, adding that labor shortages have resulted in $1.4 billion in unrealized farm income for 2014 alone.

Timothy Richards, a professor of agribusiness at Arizona State University adds that labor shortages work in tandem with other factors to create a difficult environment for farming. "It's like a perfect storm," he said,
per CNBC
. "We don't have enough water or enough workers to pick crops.
So much food is left in the fields
. It's just adding to the woes."
HOLD ON!
SO MUCH FOOD WAS GROWN THEY HAD TO LET SOME ROT IN THE FIELDS?
I THOUGHT DROUGHT WAS BEING BLAMED FOR LESS FOOD GROWN!

DROUGHT...LET'S BLAME DROUGHT, SAY SOME "EXPERTS".
NOPE. STATES WITH DROUGHT PROBLEMS STILL RAISED BUMPER CROPS.

FROM CALIFORNIA, HARDEST HIT BY DROUGHT.
"
Despite the severity of the drought and California's dominant market shares in many foods – especially fruits, vegetables and tree nuts – consumers saw only small food price effects last year and are unlikely to notice much price impact in 2015. "
GO DO A GOOGLE SEARCH AND USE THE SEARCH TERM "

BUMPER CROP 2015

".
YOU'LL FIND FARMERS ALL OVER AMERICA BRAGGING ABOUT BUMPER CROPS OF EVERYTHING FROM CORN AND SOYBEANS TO BLUEBERRIES, PEACHES, AND EVEN TREE SEEDS, LIKE ALMONDS, PECANS,

WALNUTS, ETC

.
BUY LOCALLY FROM THE FARMERS THEMSELVES!
SEE THE DIFFERENCE!

THOSE OF US WHO SHOP LOCAL FARMERS' MARKETS CAN TELL YOU WHAT A BUMPER CROP OF MELONS, LETTUCE, TOMATOES, ONIONS, PEPPERS, CABBAGE, SPINACH AND OTHER FRUITS AND VEGETABLES WE SEE SPREAD BEFORE US EVERY WEEKEND.
GO EARLY AND GET IN ON THE "PRICE WARS" AS EACH FARMER VIES FOR CUSTOMERS BY DROPPING PRICES EVERY FEW MINUTES.
WE RECENTLY PICKED UP HUGE CANTALOUPES FOR $1, 20-30 POUND WATERMELONS FOR $3, CABBAGES BIGGER THAN ONE'S HEAD FOR 50 CENTS EACH, BOK CHOY, 3 STALKS FOR $1, GORGEOUS RED ONIONS, $1.50 FOR 3 POUNDS, AND NOT A BLEMISH ON THEM!
AND WE ONLY SHOP IN

THE

ORGANIC

FARMERS' SHED!

BUT IT'S A HELLUVA LOT DIFFERENT IN THE GROCERY STORES!
WHILE ONE CAN BUY A LARGE BOX OF MIXED GREEN AND RIPE TOMATOES (FROM 8 TO 12 POUNDS, DEPENDING ON TYPE) FOR $8 TO $10 AT THE FARMERS' MARKET ( $5 AT END OF THE DAY ON SATURDAY!), AND THE MOST BEAUTIFUL OAK LEAF LETTUCE FOR $1 TO $1.25 PER VERY LARGE HEAD, GREENHOUSE ROMA TOMATOES (USUALLY THE CHEAPEST TYPE) ARE ABOUT $1.89 A POUND ON A "GOOD" DAY IN STORES, AND YOU CAN'T FIND OAK LEAF THERE ANYMORE!
WHAT LETTUCES WE'VE RECENTLY FOUND OFFERED IN STORES, ONE WOULDN'T INSULT A PIG BY OFFERING IT TO THEM!



WHY?


WHY THE GLARING DIFFERENCE?



FLORIDA GROWERS RECENTLY BEMOANED THEIR BUMPER CROPS OF VEGETABLES!

"

It has been a hot winter in South Florida. Great if you're a tourist, but not so good if you're a farmer. The fields are overflowing with more fresh vegetables then growers say they can sell."





THEY GET PAID LESS, THEY SAY, BUT GROCERY STORES DO NOT PASS THOSE LOW PRICES ON TO THE CONSUMERS?




WHY NOT?




IF GROCERY CHAINS ARE PAYING LESS, WHY ARE WE PAYING MORE?




INDIA, WITH MANY MORE MOUTHS TO FEED, IS ALSO EXPECTING A GOOD HARVEST!
IN INDIA, MONSOONS CREATED BUMPER CROPS THERE.

TEXAS IS FARING WELL FROM THE PROBLEMS IN SPAIN AND ITALY WITH OLIVE PRODUCTION, LOOKING FORWARD TO A GOOD YEAR FOR TEXAS OLIVE GROWERS.
SAME GOOD NEWS IN TEXAS FOR PEACHES AND PECANS...ALL DESPITE HEAVY RAINS!
IMAGINE THAT

SO, YES, WHILE A FEW PLACES HERE IN THE U.S. ARE SEEING DROUGHT, IT HAS HAD LITTLE EFFECT ON THE PRICES FARMERS ARE GETTING FOR THEIR HARD WORK.
SOMEWHERE, BETWEEN WHEN THE FARMERS HARVEST AND WHEN WE GO TO THE STORE TO BUY THAT FOOD THEY SOLD "DIRT CHEAP", SOMEBODY IS SCREWING THE CONSUMER!
WE'RE BEING HOODWINKED

BY "MIDDLE MEN".
BUT IF WE LOOK A LITTLE CLOSER, ANSWERS, REAL ANSWERS, BEGIN TO APPEAR!
Price pressures from industry consolidation
"Perhaps the largest price pressure stemming from the processors and packagers (the intermediaries) in our food system is consolidation; that is, mergers and acquisitions. As we reported previously, Big Food's consolidation often indirectly spells higher food prices as a result of a lack of competition in the marketplace.
It's predicted that the consolidation process will increase food prices, particularly in the meat processing and packaging industry
;
USA Today reported earlier this month that beef and veal prices are expected to rise 6% in the next few months, and around 3.5% this year overall."
AND...
"
Sheehan told
CNBC
.
"There will be less incentive to lower prices in stores, and that can be harmful all around.

According to a 2007 study
by the University of Missouri, "the four largest companies controlled 82% of the beef packing industry, 85% of soybean processing, 63% of pork packing, and 53% of broiler chicken processing. In fact, so much consolidation has taken place throughout the food chain that it can be difficult for any one person to fathom the true effects."

BAM!
THERE'S THE TIP OF THE ICEBERG THAT'S CREATING "UNEXPLAINABLE" HIGH PRICES AT THE STORE!

THERE IS PLENTY OF FOOD BEING GROWN, THE FARMERS ARE GETTING PAID LESS FOR IT, BUT LOOK WHO BECOMES THE "MIDDLE MAN".
"The grocery industry justifies the size of big-box and merging grocery chains as a way to increase efficiency, lower costs, and pass savings on to consumers. But most supermarkets just pocket any savings in the form of higher profits, while consumers rarely benefit. The dominant supermarkets can charge consumers considerably more than it costs to put groceries on store shelves, and they have little incentive to pass price discounts on to consumers if they have few or no competitors in a local market," Food & Water Watch reports.
The entire industry is, in many respects, run by a handful of food monopolists who use the illusion of competition to take advantage of consumers. Their influence also allows these companies to narrow choices as to where customers shop and even what they can buy.
In other words: sometimes the free market isn't as free as we'd like to think."
IT'S ANYTHING BUT FREE!
ABOUT ESCALATING MEAT PRICES...HERE'S A HINT...
MEAT PRODUCERS ARE WHINING THAT AMERICANS ARE EATING LESS MEAT, AND PARTIALLY BLAME IT ON THOSE "NEGATIVE ADS BY ANIMAL RIGHTS GROUPS"!
SO, SEVEN STATES HAVE PASSED WHAT IS CALLED "AG-GAG" LAWS, WHICH BAN THE PUBLIC FROM FILMING AND DISTRIBUTING FILM THAT SHOWS ANIMAL ABUSE BY BEEF, POULTRY, HOG, SHEEP, ANY FOOD ANIMAL!
NORTH CAROLINA JUST JOINED THOSE STATES TRYING TO KEEP AMERICANS FROM SEEING HOW ABUSED SUCH ANIMALS ARE!
'Ag-gag' bills, short for "agricultural gag," are meant to protect farmers and agricultural operations from employees or visitors attempting to expose what they deem to be unsafe, unfair, or cruel practices.
This can include videos taken on private property of animals being abused, or even employees being treated unfairly.
In effect, these laws are meant to shield agricultural companies from lawsuits resulting from the practices at their respective business locations.
Basically, they're anti-whistleblower laws.
As of right now, there are seven states that have these ag-gag laws on the books, with many others having had defeated proposed legislation. But the industry's minions are hard at work crafting new bills, or reworking old ones, in an attempt to get more states on board. Currently, North Carolina is in the midst of a heated debate over whether or not to pass an ag-gag law — but in this particular instance, North Carolina's legislation goes above and beyond what we've seen so far.
Not only are the traditional elements included in this bill, but the anti-whistleblower law could also be applied to a myriad of other businesses, including restaurants, daycare, and even nursing homes."
[NOTE: THE TEA ROOM AUTHOR IS AN OMNIVORE, A HUNTER, A FISHERMAN, AND NOT OPPOSED TO CONSUMING MEAT.
I AM OPPOSED TO CRUELTY, ANY CRUELTY, ALL CRUELTY, EVERYWHERE, ALL THE TIME!
IF THEY HAD NOTHING TO HIDE, THEY WOULDN'T MIND VISITS OR FILMING, THOSE CRYING THE LOUDEST!
]

I HOPE WE CAN ALL LEARN FROM THIS...
MEGA-CORPORATIONS KNOW HOW TO BREAK THE RULES AND "MAKE A KILLING".

THEY ENJOY PROFITS.

THEY KNOW WE WILL PAY WHATEVER THEY CHARGE FOR FOOD.
MAYBE THEY DON'T REALIZE WE HAVE A CHOICE?

BUY FROM LOCAL FARMERS.
YOU WON'T BELIEVE HOW LESS EXPENSIVE, HOW MUCH FRESHER AND BETTER LOCAL FOOD CAN BE!

AND IT GETS EVEN BETTER WHEN ONE CAN GROW IT THEMSELVES!