THE PUBLIC IS BECOMING MORE AND MORE AWARE THAT THE PACIFIC HAS TURNED INTO A PLACE OF DEATH, BUT THAT DOES NOT HELP THOSE SEA CREATURES WHO HAVE NO OTHER PLACE TO LIVE, NOWHERE TO RUN!
I GROW WEARY OF SEEING SO MANY NEWS REPORTS, HEARING ABOUT NEW DEATHS EVERY DAY, AND STILL NO PUBLIC INFORMATION IN ANY HEADLINES OR OTHERWISE ON ALL THOSE LONG-AGO-PROMISED TESTS FOR RADIATION ...NONE, AFTER FOUR YEARS?
NONE WITH EXPLICIT DATA!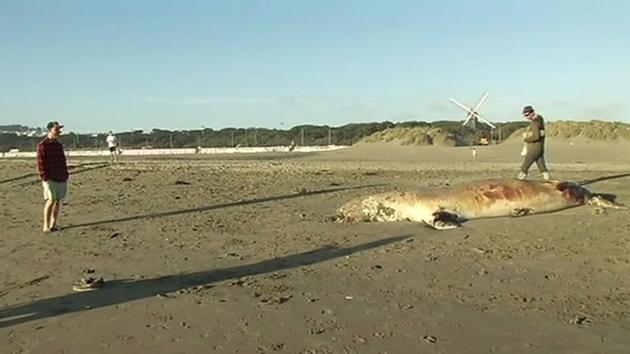 THESE ARE REPORTS OF NEW MARINE DEATHS FROM JUST THE PAST FEW DAYS!
FROM ABC
,
Monday, July 06, 2015
:
"SAN FRANCISCO (KGO) --
There was a disturbing sight at Ocean Beach in San Francisco. Monday three large marine mammals washed up dead on the beach.
By sunset people stopped to gawk at the elephant seal sprawled on the beach. The dead mammals raise many disturbing questions. Just this weekend, the National Weather Service meteorologists reported that Pacific Ocean temperatures off the beach are five degrees higher than average and could top off at a record-breaking 70 degrees by the end of this month.
The fear is there could be more to come."
A DISTURBING DAY AT THE BEACH?
MORE TO COME?
YEAH, EVERY DAY HAS BECOME DISTURBING, BUT NOT QUITE DISTURBING ENOUGH TO ELICIT PUBLIC OUTCRY, RIGHT?
AND YOU CAN SAFELY BET THE FARM THAT THERE WILL BE "MORE TO COME"!
SO WHAT, RIGHT?
WHO CARES...UNTIL IT'S HUMAN BODIES OUT THERE, MAYBE?
NAAAAH, PROBABLY NOT EVEN THEN, SAD TO SAY!
GULLS FOUND DEAD IN...KUNA, IDAHO...REPORTED JUNE 30, 2015!
IDAHO!
SEAGULLS JUST DROP DEAD ALL OVER AN IDAHO ROAD...
"The birds found dead show no signs of physical injury and were not sickened by plague, Oneale said. Rather, he said, it appears to be a specific type of pathogen that has yet to be determined.
[BUT IT WON'T EVER BE DETERMINED, WILL IT?]
Kuna resident Susan Carlson was driving on South Cole Road on June 27 when she came upon
dozens of birds in the road near the intersection of Barker Road.
"I was just very disturbed by what I saw,"

Carlson said.
The dead birds were various species of songbirds, she said. Some birds were alive, but were struggling to fly.
"One even fell onto my car,"

Carlson said. "The whole scene made me very, very sad."

WHAT?
PROBABLY SUICIDES, HUH?
NO PROBLEM, RIGHT?
NOAA REPORTS THAT LARGE NUMBERS OF YOUNG HERRING HAVE JUST DISAPPEARED FROM PACIFIC WATERS, THAT NOBODY COULD FIND THEM...SO, NO WORRIES, RIGHT?
WHO GIVES A DAMN ABOUT STUPID HERRING?
May 21, 2015
"
Something happened to these fish
over the winter…. Also in the Gulf proper, we've seen a decrease in Herring. Unexpectedly, the Sitka Sound herring fishery — which is a seminal fishery for herring in our state — came in
really low
…
something happened
to them over the winter. Right now that's still
an unknown
...."
IT'S ALWAYS A DAMNED "UNKNOWN', RIGHT NOAA?
UNKNOWN...TO ALL OF US, THANKS!
THERE'S A YOUTUBE VIDEO OF AN 'INTERVIEW' WITH THE GUY WHO MADE THE ABOVE STATEMENT...I WON'T POST IT HERE BECAUSE IT STINKS OF "WE JUST DON'T KNOW" BS, BUT YOU CAN SEE IT
<HERE>.
BUT IT IS NOT JUST THE HERRING!
Undercurrent News, Jun 29, 2015
:
"Bristol Bay sockeye salmon harvests are continuing to be well under 2014 and five-year average levels… down 86% from… the same period last year and off 75% from the… average."
KDLG
, Jul 1, 2015:
"."Alaska's largest sockeye fishery is
predicted to have a near record
return this summer,
but
so far [they]
have only trickled into Bristol Bay's rivers
… 3.4 million sockeye have been harvested… estimates suggested 54 million sockeye… with 38 million available for harvest
Cordova Times
, Jun 25, 2015:
"Area management biologist James Jackson said that through June 23 the sockeye harvest [is] half of what biologists expected the harvest to be at this time. "It's been
a very strange year
," Jackson said."
SAY AWAY, JAMES...NOBODY CARES...
VIDEO WITH THE FOLLOWING ARTICLE:
Fox San Francisco transcript
, Jul 6, 2015 (emphasis added):
Several dead sea mammals found along Ocean Beach
— In San Francisco, an
unusual and sad sight
at Ocean Beach today. That's where
several dead marine mammals washed ashore
… This part of a
troubling trend
… Back in May, 3 dead whales washed up along San Francisco beaches…

Joey DeRuy's walk...
"I kept walking and I kept running into more," said DeRuy.
He said he spotted a small dead seal, then a much larger mammal that appeared to be an elephant seal.
Several people walking by couldn't help but stop and wonder what is behind the deaths.
A report shows ocean temperatures in the Bay Area are running warmer than usual this time of year, leading some, like Dury, to question if that's a factor.
"It's very disturbing," said DeRuy. "I've never seen so many animals."
It's not clear how the animals died or what officials plan to do with the beached elephant seal."
"Sad and disconcerting to see were 2 dead cetaceans floating out beyond the breakers. One appeared to be a Bottlenose Dolphin -- the corpse was approached a couple of times by a live Bottlenose Dolphin. The other appeared to be a relatively small whale, black in color -- perhaps a young Humpback. It looked like there were some gashes on the corpse, which was drifting N with the current.
At one point a young Western Gull was riding on top of it.
During a walk on Ocean Beach S of Noriega yesterday, washed up in the wrack line on the beach were deceased Sooty Shearwater and sea lion pup. We also got to see a fisherman on the beach reel-in -- then unhook and release back into the surf -- a Pacific Angelshark, which was an interesting looking fish. "
FROM THE COASTS OF PERU AND CHILE NORTHWARD BEYOND ALASKA, FROM RUSSIA AND JAPAN TO SAN FRANCISCO BAY, SCENES LIKE THIS FROM LAST YEAR JUST KEEP REPLAYING, AND STILL NO REAL REASON, NO ABSOLUTE DIAGNOSIS OF WHAT'S HAPPENING TO ALL OF THEM!
SO MANY BODIES THAT NO ONE CAN EVEN GET TO THE SURF ANYMORE?
WOULD THAT DO IT?
WOULD THAT MAKE AMERICAN CITIZENS DEMAND FULL DISCLOSURE AND A SOLUTION?
NBC Bay Area news anchor
, Jul 7, 2015:
"Ocean Beach the scene of
more mammals washing ashore
. Now a dolphin and 2 sea lions join the list of multiple dead whales."
SFist
, Jul 6, 2015:
Multiple Marine Mammals Found Dead Along Ocean Beach Monday
—
"At least two dead sea lions
, including one large adult, and
one large dolphin
, washed ashore today along Ocean Beach and
there may be more to come
… It's
unclear just yet if this could part of a larger beaching
, or part of a
recent pattern
…
more beachings
due to starvation
are expected
… Today's beachings follow multiple cases of dead whales appearing on our coast over the last couple of months."
JELLYFISH EXPLOSION
KUOW (NPR station in Seattle) transcript, May 12, 2015 :
"Jellyfish Boom As Little Fish Disappeared… A bill signed by Governor Jay Inslee authorizes a major study of fish in Puget Sound… A new study suggests that the little guys are disappearing…
[NOAA biologist] Correigh Greene is standing near the end of a fishing dock in West Seattle. He's not here to fish, but he tells me what he'd expect to catch if he threw a net in the water here: Some young salmon pumped out by hatcheries — (Green): "and that's mostly it, aside from a bunch of jellyfish"…
In much of Puget Sound… researchers rarely pull up the little fish that salmon, and even orcas, depend on.
Mostly they get big hauls of jellyfish.
Greene recalls one of the biggest —
(Green): "The net was so filled with jellyfish we couldn't bring it on board. It was too heavy for our winch. It's fairly disturbing when all you pull up are these huge masses of jellyfish."
WHAT, OH, WHAT COULD BE KILLING SO MANY DIFFERENT SPECIES IN THE PACIFIC?
WHAT ATTACKS EVERYTHING FROM PLANKTON TO KELP TO SEA STARS AND URCHINS TO SHELLFISH TO FOOD FISH TO TURTLES TO MARINE MAMMALS TO BIRDS FROM THE TIP OF SOUTH AMERICA TO THE ARCTIC CIRCLE, AND FROM ONE SIDE OF THE PACIFIC TO THE OTHER?
DON'T TELL ME ALL OF OUR ILLUSTRIOUS SCIENTISTS, OUR BEST MARINE BIOLOGISTS CAN'T GET TOGETHER AND AGREE ON WHAT THE HELL IS DOING THIS!
NO WAY THAT THEY JUST DON'T KNOW!
ONE DAY IT'S WARM WATER, ANOTHER DAY IT'S "MYSTERIOUS STARVATION", THEN IT'S A BIOLOGICAL PATHOGEN, THEN THAT GETS RULED OUT AND IT JUST MAY BE HUMAN CONTAMINATION....

HUMAN CONTAMINATION?
AS IN FUKUSHIMA RADIATION, MAYBE, JUST MAYBE?
AS IN ALL THOSE URANIUM "BUCKYBALLS" AND TONS UPON TONS OF RADIOACTIVE CRAP BEING PUMPED OUT INTO THE AIR AND INTO THE PACIFIC BY

THE CRAZIES

TRYING TO KEEP THOSE REACTORS COOL?

I GUARANTEE YOU, THE TRUTH WILL NOT BE TOLD...IT JUST WON'T...

MUSTN'T "PANIC THE POPULACE"...AND ALSO, MUST NOT GIVE ANYONE, NEITHER SEA CREATURE NOR HUMANS, A FIGHTING CHANCE BY COMING CLEAN ON WHAT THE HELL IS WRONG WITH THE PACIFIC!