ACTUALLY, MANY MORE ARE KNOWN THAN THIS ARTICLE LISTS, BUT IT'S A FAIR START, ESPECIALLY FOR THOSE OF US WHO MAY LIVE IN AREAS WHERE THESE HAVE BEEN FOUND.
SOMETHING, OR A GROUP OF THINGS, MUST BE CAUSING THESE CLUSTERS.

SOMETIMES WE ARE TOLD, OTHER TIMES IT IS SAID THAT THE CAUSE IS UNKNOWN.
NO, THE CAUSE IS JUST AN "INCONVENIENT TRUTH" THAT NO ONE, OBVIOUSLY, WANTS TO SIGN OFF ON.
In order to shed light on the issue, the council zeroed in on 13 states in the U.S. with known clusters that occurred after 1976 and that have been confirmed by federal, state or local authorities,
or
had been covered in a peer-reviewed journal.
REUTERS REPORTED:Mar 28, 2011
Monday's study is the first of several that are planned.
It examined clusters in Texas, California, Michigan, North Carolina, Pennsylvania, Florida, Ohio, Delaware, Louisiana, Montana, Tennessee, Missouri and Arkansas.
Only one of the 42 clusters -- in Libby, Montana -- showed a specific source for chemical contamination: asbestos.
In the other clusters,
NRDC saw signs that documented exposure to toxic chemicals hurt the people who lived nearby.
The Senate Environment and Public Works Committee has scheduled a hearing for Tuesday on disease clusters and environmental health."
PLEASE TAKE NOTE OF THIS FROM THAT PDF:
"Due to a lack of resources, the limited statistical
power in doing investigations of small communities
or rare diseases, and a lack of knowledge about
exposures, it has been difficult for state and
federal agencies to shed light on most disease
clusters and their causes.
There is a need for
better documentation and
investigation of disease
clusters and their causes.

Senators Barbara Boxer
(D-CA) and Michael Crapo (R-ID),
have introduced
legislation that would address at least some of
these problems, by ensuring that the Environmental
Protection Agency and other federal agencies
can, and will, provide the resources necessary for
investigations and other support, where state-level
expertise or resources are not available. "
THAT HAS NOT HAPPENED!
DON'T EXPECT IT TO HAPPEN UNTIL ENOUGH OF US DEMAND THAT IT BE ACCOMPLISHED!
LIKE I SAID, THESE 42 CASES ARE NOT EVEN THE TIP OF THE TIP OF THE HUGE ICEBERG!
LET'S LOOK AT JUST A FEW OF THE 42 CASES, A BIT MORE IN-DEPTH.

1~
LOCATION: Prairie Grove,
Washington County, ARKANSAS
DISEASE: Testicular cancer
In 2001, the Arkansas Department of Health identified a cluster of testicular cancer from 1997 to 2001;
three of the cases were in 14-year-old boys.
Though no cause was identified, the town of 2,500 people
lies near a now-closed
nuclear reactor, a low-level
radioactive landfill, a poultry plant, and a manufacturer
of poultry feed containing arsenic.
Local residents were concerned that the poultry factories
were contributing to the high rates of cancer and other health
problems because arsenic-contaminated chicken manure was
used as fertilizer and spread on fields beside schools and
In 2004, residents sued one of the poultry farms and the
poultry feed manufacturer for spreading the contaminated
manure throughout Prairie Grove.
However, the court did not rule in favor of the residents
and the true cause of the cluster has never been determined.
Although the evidence of
glyphosate's carcinogenicity
had been mounting for years, the
EPA increased the upper limits of allowable amounts of glyphosate that can be sprayed on crops.
GLYPHOSATE...A MONSANTO FAVORITE, USED IN MANY OF THEIR PRODUCTS, AND THE FDA WITH A VERY IMPORTANT DEPARTMENT HEAD WHO USED TO WORK FOR MONSANTO!
THINK, PLEASE, BEFORE WE'RE KILLED FOR DOING SO!
IT IS VERY, VERY HARD FOR ME TO TYPE THE FOLLOWING BECAUSE OF SO MANY YOUNG LIVES LOST.
CHILDREN, ALL CHILDREN, ARE THE MOST IMPORTANT AND MOST TREASURED BEINGS ON OUR PLANET TO ME.
THERE IS NOTHING I CAN THINK OF THAT I WOULD NOT DO TO ENSURE THE HEALTH AND SAFETY OF EVERY CHILD, EVERYWHERE.

LOCATION: CALIFORNIA, MULTIPLE SITES.
"California has suffered from at least seven
confirmed disease clusters. Most have afflicted
children with cancers or birth defects.
Although environmental contaminants are implicated, experts
have been unable to pinpoint an exact cause.
Regardless of the cause, disease clusters can
devastate communities with anxiety and emotional
and financial difficulties, including high medical
costs and lowered property values, as well as the
tremendous burden of the disease itself.

LOCATION: Earlimart, Tulare County
The California Department of Health Services (DHS) concluded there was a cluster of childhood cancer cases diagnosed
between 1986 and 1989 in Earlimart.
All of the Earlimart children with cancer were from families of farm workers.
LOCATION: Kettleman City, Kings County
The California Department of Public Health identified a birth defects cluster in Kettleman City from 2007 to 2010.
Children were born with cleft palates and other severe birth defects such as facial deformities, heart and brain problems, and limb
defects.
Some of those children have since died.
Many residents blame the hazardous waste disposal facility, the largest in the western United States, that is just 3.5 miles southwest of town.
[PLEASE NOTE: THE SAME IDENTICAL CLUSTER HAS BEEN IDENTIFIED IN A 200-MILE RADIUS OF THE HANFORD NUCLEAR SITE IN WASHINGTON STATE!]
LOCATION: McFarland, Kern County
DHS confirmed that McFarland has suffered from a childhood cancer rate three to four times higher than normal.
Prior to 1990, there was significant under-reporting of the amount of restricted pesticide use, which may have included known cancer-causing compounds.
This under-reporting has stymied efforts to pinpoint environmental causes of this disease cluster.
[NOTE: THERE HAVE BEEN NO LAWS PUT INTO EFFECT BY CONGRESS, STATE OR FEDERAL,TO MANDATE SUCH REPORTING!]
LOCATION: Montecito, Santa Barbara County
DHS confirmed a cluster of childhood leukemia and lymphoma in Montecito from 1981 to 1988 at a rate 5 times higher than
would be expected during an eight-year period in a city of its size.
DHS has been unable to pinpoint a specific environmental
cause.
Community members were concerned about possible health effects from electromagnetic fields (EMF) levels coming
from the transformer station near the elementary school and
DHS did find elevated EMF at the school.
LOCATION: Oroville, Butte County
Oroville had a cluster of pancreatic cancers from 2004 to 2005, confirmed by researchers at the California Cancer Registry.
A chemical explosion and fire that occurred in 1987 at the Koppers wood treatment facility in town has been investigated as a
possible cause, as well as other Koppers facilities that have historically contaminated residential wells with pentachlorophenol
and other toxic chemicals.
LOCATION: Rosamond, Kern County
The Kern County Health Department and DHS identified a cluster of childhood cancer in Rosamond.
During the years 1975 to 1984, eight cases of childhood cancer occurred in Rosamond.
Four of those cases were medulloblastoma (a rare type
of brain cancer); two were rhabdomyosarcomas (a rare muscular cancer), one Hodgkin's lymphoma, and a Wilm's tumor
(childhood kidney cancer).
Although DHS identified several locations in Rosamond that were contaminated with dioxins, furans, and other chemicals that cause cancer, they did not identify how the children could have been in contact with these chemicals.
LOCATION: Neighborhoods around Santa Susana Field Laboratory, Los Angeles & Ventura Counties
A 1991 study by DHS confirmed a cluster of bladder cancers in areas in Los Angeles County closest to the Santa Susana Field Laboratory (SSFL) in nearby Ventura County.
Additionally, a study performed by researchers at the University of Michigan found that risk of thyroid cancer was linked to distance from SSFL, a notorious source of widespread radioactive and chemical contamination.
Currently, the California Department of Toxic Substances Control is overseeing an investigation and cleanup of contaminated soil and groundwater at the site.


LOCATION: Hinkley
DISEASE: Breast cancer, Hodgkin's disease, miscarriages and spinal deterioration.
In the case made famous by the film,

Erin Brockovich

, community members won a $333 million settlement from Pacific Gas & Electric (PG&E) in 1996.
Hexavalent chromium leached from PG&E ponds into the town's drinking water supply and community members experienced health effects, such as breast cancer, Hodgkin's disease, miscarriages and spinal deterioration.
Although the California Cancer Registry has completed three studies and concluded that cancer rates were not elevated from 1988 to 2008, other state officials have noted that the population is too small for a cancer survey to yield meaningful results.
This case is an example of why disease clusters are difficult to prove.

HEARTBREAKING.
BUT SIMILAR STORIES REPEAT, AND REPEAT, AND STILL REPEAT.

I LISTED THE FEW STATES (13 OF THEM) WHERE CANCER CLUSTERS HAVE BEEN BRIEFLY INVESTIGATED, BUT ALL STATES HAVE THEIR OWN CLUSTERS, SOME MAYBE JUST ONE, OTHERS HAVE MORE THAN EVEN CALIFORNIA.

JUST BE AWARE OF THIS.
AND BE AWARE THAT NO ONE IN OUR GOVERNMENT IS DOING MUCH TO STOP IT.

WE MUST MAKE ALL RESPONSIBLE BE RESPONSIBLE, AND BE ACCOUNTABLE TO US!
IF WE REMAIN SILENT, NOTHING WILL BE DONE.
I LOOKED FOR THE OLD CDC's INTERACTIVE "CANCER CLUSTER MAP" SO THAT I COULD POST IT HERE, BUT IT'S OBVIOUSLY BEEN REMOVED.
I FOUND A SMALL VERSION OF IT ON THE WEBSITE
<HERE>
, AND IT APPEARS TO BE AN INTERACTIVE MAP LIKE THE ORIGINAL WAS.
"

The data in the Cancer Cluster Map above is from the CDC years 2002-2006. Multiple years are required to provide a full range of counties and increase accuracy.
The current cancer death rate in the USA is 181 per 100,000 population, age adjusted.
We believe the new federal environmental report sheds new light on the relationship between lifestyle and cancer.
In our opinion cancer death rates in America would be far more evenly distributed throughout the country if lifestyle were the only primary cause.
Click on the various States in the Map and see for yourself how dramatic the differences can be and decide for yourself how serious you think the environmental risks are."
THE CDC DOES HAVE OTHER MAPS OF SPECIFIC CANCER CLUSTERS ONE CAN VIEW, BUT MOST LIE WITHIN A PDF DOCUMENT.
YOU MAY FIND THOSE <HERE> ON THE CDC WEBSITE.

[PLEASE WASH YOUR HANDS, OR TAKE A LONG HOT SHOWER AFTER VISITING CDC...THEY'RE A NASTY LOT!]
THE MAP YOU WILL BE SEEKING LOOKS LIKE THIS, BTW: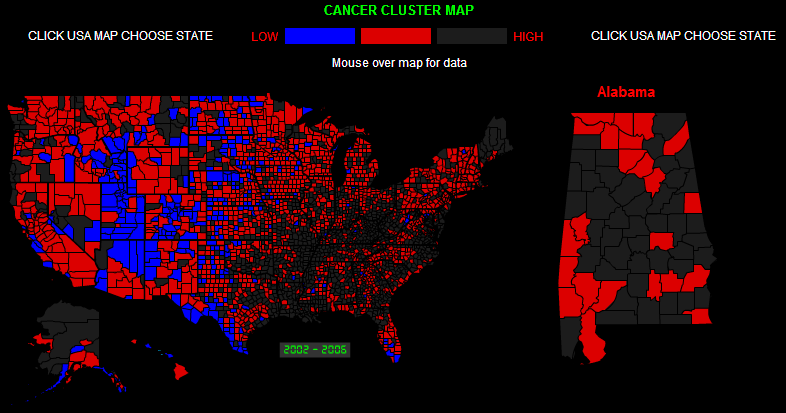 YES, EACH RED DOT SIGNIFIES INCREASED RISK.
REMEMBER, THE 'WONDERFUL' CDC AGREED WITH THIS MAP.

I HONESTLY DON'T MIND A BIT THAT SOME OF YOU DO NOT BELIEVE OUR ENVIRONMENT IS THIS TOXIC.
BUT UNTIL YOUR CHILDREN ARE OLD ENOUGH TO DECIDE FOR THEMSELVES WHETHER THEY BELIEVE IT IS OR NOT, COULD YOU MAYBE SEE YOUR WAY CLEAR TO WONDER ENOUGH TO SAFEGUARD THEM ALL AS MUCH AS YOU POSSIBLY CAN BY JUST CONSIDERING THE POSSIBILITY THAT THINGS KNOWINGLY PLACED INTO OUR FOOD CHAIN, OUR WATER,OUR AIR JUST MAY CAUSE A CHILD UNSPEAKABLE SUFFERING?

JUST CONSIDER IT, PLEASE.